The 'Concealer Geometry' Hack Is A Must-Have For The Ultimate Minimal Makeup Look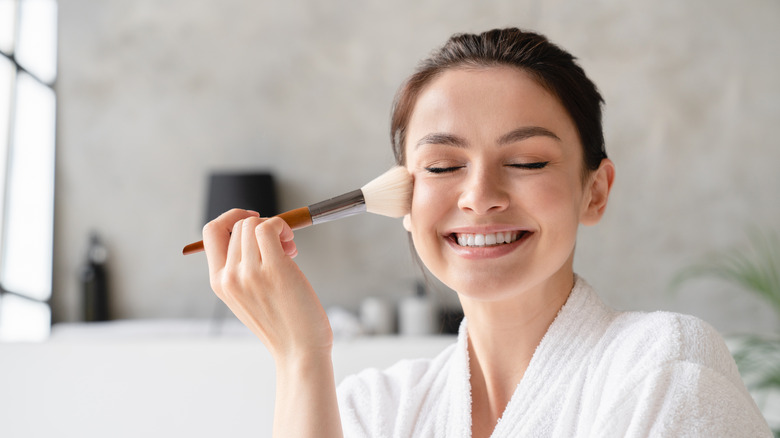 Inside Creative House/Shutterstock
Calling all minimal makeup lovers! Here is a new hack that is sure to become the most used one in your makeup arsenal. TikTok stars swear by the method of applying "concealer geometry" to achieve an instant face lift without using bucketloads of makeup products.
Advertisement
The premise of this makeup trick is a simple one: Using your favourite concealer, you draw small to medium-sized triangular shapes at three specific points on the face, and as you blend the product, you begin to see the magic happen. These triangles are placed under the eyes, at the bottom edges of the nose and to outline the sides of the lower lip. This hack has gone viral on TikTok with a number of beauty influencers sharing it and showing their dramatic yet easily achieved results, with just a single product.
Though the concealer geometry hack sounds simple enough, there are certain things you must keep in mind to achieve the flawless lifted look being sported by the TikTok stars who are advocating its use.
Advertisement
How to do the concealer geometry hack for best results
First and foremost, be mindful of the kind of concealer you use. A lightweight and creamy formula that is easy to blend and doesn't sit heavily on the face is ideal for this purpose. Next, focus on how to apply the product. A thin concealer wand will help with precision of application, but chunky applicators should be avoided as they may deposit too much product at once. Precise concealer brushes are your best bet for optimal product placement.
Advertisement
Then it is time for the actual placement of the triangles. The first triangle should begin near the inner corner of your eye and run about halfway under it. The bottom tip of the three-sided shape should be touching the side of your nose. Avoid placing the concealer too high or too close to the inner corner of the eye as that may result in under-eye creasing when you are blending the product out. If you feel you need extra coverage and lift, you can add another triangle in the outer corner of the eye.
The third and fourth triangles should be placed along the curvature of the nose and below the lip line respectively. Make sure that the shapes point upward so that you have a snatched and sculpted look when they are blended.
Advertisement
When the concealer geometry hack may not work for you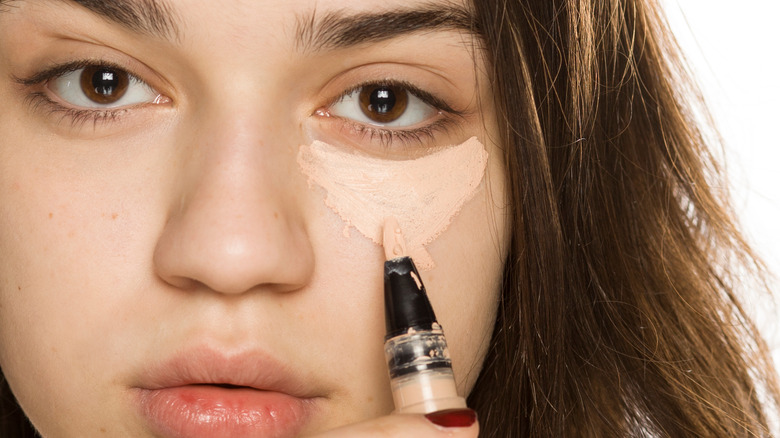 Vladimir Gjorgiev/Shutterstock
Though the concealer geometry hack is great for a minimal makeup look and will save you both time and money as less product is used, it may not work for everyone.
For this hack to be most effective, you need to use very little product. Hence, if you have dark spots, pigmentation or scars which you would prefer to cover up before stepping out of the house, this method won't work for you. Adding too much concealer in those concentrated spots in an effort to cover your problem areas may lead to the overall result of cakey-looking skin.
Advertisement
Secondly, for it to work well, it is essential to use a concealer that matches your skin color exactly. Brightening concealers used under the eye are usually applied over foundation to brighten. But if you use a lighter concealer for this hack without any foundation as the base, it will show on your skin, and spoil the effect of minimal makeup. 
Also, if the exact placement of triangles doesn't work for your face shape, you can try a variation of the method by only making one triangle in the under-eye area. This will help you achieve an even more minimal makeup look, and save time on your daily makeup routine.