How Sephora Got Its Name & 15 Other Facts About The Beloved Beauty Store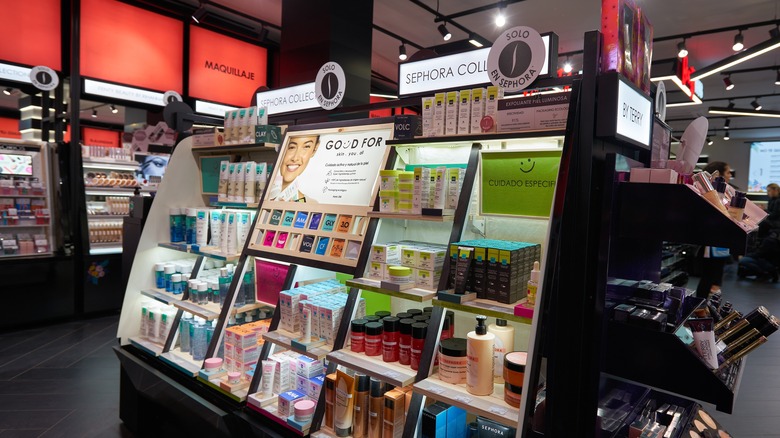 Sorbis/Shutterstock
We may receive a commission on purchases made from links.
Totally in love with Sephora? We're right there with you. The beauty giant has left a major impression on our hearts, minds, bodies, and bank accounts, and we don't foresee that changing any time soon. But honestly, we're okay with it. The French-born chain is one of the most profitable beauty stores in the world, and it's got quite the chokehold on American consumers.
Advertisement
As a beauty retailer, focusing on the American market is smart. The beauty industry is a multi-billion dollar business, and the United States leads in those sales. We Americans just want to be beautiful, and many of us turn to Sephora for help in that endeavor.
And though many of us have spent ample time and money at Sephora — and we're probably quite familiar with the brands it carries — there's still so much more to uncover about the beloved beauty store. From its history to its future, we've amassed all you need to know about Sephora to appreciate it (though selling beauty products is enough to appreciate it already). Let's dig into some facts about Sephora.
Sephora's name is of Greek origin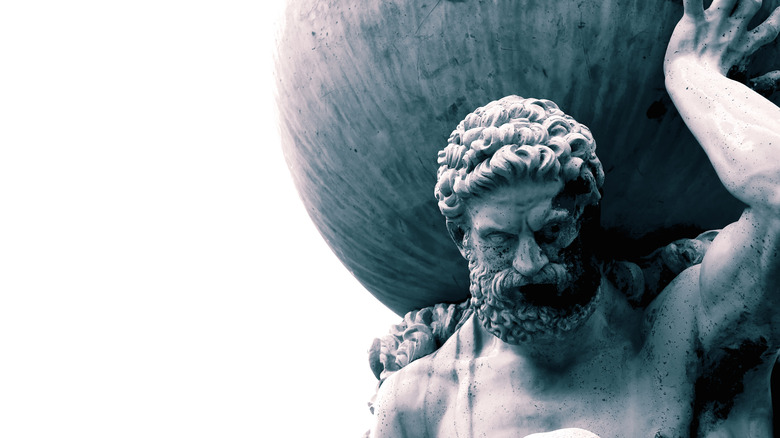 rigsbyphoto/Shutterstock
If you first heard of Sephora and thought that you'd never heard that word before, you would be correct. Sephora, though part of the lexicon now, is a world that no one was familiar with before 1970 because it's a made-up word. The founders of Sephora combined a couple of Greek words to create their business's name.
Advertisement
Back in 2010, Sephora gave us a linguistic lesson via Twitter sharing, "In case you're wondering: The etymology of Sephora: Sephos (Greek for beauty) + Zipphora (wife of Moses known for her beauty) = Sephora." So there you have it — it's a portmanteau of Sephos and Zipphora.
Sephora isn't the only prominent business to derive its name from the Greek language. Nike, Hermès, and Pandora all have Greek origins, too. Nike and Hermès, of course, were a Greek goddess and god, respectively, while Pandora was, according to Greek mythology, the first mortal woman responsible for releasing evil into the world. Sick move, Pandora.
Its parent company owns some seriously luxurious brands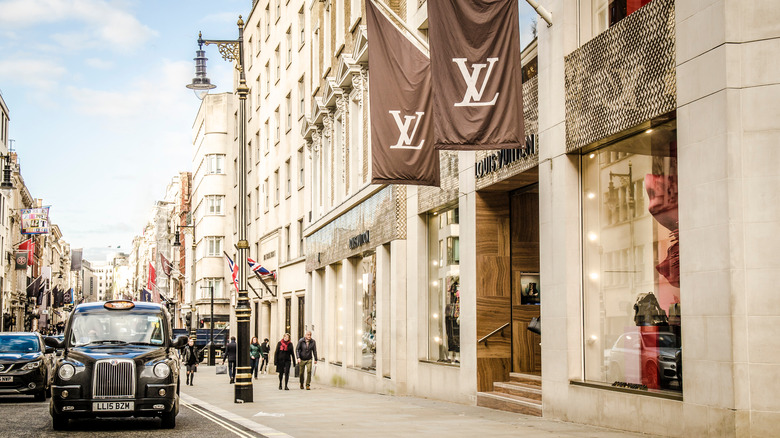 William Barton/Shutterstock
Like many of our favorite major retailers in the United States, Sephora belongs to a conglomerate — but not just any conglomerate. Sephora's parent company is LVMH, a global organization that specializes in luxury. Under its umbrella are iconic fashion houses like Louis Vuitton, Fendi, and Givenchy, cosmetics brands (some of which are sold at Sephora) like Benefit Cosmetics and Make Up For Ever, and expensive wines and spirits like Dom Pérignon, Hennessy, and Veuve Clicquot.
Advertisement
And for more than 25 years, LVMH has proudly owned Sephora. The group acquired the cosmetics retailer in 1997, around the same time it became the majority stakeholder in Marc Jacobs. With 75 brands under his belt, it's no wonder LVMH's owner, Bernard Arnault, is one of the richest people in the world. Arnault used money from his father to purchase Christian Dior in the 1980s, and he's been steadily purchasing fine brands ever since.
Sephora is one of the best employers in the United States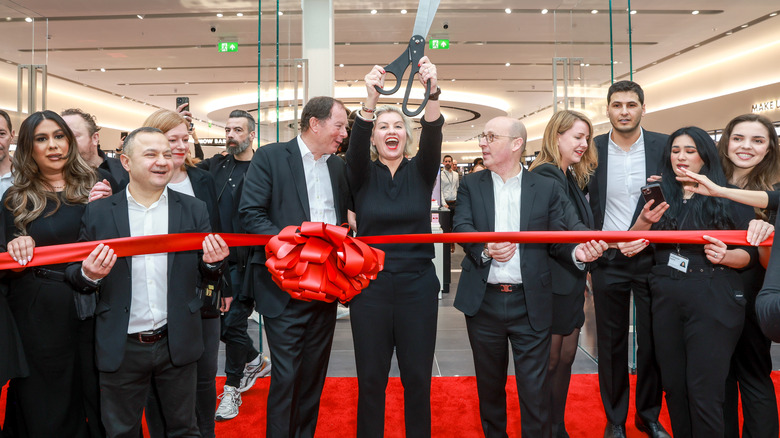 David M. Benett/Getty Images
Forbes uses employee feedback to rank large employers in the United States. And if you're looking for a new job, you may want to consider Sephora. According to Sephora's website, "Sephora has been recognized by Forbes as one of America's Best Employers four years in a row." 
Advertisement
Sephora has also been heralded as a great place for diverse employees. The retailer thrice earned a perfect score on the Human Rights Campaign's Corporate Equality Index, which, per its website, is "the national benchmarking tool measuring policies, practices and benefits pertinent to lesbian, gay, bisexual, transgender and queer (LGBTQ+) employees."
Many employees have personally provided excellent feedback for Sephora, too. As one reviewer on Indeed said, "I really liked my job at Sephora, it gave me purpose as well as great sense of pride. Great management And wonderful growth opportunities. I enjoyed working with the brands and getting to meet new people." If you're a makeup enthusiast, Sephora might just be the employer for you.
Advertisement
It's one of the first e-tailers in history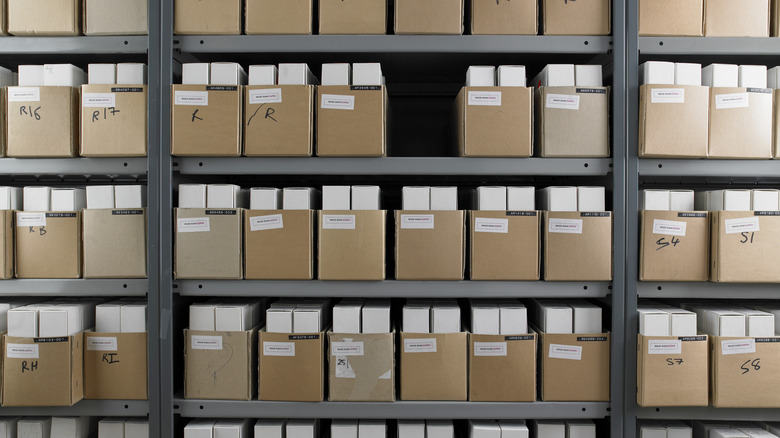 Michael Blann/Getty Images
Sephora has the distinct honor of being one of the first brands in history to start selling its wares online. Since its creation in 1999, the online store "quickly became Sephora's largest North American store" (per Sephora). It was clearly a good decision for the beauty store to enter the e-tail space.
Advertisement
Sephora was, by no means, the first business to exist online, though. Back in 1982, Boston Computer Exchange conducted business online, per IWD Agency, and in 1992, Book Stacks Unlimited began. Both pioneers pale in comparison to Amazon, though, which was founded just a couple of years later in 1994.
Other websites like eBay and PayPal would soon join Amazon on the internet. Although you can purchase cosmetics through Amazon, Sephora is still one of the world's most popular online beauty stores, besting other beauty retailers like Ulta and Ipsy in page visits.
Sephora employees are expected to be beauty experts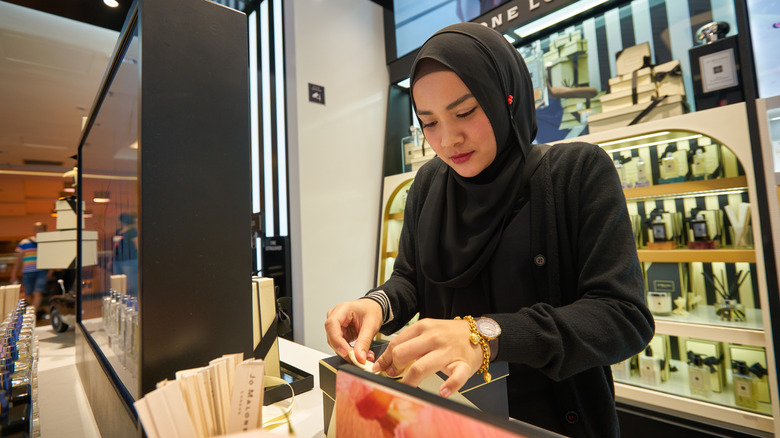 Sorbis/Shutterstock
Though you may want a job at Sephora, you might not be qualified yet. The brand distinctly takes its status as a preeminent beauty source seriously, and employees are expected to be experts in the space. The brand takes it so seriously that it created what's known as the "Science of Sephora," per Reference for Business.
Advertisement
The program gives employees the tools they need to serve as beauty experts for the retailer's wide array of clients. It ensures their sales staff have a strong grasp of skin tones, shade matching, makeup application, and its history.
Once upon a time (back in the early aughts), Sephora was so passionate about educating others about beauty that it held Sephora University, a multi-day seminar that included the Science of Sephora and a PhD expert-led course to offer further education on particular beauty topics. Sephora hasn't advertised any such educational opportunities in recent years, though.
Sephora has its own label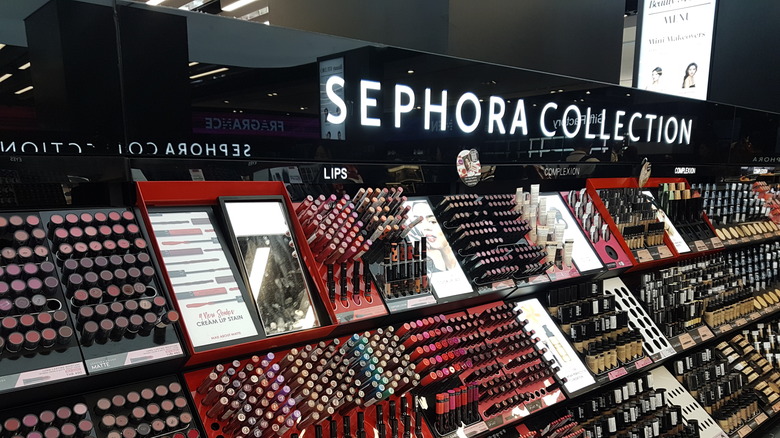 Omeletzz/Shutterstock
Perhaps one of the biggest bones customers have to pick with Sephora is its prices. While individual prices are guided by the brands themselves, Sephora only carries luxury brands, and therefore, the prices as a whole are more expensive than some other beauty retailers, like Sally Beauty or (half of) Ulta. You may wonder if luxury beauty brands are worth the extra money — and if they aren't for you, there are options! 
Advertisement
If you want to patronize Sephora but don't want to break the bank, check out its own label, the Sephora Collection. The Sephora Collection includes hundreds of items ranging from beauty products to tools. If your favorite brand sells something that's just a little too pricy, chances are the Sephora Collection has an item that's very similar for a much lower price.
Many of the items are highly rated, too. Some of the Sephora Collection makeup sponges have garnered five-star ratings from buyers, and lots of its lip products have a solid four stars. If you've been dying to try a product but don't want to commit to the price unless you know you'll love it, the Sephora Collection is a great way to get your feet wet.
Advertisement
It has a rich history of perfume sales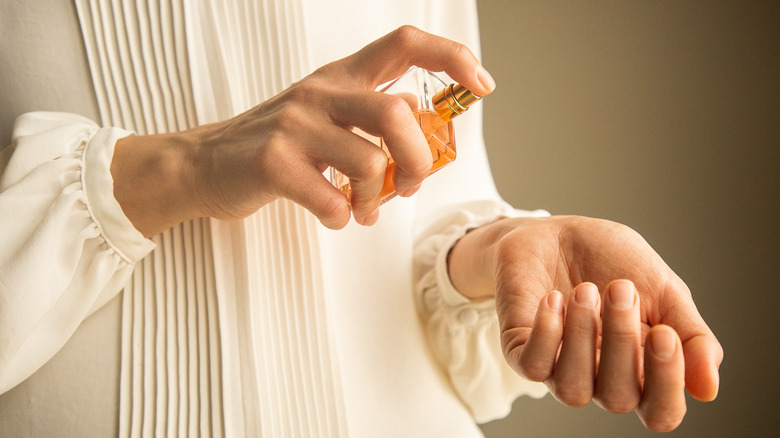 Born To Be Blue/Getty Images
Sephora's history dates back to 1969 when Dominique Mandonnaud opened a perfumery in Limoges, France. A decade later, Mandonnaud opened Shop 8, a cosmetics and perfume store that differed greatly in its business model from any other store of its kind in the country. Shop 8 quickly expanded to more locations, and Mandonnaud had his eyes set on further expansion.
Advertisement
In 1993, Mandonnaud's company bought Sephora, which had been in business since 1970 and was also known for its perfume sales. Though Mandonnaud is widely credited with founding Sephora, he only had his hand in the operations for about four years. In 1997, LVMH bought Sephora for 344 million euros.
While Sephora is better known today for selling cosmetics, the retailer still has a stronghold in the perfume industry, and it's even expanded to carry other fragrance options, like candles and essential oil diffusers. If you have a favorite luxury scent, you'll likely be able to find it at Sephora.
It used to offer a subscription box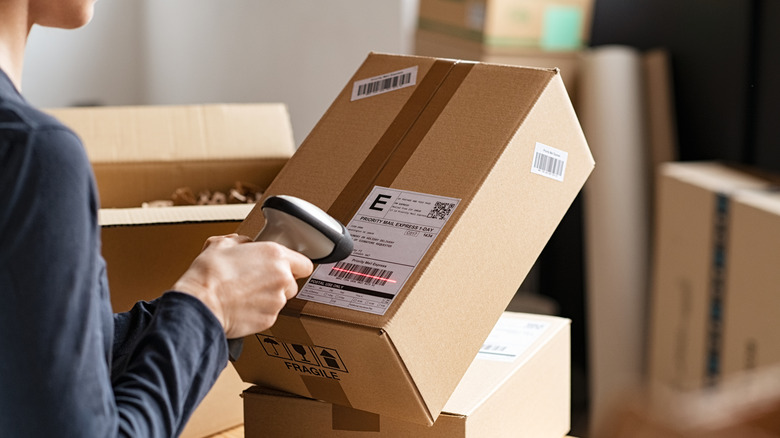 Ground Picture/Shutterstock
It seems as though there's a subscription box for everything. For a while, subscription boxes were all the rage, and many businesses built their entire customer base on the paragon. Several other companies tried to get in on the capital, too, like Sephora.
Advertisement
In 2015, Sephora launched PLAY! by Sephora, a monthly subscription service that sent customers five samples of luxury beauty products. The service cost buyers $10 each month, and it included a makeup bag and selected products based on personal preferences noted at sign-up. If you wanted to skip a month, you could redeem the cost for 50 Beauty Insider (Sephora's rewards program) points.
After nearly five years in service, Sephora did away with the PLAY! program, much to the dismay of some customers. "I really miss PLAY too, and it honestly made me buy many more products that I would have never tried if not for PLAY. Please bring it back!" one longful customer commented on a Sephora group forum. While we don't anticipate Sephora returning a subscription box any time soon, several others are still in circulation, like Ipsy and the Allure Beauty Box.
Advertisement
Sephora's mobile app can give you a virtual makeover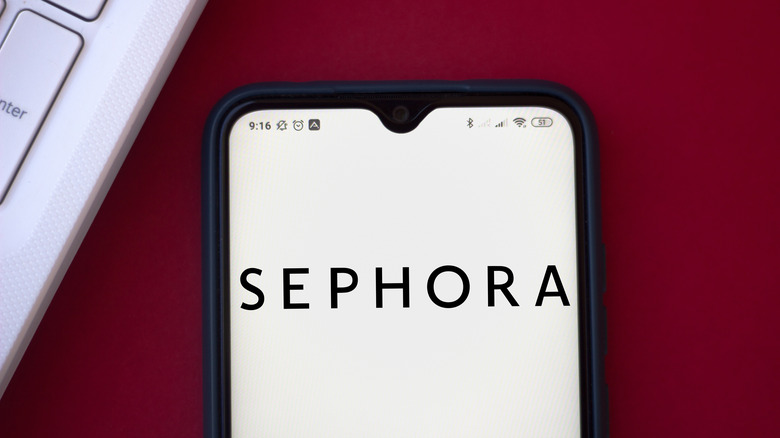 rafapress/Shutterstock
In need of a makeup refresh but don't want to go in the store? Sephora's got you covered. The beauty store's mobile app has a Virtual Artist feature where users can try on products virtually. It's a great feature that can prove useful in a variety of situations, like if you're worried about a shade match or don't live close to a Sephora store. 
Advertisement
If you'd still prefer to test out products in-store, feel free. Sephora offers test products for browsers to sample before buying, providing that reassurance we all need to make a confident purchase. Even with all the measures employed to ensure customer satisfaction, it's possible you won't love your Sephora purchase. If that's the case, don't worry. The store has a generous return and exchange policy. If you don't love your new lipstick or accidentally grabbed the wrong concealer shade, you can easily make changes in-store, online, or by mail.
The retailer has had its fair share of controversy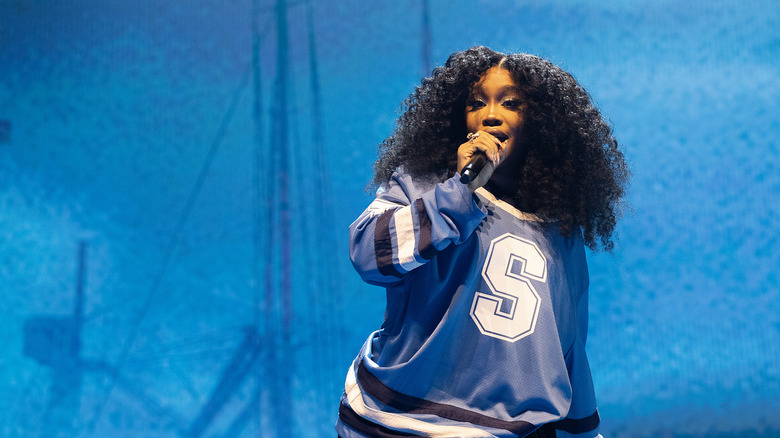 Andrew Chin/Getty Images
Most big businesses face controversy at some point, and Sephora is no exception. One of the chain's biggest snafus came in 2019 when R&B singer SZA accused a store employee of racial profiling. The artist tweeted: "Lmao Sandy Sephora location 614 Calabasas called security to make sure I wasn't stealing . We had a long talk. U have a blessed day Sandy." Sephora responded to SZA, ensuring it was looking into the situation, and, per CNN Business, the beauty store closed "all locations" a few months later for its employees to undergo "diversity training."
Advertisement
The following year, Sephora was hit with another bout of controversy. Per Inside Retail, a former store employee accused management at a Melbourne location of bullying and created a website for other employees to share their experiences. A representative of the company told the publication, "At Sephora, we have a zero-tolerance policy towards acts of bullying, harassment, or intimidation and are ardent about creating fun, safe and inclusive environments for our team and our clients, holding all of our interactions to the highest standards." However, the spokesman "would not say" whether the company was taking further steps to address the specific allegations.
Sephora has been hailed as eco-friendly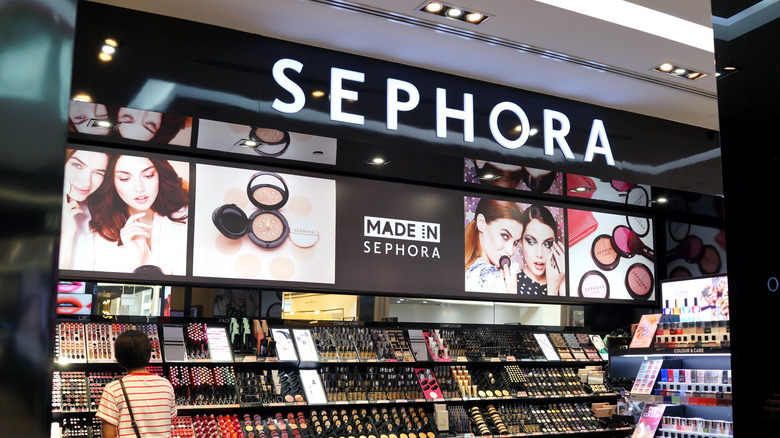 TY Lim/Shutterstock
Consumers want to purchase from retailers that are dedicated to maintaining the planet, not harming it — and one such retailer that's dedicated to maintaining the planet is Sephora. The beauty brand has been lauded for its efforts to remain eco-friendly, and it's even won awards for such actions. In 2015, the brand was given both the Sustainable Brand label and the R Award by Génération Responsable, the latter of which was earned for Sephora's change in display cases that significantly reduced their carbon footprint.
Advertisement
Sephora has taken strides to be responsible in other areas, as well. Per Sephora's website, the cosmetics giant employed the Racial Bias in Retail Study, which "call[s] attention to the inequities of retail shopping experiences for consumers" and "[identifies] actionable solutions to galvanize change." The store now continually reflects on its policies and practices, striving to be equitable toward all communities.
Sephora is moving into the sexual wellness space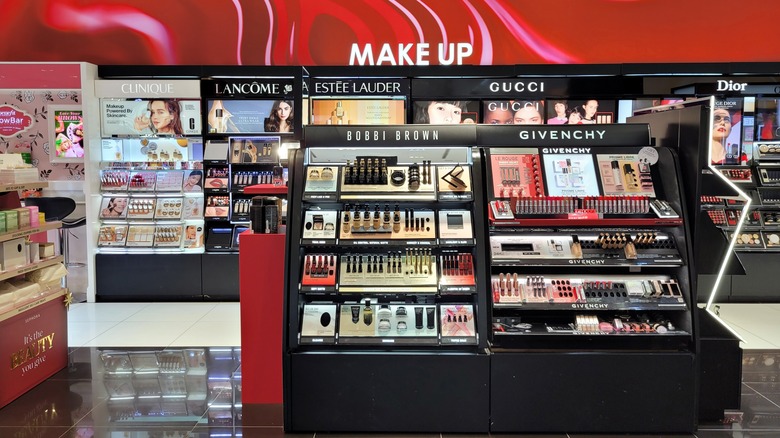 TY Lim/Shutterstock
Sephora is constantly expanding its shelves, and it recently made its way into the sexual wellness biz. The store now carries Maude products, a brand that sells items like vibrators, lubricants, and body wash. Though Sephora has sold "intimate care" products online for some time, Maude is the first sexual wellness brand to sell in-store.
Advertisement
Sephora joined other major retailers in this venture in 2022, though, as mentioned, its selection was exclusively online at the time. Brands like Dame, another sexual wellness brand, have applauded these major retailers for including their products in their inventory. "Each time somebody puts us in their store, especially a major player like Sephora, it makes it easier for other people to put in their store, easier for investors to invest in us, and easier for customers to buy us," Dame CEO and co-founder Alexandra Fine told The New York Times.
Sephora has a huge partnership with Kohl's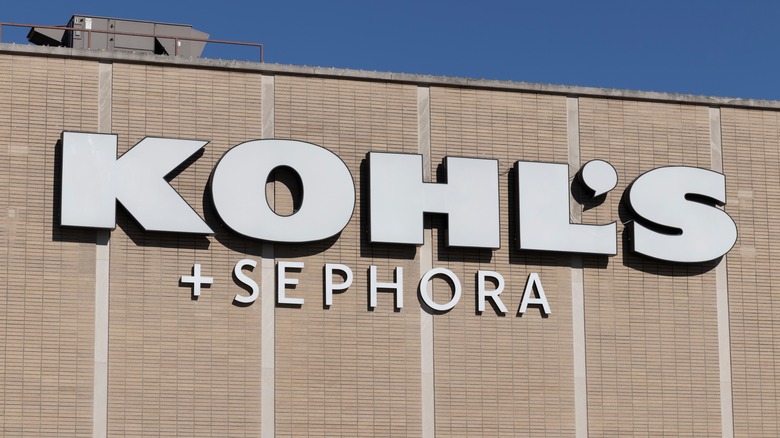 Jonathan Weiss/Shutterstock
Although Sephora has hundreds of locations across the United States, millions of citizens still lack close access to a physical store. Sephora is doing what it can to right this wrong, though, and it's working with Kohl's to do so. Since 2021, Sephora has been opening locations in Kohl's nationwide, giving customers even more places to browse their favorite makeup and fragrances. When the partnership was first announced, Sephora intended to open 850 Kohl's locations by 2023, and in March 2023, Kohl's announced that said goal would be met thanks to plans to soon open another 250 stores.
Advertisement
Kohl's isn't the only retailer where you might be able to find a Sephora. The beauty store has also opened locations inside JCPenney stores since 2006, and there are currently "over 574" locations in the United States, per Sephora's website. Consumers might gravitate toward the Kohl's locations, though. The Sephora spots inside JCPenney are not full-sized; therefore, not as much merchandise can be kept. The Kohl's locations are bigger, allowing more products to be shelved.
It's been recognized for its innovation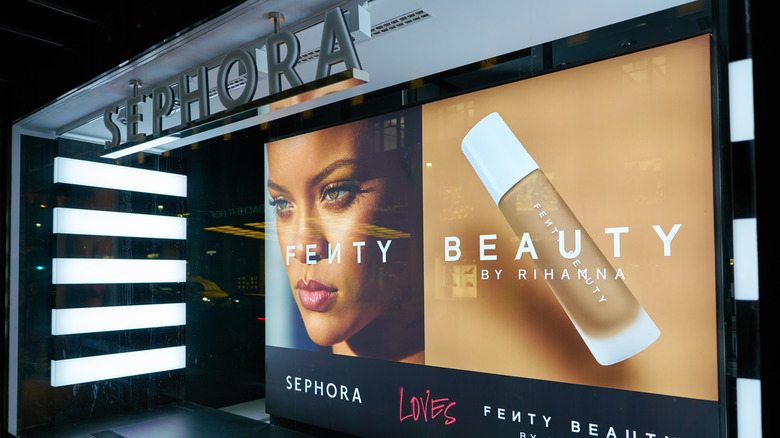 Sorbis/Shutterstock
Many businesses strive for innovation, but not many achieve it. According to Fast Company, Sephora is one of the businesses that has due to its success in "championing brands." In 2018, Sephora was awarded spot 36 of 50 on the World's Most Innovative Companies list, sharing space with juggernauts like Amazon, Spotify, Instagram, and Nintendo.
Advertisement
While several of the company's actions warranted it a slot on the list, one, in particular, stood out: its rollout of Fenty Beauty. Bringing Rihanna's beauty brand to Sephora majorly increased sales. Other ventures that made Sephora stand out included its partnerships with Pat McGrath Labs and Huda Beaty, as well as the creation of its Beauty Insider Community, which is intended to enhance the customer experience on the business's mobile app and website.
Innovation wasn't a happenstance for Sephora — the brand has intentionally worked toward providing customers with a better experience. In 2015, per LVMH, Sephora created the Sephora Innovation Lab, a space used to test new ideas before implementing changes throughout the store. This practice has led to "several successful concepts," per the conglomerate, like a "high-end gift wrapping service" and the "Mini Beautic Smart Sampling distributor." 
Advertisement
Sephora has a program to bolster diverse brands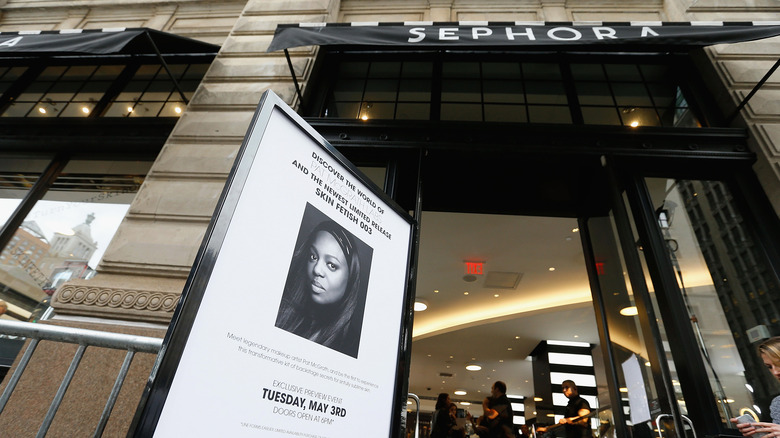 John Lamparski/Getty Images
Getting your product sold at Sephora is no easy feat, but the chain is making it easier for brands, particularly diverse brands, through programs like Sephora Accelerate. Sephora is dedicated to ensuring 15% of its merchandise is from brands owned by people of color, and to help achieve that goal, it began Sephora Accelerate, which offers start-ups and businesses with narrow distribution the opportunity to work with Sephora executives to better their business and hopefully one day be sold at Sephora.
Advertisement
"At Sephora, we strive to inspire change for the beauty industry at large by taking a leadership position in further diversifying our product assortment," Artemis Patrick, Sephora's global chief merchandising officer, said of Sephora's program on its website. "We are committed to leveraging the powerful skill sets and expertise of our internal teams, as well as external advisors, to help build an eco-system that supports the unique needs of our diverse brands," 
Sephora and Ulta are major competitors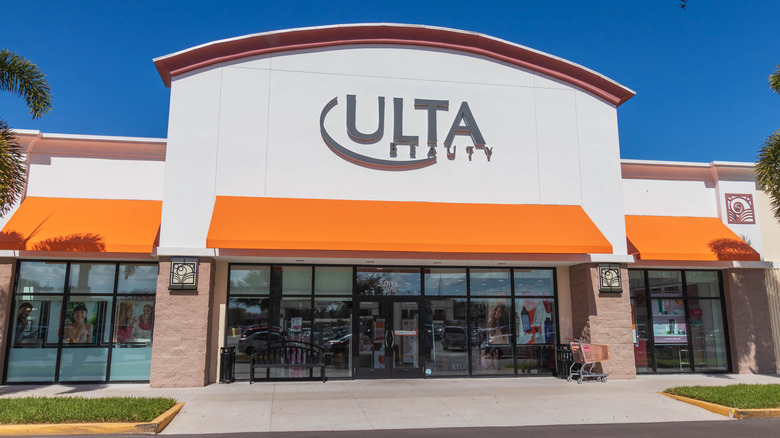 Sadie Mantell/Shutterstock
All beauty lovers know that Sephora isn't the only store that sells beauty items — and it might not even be your favorite. A major competitor of Sephora is Ulta, a retail beauty chain that's been in business since 1990. Though both sell beauty products, the two stores have some major differences.
Advertisement
For starters, there are more Ulta locations in the United States than Sephora. Ulta has 1,355 stores, while Sephora has just over 500 (though that number is quickly increasing thanks to its deal with Kohl's). However, Sephora has locations all over the world, with over 2,7000 stores nationwide — whereas Ulta is a United States-based retailer. 
The two chains also differ in their merchandise. While Sephora is known for exclusively selling prestige beauty products, Ulta has a mix of prestige and drugstore items, giving shoppers far more budget-friendly options than its competitor. Despite its competition with Ulta, Sephora has carved a seemingly indelible spot in the beauty industry, raking in billions year after year and serving as a haven for anyone who's beauty obsessed.
Advertisement