Our Best Tips For Safely Detangling Your Hair Without Dreaded Damage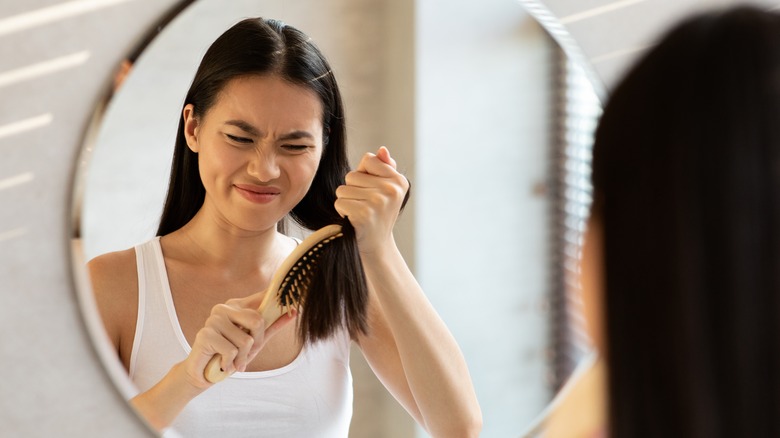 Prostock-studio/Shutterstock
We may receive a commission on purchases made from links.
Regularly detangling your hair is an essential step toward showing off nicer-looking strands and having a healthier scalp. For most, however, the process isn't as simple as running a brush through their hair once or twice. Damaged hair, long hair, and dry hair are all prone to tangles. Natural hair, in particular, normally requires even more hydration and patience to safely comb and detangle. Becoming familiar with your hair type and texture so that you can learn how to care for it properly, is vital. Knowing how your hair reacts to certain chemicals, products, and tools will help minimize damage and allow it to look its best.
When you're ready to start detangling, keep in mind that the right technique is just as important as the right products. Here, we'll tell you all about the best tips for detangling the right way and what products you can use in your hair to heal and hydrate your strands and keep them untangled.
Use conditioner and get your hair wet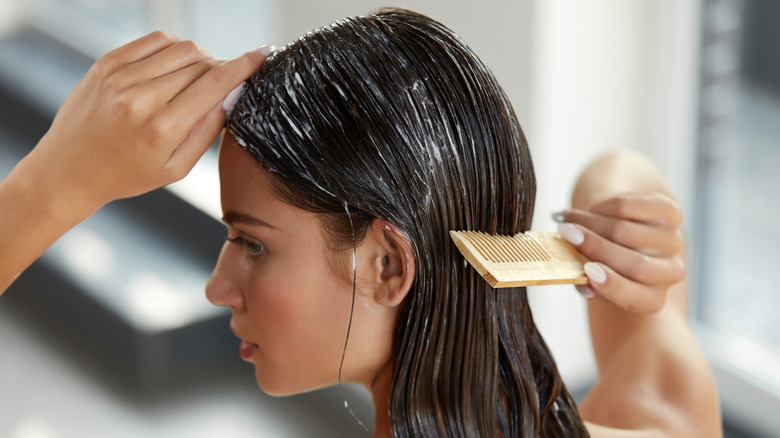 Puhhha/Getty Images
It's almost always best to detangle your hair while it's wet, especially if you have curly hair. Straight hair will generally have less breakage when brushed dry, but severe tangles can be removed more easily after getting your strands wet and using conditioner on the mids and ends. This gives the hair some slip, and it makes it much easier to comb or run your fingers through.
In addition to your normal conditioner, you may consider a hair mask, deep conditioner, or detangling conditioner. Often, curly hair textures, or dry and damaged hair, require even more moisture to penetrate the hair shaft so the tangles slip right out. One popular option is Soapbox Soaps' Coconut Oil Rejuvenating Deep Conditioner. Reviews indicate that the product leaves even the thickest and curliest of strands feeling like silk. Remember to follow the instructions on your hair masks and deep conditioners closely. Normally, they only need to be used a couple of times weekly.
Use the right detangling tools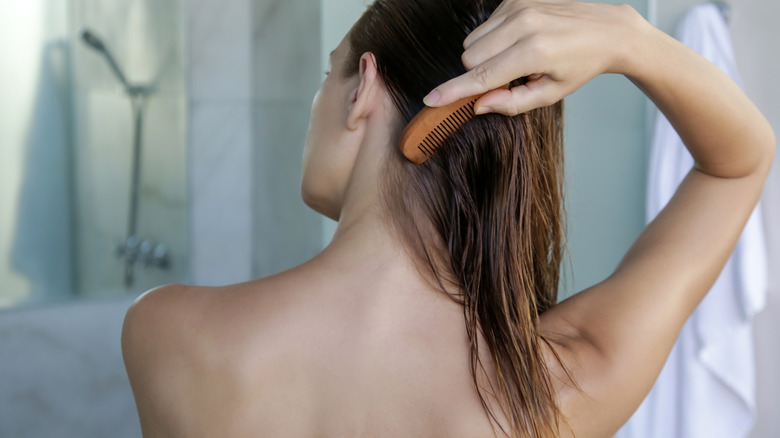 Triocean/Getty Images
Believe it or not, a detangling comb is not a one-size-fits-all solution. Depending on your lifestyle, as well as your hair type and length, certain detangling tools will work better on your tresses compared to others. The four main options are wide-tooth detangling combs, in-shower detangling combs, detangling brushes, and looped detangling brushes. Of course, there are subcategories like wooden wide-tooth combs that help eliminate frizz, and boar bristle detangling brushes which stimulate the scalp, but these are secondary considerations.
Typically, wide-tooth combs are used on curly, wavy, and straight hair, detangling brushes can unknot thick hair, and loop brushes work best on hair extensions. Detangling brushes are different from your regular paddle brush. They are made with flexible bristles at varying lengths that separate strands without damage. In-shower combs come in various shapes and sizes too, and they can be used for easier detangling while your conditioner goes to work. Loop brushes are the lesser-known option of the bunch and are specifically made for people who wear extensions. The loops prevent pulling at the root so you can detangle your hair without damaging the added wefts.
Start from the ends and work up to the scalp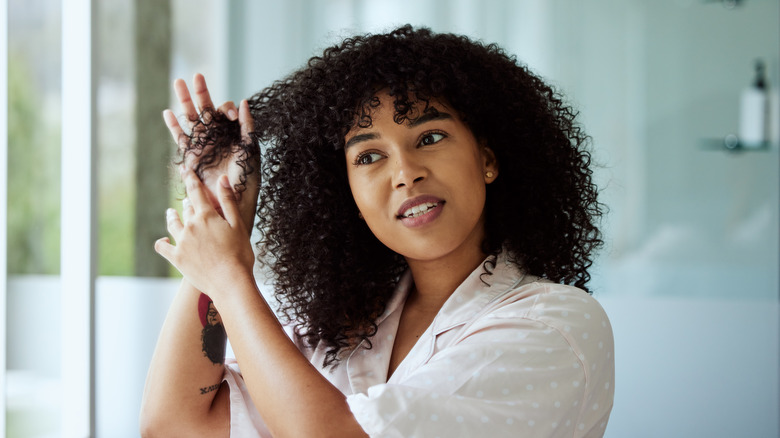 Peopleimages/Getty Images
Whether you have the very curly 4C hair type or super straight hair, detangling always begins at the ends of your tresses first. Likely, you've experienced the reverse once or twice, trying to brush through your hair starting at the scalp and hearing that awful ripping sound as you drag your brush through your knotted strands. Hopefully, you don't do this on the regular. The snapping sounds that you hear are not good as they are indicative of pulling hair strands from their follicles. This action stresses your locks and creates unsightly breakage.
To properly untangle your hair without damaging it, you should divide it into manageable sections and begin combing it from the last few inches. If you feel tension on your comb gently pull it out of the hair and start the process even lower on the shaft. As the tangles come out, you'll be able to bring your comb further up onto your head without causing damage to the strands.
Fight dry, tangle-prone hair with hydrating and strengthening products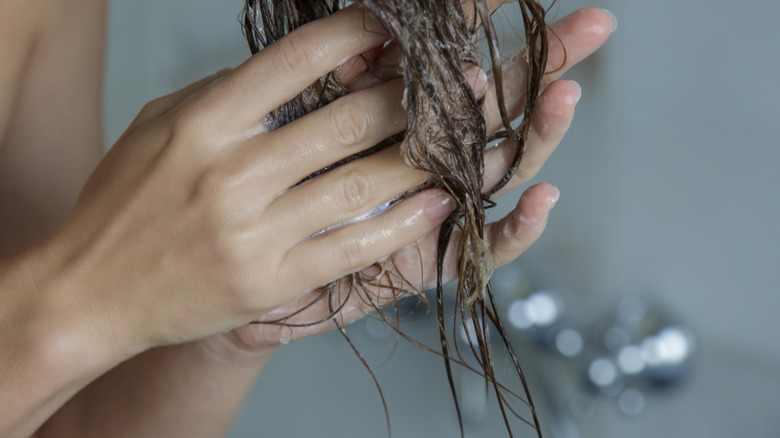 Triocean/Getty Images
Brittle and otherwise weak strands often need more attention in and out of the shower. If your hair still doesn't look the way it used to after properly shampooing, conditioning, untangling, and drying, you might need some extra assistance from hydrating and strengthening products that can help to bring your hair back to life. Several things can lead to dried-out tangle-prone strands. Using hot tools, chemical treatments, hair dye, and generally neglecting your locks can quickly cause them to become seemingly unmanageable.
Countless products claim to restore your hair's strength and health, but it's important that you look for something that will hydrate while also softening and detangling your strands. Bumble and Bumble's While You Sleep Damage Repair Masque is a good option, especially if you don't have extra time during your morning shower to wait to let your normal hair mask do its thing. 
The dpHUE Apple Cider Vinegar Hair Rinse is another great option because, in addition to dryness, another common thing making our tresses unmanageable is product build-up. If you can't risk using a drying chelating shampoo, this rinse will remove buildup while keeping your natural oils intact. Your hair will look cleaner, and it should be much easier to comb and detangle.
Use a leave-in conditioner
Leave-in conditioner was voted the most-used hair product, so you already know the benefits of putting it on your hair post-shower to keep it shiny, soft, and healthy. And a good leave-in conditioner can be a lifesaver if you forgot to, or could not, untangle your hair completely in the shower. A couple of our favorites are Olaplex No. 6, Ouai Leave in Conditioner, and Curls Blueberry Bliss Reparative Leave-In Conditioner. Each of these products is hydrating and keeps breakage to a minimum for less frizzy and more manageable strands.
The purpose of a product like this is to make it easier to untangle and style your hair. Usually, a leave-in conditioner is applied to towel-dried hair straight out of the shower. You don't need much of the product and it should be applied to the mids and ends only. Immediately after using your leave-in conditioner, comb through your hair with your detangling comb. Leave it to air-dry or you can blow dry it. Some of these after-shower conditioners include heat protectants in their formulas. If you frequently use hot tools, consider purchasing one like this to prevent damage that leads to drier and tangled tresses.
Work in sections
As noted previously, working in sections can reduce breakage and turn the detangling process into something a little less daunting. If you have thick hair, curly hair, or both, sectioning is especially essential. There are many ways to section your strands, but what will really decide how you do this is, you guessed it, your hair type. Isimeme Edeko shows her process on YouTube where she begins by spraying her hair with warm water to make it damp. She appears to have thick natural hair with tight curls. She sections it into four parts, first down the middle and then from ear to ear. After securing the sections with clips, she sprays more water on the piece she's going to be working with and begins the detangling process.
Straight or loosely wavy hair can be sectioned differently. Abbey Yung on YouTube, who has fine, straight hair, says that she will detangle her strands wet or dry by pulling most of her hair to the top of her head and leaving a small portion down. She detangles the length with a wide-tooth comb and slowly lets down her hair a little bit at a time until it's all brushed through.
Use a dry hair oil to protect your untangled hair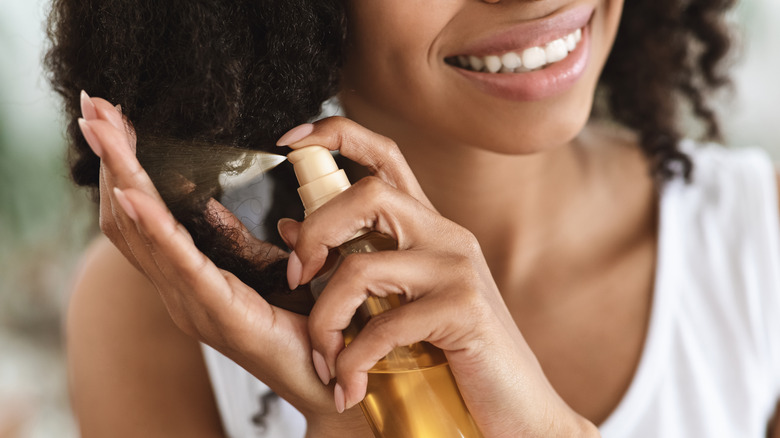 Prostock-studio/Shutterstock
Once your hair is untangled and dry, one of the best ways to keep it hydrated is to use a dry oil. Unlike other "dry" products you may use, such as dry shampoo, this hair oil is a liquid. Its purpose is to support the existing moisture in your locks which reduces frizziness and breakage. Used correctly, dry hair oil shouldn't make your hair appear greasy. It will simply cover the natural oils already in your tresses to protect them. On ultra-dry hair, hair oil might not be of much help. You must rehydrate your locks first with a deep conditioner or another treatment to get the most out of this product. Some well-liked dry hair oils include Revolution Haircare's 4D Restore Oil and Kérastase Elixir Ultime Hydrating Hair Oil Serum.
By adding some extra hydration to the mids and ends of your hair, your strands will experience less friction that causes them to tangle. Depending on your hair type, one dry oil may work better for you than another. Usually, jojoba oil improves radiance; nut oils, such as almond oil, fight dryness and irritation; and argan oil fights frizz. In addition to these, safflower oil, grapeseed oil, and rosehip seed oil also have beneficial properties.
Wear your hair in a protective style while sleeping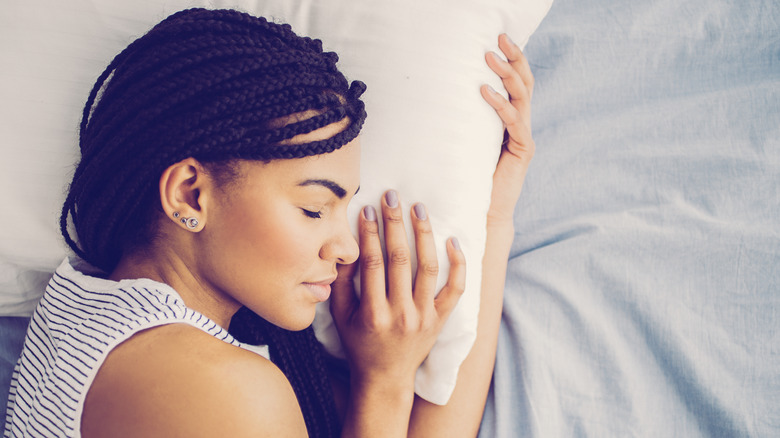 Mangostar/Shutterstock
Wearing protective hairstyles while sleeping is nothing new. In several cultures, protective styles that keep the ends of the hair away from physical and environmental stressors have been around for thousands of years. Some of the most popular protective styles — particularly for those with  Type 3 and Type 4 curly or natural hair — are braids, cornrows, Bantu knots, buns, and two-strand twists. These commonly seen hairdos reduce the chances of tangling and breakage. When the style is taken out, the hair is still soft and mostly untangled, so it can be easily washed, re-braided, or styled in another way.
Another protective style to wear at night is the pineapple method where you arrange your hair in a loose ponytail on top of your head and secure it with a loose hair band. Those with straight or wavy strands can normally protect their hair at night with a loose bun on the top of their head or a French braid. No matter which style you prefer to wear, protecting your hair for sleep is a surefire way to keep your hair looking and feeling healthier, more moisturized, and less tangled.
Prevent tangles with a protective hair wrap or a silk pillow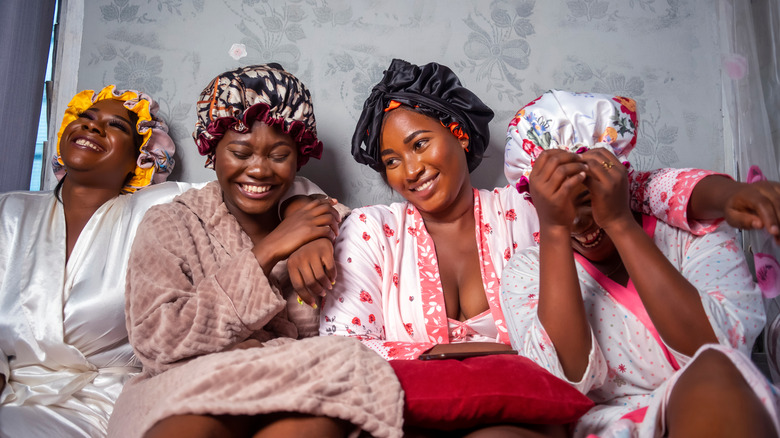 Yaw Niel/Shutterstock
Satin and silk pillowcases are something every person should own. Not only do they promote healthy and hydrated skin, but they are also extremely good for your hair. Most pillowcases are made of cotton which has a rough texture that absorbs moisture. This leads to tangled and frizzy hair as well as the drying out and breaking of your strands. Even if you are good about moisturizing your hair at night, a cotton pillowcase will steal much of that moisture while you sleep. Silk and satin pillowcases allow your scalp and strands to retain their moisture, and they reduce breakage caused by friction. One well-loved pillowcase option is the Kitsch Satin Pillowcase. It's 100% vegan, unlike real silk options, and ultra-smooth.
If you aren't keen on switching pillowcases, another option is to wear a bonnet to sleep. There are a few different styles and fabrics you can buy these in. Silk or satin is usually the way to go, but the style is mostly up to you. Turbans, slap caps, hair wraps, drawstring bonnets, and long sleep caps are all popular styles that are easy to choose from based on your preferred protective hairstyle to wear at night. Depending on your hair type and length, one style could be better for you than another. Long caps are great for long and styled hair while tighter wraps work best with short hair.
Get your hair trimmed often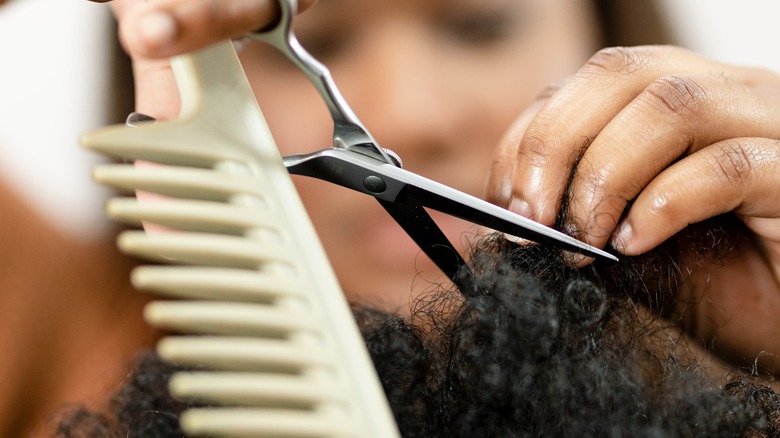 Rawpixel.com/Shutterstock
Perhaps one of the easiest ways to combat tangles is with regular haircuts. You don't have to commit to chopping off most of your hair, a small trim can go a long way. You may have heard people say that getting your hair trimmed helps your hair grow faster and longer. Of course, as you may know by now, this isn't necessarily true because your hair will continue to grow from the root no matter what happens to the ends. However, regular trims can eliminate split ends and prevent more breakage.This will lead to stronger and longer hair over time.
Tangles and mats form most easily on our mids and ends, which is why they require so much diligent care. As your ends become more and more mangled with the use of hot tools, environmental factors, and daily friction, knots become a regular occurrence. When you trim off those dry, and damaged dead ends, the softer hair left behind will have fewer tangles. It's recommended to schedule a trim every 8 to 10 weeks on average when you're trying to grow your hair out. You'll be able to keep your length while cutting off dead ends and weaker hair. In doing this, you'll slowly begin to notice your hair becoming thicker at the ends and it'll be much healthier looking.
Stay away from drying hair treatments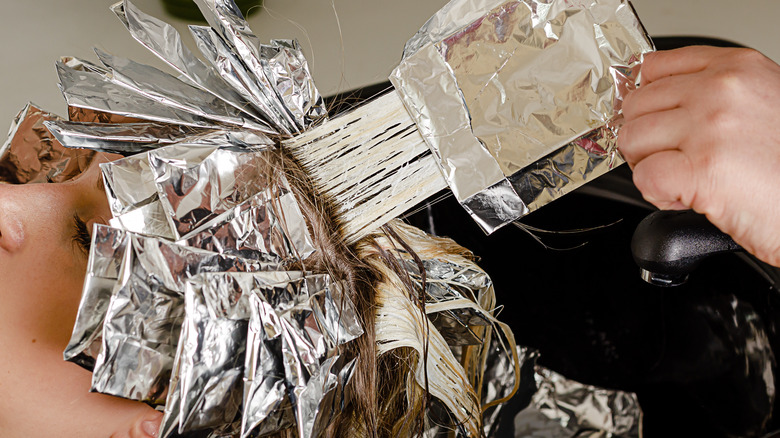 Tetiana Tychynska/Shutterstock
Drying hair treatments include bleaching, at-home hair dye, perms, relaxers, and more. Consistently receiving these drying hair treatments is a one-way street to brittle and damaged strands that are prone to knotting. Of course, there are things you can do to combat the effects of these procedures. However, long-term use will almost always lead to unhealthy locks. Straightening and curling your hair on too high of a heat setting can dry out your strands too, which is why heat protectant spray is so important.
When any hair type is exposed to drying treatments regularly it will affect how manageable the hair is. These procedures are known to affect your curl pattern or hair texture, and your hair's density, as they burn the strands chemically or with heat. Anything damaging like this is sure to cause tangles. You'll notice the strands becoming dull, frizzy, or easily breaking off. It will become more difficult to comb through and hair thinning can also become a problem. If you're in the process of restoring your damaged hair, definitely stay away from anything that will unnecessarily stress your tresses.
Be patient and work slowly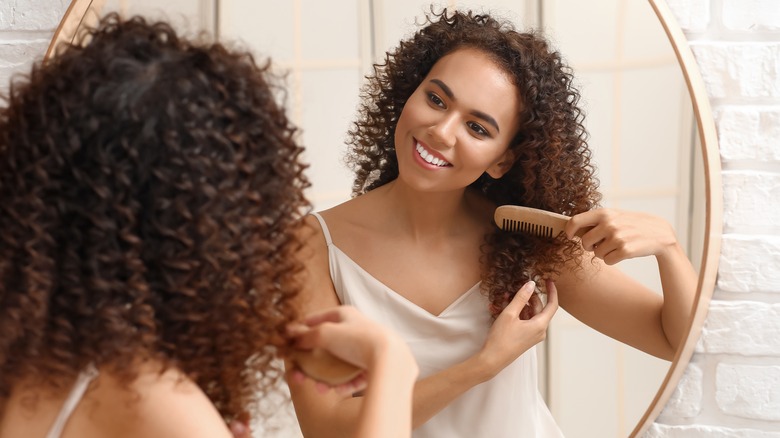 Pixel-Shot/Shutterstock
Above all else, detangling your hair safely takes patience. If you are dealing with hair that is super knotted or matted, you must take things slow and be mindful that you aren't getting frustrated. Work in very small sections from the nape of your neck to the top of your scalp. In some cases, you may have to make a whole day of it. Take breaks when your arms get tired, ask for help, and try to make it fun by multitasking with your favorite movie or TV show, as recommended by Healthy Afro Hair on YouTube. In her video, the influencer advises her viewers to pick a day when they have nothing else planned and make it their detangling day. Thick curly hair tends to take much longer to detangle than any other hair type. You don't want to start detangling and find out you have to leave the house with only partially unknotted hair.
Depending on your hair type, even the most-loved detangling hacks may not work for you. Yet, you can never go wrong with taking the process slow and gently unwrapping each knot. Among the best ways to keep damage at bay is to prevent these tangles before they start. By investing in good products such as the Briogeo Wide Tooth Detangling Comb, a satin bonnet, a deep conditioner, and Verb Ghost Weightless Hair Oil, you can keep your hair soft and hydrated with minimal tangles.