Wearing Black? In The Summer? It Can Be Done & Here's How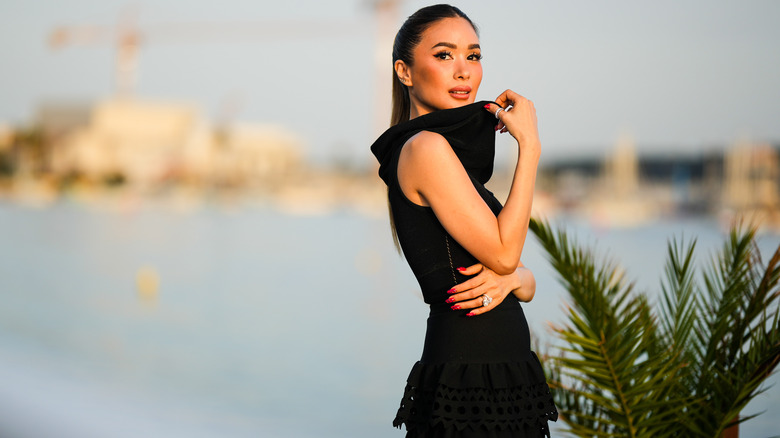 Edward Berthelot/Getty Images
There's no denying that black is simply the most iconic color in the fashion world. However, as much as black is a universal hue, summertime is typically when we see its popularity decrease. Once the warm weather hits, many opt for lighter-colored clothing that helps keep them cool during the season. Although it's been proven that black absorbs more heat than other colors, it's still a stylish shade to sport in the summer. For those who are allergic to color, styling black clothing pieces during the summer season is a challenge, but it's possible.
Remember that this shade is the epitome of dressing up during a season that's known for its casualness. Keep your style minimal and crisp with black pieces that will help you stand out from an array of colors during the summer. To avoid any heat-related issues and unnecessary sweating, keep your clothing choices smart but fashionable.
Black linen pieces
If you're looking to rock darker hues in the summer, the best way to do so is by being smart with your fabric choices. While black might absorb more heat, a cool and breathable fabric will ensure you are still cool during the warmer weather. Linen is one of the must-have fabrics to own in any color during the summer due to its relaxed and textured characteristics. Add black linens to your wardrobe for an upscale summer look.
Black cutouts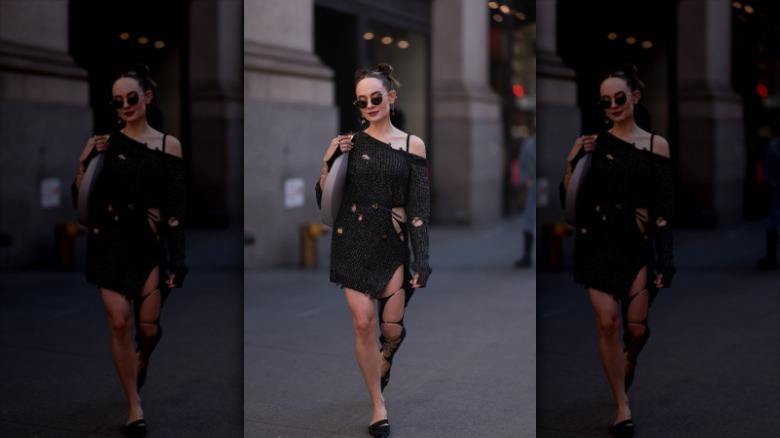 Jeremy Moeller/Getty Images
You don't need to have a full-pieced clothing item during the summer season. Cutouts are some of the latest fashion trends that everyone is adoring. Dresses and tops with cutouts on them can keep you fresh even while wearing black. Opt for subtle cutouts for a more elegant vibe or keep the outfit distressed with some extreme cutout work. Either option will give you the ultimate trendy look in your favorite color. 
Black accessories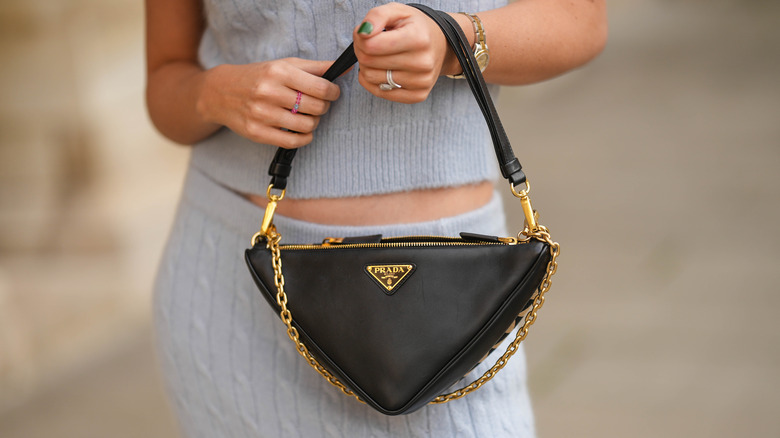 Edward Berthelot/Getty Images
For those who switch their wardrobe to bright and bold hues, accessories could be the most low-key way of sneaking in some black pieces. Add a black shoulder bag to your summer wardrobe as a subtle nod to the elegance of the color. There's no need to worry about styling your handbags as black will ultimately always combine perfectly with other colors, making it the most versatile piece in your closet.
Black headwear and hair accessories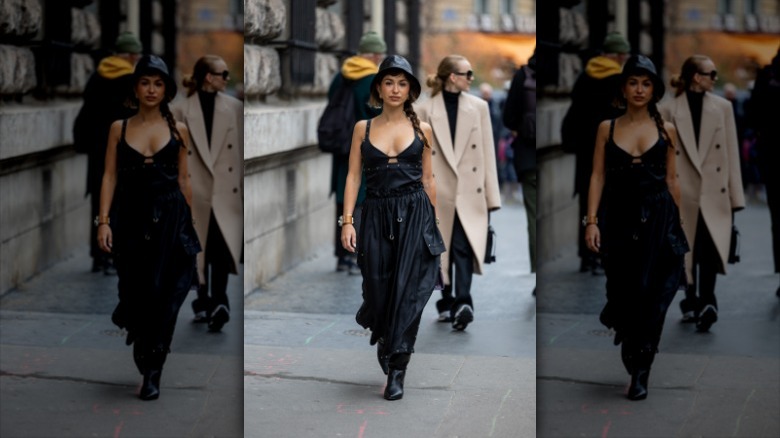 Christian Vierig/Getty Images
Just because it's summer, it doesn't mean we have to forget about all of our hair accessories. Baseball caps and bucket hats are two of the best ways you can rock the color black while still keeping yourself safe from the sun. A chic and Y2K-inspired bucket hat is the perfect way to add a casual element to your look while still keeping it weather-appropriate. 
Black trousers with a crop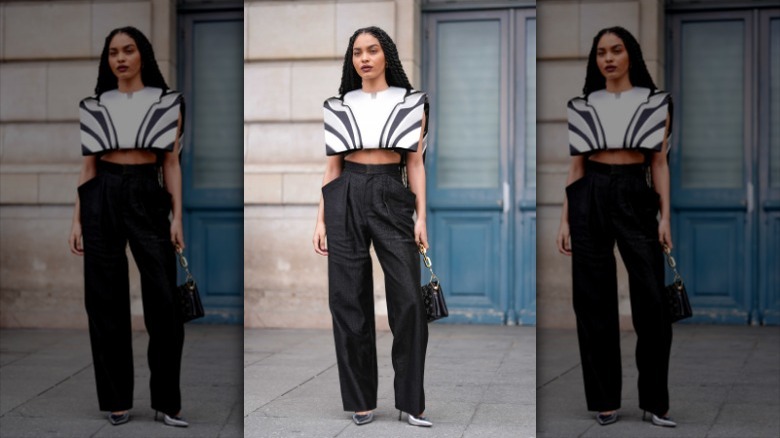 Edward Berthelot/Getty Images
On the days that you can't wear a dress or skirt, reaching for pants or trousers is the ultimate way of elevating a summer outfit. Not only are black trousers a staple in most workwear wardrobes, but they give you the flexibility of being able to wear almost any top with them. Go for crochet pieces or crop tops that can play well with black pants to give you a fun contrast. There's no need to be serious with black pants as these pieces can be dressed up or down, depending on your event.
Black flowy pieces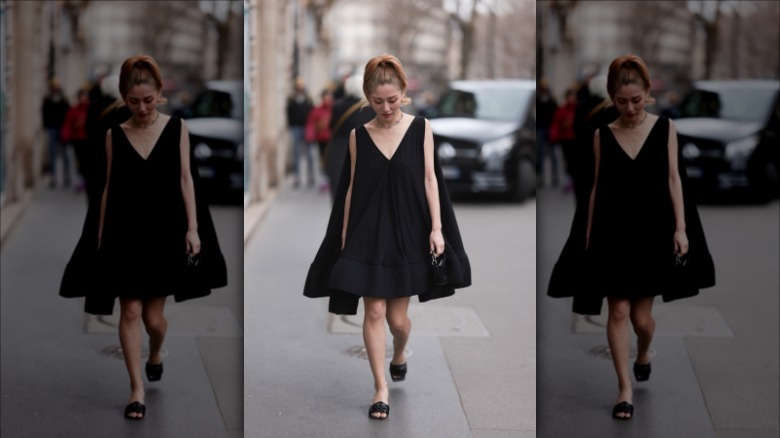 Jeremy Moeller/Getty Images
It's no secret that bohemian-inspired pieces are some of the most favored items of the season. Whether you opt for a plain black babydoll mini dress or an oversized piece with embroidery, you can't go wrong with adding some movement to your wardrobe. Getting this extra flow is key to staying cool in the summer, no matter what color you are sporting. You can achieve this flow by going up a size or two on pieces or opting for pieces that have that extra volume to them.
Black skirts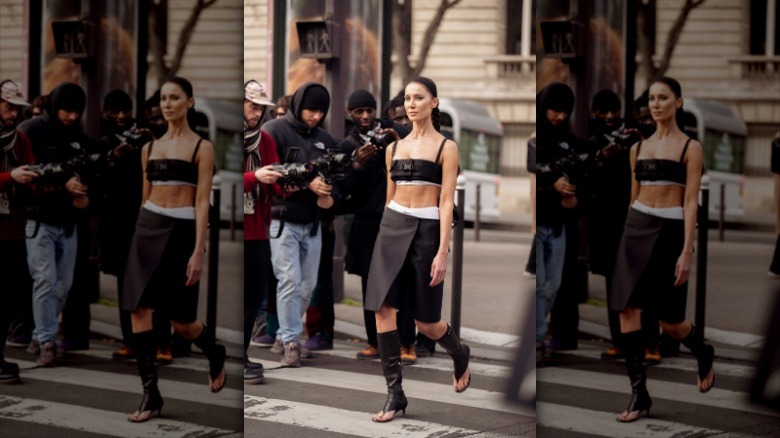 Raimonda Kulikauskiene/Getty Images
If you're bored of the same pair of shorts every summer season, skirts are going to be your new favorite item during the warmer weather. As we've seen throughout recent trends, skirts in all forms are some of the most sought-after pieces right now. Cargo skirts, midi skirts, and satin skirts are examples of some of the many pieces that you can rock in black but still stay refreshed in the heat. Mini skirts are an obvious choice for anyone looking to shed some layers while under the sun.