The Dress Code Color Rule You Need To Know For Weddings (& It's Not About Wearing White)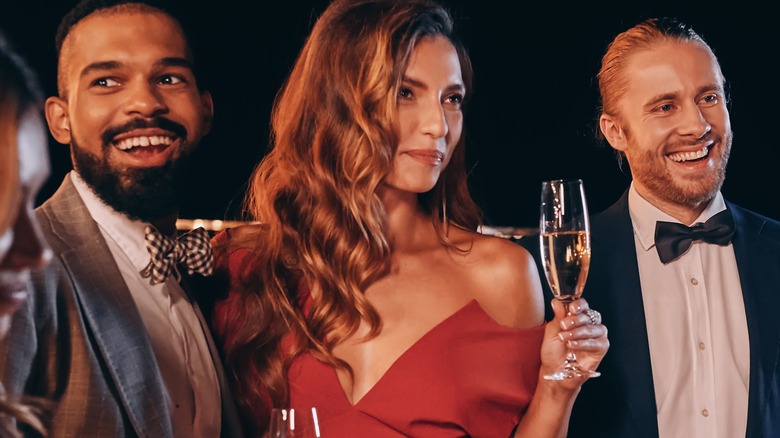 G-Stock Studio/Shutterstock
With wedding season upon us, it's time to begin finding the perfect wedding guest outfits. Of course, weddings come with their own etiquette and fashion advice which can vary depending on the weather, venue, and dress code of each individual wedding. There are some hard and fast rules when it comes to dressing for a wedding. But you might be surprised at the dress code rule that will make you a highly appreciated guest. Plus, knowing this tip will relieve a lot of stress for yourself when getting ready for the event, and it'll allow you to focus all of your energy on celebrating the newlyweds.
Advertisement
Dressing for a wedding as a guest begins with deciphering the dress code and what it means in terms of what you are expected to wear to the celebration. For the most part, you'll want to stick with something chic, weather-appropriate, and not overly attention-grabbing like sheer fabrics, super-short hemlines, and anything overly extravagant. When in doubt, stick to something classy, and when stuck between going fancy or casual, always err on the side of formality. Here are the dress code rules you need to know as a wedding guest. 
Dressing similarly to the bridal party is the biggest faux pas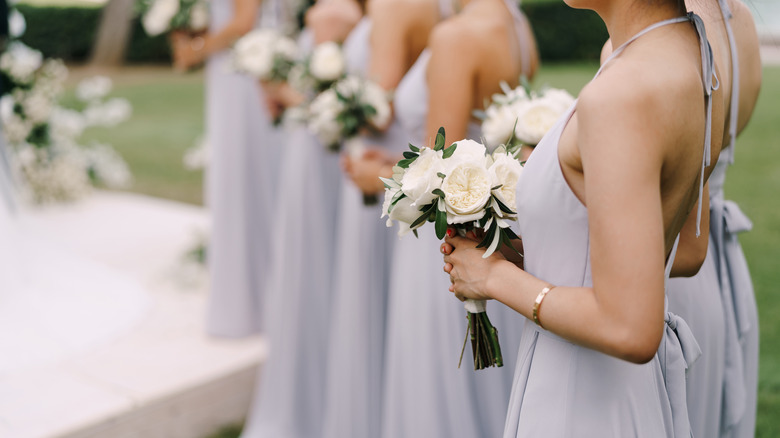 nadtochiy/Shutterstock
Attending weddings is a time to celebrate the new couple, possibly catch up with old friends or long-distance family members, and have fun on the dance floor! You don't want to be worried about your outfit blending in with the bridal party or photographing poorly. To avoid mirroring the bridal party, the best etiquette tip is to ask the betrothed couple far in advance of the wedding date what colors they're opting for in their wedding party attire so you'll know which shades to stay away from. 
Advertisement
Since betrothed couples are often overwhelmed with wedding planning and inundated with messages from well-wishers and vendors alike, you could also have someone in the bridal party or a family member with whom you're acquainted. You can also potentially gauge the color scheme from the save-the-date cards or official invitations. If you want to be a master sleuth, look on the couple's wedding website, search for Pinterest boards where the couple may have clues as to their color scheme preferences for the wedding, or see if there are any sneak peeks on the couple's social media. Be creative, but always be polite. To be the best-dressed wedding guest, bring a second outfit with you as a backup option in the event that you look like a member of the bridal party. 
Advertisement
Know how colors could photograph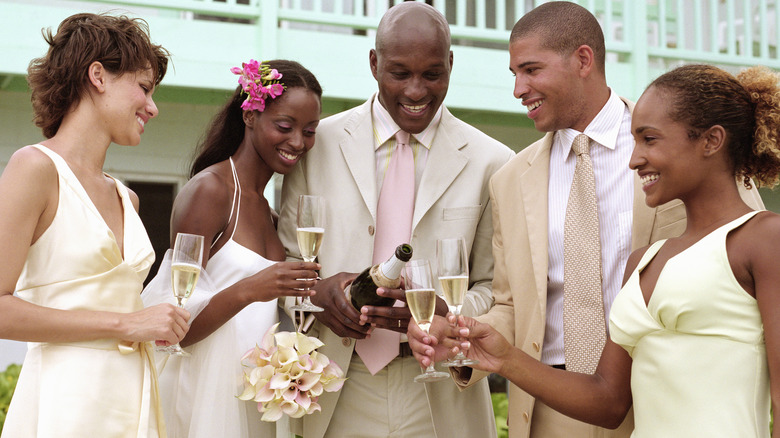 Digital Vision/Getty Images
One of the best-known rules for wedding guest attire is that you should never wear white. In fact, white suits, bridal jumpsuits, and other styles in iconic wedding white abound for betrothed couples who want to rock their own style on their special day. Therefore, white shouldn't be the main color in your outfit as a guest. A fun fact about the color white and wedding dresses is that the color didn't originally represent a woman's virginal status. Rather, white gowns became the go-to for brides after Queen Victoria wore a white dress on her wedding day.
Advertisement
In addition to avoiding white, be wary of pastels or shades of ivory, beige, and silver. These colors can appear white in photographs with the right (or wrong) lighting. They are also trending choices for alternatives to white bridal gowns. If you're uncertain of a shade, try taking photos of your outfit in various lighting beforehand. A famous instance of this was when Princess Catherine Middleton wore a pastel yellow ensemble to Prince Harry and Meghan Markle's wedding. Unfortunately, the sunlight made it look like she wore a white dress in the wedding day photos. 
Prints and patterns can be perfect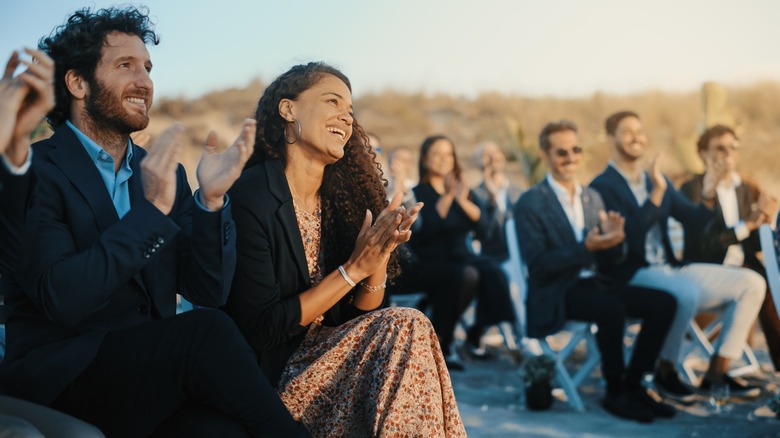 Gorodenkoff/Shutterstock
The best dress code tip is to choose prints and patterns over solid-colored outfits. This is because many wedding parties are dressed in solid colors, so no matter what the official nuptial colors turn out to be, wearing a print or pattern will automatically keep you in the clear of being mistaken for a member of the bridal crew. Since weddings are about celebrating, you can have fun choosing your prints and styles, like a floral jumpsuit or a striped floor-length dress. Given that patterns can easily become too much, choose something that'll be comfortable to wear but won't take attention away from the couple. 
Advertisement
Some wedding party ensembles are beginning to include florals and other patterns, like seersucker for suits and even bridesmaids dresses, particularly for spring and summer outdoor weddings. This simply means that you can never be too prepared. Before you go shopping for a brand new outfit to wear to someone else's wedding, first look in your closet for something fitting, which follows in Catherine Middleton's etiquette footsteps, as she typically re-wears outfits she's been seen in previously so she doesn't steal the spotlight from someone else's milestone moment.