Tips For Accurately Measuring Your Bra Size At Home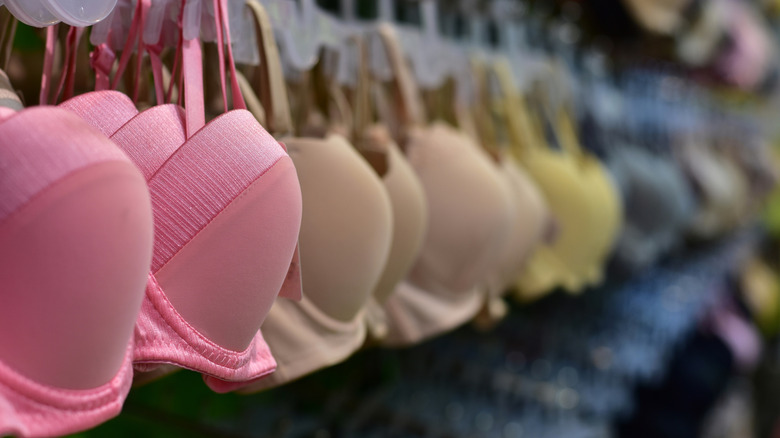 korkai/Shutterstock
Sure, you can go to someplace like Victoria's Secret or Bali to get your bra size professionally measured, but we have some at-home tips that will get you an even more accurate measurement. It's also a little less invasive doing your own bra measurements, rather than having a stranger do it for you. We even have some tips on measuring that they don't do at the stores.
Advertisement
Also, like most women's clothing, no two bras from two different companies will necessarily fit the same. You could get measured at Victoria's Secret and then go elsewhere and find that you need a different size than what they told you. While some of the difference in fit has to do with the many different cup styles available, you could also find a 38 band from one brand that fits tighter than a 38 band from another company — because many brands have their own sizing features. And how do you even know which style of bra is right for you? 
Have no fear — we're here to help you get an accurate measurement, decipher the differences between bra styles, and give you some tips on bra shopping. We can't promise it will be an easy process, but we know it will help you find what you're looking for in the long run. Let's get started.
Advertisement
Why you want the right size bra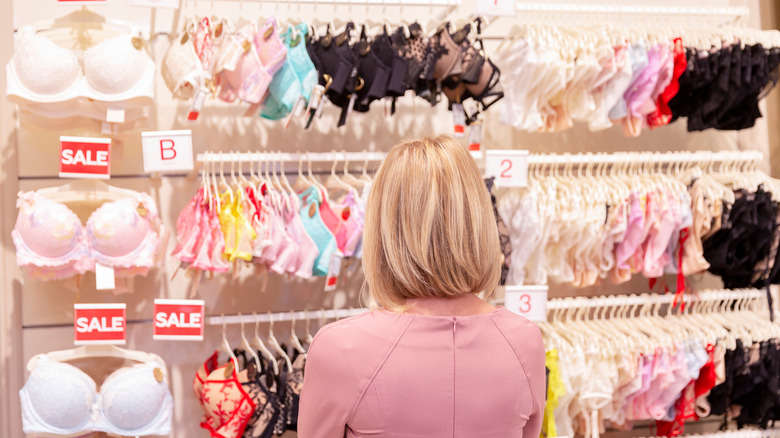 Deman/Shutterstock
If you've ever spent a few hours (or the entire day) in a bra that did not fit right, you know the pain it can cause. Whether the shoulder straps were all wrong and cut into your arms or slid off your shoulder all day, or you kept mushrooming out of one or both cups, you know that the wrong bra causes more than discomfort. It can be annoying and embarrassing when you have to adjust different parts over and over again.
Advertisement
Not only can an ill-fitting bra leave you with breast and shoulder pain, but it can also hurt your rib cage. On top of that, a poor-fitting bra can cause bad posture and may lead to sagging. The proper support balances out the weight of your breasts so that you can stand up tall and not end each day with back pain. While a too-loose bra would seem the worst, even a bra that is too snug can leave you with pain and perhaps even chaffing and other irritation.
Signs your current bra is the wrong size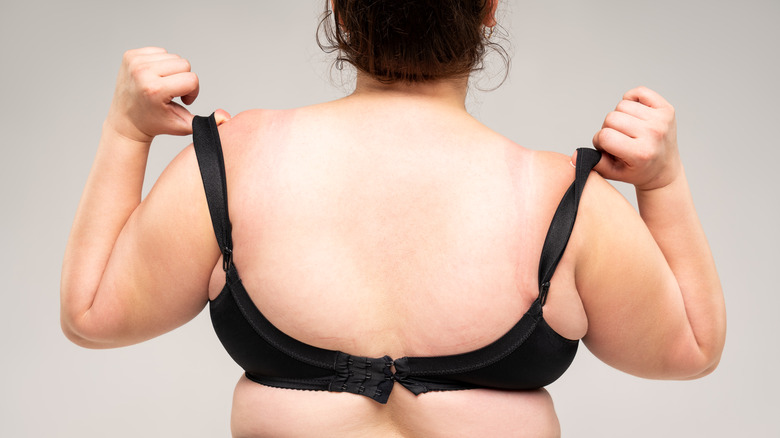 Staras/Getty Images
Too tight or too loose, the wrong bra fit is doing nothing good for you. Even if you don't have any pain from things being too snug or aren't getting poked in the wrong places from your underwire, your bra still could have an improper fit. When things are too loose, your bra won't be doing a good job at giving you the proper support. Too tight and you may experience pain and chafing. So how can you tell that your bra is the wrong size?
Advertisement
Your bra may be too tight if you have indents left on your skin when you take it off — this can happen on your shoulders, under your breasts, and even around your back. If any of your bits are bulging, even your back, your bra is too tight — the same goes for if it looks like your two breasts have become one.
If you can fit more than two fingers under your bra band when it's on the loosest hooks, it's too loose. The tightest hooks should be unattainable as you'll graduate to those as you wear the bra and it stretches out over time. You also want to be sure the shoulder straps stay in place. If your breasts seem as though they're floating loosely in your cups, this is another sign you picked a bra size that is too big, or that you should at least look into a different cup style.
Advertisement
What to change depending on the wrong fit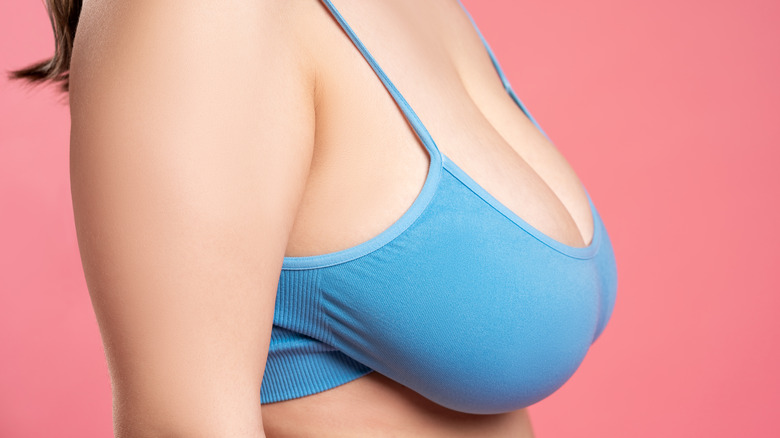 Staras/Getty Images
If your bra has any of the issues mentioned above, here are some tips on how to fix it with a properly fitted bra. If you have uni-boob or your breasts are popping out anywhere — whether they're mushrooming out the top or you have side-boob going on — you need to change your cup size to something bigger. If there's too much extra space in the cups, you need a smaller cup size. Sometimes, if you have larger breasts, you may want to lean toward full-coverage bras rather than partial-coverage options like balconettes. Strap issues can also relate to cup size — if your straps are falling all the time and tightening them doesn't help, you may need a smaller cup size or you may do better with a racerback bra. You can also buy racerback bra clips so you don't have to replace all of your bras. If your straps are too tight and loosening them doesn't help, you may need a larger cup size. 
Advertisement
When your band is cutting in, you need a bigger band size, but if your bra seems to sit too high or too low in the back, it could be the fault of your cup size rather than the band. Riding high means you could need to go up a cup size or go down a band size, and if it's riding low, aim for a bigger band size.
How your bra should actually fit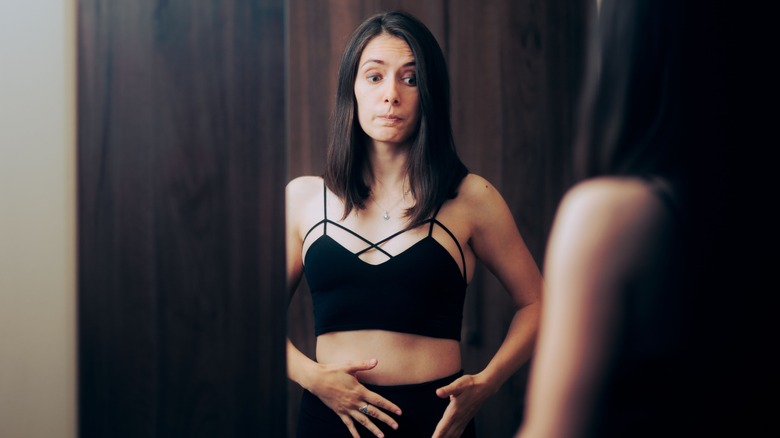 Nicoleta Ionescu/Shutterstock
Well-fighting bras will have none of the issues we've already discussed. Instead, they will give you the right amount of lift and comfort. Do your shirts look good with that bra on? The right one even helps your clothes fit better. 
Advertisement
And while comfort is key, you also want to be sure that your bra looks good whether you're standing in the mirror wearing it alone or you're fully dressed and ready to head to work or hit the town. A good fit puts your breasts in a non-sagging position and keeps the sides of them in line with the curve of your body. There should be no bulging, and when you lift your arms, everything should stay snuggly and comfortably in place. You also don't want any breast pain at the end of the day, which can be taken care of with the right fit.
How to measure your band size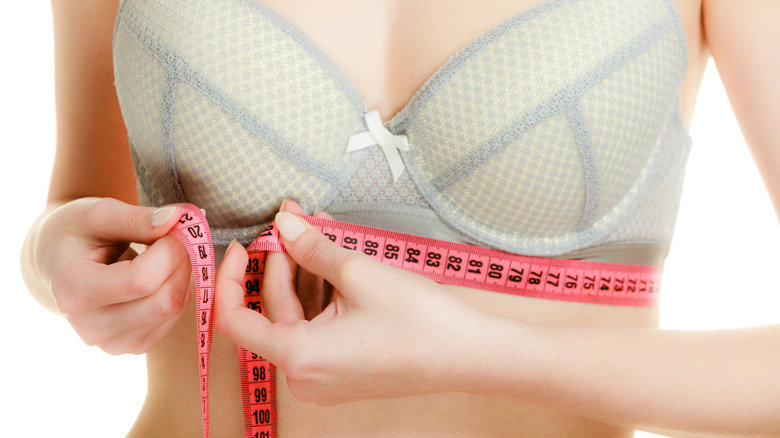 Anetlanda/Getty Images
The first measurement you will take to find out what your bra size is will be the band size. This is the circumference around your body under your breasts. Before you do your measurements, put on the bra that seems to fit the best of your current collection — you want something that isn't padded. While wearing a bra for these measurements will help keep your breasts in place and make it less like a juggling act, if you don't have larger breasts, you can surely do your measurements braless. Wrap a cloth tape measure right under your breasts and hold it snuggly to get your proper measurement.
Advertisement
While some calculators will tell you to use the exact measurement, others, such as Real Simple's calculator, suggest adding to your measurement (which gives you that extra leeway with the tightening and loosening of your band). If your measurement is odd, add five, and only add four for even numbers. Or, if you want to stick with the exact measurement, you can. You also want to be sure to round down for fractions in all of your measurements. The number you end up with is your band size.
How to measure your cup size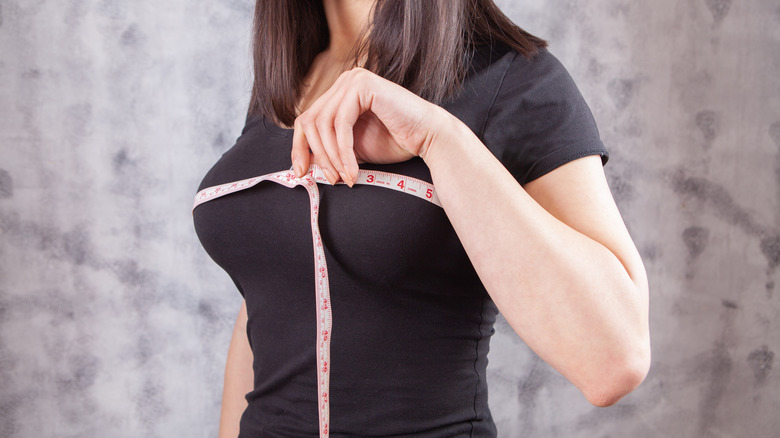 Sasun Bughdaryan/Shutterstock
Next, you'll want to take the cup measurement, which is done by wrapping the same cloth tape measure around the fullest part of your breasts. You don't need to pull this measurement super tight, but you do want to try for a looser snug fit for picking your measurement. While some websites suggest going natural, for women with larger breasts or saggier ones, wearing a bra for these measurements may be helpful, as it will help you find the right fit for the best support. You could try both — doing measurements with and without a bra and comparing the final outcomes of both.
Advertisement
Once you have your measurement for this part, be sure to write it down with your band measurement. You will use these two numbers to help you determine your cup size. Cup sizes cannot be calculated without your band size, and the better your measurements, the better your fit. Never use a measuring tape from your tool kit, because you want it to nicely wrap around your body — cloth measuring tapes are easily found in sewing supplies.
Important measuring tips for more accuracy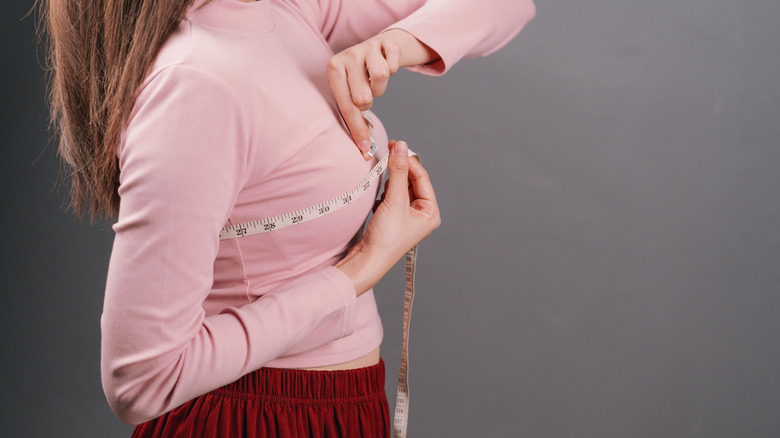 Athvisions/Getty Images
But wait, you're not done yet. While those are the two basic measurements, you can be sure to get a better fit with a couple more measurements. InvisiBra offers a fantastic calculator that uses these extra measurements to give you the best fit possible, and other online bra size calculators include these sometimes as well. The two most important additions to these measurements are a leaning and lying bust. 
Advertisement
For the leaning measurement, you simply lean all the way forward so that you are leaning parallel to the ground. The measurement will be done in the same position as your cup measurement was done. Then, for the lying measurement, lie down on your back and again measure around the fullest part of your breasts. InvisiBra says to do both of these measurements without a bra.
While these measurements require a calculator, you can compare your self-calculated results with them for a better idea of your perfectly fitted bra.
Combining it all to find your bra size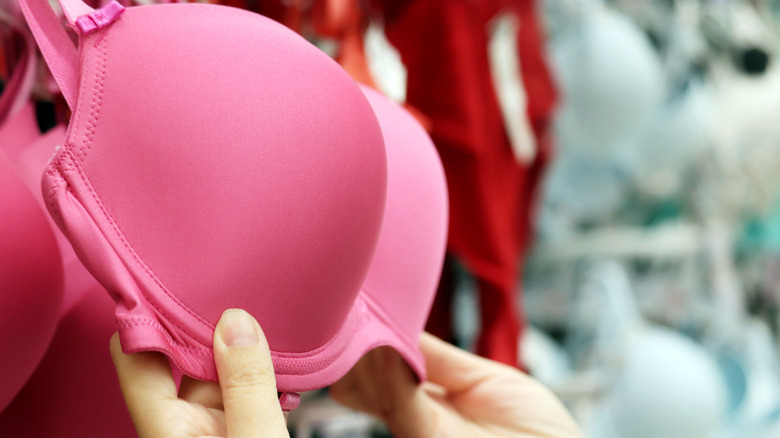 Oleg Elkov/Getty Images
Now it's time to calculate your bra size. If you're looking to do it on your own without an online calculator, the two measurements you need are your band size and your cup measurement. Your band measurement may be exactly what you want to look for in a band size, so if you measured a 32, you'll want a 32-band bra, or, as mentioned above, you can add four to five extra inches to allow for adjustments. Then you move on to figuring out your cup size.
Advertisement
When you're going by the two basic measurements, your cup size is an easy calculation — all you need to do is look at the difference between your band measurement and your cup measurement. If your band measurement is 32 and your cup measurement is 34, then you are a C cup, based on Real Simple's calculations. Starting with A at a one-inch difference, each number is another cup size up — easy peasy!
Now, if you want to use those other measurements, the lying and the leaning, you will definitely want to use an online calculator for assistance. A Bra That Fits is another site that offers extra measurements for a more accurate fit.
What to know about sister sizes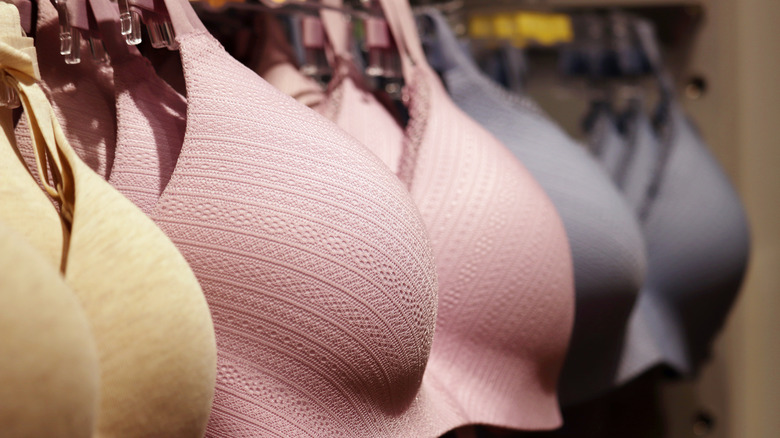 Oleg Elkov/Getty Images
If you found your size but are still struggling with the fit or you can't seem to find that size on the shelves or online, it helps to know about sister sizes. The way sister sizes work is that they have the same cup volume as other sizes — so you may wear a 34C, but there's potential that a few other sizes might work for you, including a 32D and a 30E.
Advertisement
Basically, with sister sizes, you're going up a cup size and down a band size if your band has a loose fit, and vice versa if it's a snug fit. The cup will still match the volume you need for your breast size, but you'll be able to adjust how tightly or how loosely the fit is for your circumference. But, if your struggle is with the cups not fitting, then skip the sister sizes and opt for a different cup size.
Be sure to know which cup styles work best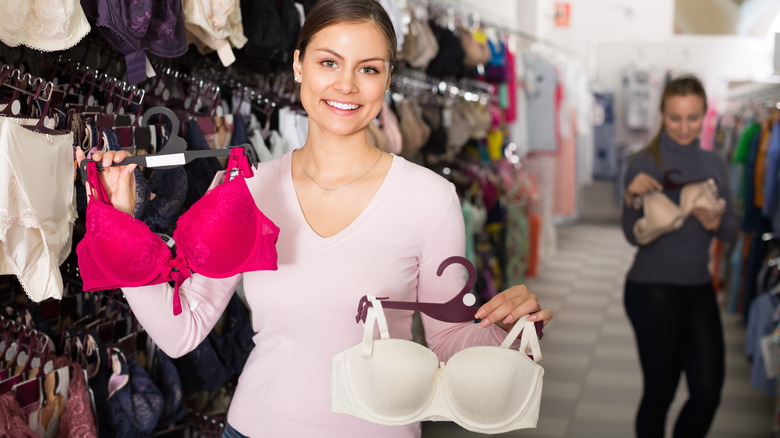 Jackf/Getty Images
Once your sizing is all worked out, it's time to look at the different styles of bras there are to choose from. If you want to build up a nice bra collection, you may want to invest in more than one style, but you still want to pick what works best for your breasts and your body. Full-coverage bras are the ones that cover the whole breast and are great for when you don't want any part of your breasts to be showing — they don't work well with low-cut tops. If you have heavy and full breasts, and you prefer being on the modest side of things, this is the bra for you.
Advertisement
Demi-cup bras, which often come as push-up bras, cover less of the breasts and are great for low-cut pieces. They show off plenty of cleavage, if you're in need — but could push you out of them if you're not. Balconette bras also offer less coverage while giving smaller breasts a fuller look. This bra type has shoulders that sit wider as well.
Of course, you also have sports bras that are available with lots of support (a must for the gym and can be found in all sizes) and bralettes with barely any support. And you can choose from wireless or bras with underwires, which help fight sagging (but aren't always comfortable).
Always try before you buy (or know the return policy)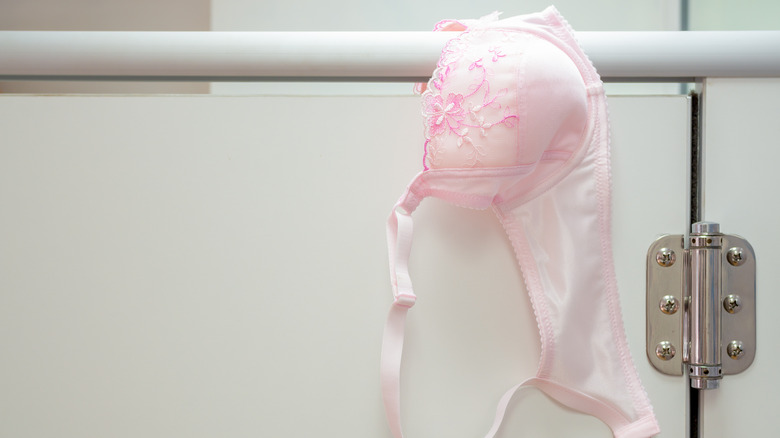 Techa Tungateja/Getty Images
Because no two brands of bras fit exactly the same, and different styles of bras have different fits and support, and because there are also sister sizes, it really pays to try your bras on before you buy them. While it can be a pain to try on dozens of bras a day, it will be worth it in the end when you aren't stuck with a bunch of bras that leave you sore or unsupported. Be sure to go in with your basic size and your sister sizes in mind, as it will save you time. 
Advertisement
A few things you want to do while you're in the dressing room include bending over and shaking your up body and even standing straight and jumping up and down. If your breasts stay in place and the bra checks all the other boxes for the perfect fit we've already discussed, then you have a winner.
If you're shopping online for new bras, be sure to check what the return policies are, specifically for bras and lingerie before you place that order. You don't want to be stuck with a bunch of expensive bras that don't fit you because you can't return them. Also keep in mind with online purchases that if your bras are coming from another country, there will likely be some size conversions you need to do. Plus, some bra companies of specialty sizing, so always check those size charts!
Advertisement
When you find a well-fitting brand, stick with it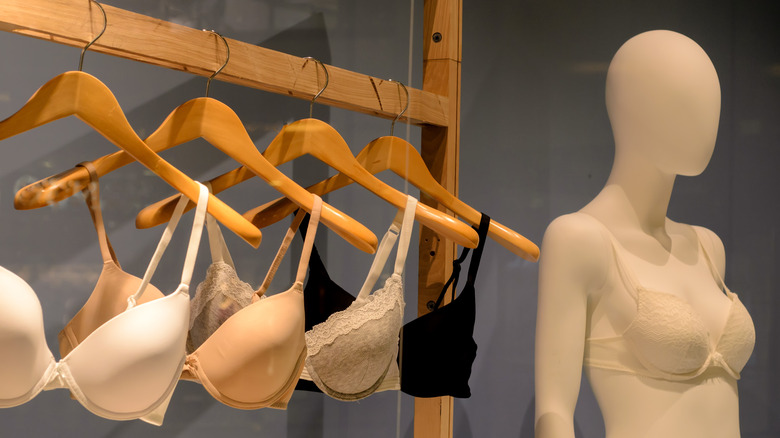 Andrej Mitin/Getty Images
Another thing to keep in mind when it comes to the fact that not all brands of bras are created equally is that once you find a bra you like, you should probably stick with it and maybe even stock up on multiples of them. You may also want to try different bra styles from the companies you prefer so that you can have a wide range of bras to wear no matter the occasion or the outfit you are wearing.
Advertisement
Of course, sometimes companies go out of business, so it definitely helps to find a couple of brands that make you happy. If you have friends who wear similar bra sizes to you, ask them which brands they prefer and which ones they avoid at all costs. This can cut down on your time spent shopping and trying on bras. Never settle for less than full comfort — if you can't find the perfect brand, keep looking (while wearing something at least remotely comfortable in the meantime).