The Undies You Wear During Your Workout Matter. Here's How To Choose The Right Type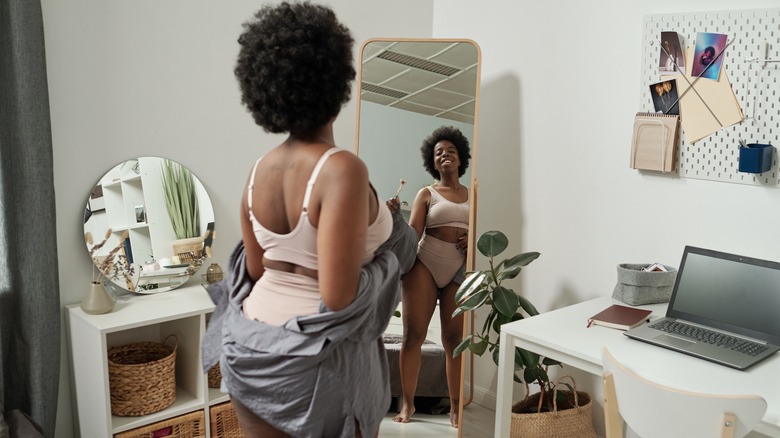 Pressmaster/Shutterstock
Working out gives us just one more reason to buy clothes, from cute leggings to shorts to sports bras. You want to look and feel good when going to the gym or working out at home, especially when exercise anxiety often creeps in. Whether you enjoy wearing matching gym fits or throwing on the first thing you pull out from your drawer, we all have one thing in common, finding the right underwear. The underwear world can be a little tricky to navigate. There are so many styles, brands, and fabrics, and we might have to try on all of them to see which ones are the winners. However, it's easier to rule a few out just by looking at them.
For the gym girlies who have it all figured out in the underwear game, we're jealous. While you can wear whichever underwear style you feel the most comfortable in, it's vital to wear the right ones. You don't want to get any infections from your sweaty workout, and you don't want to have constant wedgies during your exercise. The key is finding something that's comfortable and breathable. We narrowed down a few ways to ensure you wear the right underwear for your workout. Here's what to look out for.
Breathability is top priority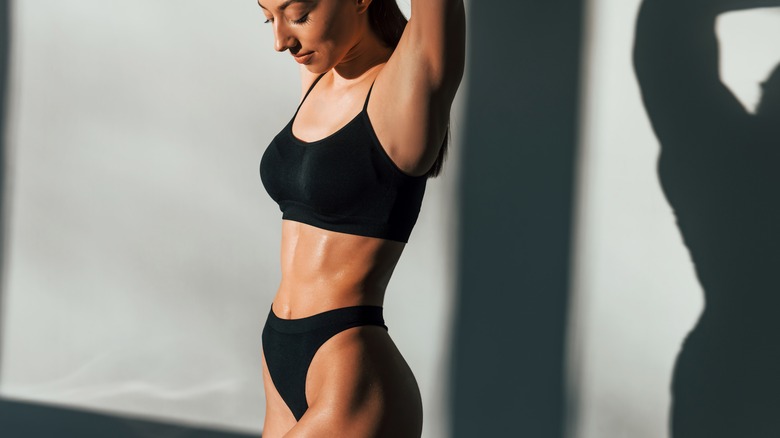 Standret/Shutterstock
Find undies with breathable fabrics when shopping for intimates to wear under your workout clothes. You don't want them to be tight to the point where they saturate sweat after exercise. In addition, wearing tighter-fit undies can cause yeast infections, especially if you stay in your workout clothes hours after you're done, claims Mary Jane Minkin, M.D., clinical professor of obstetrics and gynecology at Yale University Medical School via Glamour. While our bodies naturally produce yeast, you don't want too much, to where it'll make you feel uncomfortable. So, breathable underwear, such as cotton fabric, is ideal.
However, most cotton underwear is made with a thicker fabric with noticeable seams that will give you panty lines over your leggings. Even though people aren't wondering whether you're wearing underwear to the gym, panty lines expose themselves and show others you are. If you don't like the display of panty lines, seamless undies with a moisture-wicking feature that will keep you dry during your workout to prevent any infections and irritation are an excellent alternative. They'll stick to your body and move with you without giving you wedgies or panty lines; it's a win-win.
A few underwear styles
Picking out workout underwear isn't as fun as buying workout shoes or a matching set, but it's important for your body. Even though it isn't as fun doesn't mean you can't buy cute underwear. Since there are many underwear styles, we've come up with a few options for you to try out that is moisture-wicking, breathable, and comfortable. For example, ATHLETA's Ritual Bikini underwear is a mid-rise style for $16, made with nylon and spandex that stretches and moves with you throughout the day. It's breathable, quick-drying, and moisture-wicking to eliminate any sweat you produce.
If you prefer a full-cotton bottom, Victoria's Secret is selling 5 pieces of panties for $30, and you can try out the Stretch Cotton High Leg Brief panty that has a modal-cotton blend, perfect for under your workout attire. However, it does have a small band and seams, it will show panty lines, but it's a full-coverage panty that won't give you wedgies. On the other hand, if you're not a fan of full-coverage undies, then the Alo Yoga Airbrush Invisible Cheeky might be your cup of tea since it resembles a thong. They're made from their ultra-light Airbrush fabric that's odor-resistant, breathable and has a soft, lightweight raw edge that makes it feel like you're not wearing them. They're available in eight different colors for $18.