Botox On Your Couch Is Finally A Reality With The Rise Of In-Home Beauty Companies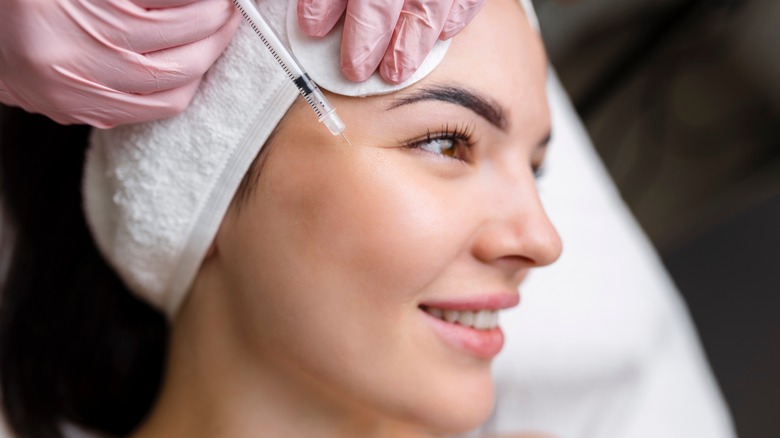 Ruslan Malysh/Shutterstock
What if you could get rid of your smile lines and the between-the-eyebrows "11" creases from the comfort of your own home? Unfortunately, administering DIY injectables yourself is generally out of the question, even if needles don't make you queasy. "Injectable fillers are absolutely not safe to do yourself at home," Dr. Joshua Zeichner, a board-certified dermatologist, told Shape. Potential risks include contamination, permanent scarring, blindness, allergic reactions, and other scary side effects.
Advertisement
Thankfully, some companies are swooping in to meet the demands of consumers who are ready to poke and prod their skin without having to head to a doctor's office. The idea is simple: Trained professionals come knocking at your front door, Botox kit in hand, to erase your wrinkles and offer other injectable beauty treatments. They can even perform their services on multiple people during at-home (and often boozy) "Botox parties."
If the thought of getting Botox during your WFH lunch break sounds appealing, you're in luck. Here's what to know about in-home beauty services and if they're really a good idea.
What it's like to get Botox at home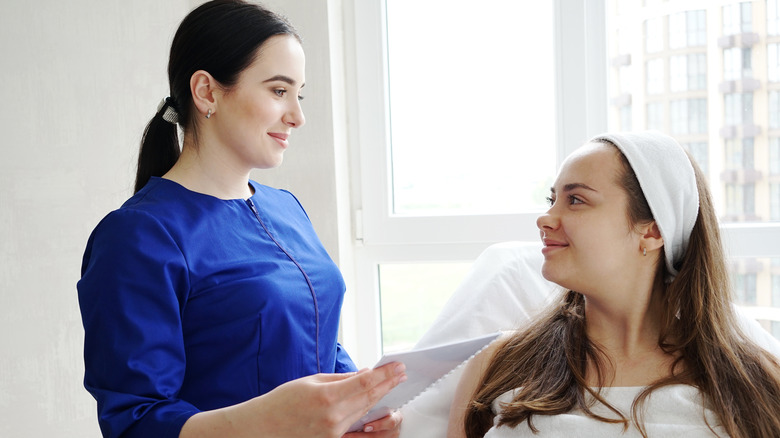 KaterynaTkachenko/Shutterstock
A quick Google search may be the only thing separating you from at-home fillers. Companies like OVME and The Skin Clique have a roster of medspa providers available for private house calls — and booking them requires little more than a few clicks. According to Healthline, these individuals may be licensed physicians, registered nurses, nurse practitioners, or physician assistants. And like traditional medspa treatments, you can typically expect at-home injections to be quick and easy, with mild pain and no need for anesthesia (per WebMD).
Advertisement
The difference between in-home beauty services and clinic-based ones is flexibility. "We work on the patient's time, when they want and where they want, be it at the office, their home, with the kids running around, or in between activities," Dr. Evan Blum, founder and medical director of on-demand beauty company The Aesthetics Concierge, revealed to Fashionista. "When I can go to somebody's house, offer them something they'd normally be hesitant to get or not be able to afford, and pass it onto them, it's a win-win." Plus, cuddling your pet while being poked with a needle or sharing the experience with friends can take the scariness out of the procedure, especially if you're a first-timer.
At-home medspa services aren't always safe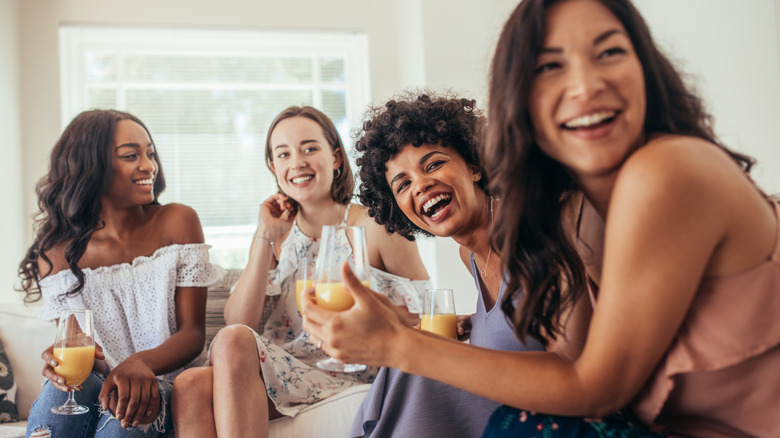 Jacoblund/Getty Images
As in-home beauty companies become more prevalent, there are a few red flags to be aware of before booking an appointment. First, Healthline warns that at-home injections aren't legal everywhere, meaning you may not be eligible to receive them depending on where you live. It's best to check your local laws before (accidentally) booking an illegal service. Moreover, the "professional" showing up to your house might not be trained or licensed, whereas a provider must meet rigid requirements to administer fillers in a clinic. Check with your company of choice to ensure they only use highly trained professionals.
Advertisement
Alcohol — a cornerstone of many Botox parties — poses another concern, according to plastic surgeon Dr. Marc Pacifico. "Not only is alcohol causing poor judgment, but it's also increasing blood flow and the risk of bleeding and bruising, and vascular complications," he explained to Vice. FYI, you can't offer medical consent when already under the influence (per the National Library of Medicine), so it's important to discuss risks and procedure details before you imbibe.
With the legal and safety murkiness surrounding at-home Botox, it's worth noting the needle-free alternatives that still deliver results. "Botox in a bottle" products have been trending on platforms like TikTok, with serums by The Ordinary leading the way. And don't forget wrinkle-banishing tech tools, like LED light therapy and microcurrent devices.
Advertisement