Simple Tips For Taking Care Of Your Hair Extensions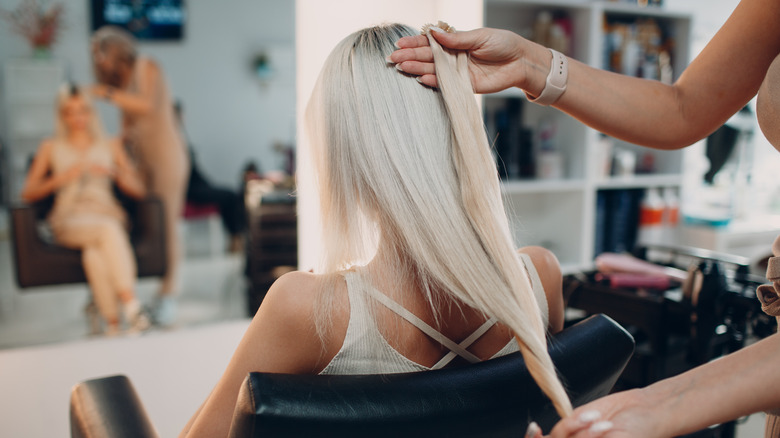 Primipil/Getty Images
So, you've taken the plunge and decided to get hair extensions. You're so excited that you'll finally have those long, luscious locks of your dreams. We would be excited too! But before you leave the salon looking like a runway model, you're going to want to make sure you know how to take care of your new hair. Extensions are an investment, so proper maintenance will not only help keep your hair looking amazing but extend the life of your hair.
Like any beauty investment, the more prepared you are, the better your service will be. Although there are a few different kinds of extensions, you can follow some basic, simple tips to ensure your hair looks just as good weeks later as it did when you left the salon.
To help us out, Glam spoke with Lacy Gadegaard-West, who has over 20 years of experience in the hair industry. She is a licensed hairstylist, educator, and the founder and CEO of the hair extension company Laced Hair. We asked Gadegaard-West for some simple tips on taking the best care of your extensions and getting the most out of your beauty investment. 
How to choose the right extensions for your hair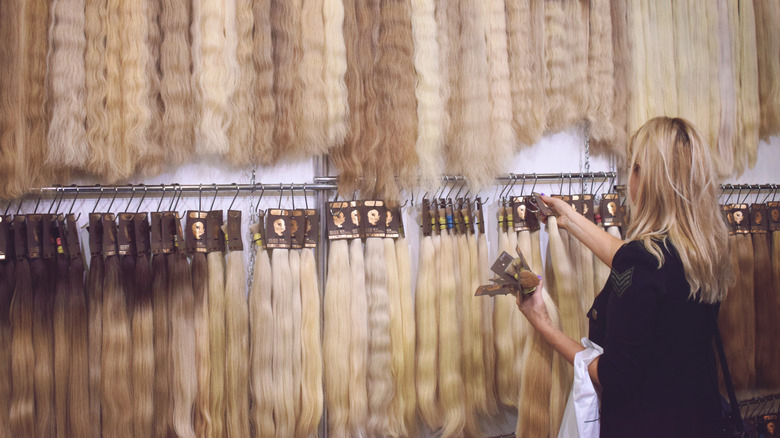 Iryna Imago/Shutterstock
There are a lot of different types of hair extensions to choose from, including clip-ins, tape-in, hand-tied, and keratin bond extensions — and it can be overwhelming knowing which one to choose, especially if this is your first time.
No one expects you to know what kind of extensions will work best for you, which is why Gadegaard-West says booking a consultation with your stylist before deciding on anything is the best bet. Before making their recommendations, your stylist will ask about your expectations and whether you're looking for extensions for a special occasion or want a more semi-permanent option.
Your hair history will also play an important role in the kind of hair extensions you will get. Gadegaard-West explained that it's essential for your stylist to know this information to ensure you're getting the product that will work best for you. Questions surrounding your hair extension history, frequency of hair dying, and level of maintenance you're looking for can help your stylist decide on the best product for you and your hair.
Can you brush them normally?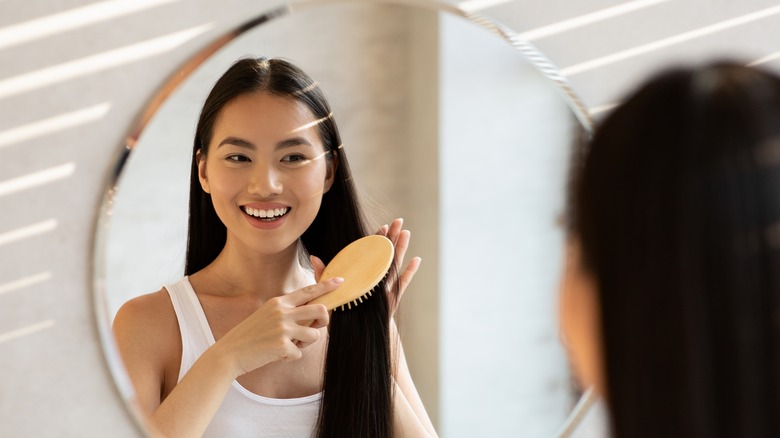 Prostock-studio/Shutterstock
Thankfully, Gadegaard-West tells us that you don't need to stress about brushing your extensions. Many of those who have never had extensions have visions of a brush or comb snagging where the extension is attached, causing damage. The Laced Hair founder explains that this isn't something you need to worry too much about and that "brushing is not super complicated." She adds that you should be conscious of the brush you're using, though.
"My best tip is to use an extension-safe brush or soft boar bristle brush," Gadegaard-West tells Glam. "I recommend brushing at least twice a day by holding the top of your extensions at the scalp and starting at your ends and working your way towards your scalp. A good rule of thumb is to brush in the mornings (obvi) and at least once before bed." She also recommends lifting up your natural hair so you can access the extension more easily and brush near the top of the extension.
How often should you wash your hair?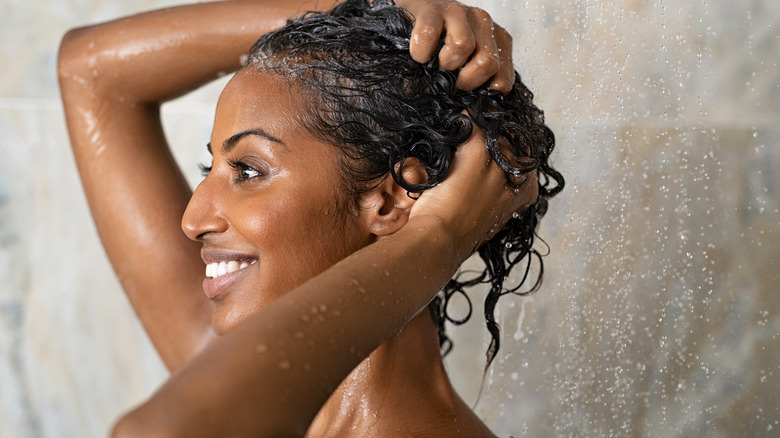 Ridofranz/Getty Images
Who would have thought that hair extensions could be low maintenance? Gadegaard-West notes that one of the best parts of having hair extensions is that you can keep your washing to a minimum. "To help keep your scalp healthy, I recommend washing your hair once to twice a week," she tells Glam. Gadegaard-West also notes that regular brushing (with a brush we mentioned above) and using hair oil on the strands can keep your extensions looking their best between washes. It's also essential that you use salon-grade products free of parabens and sulfates, which is critical for the care of your extensions.
Basically, the rules that apply to your natural hair apply to your hair extensions — just a little more so. Washing your hair too often can lead to moisture loss, stripping your hair of the natural oils that your scalp produces. This can cause dry, brittle hair and sometimes hair loss in severe cases. The same can happen to your extensions, especially since they aren't fully benefiting from your natural hair oils. Washing your hair a few times a week may take some adjusting if you're accustomed to washing your hair more often, but you need to trust the process.
Can you use hair styling products?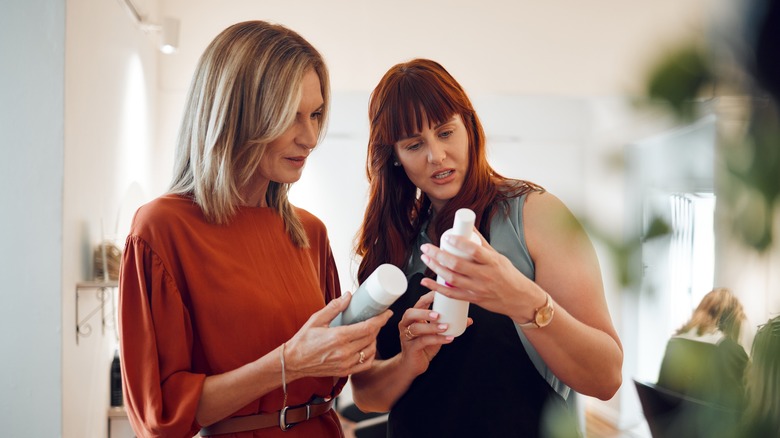 PeopleImages.com - Yuri A/Shutterstock
The good news is you don't have to ditch your styling products just because you've gotten extensions — but you do need to be mindful of the ones you're using. Whether you're trying to create those long, beachy waves without using heat or straight and sleek is the look you love, you're going to want to check the ingredient list of your favorite products.
Gadegaard-West warns you should avoid using anything with alcohol since it can dry out your extensions (and your natural hair). Your extensions don't get the benefit of your natural scalp oils, so using products with alcohol can really damage your hair.
"It's always best to work with styling products that are formulated for hair extensions," Gadegaard-West explains. "My go-to products are a nice hair oil (use this two times a day), a salon-grade deep conditioner (use once a week), and styling cream to help protect against the humidity." If specialty products aren't in your budget, look for those formulated for dry hair, or contain oils like argan oil.
Can you use heat styling?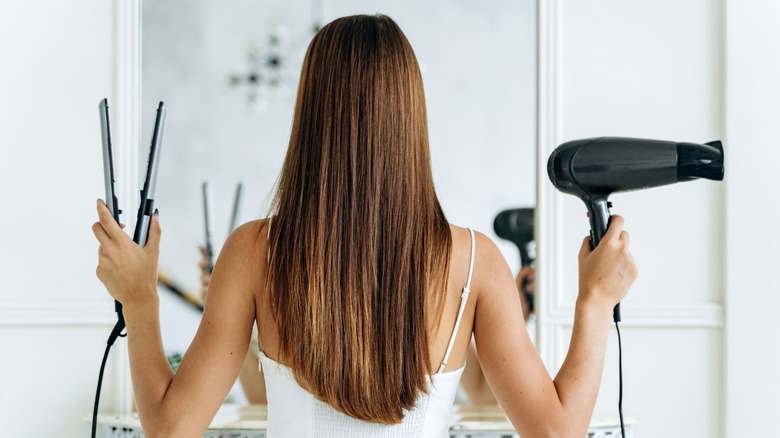 Sklo Studio/Shutterstock
Heat styling your new extensions can get a bit more complicated. Like most extension-related things, whether you can safely heat style your hair depends on the extensions you're wearing. "As long as the extensions you are wearing are human hair, you can style it like normal with a blow dryer, curling, and flat irons, you name it!" Gadegaard-West tells Glam. "But, again, you have to care for it just like your natural hair, so try to limit the amount of heat as best as you can."
When it comes to hot tools, all are not made equal. You will want to look for a curling iron, wand, or straightener that comes with the ability to modify your heat settings. High and low settings aren't always enough, so look for tools that give you multiple options or give you the ability to choose different temperatures.
If you're wearing synthetic hair, or any kind of synthetic blend, heat styling may not be an option since hot tools can literally melt the hair. If you're not wearing human hair extensions, most professionals suggest not using any hot tools on the hair. Like you would with your regular hair, apply a heat protectant before styling and try to let your hair air dry at least halfway before applying heat.
How should you wear your hair to sleep?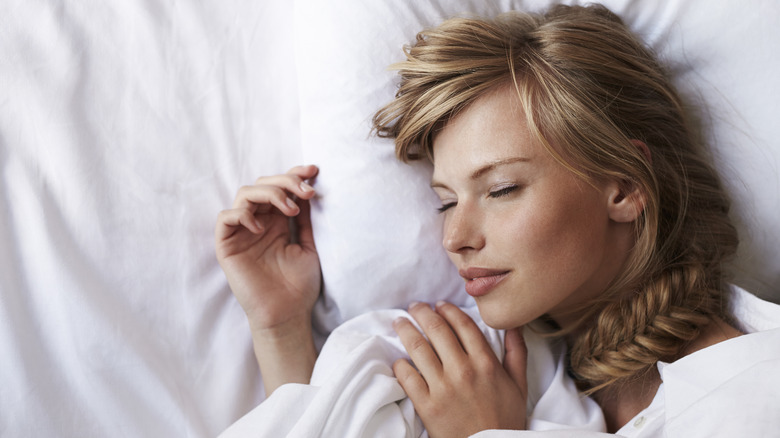 the stock company/Shutterstock
Now that you've got all this new hair, you may be wondering how to best wear it while you sleep. "The number one rule for sleeping in hair extensions is to never sleep with wet hair!" Gadegaard-West explains to Glam. "So, plan ahead, be sure to give it a good brush, and my preference is a side braid tied with a silk scrunchy," she adds.
Celebrity stylist Kim Kimble tells Allure that wrapping your hair in silk can also help keep your extensions looking good as new while you sleep. She suggests brushing your hair before bed and tying it up in a silk scarf. "Tie around the circumference of your head, then tie from around the back and knot it near your forehead area — it'll keep the hair going in the same direction," she explains. She also warns against sleeping with your hair down, in a "low bun," or in a "top knot," or "you'll end up with a matted, knotted mess." 
Do you need to buy a special pillowcase?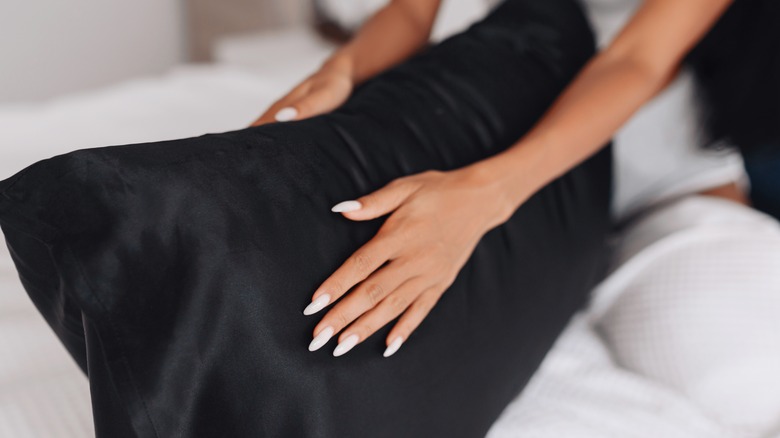 StockFamily/Shutterstock
Now that you know how to care for your hair while sleeping, you may want to consider your pillowcase and whether a new one is a good idea. You may have heard by now that silk sheets and pillowcases are the way to go (even if you don't have hair extensions).
While you don't have to purchase a silk pillowcase once you get extensions, it's not a bad idea. Silk pillowcases not only help prevent hair loss and breakage while you sleep, but they can also benefit your skin and your health in general. Many people who don't have extensions have switched to silk pillowcases simply for these benefits.
The bottom line is that a silk pillowcase isn't just gentler on your hair. Sure, it can help reduce breakage, tangles, and frizz because it helps reduce friction while you sleep, but it's also great for your skin. Not only is silk hypoallergenic, but it can help reduce wrinkles that other fabrics that crease on your skin contribute to and help keep your skin hydrated while you sleep. Healthy hair extensions and healthy skin? A win-win. 
Can you go swimming?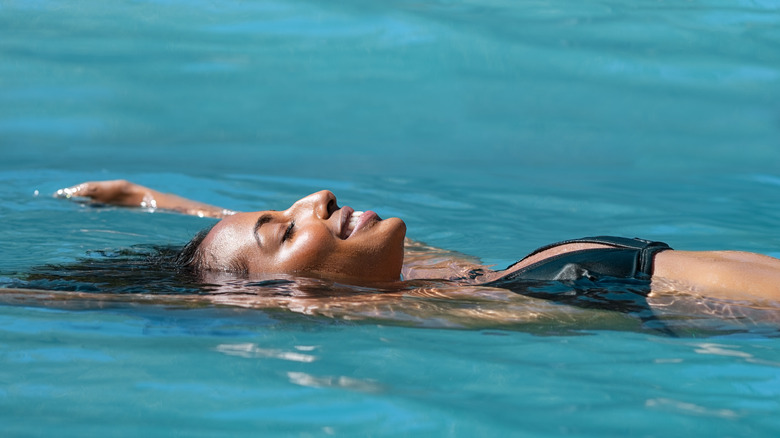 Ground Picture/Shutterstock
You've just gotten your new, gorgeous extensions for a trip to a tropical resort, but now you're worried about whether they're safe to wear in the pool or at the beach. We all know how extended exposure to chlorine or salt water can affect natural hair, and it can have a similar impact on extensions.
Thankfully, you don't have to skip the watersports, but you should take a few precautions. "I recommend wearing your hair up and limiting exposure to chlorine," Gadegaard-West explains, adding that you should also "wash your hair as soon as you can" after swimming. "I always tote around travel-size hair oil or leave-in conditioner, so at the very least, I can condition my hair to keep the ends looking healthy," she says.
Gadegaard-West also recommends you be mindful when shopping for sunscreen because certain ingredients can impact the health of your hair extensions. "Be really careful when selecting sunscreen to avoid the ingredient avobenzone as it tends to change the color of hair extensions!" she warned.
Can you work out?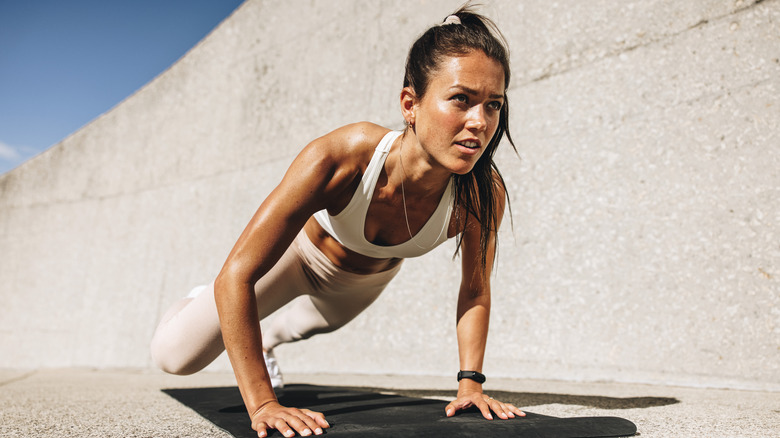 Jacob Lund/Shutterstock
If you're someone who likes to work up a sweat, you don't have to stop just because you now have extensions. The best way to preserve your new hair when working out, hitting the sauna, or simply baking in the sun involves the hair tie you use and how you secure your hair while it's up. 
For example, you want to ensure the hairstyle is loose enough so that the strands aren't suffering from any pulling caused by the hair tie — especially if it's a rubber band that doesn't have any material covering it. You'll want to reach for a scrunchie for maximum protection against breakage. 
Also, it's essential to dry your sweaty hair at the weft, and if you don't have access to a hair dryer, make sure you take your hair out of any ponytail or hair tie to try to let it dry naturally as much as possible. This will help the extensions fully dry while allowing your scalp to breathe.
Do you need to do any scalp care?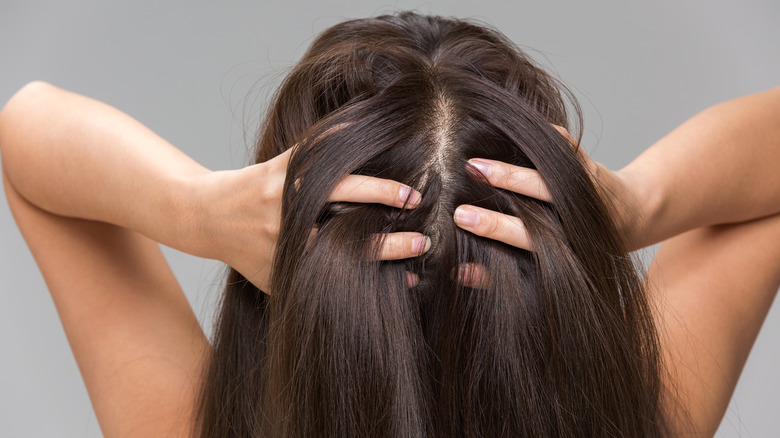 kei907/Shutterstock
The scalp is often a gray area (no pun intended!) for many of those who choose to get extensions, especially first-timers. After all, you've now got the hair of your dreams, so is it still important to practice scalp care? The answer is a resounding "Yes!" according to Gadegaard-West. "Scalp care is often overlooked as a critical component of the overall health of hair," she explains. "Exfoliating your scalp every other week and using a hair re-growth serum to stimulate hair growth are great options." A detox shampoo can also help remove product buildup near the installation area and can be used once every couple of weeks.
She also adds that your choice of hair products, including your shampoo, plays a crucial role in the health of both your hair and your scalp. "My best advice is to use a good shampoo that helps to cleanse the scalp," she says. "There are a lot of shampoos out there that can leave residue, so opt for salon-quality brands." If your scalp tends to get irritated easily, or you start to see some flakes on your shoulders, or when you brush, you want to address these issues immediately so they don't get worse.
Less is more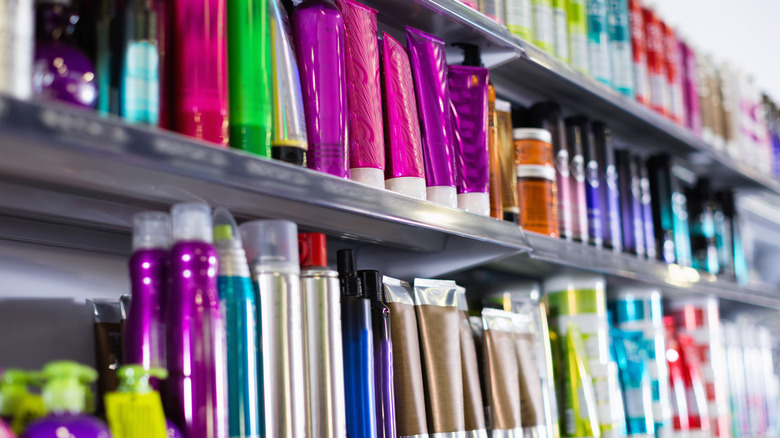 Jackf/Getty Images
There are a lot of products on the market these days, and it can be overwhelming, to say the least. There are products to straighten and curl, boost natural waves, add shine, and so much more. It can be tempting to stock up on a bunch of new items once you get hair extensions, but sometimes less is more.
"Product is good ... if you know how to use them," celebrity hairstylist Sabrina Porsche tells Allure. The style of extension and whether you want to keep them straight, wavy, curly, or twisted will determine what kinds of products you will use on your hair.
Porsche explains that if you wear your hair straight, you won't need a lot of products because "it's already straight and straight hair usually stays pretty good." However, if you want to add any curls, waves, or twists, you'll want to make sure you're using products for those hairstyles. Most importantly, you don't want to overuse products because that can cause buildup.
How long should your extensions last?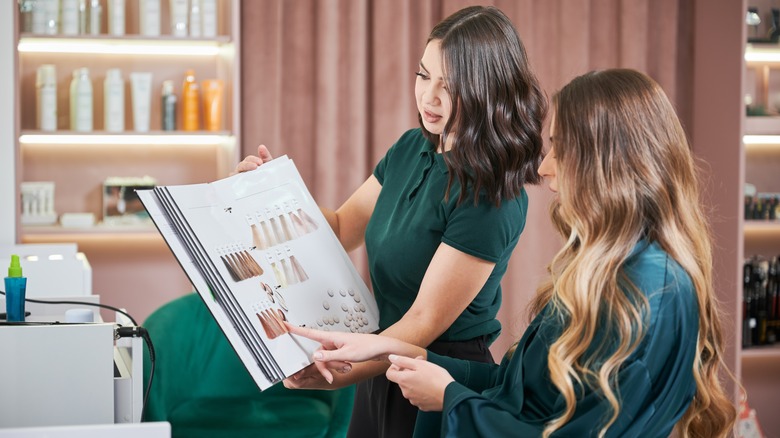 anatoliy_gleb/Shutterstock
You may find yourself wondering if extensions are really worth the expense, especially if you're unsure how long they will last. Extensions are an investment, and you're going to want to do everything you can to keep them healthy to get as much wear out of them as possible. So how long should your extensions last?
"This can vary significantly depending on many factors (a-hem, the brand), how you care for your hair, and what method you opt for," Gadegaard-West tells us, explaining that care is the most important factor when it comes to extension longevity. "Clip-ins can last well over a year, sometimes even years, depending on use," she says. "Remember, you can wash, condition, and trim your clip-ins to increase longevity," adding that "with proper care and maintenance, they can last up to a year!"
The stylist also noted that how you maintain your natural hair can also help extend the life of your extensions. "Be sure to care for your natural hair by limiting heat, avoiding dying (we make flawless colors to give you a perfect match), and getting trims regularly."
How often should you see your stylist for maintenance?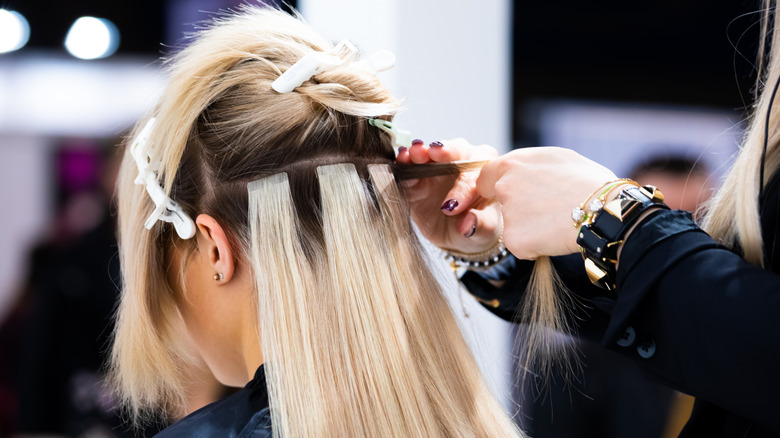 Leszek Glasner/Shutterstock
As a stylist herself, Gadegaard-West suggests that the key to a great extension experience is "having a good stylist and consulting with him/her" prior to your installation. "Each method [of installation] is different, and depending on what type of hair extensions you get, you can go anywhere from 6 weeks to 5 months," she explains, adding that "clip-ins don't require a visit unless you want them shaped."
Each individual stylist is different and may suggest a different timetable for visits. Some may want to see you within a few weeks of installing your extensions to ensure there are no issues. The experts at On Stage Hair Studio recommend a follow-up visit just two weeks after your initial installation to check that everything looks good and also allow you to "share any questions that you may have" with your stylist. Otherwise, return visits will often depend on how quickly your natural hair grows so your extensions can be moved up and maintained properly.