Glossier's Rollercoaster Ride To Success Has Made The Brand A Divisive Icon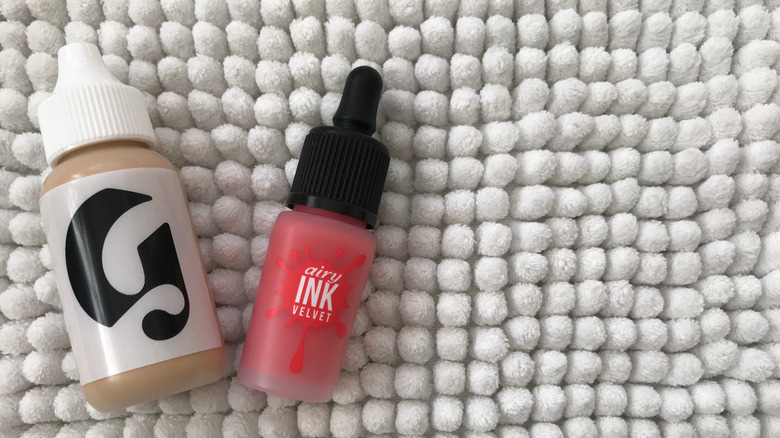 LisaChi/Shutterstock
Makeup and skincare company Glossier is one of the most well-known and iconic beauty brands of the last decade, with consumers becoming obsessed with their products. The line developed as an offshoot of founder Emily Weiss' popular beauty blog Into The Gloss, which she began in September 2010 while working as a styling assistant at Vogue. Into The Gloss quickly garnered a massive following for being intimate, chatty, and positioning its subjects and its readers as a community offering one another advice and recommendations.
On October 6, 2014, Weiss launched Glossier after obtaining $2 million in funding. The first iteration offered just four products, and Weiss partnered with UberRush to hand deliver orders within New York City, with Weiss herself making some of the deliveries. The launch was a massive success, and Glossier quickly became the coolest makeup and skincare line around. 
That high couldn't last, of course, as most brands that plug so deeply into a zeitgeist can't stay hyper-popular for an extended period of time. Furthermore, Weiss became associated with the label of Millennial Girlboss, along with fellow entrepreneurs Audrey Gelman of The Wing and Sophia Amoruso of Nasty Gal. Their meteoric rises resulted in controversy, including accusations of racism, gatekeeping, and poor labor practices. These days, Glossier appears to be just fine, opening a much-hyped flagship store in New York's Soho neighborhood in early 2023, though Weiss stepped down as CEO in 2022. How did Glossier get here? This is Glossier's rollercoaster ride to success.
Emily Weiss started in the industry young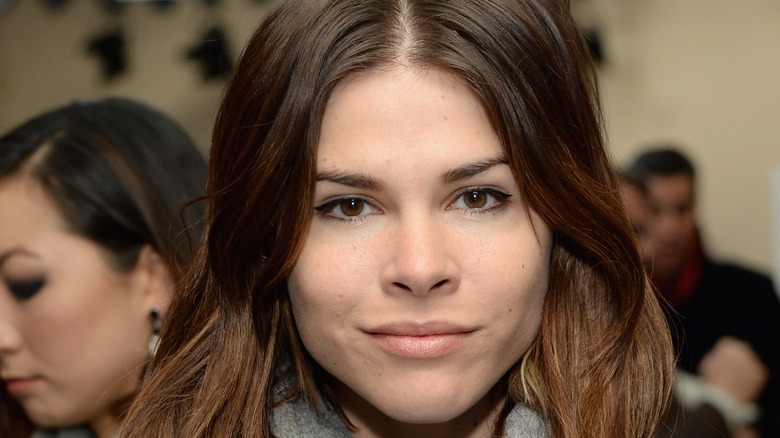 Ben Gabbe/Getty Images
Emily Weiss was born on March 22, 1985, and grew up in Wilton, Connecticut. She started working in the fashion and beauty industry early, modeling as a teen and working two summer internships at Ralph Lauren, which she obtained by asking a neighbor to hire her. An internship at Teen Vogue followed, which led to an appearance on the MTV reality show "The Hills." On the show, she was memorably credited as "Super Intern Emily" and often shown as a more poised and business-like foil to "Hills" stars and co-workers Lauren Conrad and Whitney Port.
Weiss graduated from New York University in 2007 with a degree in studio arts and went on to work in styling at W Magazine and Vogue. She came up with the idea for Into The Gloss during a family beach vacation. She was inspired by the real-life beauty routines of models and celebrities, which she'd learned about on shoots for Vogue, and presumed other people would be interested in them as well. During the early days of Into The Gloss, she worked on the blog from 4:00 a.m. until 8:00 a.m. before going to her day job at Vogue.
Glossier was a hard sell to most investors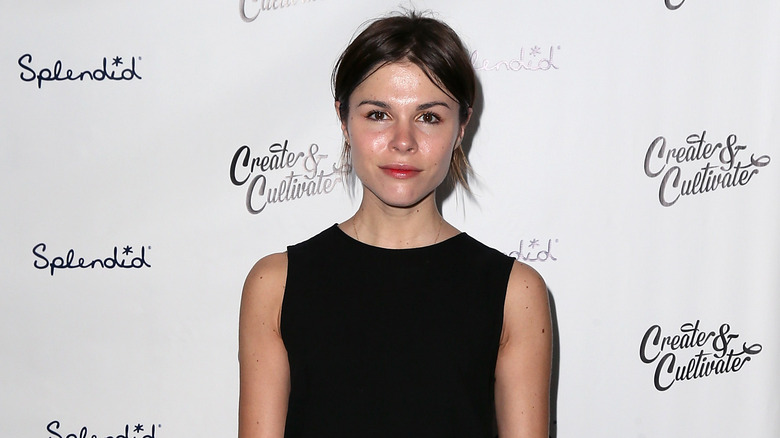 David Livingston/Getty Images
Emily Weiss had valuable partnerships in place from the time she launched Into The Gloss in September 2010. These included a banner ad from beauty behemoth Lancôme. The Houston Chronicle reported that Weiss approached public relations director Kerry Diamond with a pitch for the brand to advertise on the site. "[Weiss] opened up her laptop and, like, unicorns and rainbows and sunshine shot out of it — just, like, wow," Diamond described of the meeting, before adding, "It was everything we wanted but didn't know we needed." The feeling was seemingly universal; within a year, Into The Gloss had 10 million page views per month as well as several other corporate partnerships and a staff. 
Weiss quit her job at Vogue to focus on the site full-time and started searching for seed funding. After 10 rejections, she had luck with Kirsten Green, founder of San Francisco's Forerunners Ventures firm. "Emily knew nothing about supply chain or customer experience or building a team," Green told reporter Alyssa Giacobbe. "There were no products, no business plan. But when I saw what she could do on her own with no resources, how compelling she was, I knew I wanted to be in business with this person." The firm helped Weiss raise the aforementioned $2 million.
Glossier had an innovative social media plan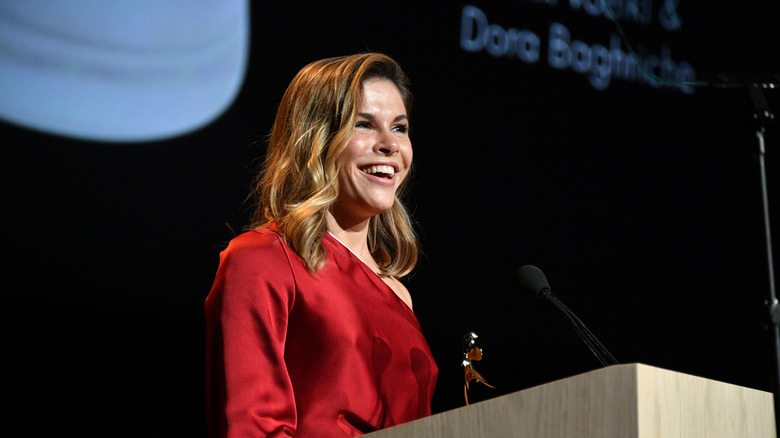 Dia Dipasupil/Getty Images
After Glossier's chaotic, incredibly lucrative launch in 2014, Emily Weiss acquired $8.4 million in additional funding within six weeks of the brand's debut. From the get-go, Glossier used social media, as opposed to traditional advertising, to spread word about the brand's products, image, and messaging. Communication with customers had been part of Weiss' game plan from the early days of Into The Gloss. One of the more popular features on the site was Top Shelf, in which Weiss went directly to the vanities and powder rooms of models, actors, and CEOS and chatted with them about their favorite products, giving readers friendly and informal access to celebrities and beauty insiders. As Weiss told Refinery29 in an article that published the day Glossier premiered, "I want to foster a real dialogue with Glossier. If we sold through a department store or mass retailer, that would be more difficult to do. Conversations are so important to building the Glossier community."
Glossier customers were extremely active on sites such as Instagram, and Weiss had her staff take turns responding to their comments on Glossier's posts; every one was answered publicly or via direct message. The brand also asked customers directly what they wanted via Instagram, turning the platform into a source for focus groups. One post asking what followers wanted in a moisturizer received 1,000 responses. Developers used this feedback to create the Priming Moisture Rich cream, one type of beauty cream. 
That 'no makeup' makeup look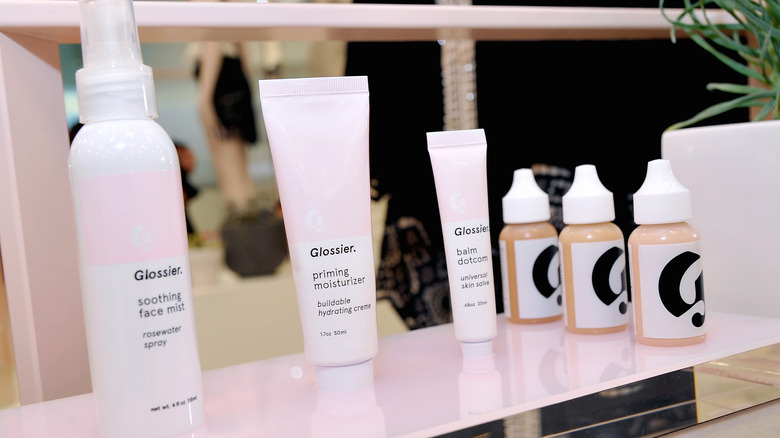 John Sciulli/Getty Images
Glossier also changed up the cosmetics game by cultivating a down-to-earth, friendlier image, as opposed to the usual aspirational tone found in makeup and beauty advertising. Rather than suggesting a consumer needed a certain product to transform herself into a more beautiful version of herself, Glossier gave the impression that the brand was meeting their customers where they were, particularly via social media, and celebrating them as part of "Generation G," which was also the name of one of their lipsticks. 
In a 2018 interview with Fast Company, Weiss explained, "Beauty has traditionally been brands telling customers that they have some kind of inadequacy or that they should ascribe to a specific idea of perfection. The insight that we had at Glossier was to encourage every woman to become her own expert." Glossier championed a "no-makeup makeup" look, best exhibited by founder Emily Weiss, who appeared to be an effortless cool girl living out one of the company's catch phrases: "Skin First, Makeup Second, Smile Always" (via Vanity Fair). 
Did Glossier steal its iconic perfume compact design?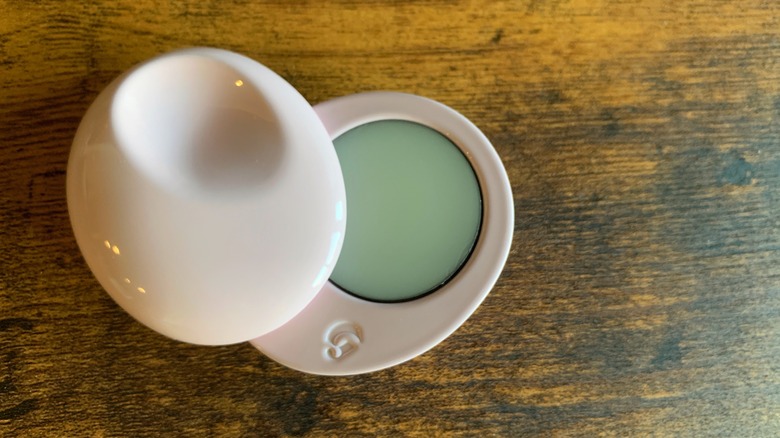 LisaChi/Shutterstock
While Glossier products cost more than drugstore makeup, they cost less than other status brands, which made them accessible to a wider group of consumers. Unlike, say, Chanel's interlocking Cs logo, Glossier used its humble bubble wrap packaged as its status symbol, making it a bright pink to complement the iconic, instantly recognizable baby pink (or "Millennial pink") used on its packaging and adding a zip top so it could be reused as a makeup pouch. In late 2016, the company received $24 million in Series B funding and opened its first store, or "showroom," in New York. Sales staff were called "editors" and wore jumpsuits in the aforementioned pink packaging shade.
Despite their carefully-curated image of egalitarian beauty for everyone, by 2018, Glossier started presenting themselves as a little more, well, glossy. Forbes accused the brand of "jumping the shark" and leaving their roots behind when they called out a competitor by name in an Instagram story, introduced their You solid perfume (shown above) in an egg-shaped container with a sliding lid that strongly resembled a compact by indie brand Lilah B, and possibly partnered with none other than Beyonce's makeup artist when the star wore Glossier makeup to the Grammys. Writer Janna Mandell called Glossier's new tactics "desperate" and wondered whether the company was abandoning their fresh-faced, crowd-sourced roots. 
Glossier becomes a unicorn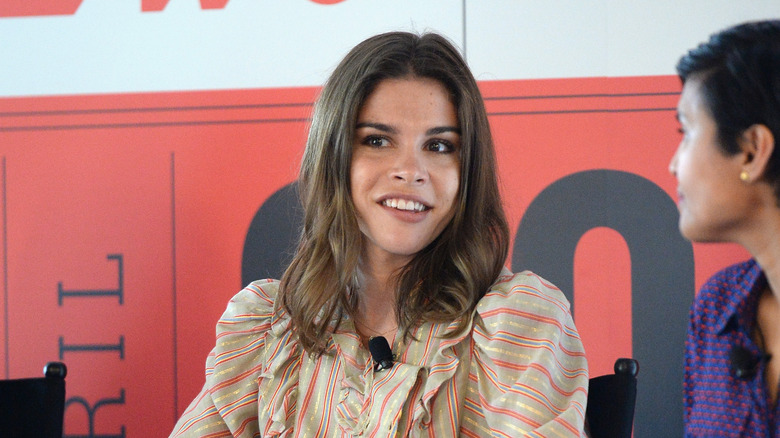 Andrew Toth/Getty Images
Within weeks of the publishing of the Forbes article which questioned whether Glossier had lost its way, Janna Mandell reported again for Forbes that the company had secured $52 million in funding during a Series C round. Emily Weiss wrote to Glossier's subscribers that the company would use the money to "keep building the beauty company of the future: the one you shape." Mandell noted that this was in line with the transparency and openness upon which Weiss had built Glossier's image and wondered if her accusation of shark jumping had been premature and perhaps Weiss and company had been "preoccupied" with the round of funding. 
A year later, a Series D round of funding brought in $100 million, bringing the company's valuation to $1.2 billion, per CNBC, making it one of about 300 "unicorns," or private companies valued at over $1 billion. Glossier announced the company had more than doubled its revenue in 2018 and added over a million customers. Weiss once again took to Instagram, where she wrote, "Emily in 2019 has been through hell and high water to build an incredible company with incredible people ... and [has] been among a very small minority of women raising this kind of money at these kinds of prices, to build the things they believe in." 
Celebrities seen wearing Glossier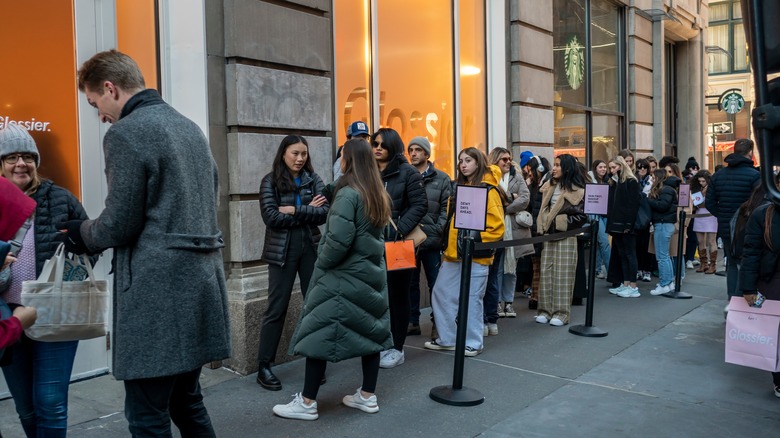 rblfmr/Shutterstock
Glossier continued to be associated with and seen on celebrities, intentional or not. Vanity Fair reported in 2019 that former First Lady Michelle Obama had worn an as-yet unreleased shade of Glossier Lip Gloss to that year's Essence Festival, while the champion U.S. women's soccer team arrived at the flagship store in New York en masse before their victory ticker tape parade. Reporter Marisa Meltzer reported that lines to get into that very store on a Saturday afternoon stretched halfway down the block and noted that the store was designed to encourage "maximum Instagram engagement," including a couch shaped like red lips and an enormous sculpture of the cult favorite product Boy Brow (per The Zoe Report, a tube was sold every 32 seconds in 2018).
Despite this, Emily Weiss told Meltzer that brand awareness remained "very, very low," relatively speaking, and that the company was going to use the largesse acquired via Series D funding to bring more people into Glossier's baby pink world. She said, "If you look at a company like Nike, I mean, that's what is possible for our future. It's just about how quickly can we get there, and in what order?"
A swing and a miss with the Play line
Not everything Glossier attempted reached the level of success attained so quickly in the brand's early days. In March 2019, Glossier Play premiered, taking the brand's signature minimalist, no-makeup makeup look in a very different direction. In true Glossier fashion, the sub-brand had its own Instagram account before its release, which started conversations among Glossier's customers and followers who wondered what Glossier Play would entail. Guesses included home fragrances and a beauty app, but Emily Weiss soon set things straight, telling Allure, "It's kind of like if Glossier is your everyday essentials, [Play] is your going-out makeup. Dialed-up extras, fun, joy, color. It's really tools for play." Offerings included a heavily pigmented lip lacquer, brightly colored or glittery gel eyeliner, a glitter pigment in a clear gel base, and a high intensity highlighter. 
Unfortunately for Glossier, consumers didn't want to Play; sales didn't match the initial hype. Within a year, Play was absorbed into the main Glossier line, the glitter pigment was discontinued, the Play Instagram went private, and no further Play releases were planned. Weiss was quoted as telling Fashion Magazine that Glossier could have just offered more makeup rather than starting a sub-brand. Kirsten Green of Glossier investor Forerunner Ventures mused, "Even companies that have built brands sometimes underestimate the effort involved... they can't just pump out another brand. It was a really constructive learning process for us. Do we wish we could learn things cheaper? Yes."
Glossier from head to toe
Glossier further stepped away from their roots when they began selling clothes via their GlossiWEAR line. The gray Glossier sweatshirt had always been part of the brand's collection. Per the Glossier site, the sweatshirts were originally made for employees in 2014 because the offices tended to be cold, but when customers started asking for them as well, the company delivered. The sweatshirt also seemed to speak to Emily Weiss' desire to create a beauty brand that would inspire the kind of loyalty customers usually reserved for a favorite band. In 2015, she wrote an entry on Into The Gloss celebrating the site's five-year anniversary and mused about how she was inspired to start Glossier: "I just feel like there's such a disconnect between some of these brands and me. I use the stuff, but would I wear the sweatshirt?"
 In 2019, Allure reported that the company was starting a clothing line to include both permanent items, including a new sweatshirt in the brand's signature baby pink, and limited edition items. Once again, the Instagram hype was intense, with one fan writing, "Praying they start selling the pink jumpsuits the staff wear." As of this writing, GlossiWEAR doesn't offer said jumpsuit, but there are several bags and scarves in addition to sweatshirts, including a limited edition scarf featuring swatches of the brand's Balm Dotcom lip gloss.
Emily Weiss' Little Black Book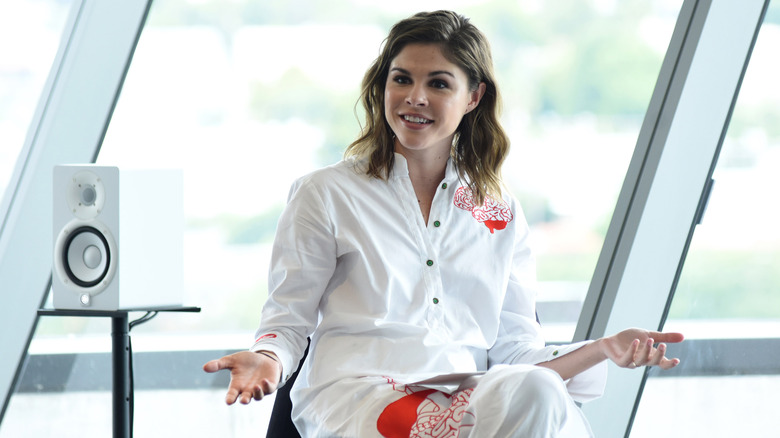 Vivien Killilea/Getty Images
Throughout Glossier's success story, cracks have surfaced within the minimalist beauty facade that caused controversy amid the hype. In 2016, Emily Weiss married photographer Diego Dueñas in a small wedding in the Bahamas. Though the partnership was short-lived, Weiss' notorious wedding prep routine, as detailed in a February 2016 Into The Gloss entry titled "The Little Wedding Black Book," lives on. The effortless minimalism for which Weiss and, by extension, Glossier was known for gave way to "months of prep" of her "limbs, skin, wanted hair, unwanted hair, nails, muscles, digestive tract, lashes and brows." In 2018, Charlotte Shane pointed out in The Cut's "I Think About This A Lot" column that, in the end, Weiss only rated her satisfaction with her wedding day look as an "8 out of 10."
In 2020, an article for Moda claimed that the routine shattered the image of the Glossier girl, noting "the glossier girl doesn't spend ten minutes applying skin tint with a wash of color and maybe a smokey eye ... The glossier girl apparently spends thousands of dollars to emulate a faux minimalist aesthetic to then only feel 80% good about herself," a conclusion that brought disappointment. Weiss herself seemed to welcome the criticisms, telling Vanity Fair, "That's exactly the conversation around beauty that we should be having: Does this make you frivolous? Does this mean you're not a caring person or a socially conscious person?"
Outta The Gloss pulled back the Glossier curtain
On March 19, 2020, Emily Weiss took to Instagram to announce her engagement to fellow tech entrepreneur Will Gaybrick. Five months later, on August 13, 2020, a collective of former Glossier employees calling themselves "Outta The Gloss" posted an open letter on Medium in which they laid out the negative experiences they'd endured while working for the company and asked Glossier to be accountable and make changes. They also started an Instagram account and called for followers to boycott Glossier. In the open letter, the former employees alleged being judged on the subjective hiring criteria of "likability," biases from management against BIPOC employees, poor management that neglected to support employees, particularly in the cases of rude customers who were abusive to sales staff, and a lack of diversity among the company's management, describing "an ongoing insidious culture of anti-Blackness, transphobia, ableism, and retaliation."
The letter made several references to the utopian, literally rose-colored image presented by Glossier and the reality of working for the company, including the line: "Unfortunately, we were worn down by the contrast of the idyllic culture presented to us online, in our first days with Glossier, and the weight of our daily indignities." It ends with a list of demands to bring about positive change.
Layoffs and an apology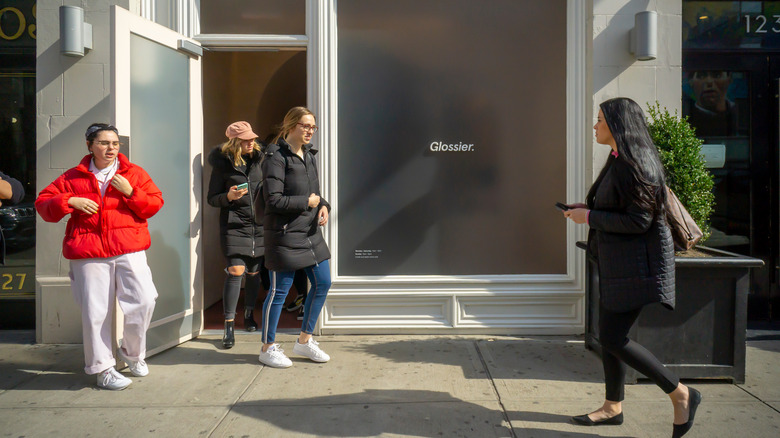 rblfmr/Shutterstock
As reported by CNN, Glossier's company Instagram account as well as Emily Weiss' personal account posted apologies in response to Outta The Gloss, writing that the company "failed to ensure that all voices are heard, and protected, within our internal community" and laid out plans to address the demands. Glossier's retail stores in New York, Los Angeles, and London had just closed operations in response to the COVID-19 pandemic, with furloughed employees being laid off, but the corporate statement noted that, regarding the slow down in business, "We see this time as a unique opportunity to get it right." Weiss also addressed Outta The Gloss in a blog entry at Into The Gloss, but stopped short of apologizing. In response, Outta The Gloss posted an Instagram story stating they did not accept her response and published several former and current employees' negative experiences with the company. The last Outta The Gloss post was published on December 19, 2020. 
In January 2022, a second round of layoffs took place at Glossier, per Modern Retail, with 80 employees losing their jobs. The layoffs primarily affected the technology department. "[W]e are shifting our technology strategy to leverage external partners for parts of our platform that we're currently maintaining internally," wrote Weiss in the email announcing the company's decision. 
Emily Weiss took on a different role
On May 24, 2022, Emily Weiss posted to Instagram announcing that she was stepping down as CEO of Glossier and had tapped Kyle Leahy, the brand's chief commercial officer, to take her place. She wrote, "To be clear, I'm not going anywhere! Just able to focus more of my time as Founder (and now, Executive Chairwoman) on the areas that I love: product, creative, brand... anything that makes yours and my heart beat just a little bit faster." At the time of her departure as CEO, Weiss was pregnant with her first child; her daughter, Clara, made her Instagram debut on June 29, 2022.
The New York Times covered Weiss' announcement in an article dramatically titled "The Sunsetting of the Girlboss Is Nearly Complete." In the piece, reporter Alisha Haridasani Gupta described how several other women who had been celebrated as "girlbosses" alongside Weiss had left their positions of authority after public accusations of helming toxic and racist workplaces. Gupta wrote, "In the span of a few years, use of the term 'girlboss' moved from earnest to ironic and barbed: the notion that ambitious, young, privileged white women would single-handedly remedy structural inequalities soon seemed like a fantasy." As for the future of Glossier, Leahy told Bloomberg, "We've built brand demand through our own channel, as a direct-to-consumer business. We see there's now opportunity for us to take that brand, expand upon it and bring it to more people in more places."