The Ultimate Guide To Beauty Creams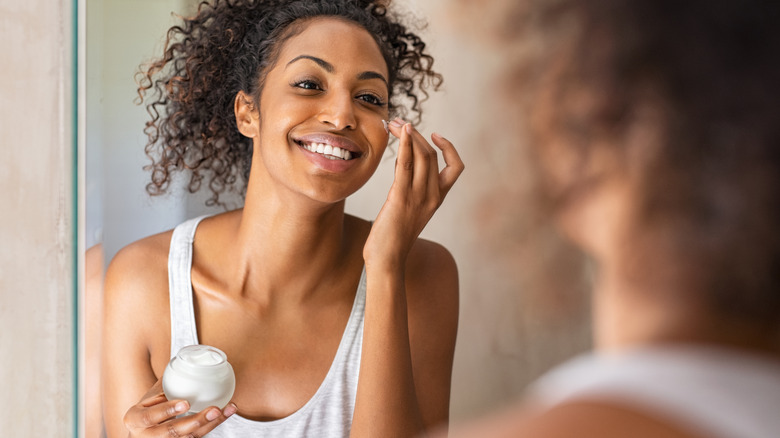 Ground Picture/Shutterstock
Heavy coverage foundation is out and minimalist, skin-healthy makeup is in. People are ditching their full-coverage foundations and heavy contouring for beauty creams like BB cream and CC cream, face creams that allow for a natural, glowy complexion. "Post-pandemic consumers are highly invested in their skin and feel confident and comfortable showing their natural complexion," Clare Varga, director of beauty at WGSN, tells InStyle. "The old 'pursuit of perfection' is being rejected in beauty and people are spending less time covering up so-called imperfections." 
Today's makeup wearers want products that enhance their natural beauty and are lightweight with bright finishes they can put on and forget about — something that beauty creams do well. "With the rising popularity of TikTok and influencer culture, younger generations have found themselves in the spotlight by simply being themselves. For this reason, natural makeup looks have resonated well within this group because it promotes an ideology that [you] naturally are beautiful. The No Makeup "Makeup" trend embraces what younger generations value the most: authenticity and inclusivity," Myriam Bougdim tells PersonalCareInsights.
There are a number of beauty creams to choose from, but navigating the alphabet soup of titles and similar uses can easily cause confusion. Peruse a complete guide to beauty creams, including coverage level, skin benefits, and the differences between face creams and fuller coverage makeup options to decide which are right for you.
What's the difference between a face cream and tinted moisturizer?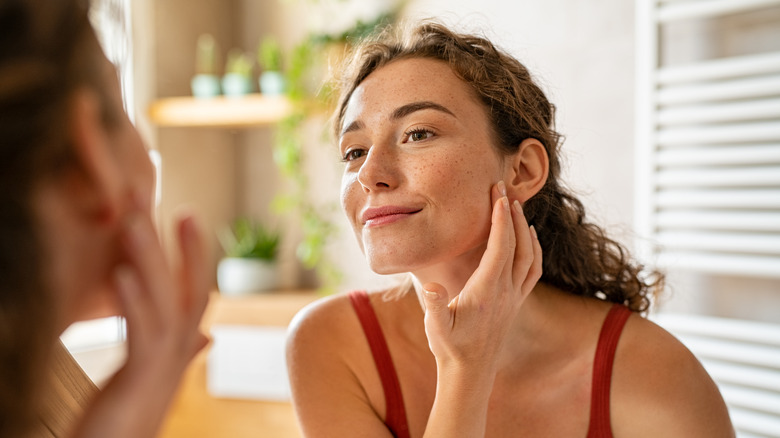 Ground Picture/Shutterstock
Face creams like BB and CC creams often get confused with makeup products like a tinted moisturizer. Makeup creams tend to serve multiple purposes, many of which are beneficial for the overall health of the skin. They act as complexion correctors, color correctors, primers, sun protectants, and moisturizers. Although they can act as a foundation, they tend to offer less coverage than tinted moisturizers do.
Tinted moisturizers are a complexion makeup product that offers a barely-there finish with a hint of colored tint that matches your skin tone. "My best analogy for explaining coverage is nylons versus tights," MAC cosmetic senior national artist Keri Blair tells Martha Stewart. "When you wear tights, you only see the material on your legs — they fully cover your skin. When you wear nylons [which corresponds to tinted moisturizer], you can see the skin through the material; it creates a veil to blur imperfections."
BB creams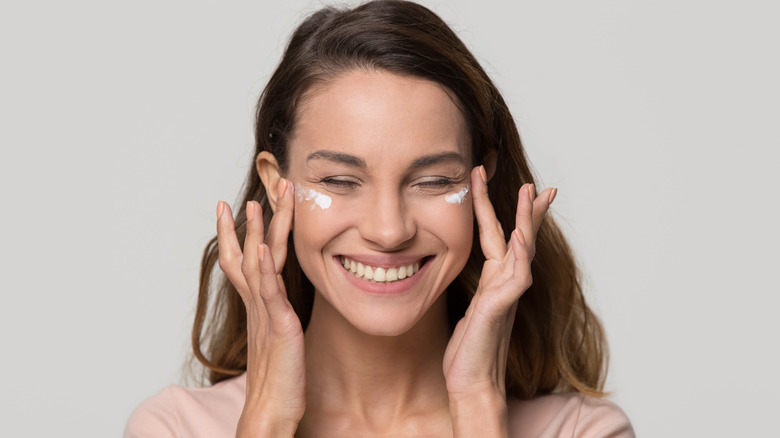 fizkes/Shutterstock
Blemish balms, also known as BB creams, were developed in Germany by dermatologist Dr. Christine Schrammek whose all-in-one face cream provided skin coverage and protection after harsh laser treatments and facial peels while being kind to the skin. They didn't become popular in the United States until 2011 when consumers realized they could streamline their makeup and skincare routine and achieve a beautiful-looking complexion. "The idea of a well-formulated BB cream is that it's the only product you'll need after you wash your face," cosmetic chemist Ni'Kita Wilson tells WebMD.
BB creams are a powerhouse product that gently blurs, smooths, hydrates, and offers a subtle tint mimicing the coverage of traditional foundation. The formula is thinner than foundation and blends easily. "BB Cream is a great lightweight option that avoids that more cakey, drying look you sometimes see from full coverage foundation," celebrity makeup artist Sir John tells Byrdie. "The best way to apply BB cream would be with your hands. A brush isn't necessary as you don't have as much coverage that needs to be blended. When using your hands, the body heat changes the texture and makes it easier to manipulate."
There are dozens of different BB creams, and it normally takes a few tries to find the one that works best for your skin needs. People with dry skin may benefit from a moisturizing BB cream, while individuals with oily or acne-prone skin may have more success with a mattifying BB cream.
CC creams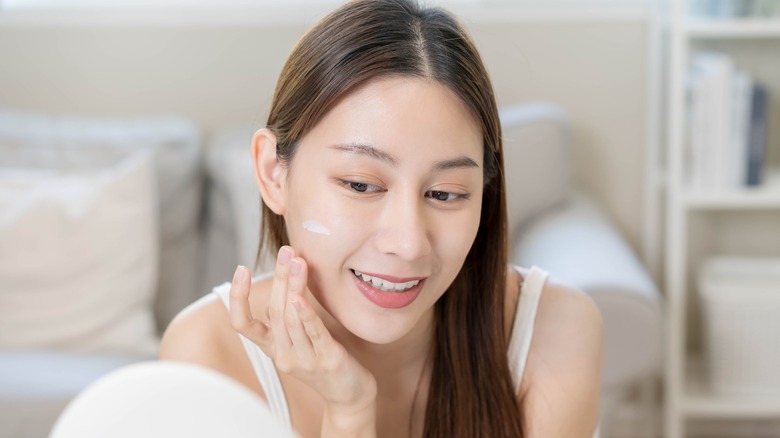 Kmpzzz/Shutterstock
The "CC" in CC cream stands for color-correcting or color-control. These handy makeup creams contain soothing ingredients that calm redness, dark undereye circles, and hyperpigmentation. "If you like the idea of a BB cream but have some skin issues like discoloration or redness, try a CC cream," Los Angeles-based makeup artist Brittany Spyksma tells Byrdie. "It has color-correcting qualities that can make it a better fit for people who need a little more color balance." They are similar to traditional concealers but come in a lighter formula that doesn't sit heavily on the skin.
Although color correction is the main function of a CC cream, they typically offer medium-to-full coverage and can be used as your main complexion makeup product. That's why makeup wearers who want to achieve a more natural look while simultaneously evening out any complexion concerns are big fans of CC creams. Celebrity makeup artist Jeannia Robinette tells Today, "The CC creams have a little bit more pigment than the BB. Also, it corrects your skin tone. I'm a fan of wearing as minimal foundation as possible [when wearing a CC cream.]"
BB cream vs. CC cream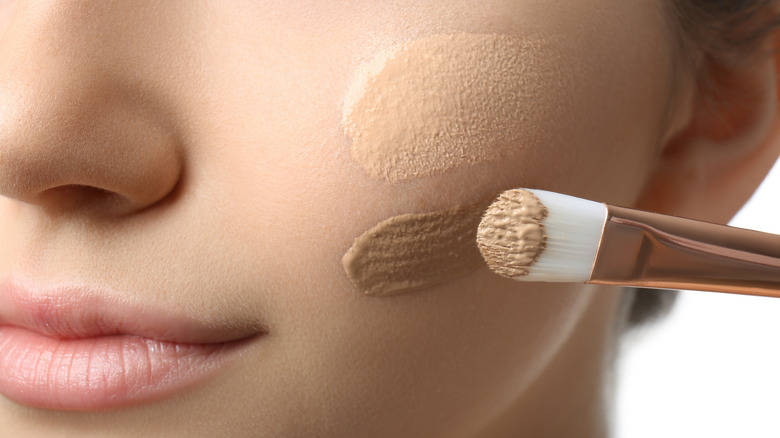 New Africa/Shutterstock
While BB and CC creams are similar, they serve slightly different functions. "Build out a list of the skin concerns you have as well as the benefits that you are looking for before comparing brands and formulas," Nick Lujan, global director of artistry and education for Kevyn Aucoin Beauty, recommends to RealSimple. 
"BB cream is more hydrating and can provide a beautiful radiance to the skin, [which] is ideal for dry skin types," shares celebrity makeup artist Nydia Figueroa. "[Meanwhile], CC cream is lighter in coverage and is great for oily skin as it often comes in a matte formula." BB creams are perfect for hydrating the skin. They normally have low levels of SPF as well, adding an element of skin protection that supplements daily sunscreen. 
Both creams make great alternatives to foundation, although CC creams with fuller coverage work better in place of concealers. Both can be used to achieve the barely-there, dewy makeup look. It isn't necessary to use both, but their different functions mean that you can mix them together to achieve a smooth, beautiful, natural-looking complexion.
Eye creams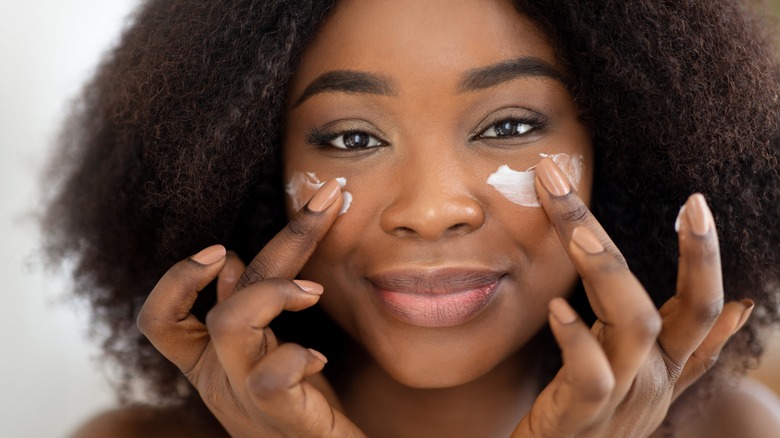 Prostock-studio/Shutterstock
Eye creams are lighter moisturizing creams formulated to treat the thin, delicate skin of the under-eye area. Unlike BB creams and CC creams or traditional face moisturizers, eye creams are not designed to replace makeup products. Instead, they are used to care for the skin around the eye. "Eyelid skin is very sensitive and the thinnest skin on our whole body," dermatologist Dr. Farah Moustafa tells USA Today. Dr. Moustafa notes that, despite the obvious-sounding name, "the term in general is very expansive and non-specific."
"An eye cream refers to a cream that is specifically formulated to be applied to the skin around the eyelid and target under-eye concerns," board-certified dermatologist Dr. Marisa Garshick tells Byrdie. "...[ingredients] may be present in a lower concentration to account for the delicate skin around the eyelid." Eye creams are typically used to treat skin conditions like puffiness, dark circles, crepey skin, crow's feet, and fine lines. Depending on the condition you want to treat, look for eye creams with different vitamins or ingredient concentrations formulated to treat that specific issue. Dr. Garshick also notes, "They may not be necessary for everyone, [but are for people] who are concerned about their under-eye area or who are noticing changes in the under-eye area."
DD creams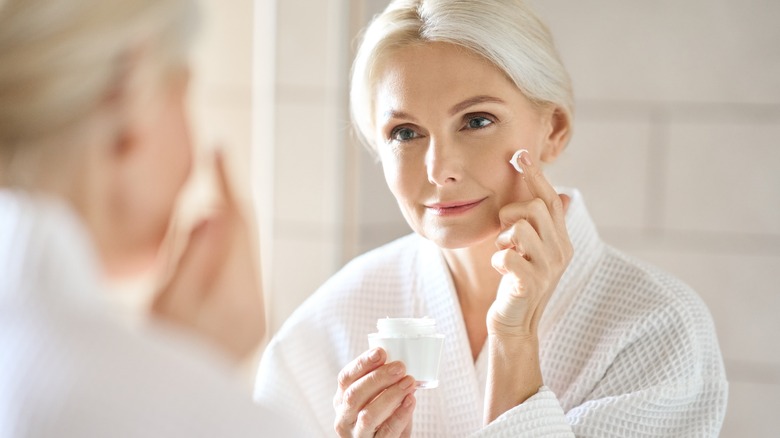 Ground Picture/Shutterstock
BB and CC creams may be the most popular options available, but they aren't the only creams you may benefit from. DD creams, also known as daily defense or double-duty creams, are another great option for complexion care. They are a great compromise between BB creams and CC creams, offering the coverage and skincare benefits of both. DD creams are also ideal for skin protection. They include additional SPF coverage that BB and CC creams do not, as well as anti-aging properties that are ideal for people with mature skin.
The differences between the three are subtle but significant depending on your skin and makeup needs. "BB cream has the lightest coverage with the most moisture making it ideal for dry and dehydrated skin types," celebrity makeup artist Jamie Dorman tells InStyle. "CC cream has more coverage than BB cream and has a matte finish making it ideal for oily and combination skin types. DD cream has the skincare benefits of a BB cream with the coverage of a CC cream. Dry skin types might still need a moisturizer with this, but other skin types can wear it alone."
EE and FF creams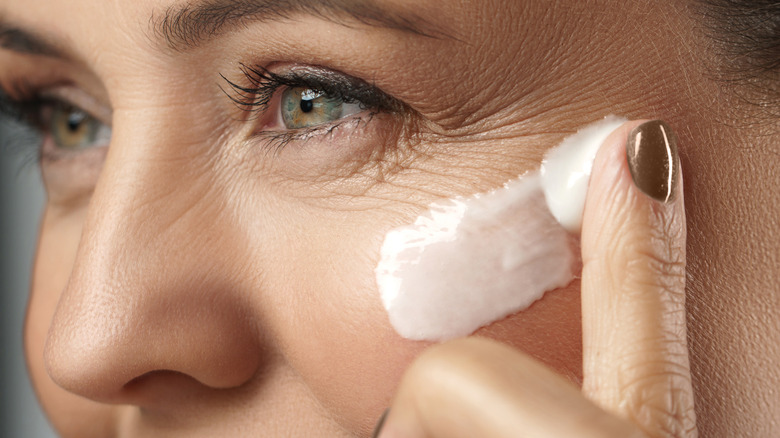 BLACKDAY/Shutterstock
The "EE" in EE cream stands for extra exfoliation. These are completely different from BB, CC, and DD creams in that they do not provide any kind of sun protection, complexion care, or coverage. Instead, EE creams exfoliate, gently sloughing off the dead skin cells that can accumulate and lead to dull skin and acne. Exfoliation is important for preventing clogged pores, increasing collagen production, and minimizing the appearance of fine lines and wrinkles. EE creams also have hydrating properties and often contain AHAs and BHAs. 
This type of face cream is much less popular than BB and CC creams, and there aren't many products on the market to choose from. Many beauty professionals tend to dismiss the usefulness of EE creams, favoring other types of exfoliators instead. It is an additional skincare step used during your daily cleansing routine.
FF creams are also much less popular than BB and CC creams. Also referred to as "facial finishing," FF creams are a substitute for traditional foundation. They provide subtle, lightweight foundation coverage that covers up fine lines and wrinkles but leaves some of the skin's natural texture visible. They typically include collagen, promoting skin elasticity and a more youthful look. FF creams also contain SPF, anti-aging properties, and moisturizing ingredients, making them a useful tool for skin health and beauty.
What's the difference between foundation and face cream?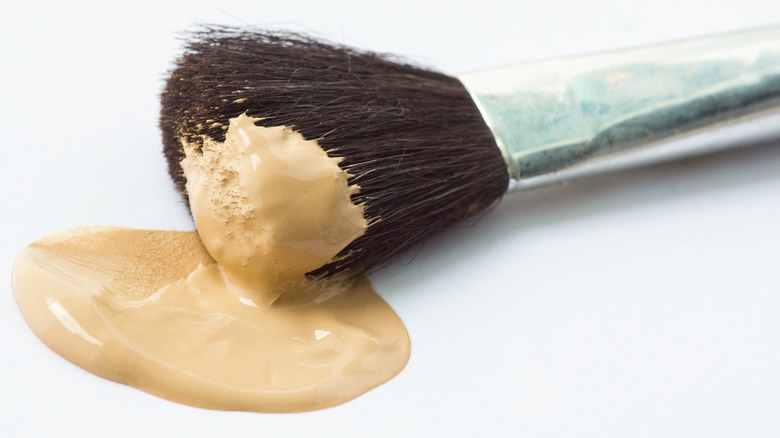 Kryssia Campos/Getty Images
But how can you tell the difference between foundation and foundation-like creams? And is there a time when you should wear one versus the other? Foundation is a form of face makeup used to create a base the rest of your makeup is built upon. There are a variety of different foundations to choose from, ranging from liquid to powder, and which ones you choose will depend on the level of coverage you want, color, consistency, and finish. Foundation also provides buildable coverage that a lighter formula cream won't.
Face creams like BB and CC creams are generally used for the same purposes as foundation, but they tend to have less color and a lighter formula. They provide a level of coverage that can cover up scars or blemishes but don't overpower the skin. "Full coverage foundations tend to settle into fine lines and can look cakey or heavy on the skin," makeup artist Monika Blunder tells The New York Times. "It's so nice seeing some imperfection or texture come through the makeup." They also provide an element of skincare and anti-aging benefits that many traditional makeup products and foundations don't.
What to look for in a beauty cream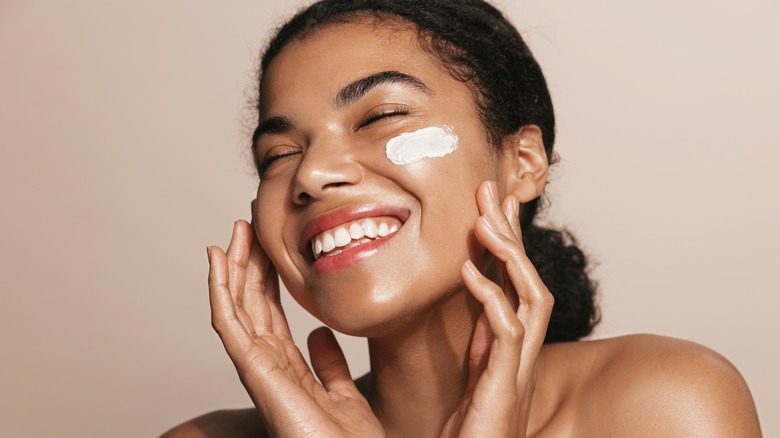 Lyubov Levitskaya/Shutterstock
There are a number of ingredients and skin benefits to look for when purchasing a face cream, and different skin types have different needs. While BB, CC, and DD creams can be used alone or together, you may find one works better for your goals than others.
Look for BB creams that have ceramides or humectants in their ingredient list to help with hydration and give you a youthful, dewy finish. BB creams that are oil-free are ideal for people with oily or combination skin. CC creams have even more versatility than BB creams. Although SPF is a common ingredient in CC creams, keep in mind that you can't rely only on your CC cream for sun protection. SPF 15 is a great base, but it isn't enough for daily, long-term protection. If you want hydration out of your face cream, know that CC creams aren't ideal for dry skin because they aren't as moisturizing as BB cream. DD creams are a combination of BB and CC creams, so they make a good option for people who want to skip any extra steps in their makeup routine.
Can face creams improve the health of your skin?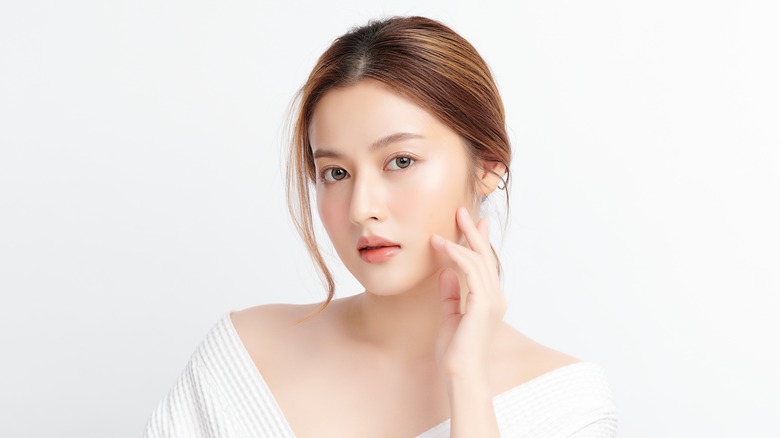 Kitthanes/Shutterstock
BB and CC creams offer convenience, but the powerful skin health benefits can't be ignored. Most BB and CC creams contain sunscreen, albeit in low amounts, which means they help provide a layer of protection for the health and vitality of your skin. But the real skin health benefits come from the additives that help moisturize and reduce signs of aging.
They also contain alpha hydroxy acids and beta hydroxy acids. AHAs are common moisturizing additives derived from fruit and milk sugars. These include lactic acid, glycolic acid, malic acid, and citric acid. These acids work as exfoliants and also promote elasticity and collagen production necessary to keep skin looking smooth and vibrant. BHAs like salicylic acid are also common. BHAs work similarly to AHAs in that they exfoliate the skin. However, BHAs are reportedly good for improving the look of photodamaged skin, roughness, and wrinkles. Together, these moisturizing ingredients help reduce the appearance of skin aging and may help improve it
The skin health benefits of BB and CC creams are numerous, but they aren't foolproof. BB and CC creams don't contain topical ingredients like retinol or tretinoin, which are proven to reduce photoaging and improve the look of wrinkles and fine lines. This is because retinols also exfoliate the skin like AHAs and BHAs, but are much stronger. As a result, they usually aren't combined together in makeup products like BB and CC creams.
How to apply beauty cream for the best coverage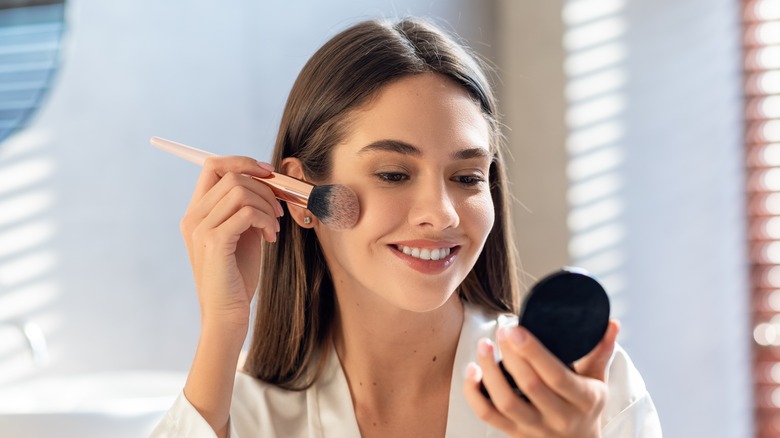 Prostock-studio/Shutterstock
Applying beauty cream isn't much different than applying regular foundation. After cleansing, moisturizing, and applying sunscreen to your face, apply a small amount of BB or CC cream to the back of your hand. Try not to use more than a dime-size amount to avoid wasting the product. As celebrity makeup artist Jillian Dempsey tells mbg lifestyle, "You can use your fingers to apply and blend, but if you do, make sure your hands are clean and apply in circular motions for optimal coverage."
If you don't like the idea of using your hands or want a more polished look, opt for a foundation brush or beauty blender instead. The thinner formula and light tint make it easily spreadable, so you can massage or buff it into the skin the same way you would apply lotion or moisturizer. Once you have applied the beauty cream to your satisfaction and your skin feels dry to the touch, you can begin building up the layers of your other makeup. It isn't necessary to set your face with setting powder to keep it in place, but you can apply a loose powder if you want to opt for a more matte look.
What beauty cream should you wear and when?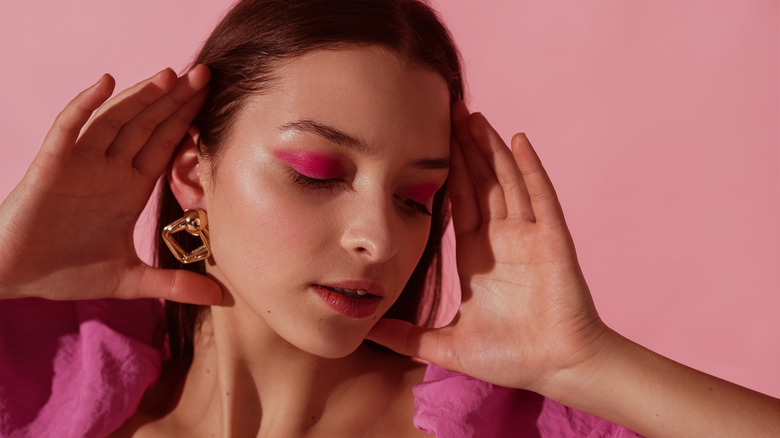 Victoria Chudinova/Shutterstock
Now that you have a better understanding of the differences and uses of beauty creams, you may be wondering what creams you should wear and when. BB creams are ideal for people with oily or acne-prone skin who don't want to suffocate their skin with heavy foundation but want a semblance of coverage. BB creams are also perfect for warm weather because they are lightweight and won't melt off your face.
For mature skin, CC creams may be a better option. "Less is more as we age, so this is a great substitute for foundation on those 'no makeup' makeup days," makeup artist Laura Geller tells Who What Wear. "The moisturizing ingredients in your CC cream will ensure it won't crease, crack, or settle into any fine lines or wrinkles. Ideally, it's going to give me light coverage and color-correct any discoloration while also serving as a moisturizer." Consider your skins needs, the season, and your daily activities when choosing which cream is best for you.