The Simple Solution To Refresh Wavy Hair Between Wash Days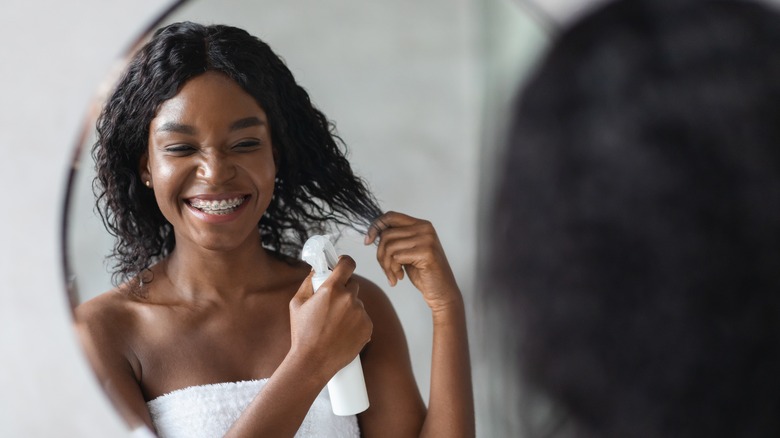 Prostock-studio/Shutterstock
If you have wavy hair, you know the struggle of the second day after washing. Once you hopped out of the shower, applied your favorite products, and scrunched your hair, your tresses looked defined and frizz-free. After a night of sleep, however, it seems like all your work has gone down the drain, and you're left with a fluffy, frizzy mess. Applying more product only seems to weigh it down, and brushing it out leaves you looking like Hermione Granger in the first Harry Potter movie, so you either throw your hair in a bun or reach for a curling iron in an attempt to revive the texture you had yesterday.
Advertisement
Thankfully, however, these aren't your only options. There's another choice that can bring back your definition in just a few minutes, and it doesn't require any heat, expensive products, or time-consuming wave formers. It may seem counterintuitive on the days between washes, but all you need to revive your hair is a little bit of H2O.
How to use water between washes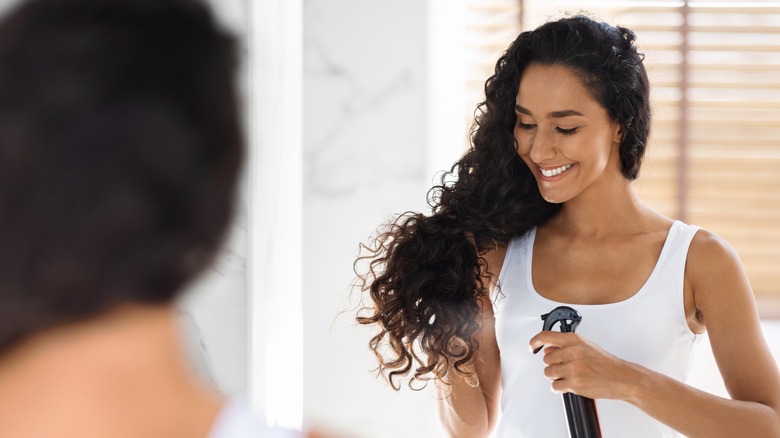 Prostock-studio/Shutterstock
You can do a few things to help maintain your texture on the days you don't want to wash your hair since all the satin pillowcases and bonnets in the world can't prevent bedhead every time. If you find yourself face-to-face with a bad hair day when you wake up in the morning, you will have to take a few steps to bring it back to its former glory. First, brush your hair. Trust us on this one — any tangles you earned while tossing around in your sleep aren't going to help you have a smooth-looking style later in the day. Don't worry; the inevitable fluff will go away soon.
Advertisement
Next, take a spray bottle filled with water and spritz it around your head until it's saturated. The water will help boost yesterday's hair products, but if you need extra help, now's the time to add some curl cream or oil on the ends, especially if they feel a bit dry. Scrunch well, and your texture should return to square one.
Why this works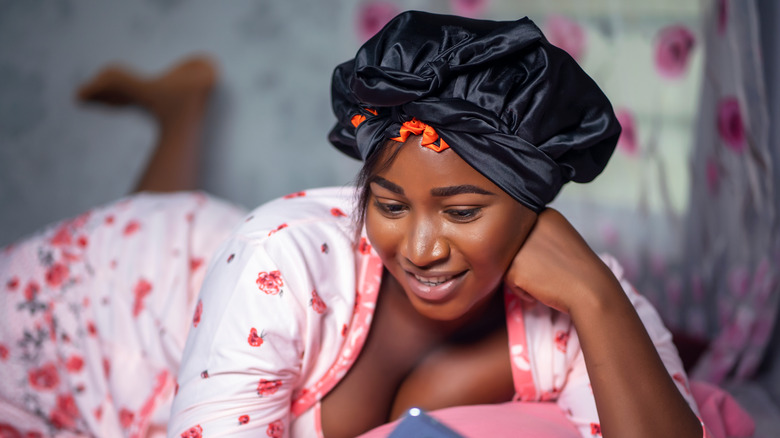 Yaw Niel/Shutterstock
Most curl products are designed to build definition and create curl clumps, but after a few days of wind, movement, and sleeping with your head on a pillow, all the friction tends to break them up and create tangles. Adding more products might work on thicker hair types, but fine, wavy hair could look greasy and feel sticky. Giving yourself a fresh base by brushing and then spritzing some water throughout removes the tangles created by friction and reactivates the product you already have in your hair. Curl cream is a mix of oil and water, so bringing that water back in makes the product behave like it would fresh out of the bottle, essentially mimicking a wash day without having to take the extra time in the shower and dry out your scalp.
Advertisement
If you're looking to extend your hair's life even longer, it's a good idea to cut down the friction you face throughout the day to nip the problem in the bud. Avoid touching your hair once it's set, and invest in a satin or silk pillowcase and bonnet to keep everything smooth for as long as possible.