13 Of The Best Makeup And Pop Culture Collabs Of All Time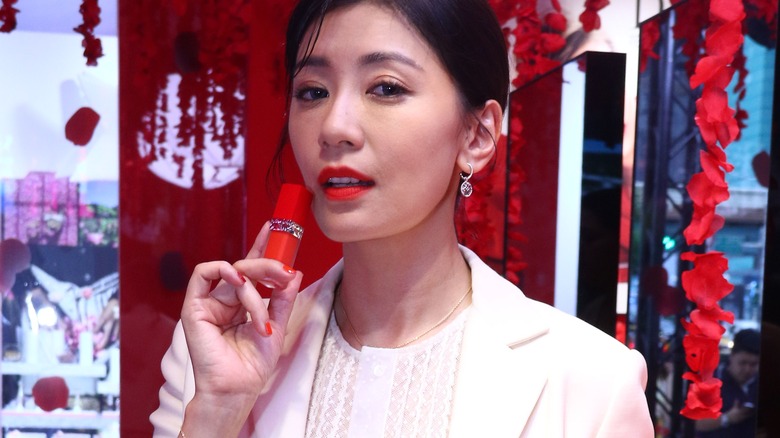 Tpg/Getty Images
We may receive a commission on purchases made from links.
Most say that we're in the golden age of television, but they neglect to acknowledge that we're also in the golden age of makeup. Makeup has come an incredibly long way from the days of lead-based makeup and the application of more powder to the skin than you thought humanly possible. We've honed our techniques and cleaned up our products, and, thanks to the internet, it's easier than ever to learn tips and tricks that'll instantly improve your makeup game. We've got an overwhelming array of products, many of which are of stellar quality at affordable prices. It's a great time to be alive if you wear makeup.
We've also been blessed with an excess of beauty collaborations. Some include celebrities, while others include athletes. Our favorites, though, include pop culture. Many a brand has teamed up with a movie, a character, or a television show to create a line of makeup that inspires colorful looks while probably acting as some sort of marketing ploy. No matter the reasons, we're here for it. Here are 13 of the best makeup and pop culture collabs of all time.
Revolution had us all saying 'Beetlejuice, Beetlejuice, Beetlejuice'
If you say "Beetlejuice" three times in real life, Michael Keaton won't appear in your kitchen. But if you log onto Revolution's website, you can purchase an eyeshadow palette created in the spooky character's honor. The Beetlejuice x Revolution palette is iconic for a number of reasons. For starters, the case, which holds a plethora of eyeshadows, is designed after Betelgeuse's unmistakable black-and-white suit. Then, once you open the case, 16 shades of shadows, expertly chosen to reflect the color scheme of Tim Burton's legendary film, appear. Each shadow is named after a reference to the movie, with standouts that include "Say My Name," "Three Times," and "Betelgeuse."
Beyond the names and the appropriately spooky aesthetics, the shadows themselves are great. They're ultra-pigmented and glide on smoothly. While not everyone will take to the shade options, they fit together to make stunning shadow looks, especially for anyone with green or brown eyes. Full of mattes for shading and shimmers to make the lids pop, Revolution understood the assignment. If this palette isn't inspiring you to say "Beetlejuice, Beetlejuice, Beetlejuice," it'll definitely have you saying "eyeshadow, eyeshadow, eyeshadow."
MAC made our makeup a little stranger
Whether the "Stranger Things" community requested a makeup collab for its favorite television show or not, MAC showed up and showed out with its Stranger Things x MAC collection. Where we often get a singular item to celebrate the marriage of a pop culture icon and a cosmetics brand — sometimes a few items if we're lucky — MAC gave us several products a la the Netflix series. Lip glosses, blushes, eyeshadows, and even brushes were bestowed upon customers. And, yes, you read that correctly — every item was plural. We weren't kidding when we said that MAC put in the work.
The collection was split into two distinct categories inspired by the two worlds in the "Stranger Things" universe. The Hawkins High pieces contained light, fun shades and were packaged in school colors, the eyeshadow palette even resembling a school yearbook. The Upside Down pieces, however, were deep and sultry, giving off a much darker vibe, per the world it took notes from. The quality of the "Stranger Things" products may not have been the best MAC offers, but the collection sold out because the aesthetics were on point. If a television show wants to be commemorated in makeup, MAC is a brand worth considering for the collection.
Kylie Cosmetics traveled to Gotham for inspiration
DC Comics fans unite. While we don't have time to discuss which Batman portrayer is best (it's Christian Bale, by the way), we can all agree that Kylie Cosmetics did the superhero justice with its Batman Collection. Kylie Cosmetics is known for its collaborations — the famous owner has tapped her famous family members for lip kits and eyeshadows galore. The brand has also created products inspired by movies such as "The Wizard of Oz" and "A Nightmare on Elm Street," but the comic book hero proved to be the brand's best piece of inspiration.
The collection includes an eyeshadow palette, an eyeliner set, a lip gloss set, and a highlighter. The shade choices for the lip glosses and eyeliners are on point, and the packaging of the highlighter, which features a stamp of the Bat-Signal over Gotham City on the product, is stellar. But the star of the show is the eyeshadow palette. Made to look like a comic book, the inside is printed with actual comic scenes. The shadows are named for major details of the comic series — "Riddle me this, "Batmobile," and "Batcave" among them — with each housed in a comic bubble. From the pigments to the packaging, this entire collection — in a smart move by Jenner and company — pays homage to the comic, not the movie. It's bright, fun, and a major win for Kylie Cosmetics.
Violet Voss teamed up with the Care Bears
Switching gears entirely, we have the Care Bears Eyeshadow Palette by Violet Voss. The palette includes 12 darling shades named for specific Care Bears. Some of the Bears made it onto the palette's cover, as did their signature rainbow and clouds. The shades are bold and bright and full of shimmer. While there aren't many transitional shades included, Violet Voss was right to make that choice. The palette embodies the aesthetic of the Care Bears, which is exactly what a makeup collaboration should do.
Buyers were overwhelmingly taken with the palette, with many reviewers lauding it for its shade choices and large pans. "The formula is great, it's pigmented and doesn't have too much fallout. I love that this pallet comes with fun colors to experiment with. And of course love the cute packaging," one reviewer wrote via the official website.
The shadows blend well and add drama to looks. You'll probably need an accompanying palette to complete your eyes, but it'll be well worth the extra effort to oscillate between palettes. Violet Voss did not make this Care Bears palette in vain.
Storybook Cosmetics made a good Mean Girls palette
Storybook Cosmetics took the makeup collaboration game to an entirely new level with its Mean Girls Eyeshadow Palette. We'd seen great packaging before but never anything quite so epic. To be fair, Storybook Cosmetics' whole shtick is packaging that resembles actual books, so we expect to see the brand make palettes for books such as "Charlie and the Chocolate Factory" or "Little Women." We did not expect the Plastics' notebook of insults to be turned into makeup. Storybook Cosmetics made the most fetch version of the "Burn Book" possible. The packaging resembles the book perfectly, and though you can't write your most vile thoughts about your peers inside, you can use the mirror to apply the aptly named shades (our favorites are "Is Butter a Carb?" and "She Doesn't Even Go Here").
We weren't the only fans of this packaging. Back in 2019, Ulta conducted a poll via Twitter to find out which cosmetics packaging followers liked the best of four separate products, and voters showed their love for the Mean Girls palette. Unfortunately, this iconic eyeshadow palette is no longer available for purchase from the brand (many fans believe Storybook Cosmetics has gone out of business), but we can still appreciate the genius that was the Mean Girls Eyeshadow Palette.
ColourPop let the Disney villains have their moment
Time and again we're given products made for the Disney princesses. ColourPop had apparently had enough of the unfair treatment and instead created a line of cosmetics for the princesses' archnemeses. Named Disney Villains, ColourPop created products for some of the studio's most famous scoundrels: Cruella DeVil, Ursula, Hades, Maleficent, the Evil Queen, and Dr. Facilier. The collection included an eyeshadow palette and jelly shadows in individual pots, and each villain had their own shades of highlighter, lipstick, and lip gloss — apparently the most menacing of the beauty products.
The Misunderstood eyeshadow palette included mostly shimmers in a range of stunning shades, notably the black shimmer called Revenge. The jelly shadows included shimmers and metallics, and all were highly pigmented and smooth to apply. The lip products and highlighters were shaded according to the villain for which they were named, the highlighter shades being the most subtle of the options. The packaging was great, and the theme was obviously remarkable. For a collaboration, we can't picture anything more that ColourPop could've done to have made it better. The collection made us want to play with makeup and turn on a Disney movie. Well done, ColourPop.
Wet n Wild took on SpongeBob
Wet n Wild proved it's as big a "SpongeBob SquarePants" fan as anyone with its incredible SpongeBob SquarePants x Wet n Wild collection. Wet n Wild gave us cosmetics and tools, proving that a collaboration can be much more than just shades named after our favorite characters (though we did get those, too). Front and center is the Nautical Nonsense eyeshadow palette. Stamped with jellyfish, Krabby Patties, and the quintessential "SpongeBob SquarePants" flowers, the shades are reminiscent of our favorite undersea television show, but they're also wearable day to day. The stunning highlighter features a stamp of a giddy SpongeBob and includes two separate mists — one for setting and one for hydrating.
Wet n Wild could've stopped with those products for this collection, but it went a step further and included useful tools as well. Included in the collection are a flat SpongeBob kabuki brush; a round Sandy kabuki brush; three beauty sponges made in the likenesses of SpongeBob, Patrick, and Squidward; a sponge case shaped like a pineapple; and a Krabby Patty brush cleansing tool with a Gary the Snail brush cleanser. While the sponges are better novelty items than blending tools, the rest of the products are fantastic. Few collabs have been as well-executed as this one.
ColourPop collaborated with the Powerpuff Girls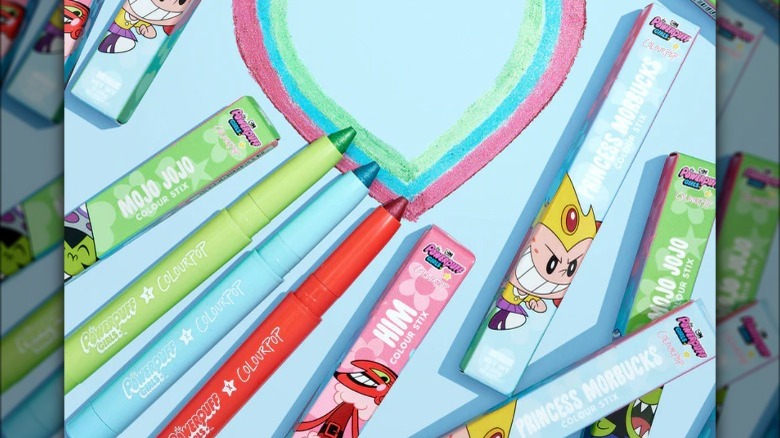 ColourPop Cosmetics
ColourPop loves a good pop culture collaboration, and we love the brand for turning our favorite characters into cosmetics. ColourPop tapped our favorite female child superheroes for a Powerpuff Girls line of blushes, colour stix, and lip masks. Like the Powerpuff Girls, the matte blushes are bold and vibrant. The deeply pigmented shades stand out on all skin tones and slide on for a seamless finish. In true ColourPop fashion, the brand didn't just highlight the heroes — it included the antagonists in its products as well. Though the colour stix come in green, blue, and pink, the colors of Buttercup, Bubbles, and Blossom, respectively, the shades are named after their enemies Mojo Jojo, Princess Morbucks, and HIM. It's unexpected and playful, which is a difficult feat considering how saturated the pop culture cosmetics collaboration space has become.
In addition to the cosmetics, ColourPop released a Powerpuff Girls hair clips and bath bomb. The hair clips, which feature images of Blossom, are perfect for makeup application, and the star-shaped bath bomb is just further proof that ColourPop has a unique vision when it comes to these collaborations. Like most pop culture collections, you probably won't want everything included in the Powerpuff Girls line, but you can still appreciate the effort.
Revolution went all the way to the Valley for its Clueless line
A "Clueless" makeup line we don't love? As if! Revolution, another leader in pop culture collaborations, created tons of products a la the cult classic Alicia Silverstone film. It created so many we don't have time to discuss them all, so we'll just touch on our favorites from the Revolution Clueless line. Let's begin with the eyeshadow palettes. Along with creating a full-sized palette inspired by the entire movie, Revolution created mini palettes inspired by specific details from the film, such as Cher's wardrobe, Dionne's phone, and Tai's "Rolling With the Homies" tape. To complete your eyes, the brand also released an eyeliner replete with a puffball inspired by the pen Cher uses.
Keeping with the puffball motif, the line features lip liners with the adornment, as well as lip glosses with detachable puffballs that can be used as keychains. There are press-on nails, scrunchies, and even a handheld mirror in the collection, each of them perfectly capturing the essence of the romantic comedy. The packaging and products are exceptional, and the quality is great. Had Revolution only found a way to include a Paul Rudd clone as a freebie for each of its customers, the collection would've been perfect.
Ulta made magical makeup
No wonder J.K. Rowling is a billionaire. More "Harry Potter" merchandise is available than there are chapters in the entire series, and that includes myriad makeup products. With so many options for "Harry Potter"-themed makeup, it's hard to believe any of them stand out. But the Harry Potter x Ulta Beauty collection is the best among them. While so many collaborations have looked to characters and spells for inspiration, Ulta centered its entire line around the four houses of Hogwarts: Gryffindor, Hufflepuff, Slytherin, and Ravenclaw. (To credit other creators, some "Harry Potter" makeup collections have also included references to the four houses — Ulta just happened to do it best.) Each house has its own eyeshadow palette, eyeliner, lip crayon, and loose highlighter balls.
Each of the sets' shades is themed blue, green, yellow, and red for Ravenclaw, Slytherin, Hufflepuff, and Gryffindor, respectively. The palettes featured the houses' individual crests on the covers, and the eyeliners were shaped like quill pens (which, in retrospect, might've been difficult to handle, but it looked sick). This collection wasn't available for long, but it did cast a spell on all of us while it was here.
FLOWER Beauty took inspiration from E.T.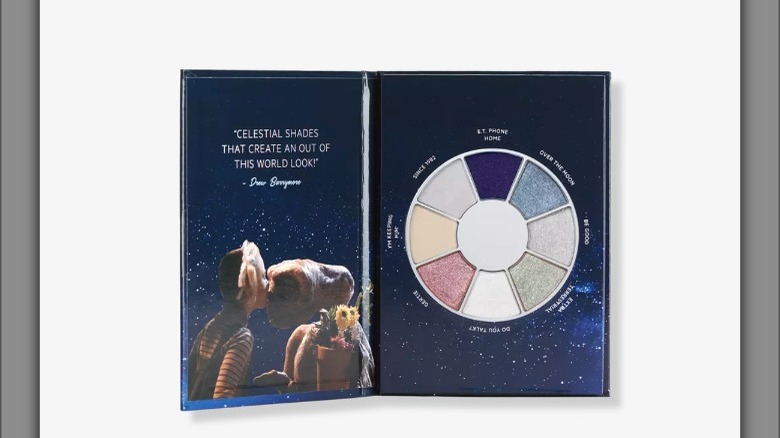 Ulta Beauty
We like to think that somewhere, sometime, Drew Barrymore was in front of a mirror playing with the E.T. Eyeshadow Palette from FLOWER Beauty. We know she's aware of the palette — FLOWER Beauty is Barrymore's company. But if you're looking for a pop culture collaboration with unbelievable packaging, you might be disappointed in this palette. Though the packaging is fine, it's nothing compared to some of the other products on this list. And, if you're a massive "E.T." fan, you might also be disappointed. There's just a palette, no other "E.T." products.
But the packaging and the product options (or lack thereof) aren't why we admire this collaboration. We like it because the shade options are really, really good. As Barrymore is quoted as saying on the inside of the packaging, this palette has "Celestial shades that create an out of this world look!" The shades aren't groundbreaking, and there aren't many, but they're absolutely stunning and will look beautiful on any eye. The set includes mattes for dimension and transition along with shimmers with shifts as gorgeous as you'll find in a palette. Barrymore was the exact right person to trust with this endeavor, and she did a fabulous job by focusing on quality over quantity. Is there anything Drew Barrymore can't do?
Pat McGrath Labs used the force for a collab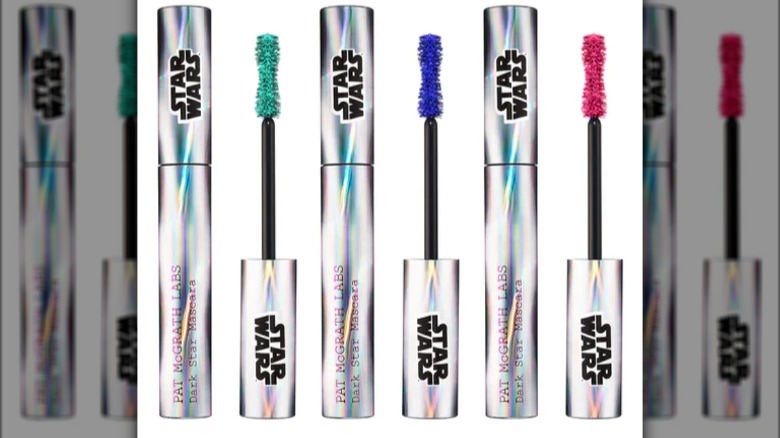 Pat McGrath Labs
If Pat McGrath is involved, you know it's going to be good. The makeup artist-turned-makeup creator is known for releasing products of the highest quality that help professionals and novices alike achieve photo-worthy makeup looks, and her brand's Star Wars x Pat McGrath Labs collection is no exception. The line features a bevy of galactic goodies in dazzling shades. Take the Dark Star Color Blitz Mascara Trio. Per the name, this set includes three separate mascaras, each in a bolder color than the next. If you've ever wanted pink lashes, now's your chance. The collection includes regular black mascara, too, so don't worry if colored lashes aren't your thing.
Along with the mascaras, Pat McGrath Labs designed two eyeshadow palettes, both replete with shimmers you can see from space. There's also a singular pot of cream pigment that works for both eyes and lips, a metallic liquid lipstick, and a lustrous pink gloss. In addition, customers have the option to purchase one of the eyeshadow palettes and the black mascara in tandem. Like all of Pat McGrath Labs' products, the packaging of this collaboration is gritty in a good way, and even if you've never seen "Star Wars," you'll be coveting these items.
Revolution had us singing 'Hallelujah' thanks to its Shrek collab
Somebody once told us that we'd love the line of "Shrek"-inspired cosmetics from Revolution, and they were correct. The I Heart Revolution x Shrek makeup is nothing short of legendary. It's got everything a great pop culture makeup collaboration should have — fun packaging, a wide range of products, shades inspired by characters and film references, and quality items. Let's just cover our favorites. First and foremost is the Shrek Eyeshadow Palette. The entire palette is shaped like Shrek's head, and it hinges at the top to reveal almost 20 shades fit for a damsel in distress ... or a swamp princess.
Next are the mini palettes inspired by supporting characters — there's one for Donkey, Puss in Boots, Lord Farquaad, and Fairy Godmother. Each includes eight shadows straight from a fairy tale. We were given lipsticks, balms, brushes, a highlighter, a magic mirror, a clay mask, and a headband with ogre ears. We truly couldn't have asked for more from Revolution. If you need us, we'll be listening to Smashmouth and applying our "Shrek" makeup for the rest of the day.