A Cosmetologist's Best Advice For Transitioning From Long Hair To A Trendy Bob
Spring is in the air, and for many, that means refreshing their homes, attitudes, and, of course, wardrobes. Hair isn't a bad place to start, either. After all, an easy way to feel like a new person is to get creative with your haircut and style. If you've been rocking the long hair look for quite a while, cutting your hair and opting for a trendy bob haircut may be a drastic change for you. A change in hairstyle this drastic, which is, perhaps, one of the year's on-trend haircuts, is something you should prepare for so that you can get the most out of your cut.
In order to relish in your new style rather than drown in haircut regret, it's important that you take a few steps before getting your new bob to ensure that you get that fresh feeling after a cut of this kind. We sat down exclusively with Ghanima Abdullah, a cosmetologist at The Right Hairstyles, to find out what steps she recommends when making a change of this kind.
Make an appointment for preparation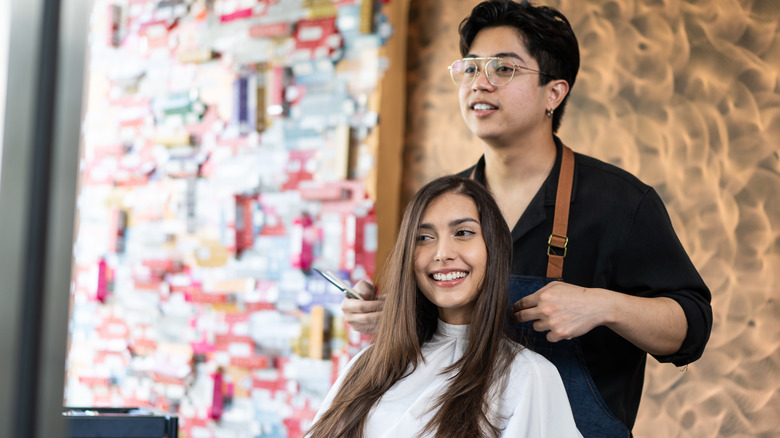 Hananeko_Studio/Shutterstock
If you're thinking of transitioning from long hair to a trendy bob haircut, there are some steps you can take before going through with the cut that may make this process smoother. Ghanima Abdullah exclusively recommends to Glam that meeting with your stylist first to discuss your cut options while taking into consideration your hair's texture, the lifestyle you live, and the shape of your face is a great first step. She also tells us that bringing a picture of the look you're interested in getting is a great way to ensure you and your stylist are on the same page.
Because your stylist is a professional, they're able to recommend length, styling options, and colors that best suit you. Before you even make a cut appointment, meet with your stylist and truly listen to their advice. This will help both of you know the expectations of the other and provide a smooth transition when it comes time for your cut.
Illuminate with color and layers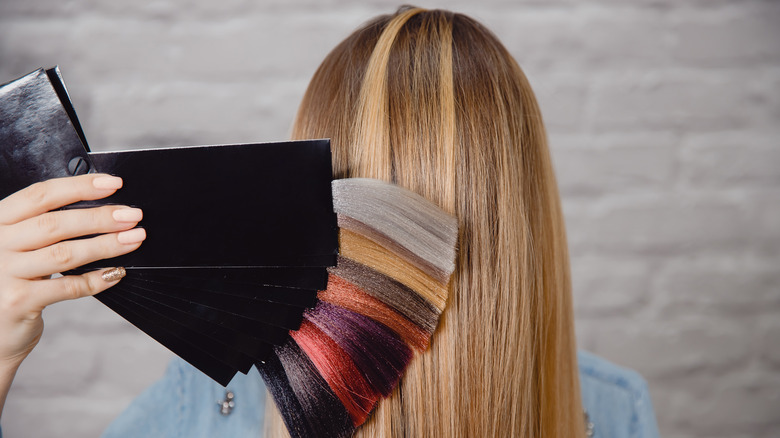 Parilov/Shutterstock
Since you're already going to be bold with this new hairstyle, you might as well go big or go home. Ghanima Abdullah exclusively told Glam that it's time to embrace this fun change with unique color and style. "Consider highlights or a new overall hair color to give your style some lift," Abdullah explained. Nothing illuminates a new style and cut better than a new color. Spring is the season of change, and new colors can help you feel renewed.
While you are at it, there are other ways you can stand out with your new hairstyle. If you're used to the volume that comes with long hair, you may want to entertain having your stylist add layers to your bob cut. In fact, Abdullah notes that shorter hair typically has a "thinner and flatter" look, so add in some layers for volume with your new highlights if that's personally an important aspect of your haircut's appearance.
Consider your products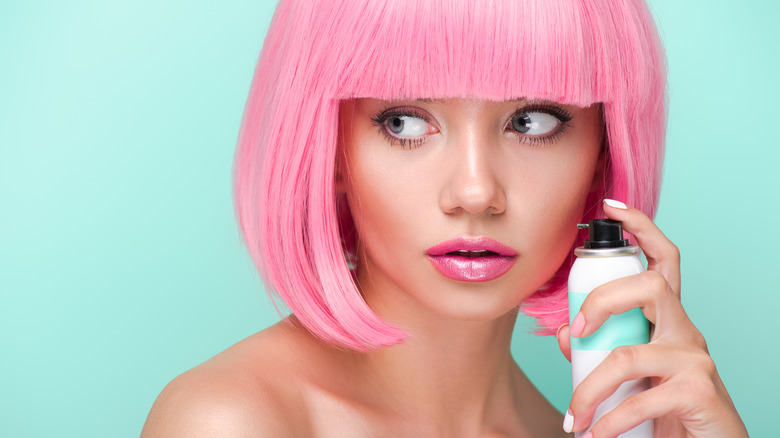 LightField Studios/Shutterstock
You probably already have a cabinet full of hairsprays, dry shampoos, and gels to tame your long hair. However, Ghanima Abdullah told us exclusively that it might be time to invest in different products. Bobs are known for their layering and texture, so embracing the choppy look is essential. What's more, the secret to the bob's structure and appearance is a texturing spray. Search for one that specializes in volume and definition. You will thank yourself for this addition to your haircare repertoire, as it makes all the difference in healthy, short bob cuts.
Texturing spray allows for more movement than hairspray and mousses do. If you have fine hair, this will help your hair look thicker and healthier. You have many options for how you use texturing spray. If you want a beachy, wavy look, use it on wet hair. Towel dry after washing your hair and spray from root to end. Scrunch your hair as it air dries and enjoy the volume you receive. In addition, use it on dry hair. Stick with the root-to-end regimen and tousle your hair a bit with your hands.
Apply heat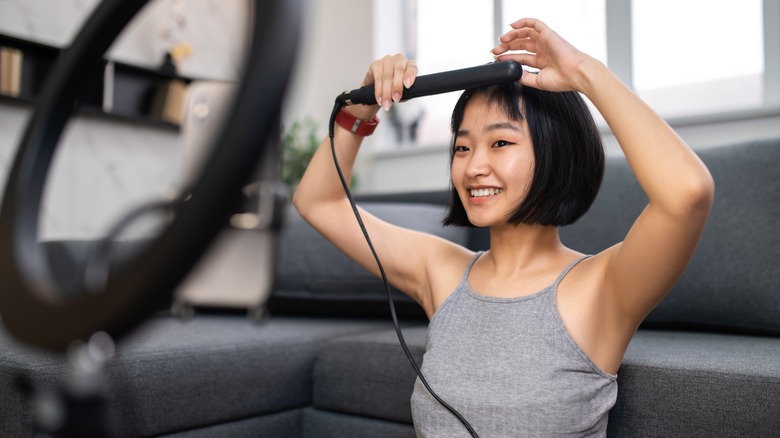 Dmytro Zinkevych/Shutterstock
Because you'll have a new look that you'll want to play with, don't be surprised if you get out your curling iron or straightening iron a bit more. Ghanima Abdullah recommended to Glam that you'll want a modern iron in order to effectively create loose curls. "Aceramic finish [on your curling iron] is best to get that look," she exclusively told us.
In addition to thinking about getting new styling products, you'll want to invest in a proper heat protectant for your hair. Abdullah says to stay away from those that have oil and water in them. These ingredients will burn your hair instead of protecting it. Additionally, she recommends silicone-based heat protectants. They will help you keep healthy hair and give you the shine that best complements a new color and cut. New hairstyles are equal parts exciting and nerve-wracking. By following this advice, you'll get the most out of your new look and reap the benefits of healthy hair to boot.