The BookTok Door Frame Lean: How A Romance Trope Went Viral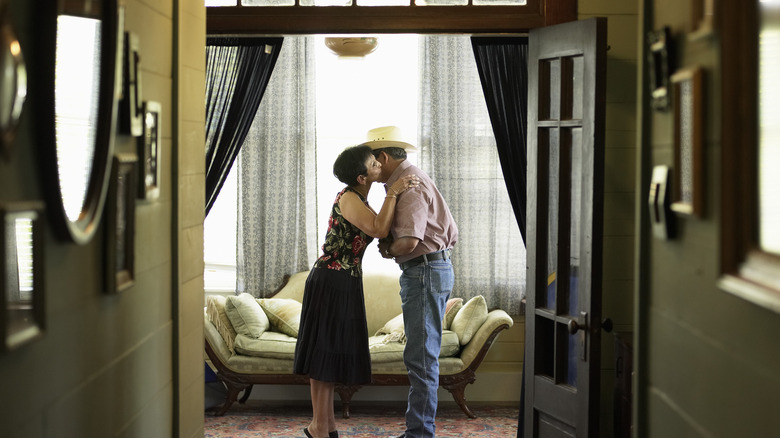 Ryan Mcvay/Getty Images
We may receive a commission on purchases made from links.
Love 'em or hate 'em, romance novels are the bestselling book genre, and even at their cheesiest, they somehow leave us begging for more (via BubbleCow). From "Pride and Prejudice" to "Twilight" to "Fifty Shades of Gray," readers know what they want. Forbidden love, forced proximity, soulmates, love triangles, enemies to lovers — a romance novel simply wouldn't be a romance novel without a good trope. And no matter how many times we see it repeated, it just doesn't seem to lose its power to melt us completely.
Whether or not you're a regular on BookTok — or an avid romcom fan — chances are high you're familiar with the steamy trope that typically begins with something like, "He leaned against the door frame ..." If you're a TikTok user, you've likely stopped mid-scroll to watch the viral romance trope in action, where partners attempt to recreate the scene which either ends in a passionate kiss or both halves falling over in laughter.
Swoonworthy and seductive
Recreation of the classic move was kicked off by TikTok user @elite.reading who asked her husband to perform the trope in their doorway. With over 90 thousand views, the video was popular to say the least, and completely took TikTok by storm. Viewers commented on how the iconic doorway lean gave them immediate butterflies. And from there, well, partners around the globe were dragged into hallways to act out the swoonworthy, seductive trope.
BookTok is a special corner of the social media platform where reading enthusiasts can convene to discuss their favorite series, authors, and genres. While readers may have had a challenging time in the past finding a social circle who also loves to read, users are thrilled to have gained this type of easily accessible community. At the time of writing, the #BookTok hashtag has an impressive 127 billion views on TikTok. Readers have been able to find book recommendations highly tailored to their taste and authors have also been able to quickly gain an enthusiastic following thanks to the niche section of the app.
BookTok is the niche corner of TikTok you need
If you're looking for a new romance novel to read at the beach this year, BookTok has you more than covered. You can even find BookTok journals on Amazon where you can track your reading goals, plan your reading list, and review your favorite BookTok novels. From the bestselling romance "It End With Us" by Colleen Hoover to "The Unhoneymooners" by Christina Lauren and the fantasy romance series "A Court of Thorns and Roses" by bestselling author Sarah J. Maas, there's something for just about everyone. And when you need to squeal and converse with fans over your favorite scenes, BookTok will be there waiting for you.
You're bound to see at least a few of your favorite romance tropes in just about anything you select from the genre on BookTok, including the door frame lean that has everyone weak at the knees. Chances are high you'll be begging your partner to try out the trope in your doorway before you know it.