Are Thong Boots The Ultimate Transitional Shoe?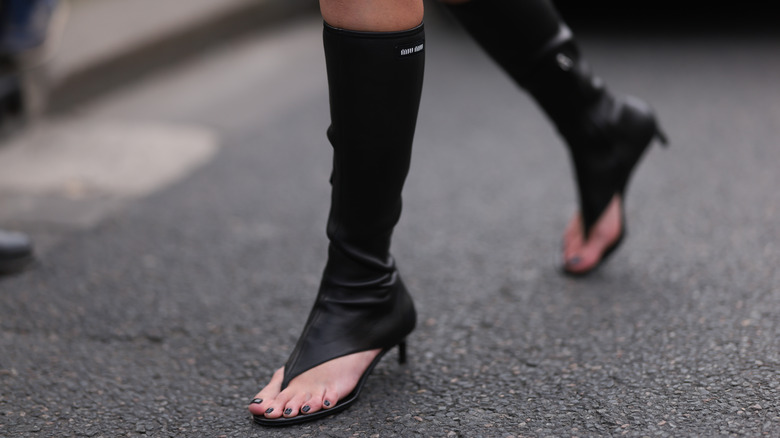 Jeremy Moeller/Getty Images
Just when you think a shoe can't be reenvisioned again, a wild new style struts down the street, cascading into a fresh trend. Lately, it seems that boots, in particular, have been chosen for a major reinvention. Whether it's a metallic pair that look like space boots, a boot with an overinflated platform heel and a million buckles, or your fave pair of jeans that have been repurposed and turned into a denim boot trend, designers have latched onto this particular style and decided it's time for a massive shakeup. There's now another shocking shoe trend that's stepped in that's part of the boot family tree — although it's really two shoes morphed together. Say hey to the sassy thong boot.
Advertisement
Thong boots might sound like a fashion prank or a weird '90s invention, but hear us out. In transitional periods between breezier and warmer seasons, when you're rotating between a hundred different layers and can't seem to get comfortable, the boot-meets-flip-flop is surprisingly practical. When the weather is just warm enough to let your toes peep out, but not quite comfortable for a full-blown shorts and slides look, a case is instantly made for thong boots. It may not be an expected shoe trend to rock up this season, but we're actually kinda liking it. Here is why thong boots are the perfect transitional shoe and 22 ways you can wear them.
Romper and thong boots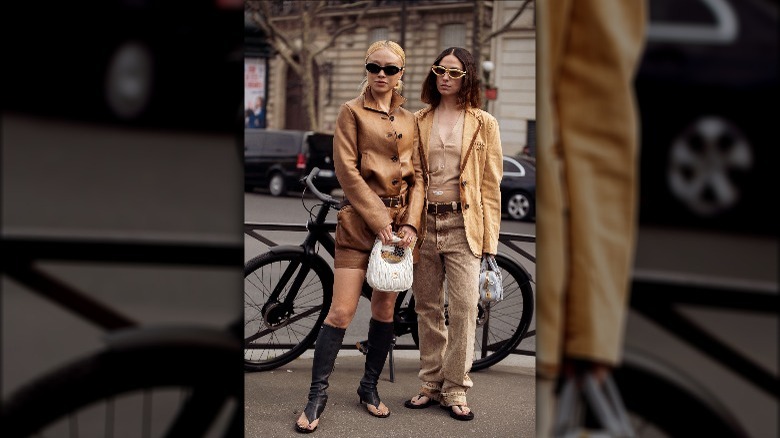 Raimonda Kulikauskiene/Getty Images
There is no better time to wear a long-sleeved romper than in autumn and spring. It's just enough coverage to shut out the chill without feeling like you're going to overheat. Rather than pulling your boots out of the closet prematurely or wearing sandals when the temp is just a tad too low, it's your chance to let a pair of thong boots shine. The most fashion influencer-approved way of doing so? In a muted, all-neutral palette, of course.
Advertisement
Boots with a trench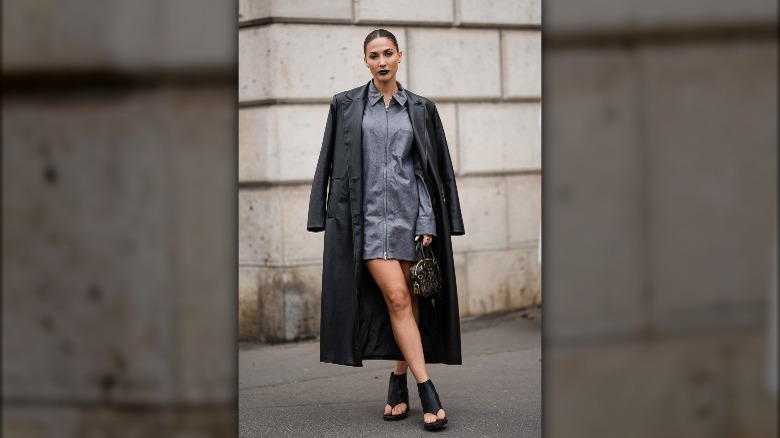 Edward Berthelot/Getty Images
Fashion minimalists, take note. As you already know, maintaining a simple aesthetic while still allowing room for experimentation is something of a science. But put plainly, the fewer components, the better. This means combining a few basics in fresh silhouettes for an outfit that feels modern but by no means encroaches on the maximalist territory. Ankle thong boots are a good selection since they're not as attention-grabbing as a knee-high cut. They work wonders with a trench coat — a staple that goes with every minimal ensemble. 
Advertisement
With a matching set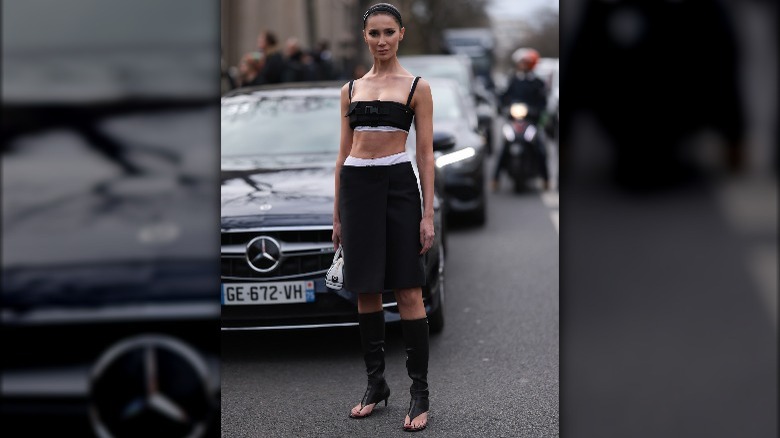 Jeremy Moeller/Getty Images
Obsessed with your new matching set, but no shoe seems good enough? Allow the not-so-humble thong boot to step in. A length that hits just below the knee is a perfect choice for a coordinated set that's a midi length, whether it's a skirt or culottes. While you might be thinking you could just wear plain old boots with this look, they won't provide the same effect. The open-toe and chic thin heel are big contributors to spicing up the look and taking it from plain to elevated. At the same time, the boot shaft gives a little pinch of formality.
Advertisement
Thong boots and tights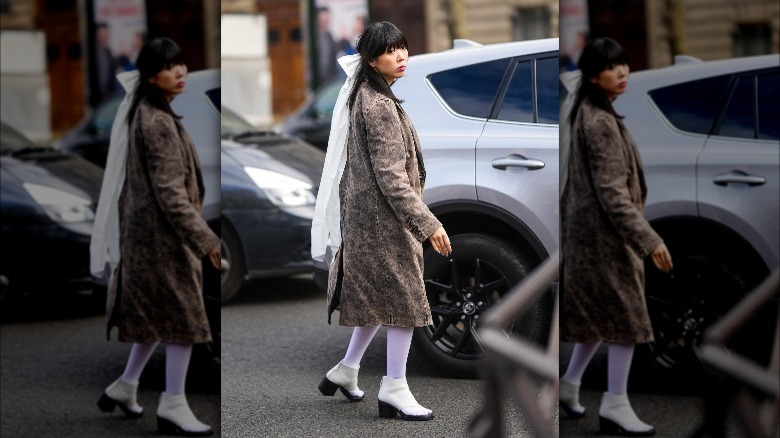 Edward Berthelot/Getty Images
Tights and thong boots are something we can totally get on board with — and what a way to extend the period in which you can wear this style of shoe. While your nicest nylons would look a little funny paired with flip-flops, the closed back and upper of the thong boot instantly make the look work. Wear them with a long-sleeved dress or a cozy jacket, and pat yourself on the back for making the most out of your trendiest shoes.
Advertisement
Thong boots and shorts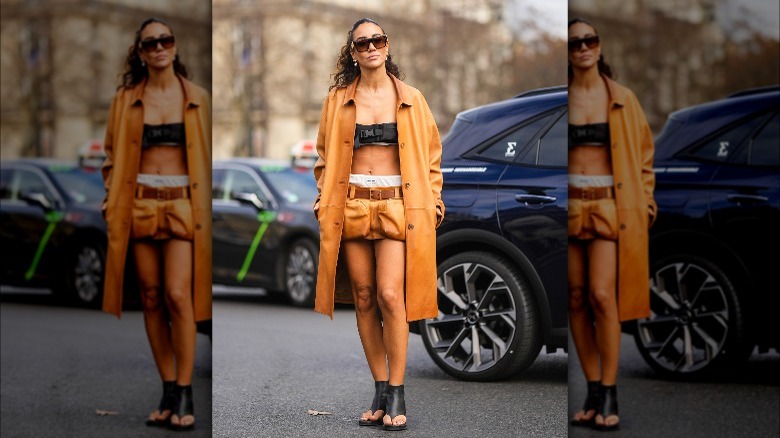 Edward Berthelot/Getty Images
It's tricky to create the perfect shorts and boots outfit. These items usually feel like they're worlds apart — boots are for cool weather, and shorts come out when it's hot. So if you find this kind of look jarring, it's worth testing it with thong boots. With your toes out and a flip-flop front, it suddenly becomes the perfect shoe. Wear it as is, or pop a matching jacket or shacket over top for weeks when forecasts are annoyingly unpredictable. 
Advertisement
With a midi dress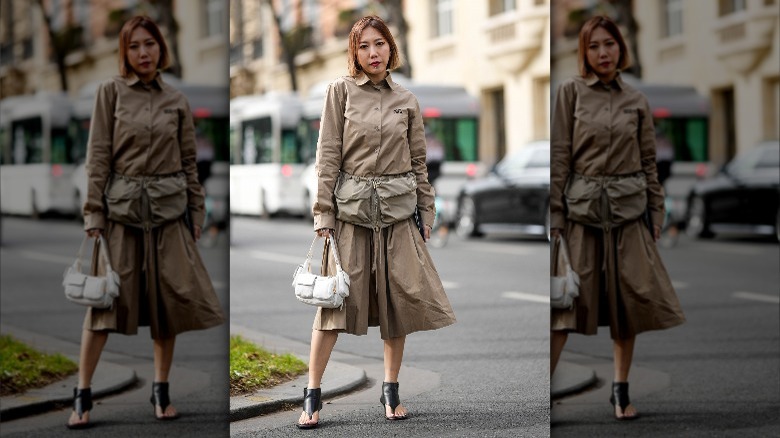 Edward Berthelot/Getty Images
We stand by the fact that there is really no shoe that you can rock with a midi dress (or a midi skirt, for that matter). While a slouchy thigh-high boot might not be the best choice, everything else seems to be the perfect footwear bestie for a midi, including thong boots. An ankle-length style still shows some skin and therefore breaks up the look. Aim for thong boots that are a significantly darker shade (or much lighter hue) than your dress to punctuate the outfit. 
Advertisement
Thong boots with a sweater dress
Edward Berthelot/Getty Images
A sweater dress is the reigning champ of transitional dressing clothes, and thong boots are certainly in the running for being the perfect shoe counterpart. Comfy but stylish, it's one of those outfits that looks like a ton of effort went into it — but really takes five minutes to slip into. If you're sick of wearing sneakers with a sweater dress or aren't feeling your selection of high heels, give thong boots a chance. They balance out the lower half of your look, particularly if it's a mini or micro cut.
Advertisement
With a bomber jacket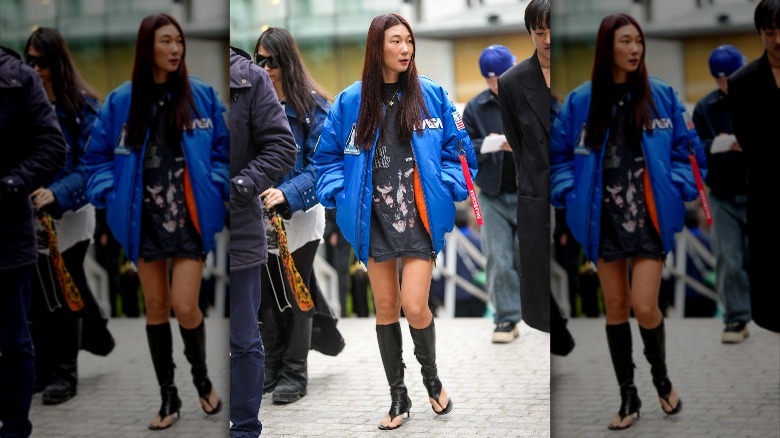 Edward Berthelot/Getty Images
Maybe a thong boot is a little too wild for your usual tastes? The best way to warm up to an over-the-top trend is by paring it back. If you have an all-black, fully leather thong boot, maybe skip the leather mini dress or tulle skirt. Instead, rock a vintage T-shirt with a slouchy bomber jacket over top. It's comfortable but incredibly stylish, and you'll feel more relaxed trying this new look. Not to mention, this kind of outfit is ideal for transitional weather dressing since it's all about the layers. Add a beanie if it's still cold, or leave the jacket behind if things are warming up. 
Advertisement
Thong boots and a blazer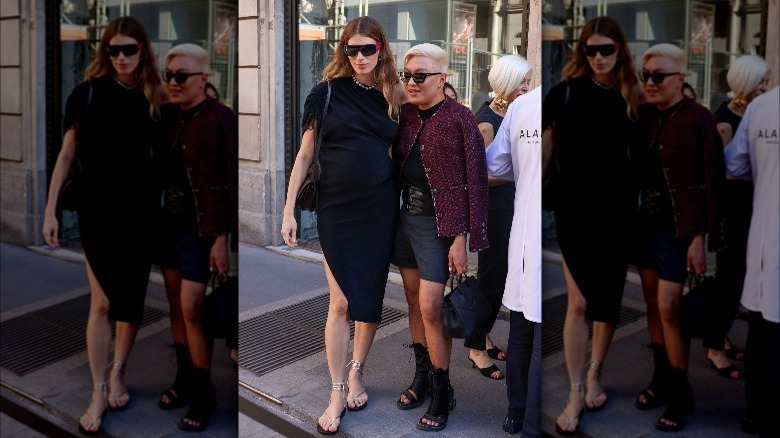 Pierre Suu/Getty Images
Thong boots and sandal boots are undoubtedly a little punk. Like a good combat boot, they're fierce and can really command an outfit. That said, it doesn't mean your style has to be edgy to pull these off. For a polished, clean-cut ensemble, there is nothing better than a stylish blazer. If you're after a classic end result, tweed or brocade jackets and matching sets won't let you down. In the same vein — but for a look that has a slightly preppier vibe — try something in plaid. As for the bottom? Skorts, shorts, or skirts — whatever you prefer will work. 
Advertisement
Try them with a statement dress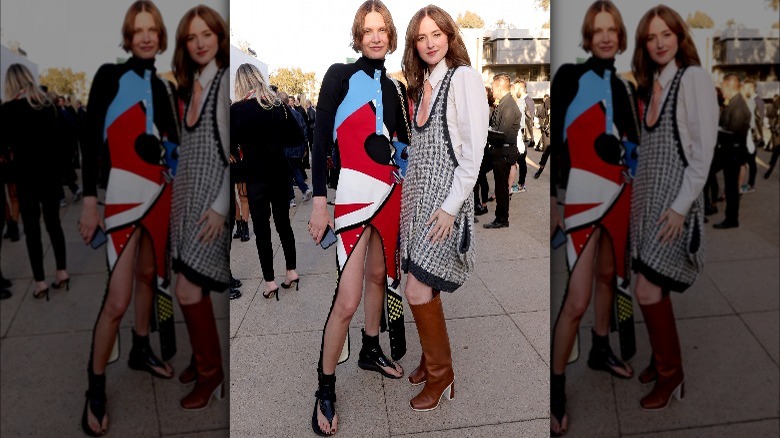 Emma Mcintyre/Getty Images
Flashy shoes call for flashy outfits. Anyone who's not afraid to mix cutting-edge trends with clothing items that are just as vibrant in their closets will want to try this formula. Grab a pair of ankle-length thong boots and your most colorful statement dress, and make some magic happen with this pairing. Despite this mashup shoe working overtime to stand out from the footwear crowd, it presents itself similarly to a basic shoe, especially in a dark or neutral color. So although it feels out of place to wear a boot with your toes poking out, it's not nearly as wild as a platform stiletto or armadillo shoe. 
Advertisement
Pair pastel colors together for warmer months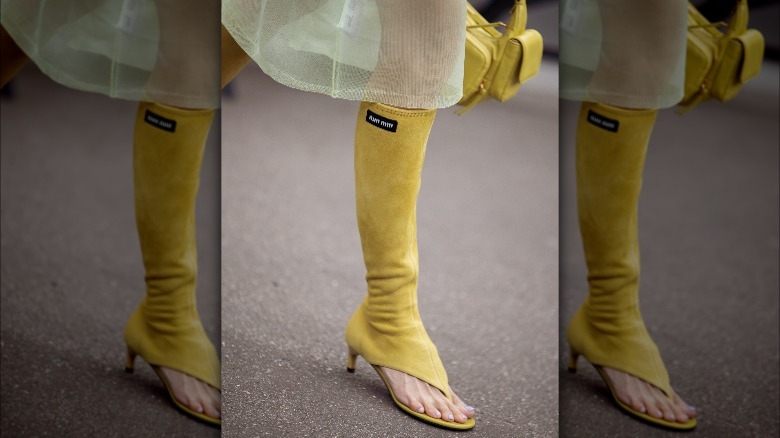 Raimonda Kulikauskiene/Getty Images
About as equally predictable as florals are for spring, pastels are practically guaranteed when the second quarter of the year rolls around. But don't for a second think that they have to be boring. Lichen-inspired greens, sunset pinks, and pollen-reminiscent yellows are just a few hues worth dipping a toe into, especially when it comes to your shoes. Skip the black, white, and dark brown thong boots and instead play with light-hearted colors that welcome in spring with open arms. While you could choose just one color and go neutral everywhere else, mixing these ethereal hues makes a major impact.
Advertisement
Style with a windbreaker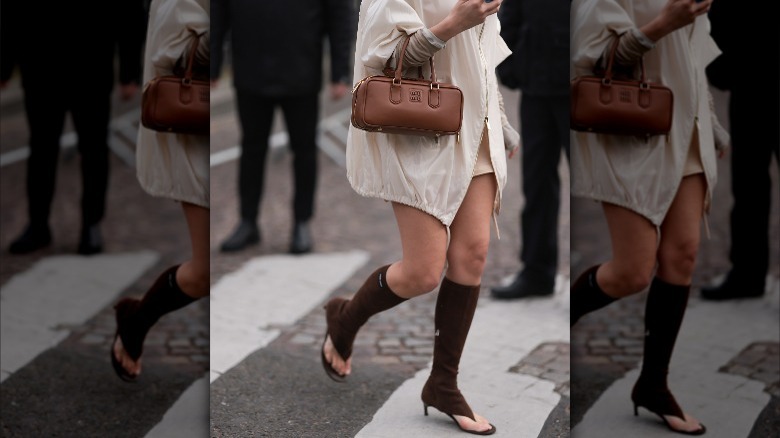 Jeremy Moeller/Getty Images
Another transitional wardrobe staple? The good ol' windbreaker. The tough thing is, this type of jacket is usually a fashion fiasco. Functional, yes, but they're certainly not the trendiest jackets that will keep you styling all spring. If it's breezy or drizzly out, though, don't fret. As with nearly any clothing item, it can be worked into a style-forward ensemble. Stick with tonal colors to elevate the sporty vibe of the jacket. Then, slip into a pair of thong boots. These will instantly upgrade the finished look and are far more stylish than tying up the sneakers you can't stop wearing.
Advertisement
Make your pair the center of attention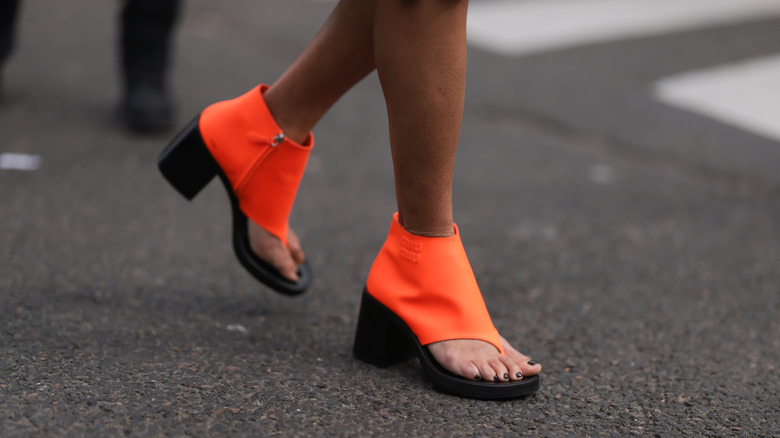 Jeremy Moeller/Getty Images
Thought that only neutral-toned thong boots existed? Think again. Flashy neon hues are out there, too, and are a great way to infuse more color into your wardrobe. If your fashion (or life) motto is the bolder, the better, reconsider those black thong boots and invest in a brightly-colored pair instead. The general look of the thong boot is already an exciting change from your typical boots or sandals, but add in a supersaturated hue, and you have a punchy statement shoe that's guaranteed to spice up any outfit.
Advertisement
Go for multi-tonal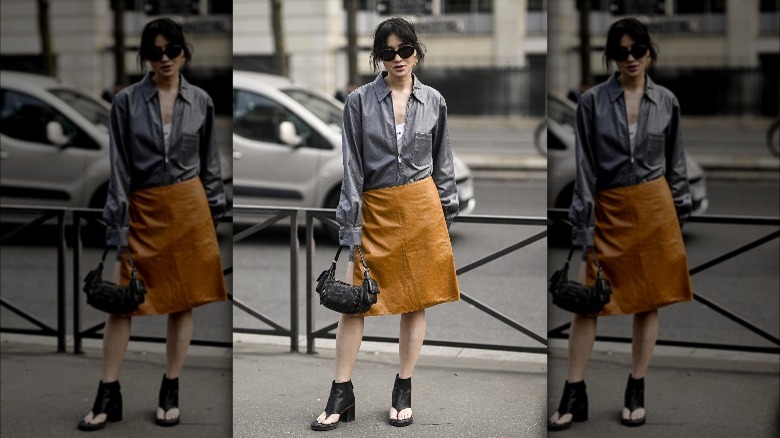 Daniel Zuchnik/Getty Images
Monochrome outfits are always glam and undoubtedly gorgeous with a pair of thong boots. But if dressing all in one color is a touch too formal for you, or isn't exciting enough, expand your palette with a few tonal pieces. The chicness still remains, but your look will feel more colorful despite it being comprised of neutrals. Don't be afraid to mix undertones, either. You may think a warm brown piece of clothing would clash with a cool gray item, but with black thong boots to tie it all together, you're golden.
Advertisement
Opt for neutrals with your thong boots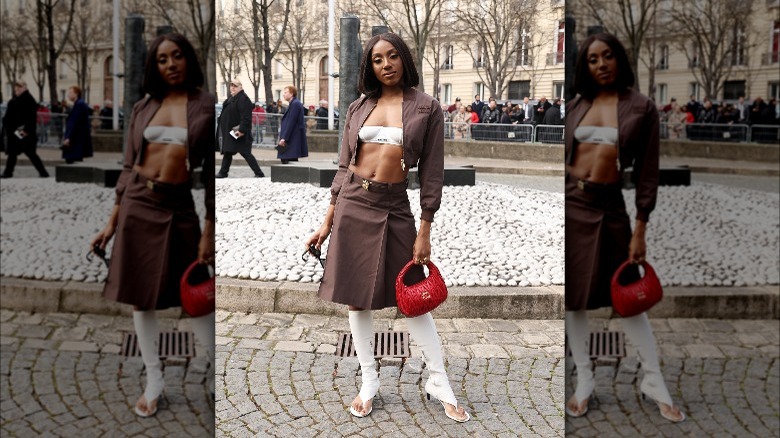 Peter White/Getty Images
Speaking of neutrals, there are other ways to interpret these beloved palettes. Opting for a multi-tonal look is just one way. You can also choose one or two neutrals and stick with those throughout. A cool earthy brown matching set becomes super fashionable and aesthetically pleasing when a few pops of white are added in. Like a classic pair of white boots, thong boots in this color have a modish appearance and, although neutral, certainly create a statement.
Advertisement
Go for '60s glamour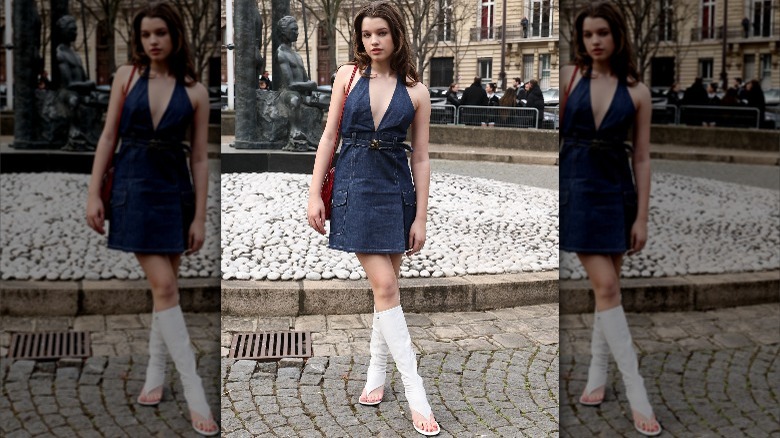 Peter White/Getty Images
Yeah, baby! The go-go boots era is back but with a twist. If you can't get enough of the high-fashion cuts from the '60s, and Mary Quant's fashion legacy resonates with you, it's completely possible to modernize and make work for an outfit in the modern day. A belted halter-neck denim or shift shirt-style dress is the perfect foundation for showing off a pair of white thong boots. They've got the height of the chunky platform boots from the flower power decade, but the open-toe cut reminds us all that we're dressing for 2023. Depending on the season, a hat, cardigan, or trench could be a worthy extra touch.
Advertisement
Pair them with pleats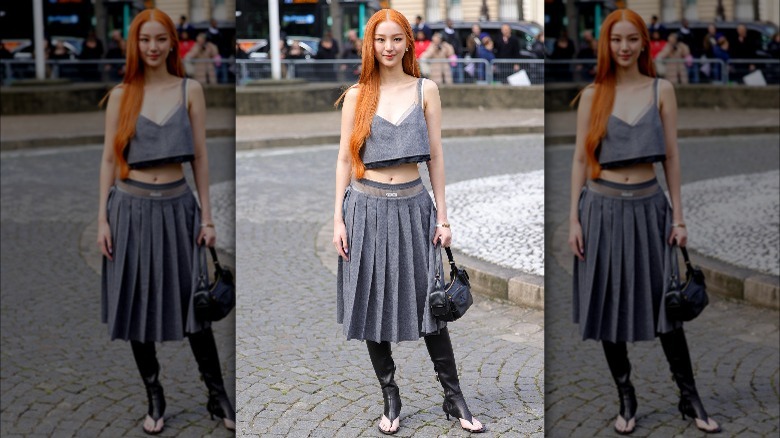 Pierre Suu/Getty Images
When you're working with leg-hugging shoes, it's your permission slip to rock fun, flowy silhouettes that bring plenty of movement along with them. In a sense, thong boots feel a little bit like tights (depending on how high they are), so they don't compete for visual space in the same way a slouchy boot would. Skin-tight shoes stay put, and a skirt with pleats, ruffles, or ruching can do all the hard work. A boxy cropped tank or blouse is a nice complementary pick for on top.
Advertisement
Throw on a denim jacket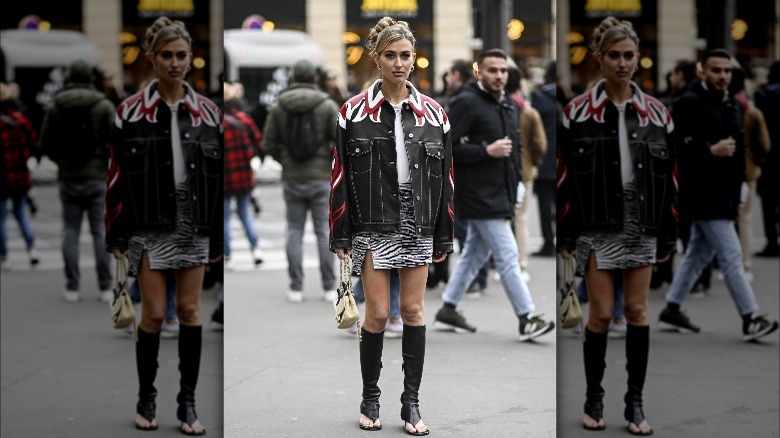 Daniel Zuchnik/Getty Images
Thong boots can be elegant — but they can also be edgy. With the right outfit and accessories, they have a metamorphosis from slightly weird shoe to irreplaceable footwear pick. If a leather moto jacket feels a bit too serious, tone it down one iota by subbing in a black denim jacket (extra points if it has eye-catching details). Don't be afraid of patterns, either. The trendiest thong boots are all one color, giving you plenty of freedom to experiment with animal prints, funky textures, or sequins. To tone it down for an outfit that feels less runway and a little more every day, swap the black denim for a classic blue jean jacket. 
Advertisement
Rock sandal boots with plaid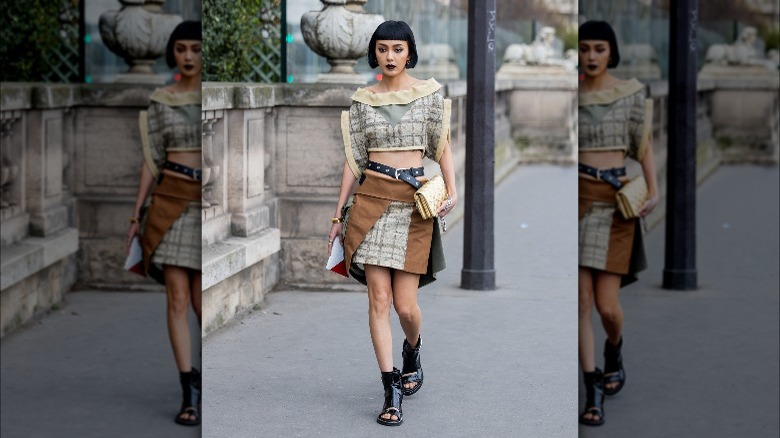 Christian Vierig/Getty Images
Flatten out the thong and remove the toe piece: Sandal boots want their moment in the spotlight, too. Meet the perfect transitional shoe. When winter is overstaying its welcome, the extra coverage of a boot sandal is needed. The same can be said for when the last pieces of summer are slipping into fall. Your feet might feel a touch too sweaty in the UGGs or closed-toe leather boots you love, but the slit in a sandal boot gives your tootsies some breathing room. For a slightly punk or preppy look, we absolutely recommend plaid. It's a classic pattern that harmonizes so well with this kind of shoe.
Advertisement
Try a corset and thong boot wedges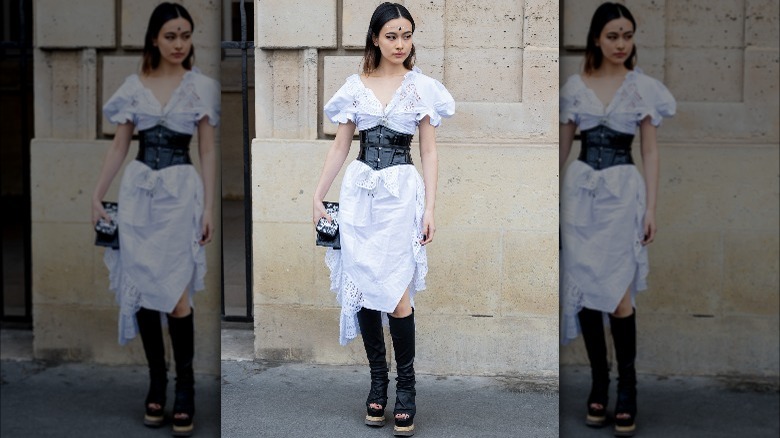 Christian Vierig/Getty Images
Yawning at the idea of a thong-style boot? You little fashion daredevil, you. To take this trend to another extreme, add some height. A wedge heel never fails to make a flashy statement. It gives you major height, plays with proportions, and can make a shoe that's already pretty radical that much more intriguing. Pair it with a billowy dress, but don't stop there. For extra structure, try incorporating a corset top or wide belt and accessorize with a geometric clutch. This'll help create some shape and complement the sleek silhouette of the boots.
Advertisement
Go all black and preppy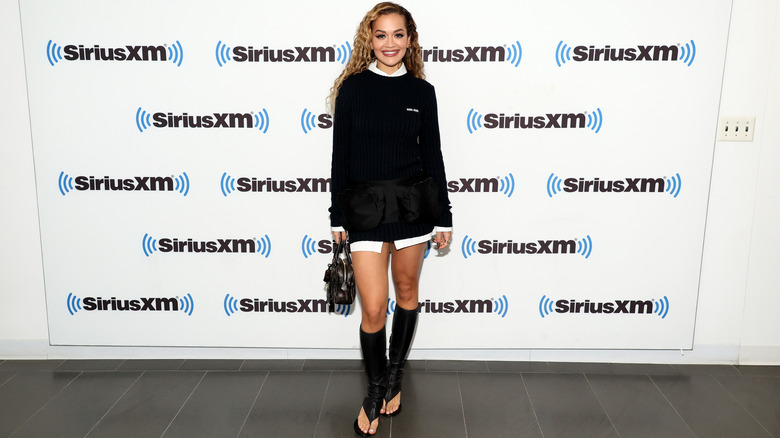 Dia Dipasupil/Getty Images
When you're aiming for a preppy, sleek look, your trusty beach-combing thongs probably aren't the first thing you'd pull from your closet. But as this boot-meets-flip-flop proves, the ultra-casual shoe can quickly become an edgy statement. With a skin-tight boot shaft that shows a little toe below, you can easily emulate the "Gossip Girl" vibe you're going for. A mini sweater dress, a prim plaid skirt, or even a blazer and shorts combo would look fabulous with a pair of thong boots. Stick with a consistent color palette, or opt for a monochrome look for the sharpest ensemble. 
Advertisement
Combine slides and boots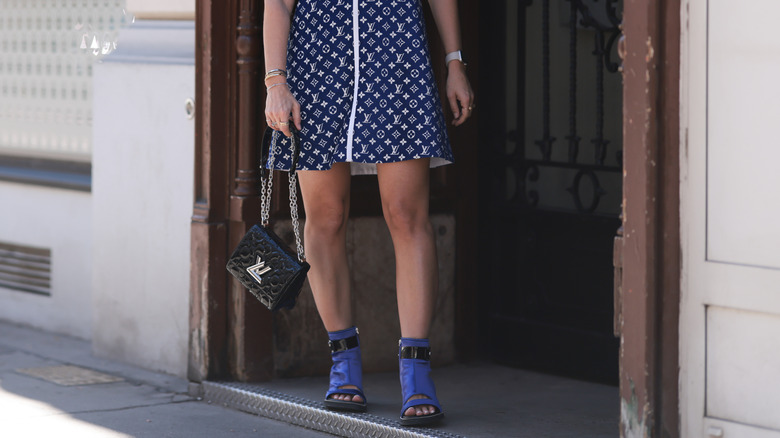 Jeremy Moeller/Getty Images
Another take on the sandal variation of the thong boot, a sandal boot is a comfy but visually interesting way to make an outfit pop. Peeping your cute pedicure while keeping your ankles strapped in and supported? Talk about a win-win. With this kind of silhouette, you're not overwhelming your frame — which bulky thigh-high boots can sometimes do — but you're providing a little more material to work with than a strappy sandal. Complement the color of your outfit with sandal boots that match, whether it's an all-black shoe or something more colorful, like a bright blue bandal (that's what we're officially unofficially calling it). 
Advertisement