American Apparel: Charting The Brand From Viral Success To Relative Obscurity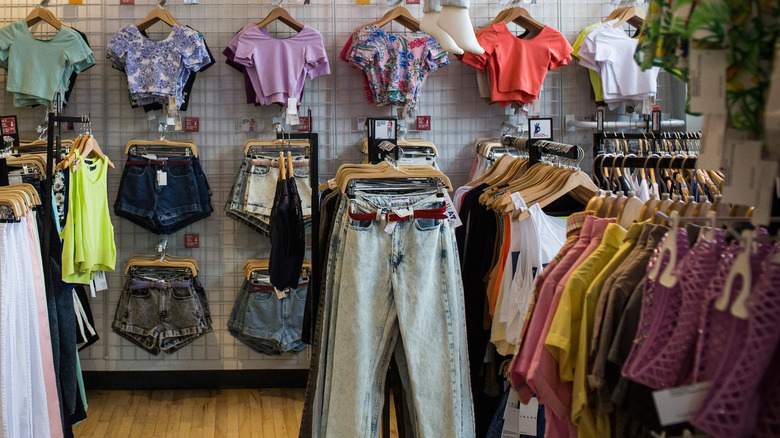 Andrew Burton/Getty Images
In the mid-to-late 2000s, American Apparel dominated the retail scene as the one-stop-shop for cool, urban young people. At the brand's peak, American Apparel operated 15 stores in New York City, 18 in Los Angeles, and six in both San Francisco and London. The brand was popular due to its unique spin on comfortable basics, although its edgy, yet artistic and fresh, advertising campaigns also helped gain attention.
The brightly-lit stores favored a minimalist design aesthetic of simple finishes and white so the garments, available in a large number of colors and textures, could speak for themselves. Just as Abercrombie & Fitch hired employees who fit the brand's preppy aesthetic – preppy accessories are said to be making a comeback – the employees at American Apparel mirrored the hipster aesthetic of the brand and its creator, Dov Charney.
In the retailer's early days, none of the garments included theft-protection tags, and it was rumored that shoplifting was a boon to the brand since people wearing the clothes would essentially be free marketing. In 2009, Tao Lin published his book "Shoplifting from American Apparel," confirming that stealing from the brand was a "thing" — an idea that circulated within the wider hipster community, creating buzz for the brand. In 2010, the company finally put an end to the shoplifting by installing theft-protection sensors. Perhaps unsurprisingly, this led to a 55% reduction in inventory shrinkage. From the brand's beginnings to its controversies, let's chart American Apparel from viral success to relative obscurity.
A brand is born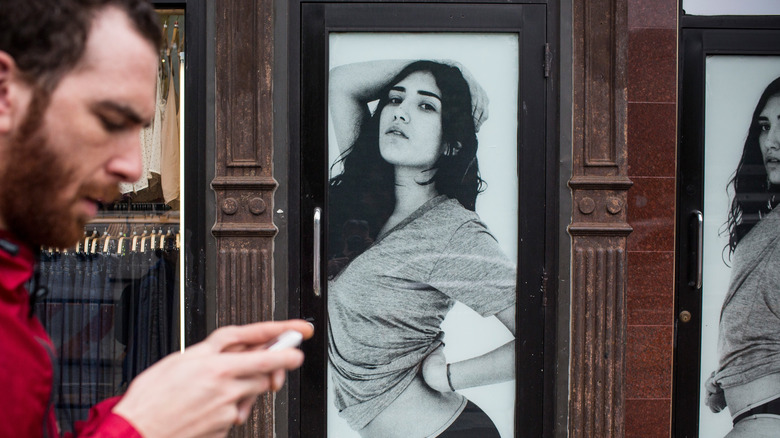 Andrew Burton/Getty Images
In 1989, Dov Charney started American Apparel at the young age of 20. After his father gave him a $10,000 loan in 1990, he moved from Canada to South Carolina where he learned about the apparel business. It was important to Charney to have input in all aspects of the business, from the design of his products and its manufacturing to the marketing of the business. In 1997, Charney moved the brand to Los Angeles, where American Apparel took off and reached its peak levels of success. Six years later, American Apparel opened its first brick-and-mortar retail store. By 2005, the brand consisted of 50 stores, employing 4,500 people and generating $250 million in annual revenue.
In the mid-2000s, American Apparel's manufacturing process centered on its factory in Los Angeles. The company prided itself on producing high-quality clothing using sustainable and ethical practices and was known for paying fair wages and providing generous employee benefits such as health insurance and paid time off. American Apparel also provided good working conditions to its factory workers, which, sadly, is uncommon in the fast-fashion business. The company also produced its own garments, rather than outsourcing to third-party manufacturers, which allowed for more control over the production process. American Apparel's manufacturing process was designed to minimize waste and energy usage, with the company implementing water recycling systems and using solar power to generate some of its electricity.
Understanding the American Apparel shopper
John Howard/Getty Images
To understand why American Apparel was so popular during the mid-to-late 2000s, it's important to understand the American Apparel shopper: the hipster, a cultural movement that emerged primarily among young adults in urban areas — although some would argue it more a consumption culture than a proper cultural movement since hipsters were more about their style rather than producing anything culturally or intellectually. It was, however, an urban millennial lifestyle that evolved from the indie music scene of the earlier part of the decade. The indie kids of the early 2000s cultivated a vintage-focused style called "twee," which was inspired by '60s New Wave cinema and the British mod culture of the same era. By the mid-to-late 2000s, however, the indie grew grittier and sexier. Most notably, degeneracy was embraced and hedonism reigned. The electro-clash music scene brought indie kids to the nightclub in an era of musical groups such as Four-tet, Crystal Castles, and the Ed Banger Records artists.
Hipsters were known for their nonconformist fashion sense, which often combined vintage and retro styles with contemporary fashion. Controversially, they were known to occupy gentrified neighborhoods such as the Mission District of San Francisco, Echo Park in Los Angeles, and Williamsburg, Brooklyn. They typically wore skinny jeans, flannel shirts, oversized aviator glasses, and wide-brim hats. Their hairstyles tended to be more unkempt and disheveled than the mainstream styles of the time, with both men and women opting for choppy, layered long locks.
The brand partnered with indie magazines and photographers known for a controversial aesthetic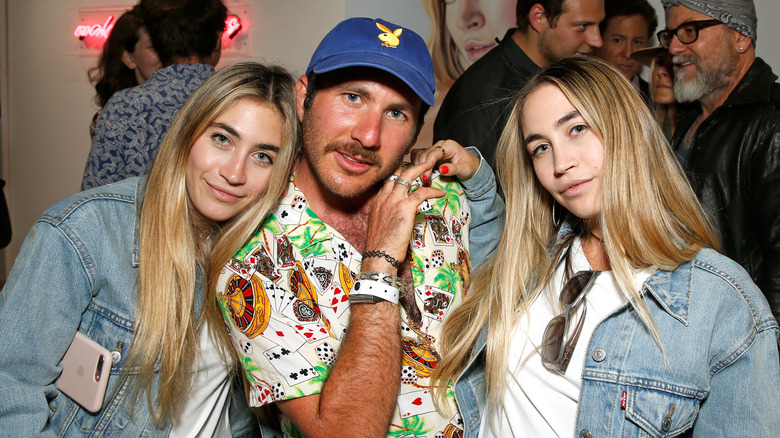 Rochelle Brodin/Getty Images
Emerging in an age where print media was more commonplace than it is today, American Apparel was known for its controversial, provocative marketing campaigns, which often featured scantily clad models in suggestive poses. The brand's advertisements were intended to be edgy and were often criticized as sexist and objectifying to women. However, despite the marketing controversy, American Apparel was successful in attracting a young, fashion-forward audience that was attracted, rather than repealed, by the brand's edgy marketing.
Indie publications, including Vice and Paper, were widely read by Millennials during the American Apparel era. These magazines, which ran American Apparel's edgy ads, were a perfect fit since they shared the same readership as the brand's target market: the urban, hipster Millennial. Vice was an early supporter of American Apparel, having collaborated with the company on several projects.
The brand frequently partnered with photographers known for their similar aesthetic. They included Terry Richardson, a controversial figure known for his overtly sexual photos, whose aesthetic is inherently linked to the hipster movement of the late 2000s. The brand's additional photographers included Juergen Teller, whose photos appealed to the upwardly mobile hipster, and Ryan McGinley, who elevated the hipster into the domain of fine art. Mark Hunter, a.k.a. The Cobra Snake, was a Los Angeles-area hipster slash party photographer and tastemaker of the day who also collaborated with American Apparel on several campaigns.
The brand became known for up-market basics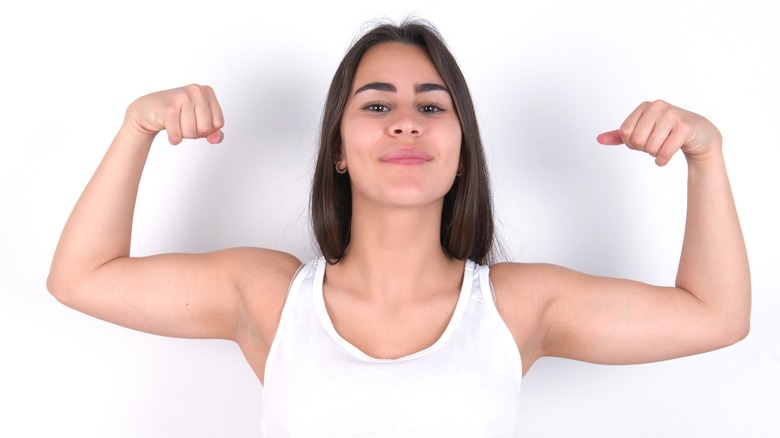 Jihan Nafiaa Zahri/Shutterstock
High-end basic clothing generally refers to well-made, high-quality, versatile garments that can be worn as the foundation of a wardrobe. These items are typically made from premium materials and are designed to be timeless and durable so they can be worn season after season. Today, high-end basics and luxury streetwear are normalized, and it's not uncommon for luxury brands such as Off-White to sell basics at a high price point. During the early 2000s and earlier, though, this practice was unusual, and high-end basics — perfect for building a capsule wardrobe — were much less commonplace. 
American Apparel basics were generally more expensive than other brands' basic clothing because of the brand's commitment to ethical manufacturing and high-quality materials. The company was known for producing all of its clothing in the U.S. and for paying its workers fair wages. This commitment to ethical manufacturing meant that the cost of producing each garment was higher than it would be if the company were to outsource production to countries with lower labor costs. American Apparel also used high-quality materials, such as organic cotton and recycled polyester, which are more expensive than synthetic materials often used by other brands to reduce the cost of production.
Many consumers were willing to pay a higher price to support the brand because their production process aligned with these shoppers' values. During the heyday of American Apparel, the brand was one of the most well-known for offering well-made, durable basics.
American Apparel made unisex clothing sexy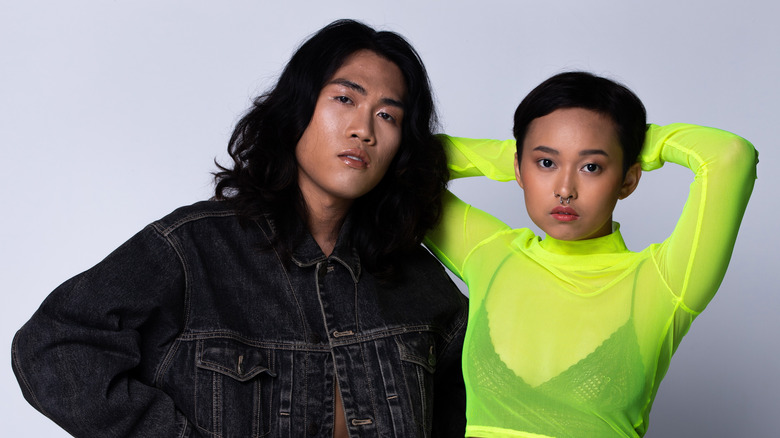 Jadethaicatwalk/Getty Images
Unisex clothing was a major part of American Apparel's brand identity. The brand's unisex clothing helped the company grow in popularity among young people. American Apparel was an early adopter of the style and helped to redefine the fashion industry's approach to gender and clothing design. During the mid-to-late 2000s, the brand's shoppers primarily consisted of Millennials in their late teens and 20s, many of them exploring their sexuality and finding American Apparel to offer a safe and welcoming place to shop. 
Gender-neutral and unisex clothing weren't common at the time and were received incredibly well by both people who identified as queer as well as those who identified as straight. One of the most popular unisex items sold by American Apparel was their boy's style briefs, which came in every color. American Apparel's t-shirts were also a unisex brand staple designed to be worn by anyone regardless of gender. At this point in time, the brand's buttery-soft "tri-blend" v-neck style t-shirt became so popular that they designed another rendition of the garment: the deep-v shirt popular with both men and women and iconic of the late 2000s hipster scene.
American Apparel's unisex clothing was popular with young people who were increasingly interested in breaking down gender norms and wearing clothing not specifically designed for men or women. The brand's inclusive approach to fashion helped to attract a diverse customer base and contributed to its popularity in the early 2000s.
The brand took its popularity abroad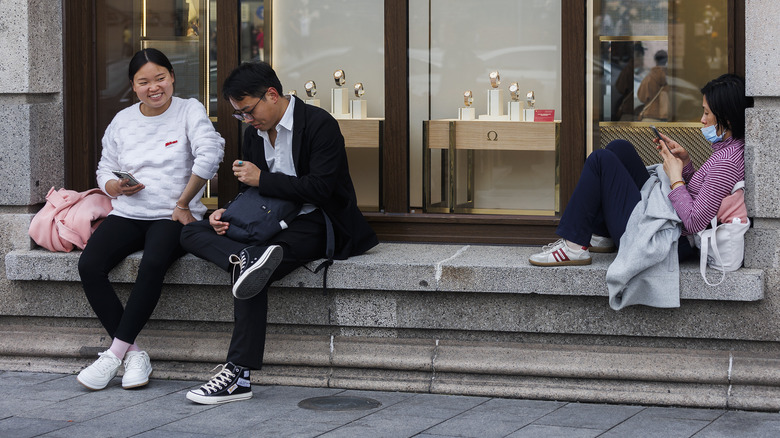 Hugo Hu/Getty Images
American Apparel hit its peak around 2008 or 2009. During this time, the company had over 280 retail stores worldwide and was valued at over $1 billion. The brand had a significant presence in countries such as Canada, the U.K., France, Germany, Japan, and Australia, with multiple stores in each of these countries. The store's tagline, "Made in America," was now a global phenomenon, raising awareness for ethical production and spreading the hipster lifestyle abroad. However, American Apparel was known to be as controversial abroad as in America, with campaigns deemed so vulgar they were banned in the U.K.
In the late 2000s, controversy and notoriety were still being embraced by American Apparel as the company's reach expanded. The brand was no longer just for the hipster kids, with American Apparel beginning to penetrate mainstream consciousness. More and more celebrities were also photographed wearing American Apparel. Lady Gaga famously wore the brand's signature high-waisted disco pants in her "Telephone" music video, while Beyoncé wore a custom-made American Apparel dress in her "Formation" music video. Lindsay Lohan was also infamously photographed by paparazzi wearing American Apparel's unisex gray hoodie while sleeping off a hard party sesh in a car. This image certainly paired well with the hard-partying "indie trash" hipster lifestyle.
Shocking allegations soon came to light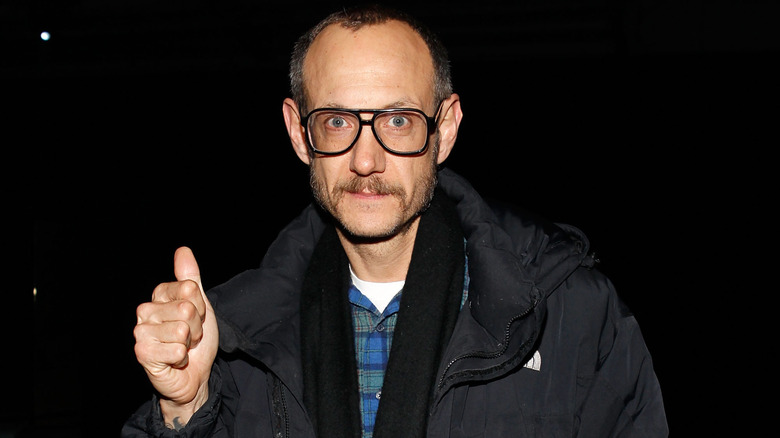 Mark Von Holden/Getty Images
In 2014, sexual misconduct allegations were brought against Terry Richardson, a photographer who frequently worked with American Apparel. Many articles claimed that the culture created by Richardson at his photography studio attempted to normalize his predatory behavior toward the models he shot. Although Richardson issued a response, denying any and all allegations, most brands distanced themselves from him, and he has apparently not worked as a photographer since 2018.
Around the same time, Dov Charney was also publicly accused of sexual harassment as well as using racist language. Charney was ousted from his position as CEO of American Apparel after an internal investigation found he had created a hostile work environment, made sexual advances toward employees, and misused company funds. Charney denied the allegations and battled to regain control of the company but was ultimately unsuccessful. Charney was also sued by multiple women who accused him of sexual harassment and assault. In 2011, former American Apparel employee Irene Morales sued Charney, claiming he had essentially kept her as a "sex slave" when she was only 18 years old. Charney also denied these allegations, and the case was eventually settled out of court. Although Charney attempted to downplay the accusations in a 2017 interview, the damage had been done.
If you or anyone you know has been a victim of sexual assault, help is available. Visit the Rape, Abuse & Incest National Network website or contact RAINN's National Helpline at 1-800-656-HOPE (4673).
Everything fell apart for former American Apparel CEO Dov Charney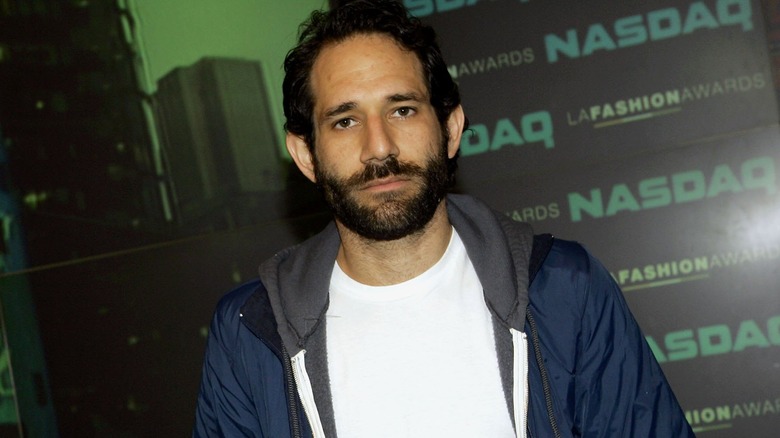 Mat Szwajkos/Getty Images
The piling allegations against American Apparel founder and CEO Dov Charney were far too serious and numerous to ignore. In 2014, a former American Apparel employee named Kimbra Lo filed a lawsuit against Charney, claiming he had choked her and rubbed dirt in her face during a meeting. The case was settled out of court. Charney was also accused of discriminating against employees based on their gender, race, and age. A group of former American Apparel employees filed a class-action lawsuit against the company, alleging that Charney had a pattern of discriminating against female and older employees.
During the same year, American Apparel terminated Charney from their C-suite. Charney responded by filing a defamation lawsuit against his former company to the tune of $30 million. Through the legal proceedings, further details of Charney's toxic behavior were revealed. Through the company's internal investigation, American Apparel claimed they found that Charney had kept sexual videos of models on a company computer and would email pornographic videos to his employees.
Charney, however, has maintained that he's been a victim of false allegations and defamation. He has tried to paint the picture to journalists that he is simply misunderstood. He says he abstains from alcohol, is addicted to his work, and that he keeps so many young people around because he needs them to plug him "into the zeitgeist."
The brand had officially sunk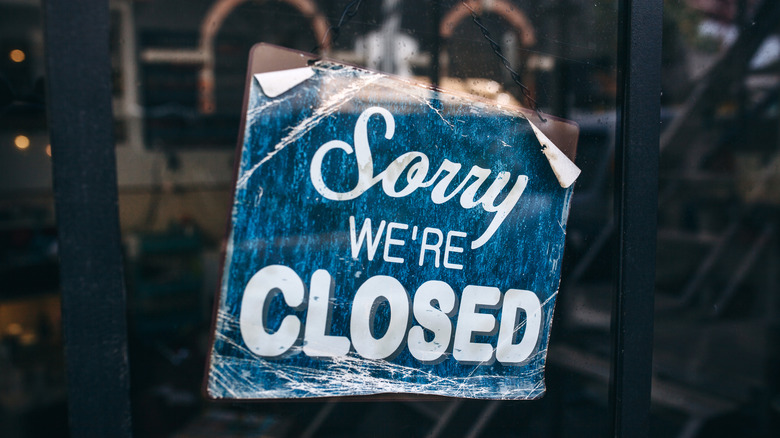 Franz12/Getty Images
In addition to the dark allegations hurled at American Apparel founder and former CEO Dov Charney, the company was deeply in debt. Several factors contributed to the decline and eventual bankruptcy of the company. Despite generating hundreds of millions of dollars per year, American Apparel was in massive debt due to its rapid expansion. Large payouts and legal fees took a toll on the company as well.
In 2015, American Apparel filed for bankruptcy and eventually sold its assets to Gildan Activewear, a Canadian clothing manufacturer. This bankruptcy filing led to the closure of some American Apparel stores, but the company was able to emerge from bankruptcy after reorganizing and restructuring its operations. While the brand still existed under new ownership, its impact on the fashion industry had diminished, and it no longer held the same cultural significance it once did. Another factor was the changing landscape of the fashion industry. American Apparel was known for its basic and often controversial styles, which appealed to a younger and more alternative demographic. However, as fashion trends shifted towards fast fashion and online shopping, American Apparel struggled to keep up and adapt to changing consumer preferences.
As a result, the company filed for bankruptcy again in November 2016, and all remaining American Apparel stores were closed by the end of 2017.
The legacy of American Apparel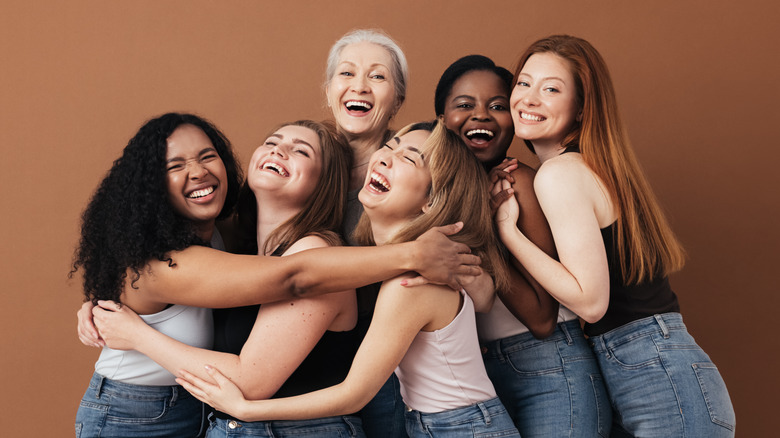 Youngoldman/Getty Images
Despite the negativity surrounding the company, American Apparel should be remembered for the brand's positive impact as well. It was an early adopter of implementing social justice causes in its marketing campaigns, including the viral "Legalize LA" campaign in support of immigration reform and the 2008 campaign, "Legalize Gay," in support of LGBT rights. Today, it's not uncommon for companies to vocalize support of LGBTQ+ rights. American Apparel was one of the first companies to do this, though not without controversy. In 2009, its Washington D.C. storefront was defaced after displaying its "Legalize Gay" shirt in the window.
In 2017, Dazed and Confused published an article titled "How American Apparel ads helped me accept my body." In it, the author notes how American Apparel's curvier models in its ads empowered her to become more confident with her own body. American Apparel's ads showed that women who didn't fit the rail-thin, white stereotype could be sexy, powerful, and cool. Today, many brands and companies have followed suit, now placing an emphasis on diversity and inclusivity of marginalized groups such as those with disabilities.
Although American Apparel was in no way the perfect brand and the allegations against former CEO Dov Charney are extremely disturbing, one has to admit that the brand was ahead of the times.