The Dated Lip Trend That's As Out Of Style As It Is Messy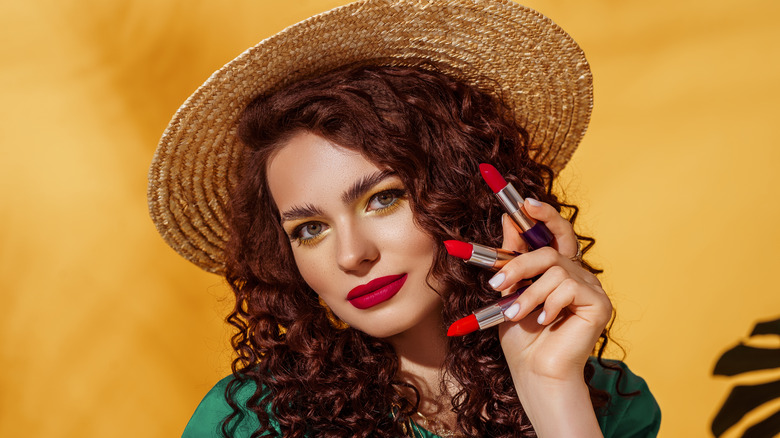 Victoria Chudinova/Shutterstock
Bold lips are the easiest way to catch someone's attention, complete a look, and express yourself. We've been sporting color on our lips for over 5,000 years, all to make the perfect statement. Since those distant beginnings, we've found many different ways to make our lips pop and look their best. From the diamond lips trend to matte lipstick coming back into popularity, there are a lot of different ways to wear lipstick. However, as new trends come into play, some lipstick trends need to be left behind.
There are many reasons why lipstick trends go out of style. They might lack functionality, are no longer appealing, or feel otherwise outdated. This is the case with blurred lips. Blurred lipstick enjoyed a major moment of popularity, and even inspired some offshoot mini-trends of its own (remember lollipop lips?). However, as we make our way through 2023, you shouldn't expect to see blurred lipstick walking down the street. This trend is dated, messy, and just plain passé.
The problem with blurred lipstick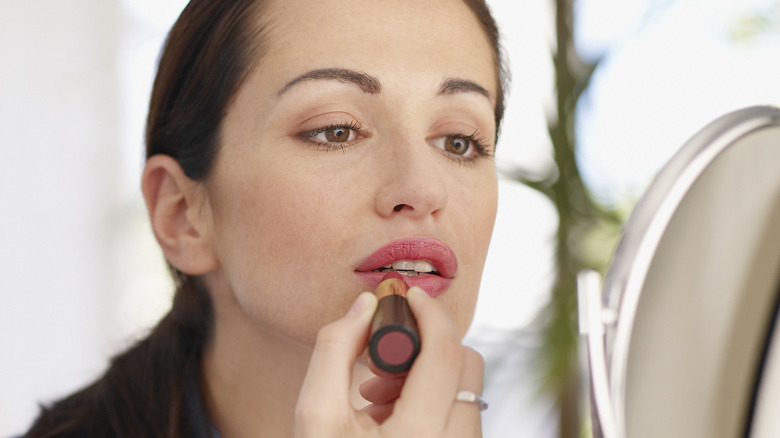 Chris Ryan/Getty Images
The blurred lipstick trend began with Korean influencers and celebrities. To achieve it, you need lipstick, lip stains, balms, or anything with buildable color. You start by prepping the lips with a hydrating balm or primer. Then, you apply the lip color to the middle of the lips and work outward. From there, you blend out the perimeter of the applied color, until you've created the blurred lipstick look.
While this might look good in photos, it does not translate well to real life. To the naked eye, it doesn't look interestingly soft — rather, it looks like you're just a messy eater. As if that weren't bad enough, throughout the day, the feathery edges and distinctive color can begin to fade in a less-than-flattering way. Your best option is to opt out of this lipstick trend entirely and go for other looks that suit your lips and lifestyle much better.
How to get the best lipstick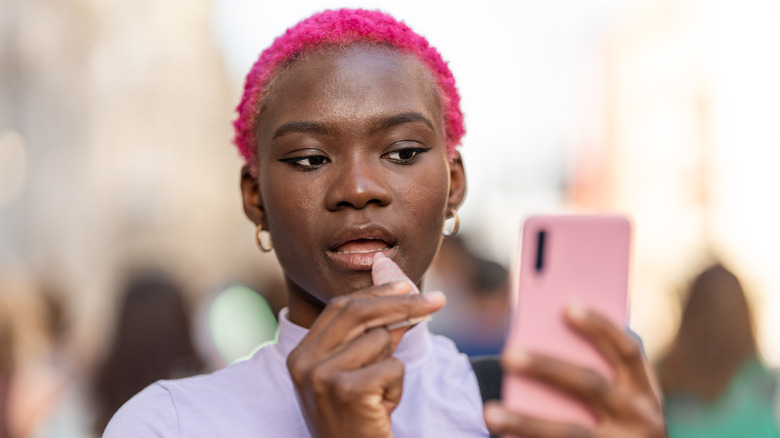 Ramon Ivan Moreno Prieto/Getty Images
Regardless of what lipstick trend you favor, there's no harm in trying any of them. However, to make your lipstick look your best, there are a few key tips you should follow. Celebrity makeup artist Jamie Greenberg told Ipsy that how you start your lipstick routine makes a major difference. "As with any lip look, I like to prep the lips before I start any of my makeup to ensure they are hydrated for makeup application. I like to use a hydrating balm," she told the publication. Hydrating the lips first creates a canvas for smooth application and nullifies any chapped texture or other imperfections.
From there, it's best to have an understanding of what colors work for you. This can be done by understanding your skin's undertones and figuring out what works with the colors in question. Undertones make a huge difference in how flattering makeup is, and can be the determining factor of which colors become your go-to favorites. Knowing which shades work best for you will allow you to look great in whatever trend you choose to partake in.