A Powder Puff Is A Makeup Application Classic Having A Comeback. Here's How To Use One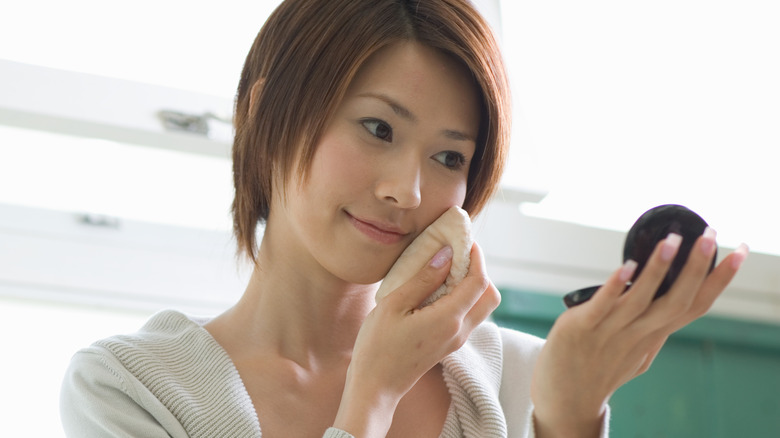 Ryuichi Sato/Getty Images
The makeup tool you use can make or break your whole look. Yet these pivotal parts of your beauty routine are often overlooked, especially by those getting into makeup for the first time. Over the years, the industry has come up with a wide variety of different brushes, sponges, and sundry other tools to achieve the best looks possible. But while innovative new brushes might be exciting, the reemergence of the powder puff makes it clear that some tried and true tools are still the best.
Advertisement
The powder puff is the beauty tool that may upgrade your entire makeup routine. It has been used for over a century as the perfect means to apply powdered makeup without disrupting base makeup. While it was a beloved tool to our grandparents, it slowly faded into obscurity. However, both makeup artists and amateur enthusiasts alike have been rediscovering the usefulness of the powder puff and are proving once again why it's always been a holy grail product.
The purpose of the powder puff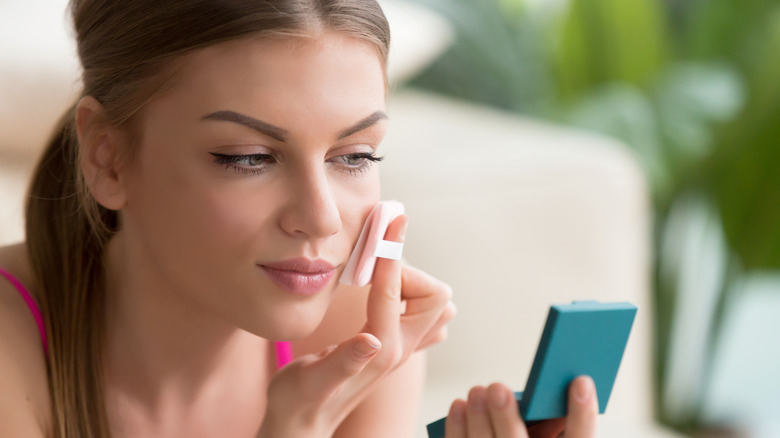 fizkes/Shutterstock
A powder puff takes setting powder and applies it to the face as gently and easily as possible. Nikki La Rose, a professional makeup artist, explained to Byrdie that it accomplishes this by locking the makeup into place without creating the steaks often left by other brushes. Emily Gray, another professional makeup artist, also chimed in to share what she loves about the product. "A puff can better control where the powder goes and, in my opinion, gives an airbrushed effect," she explained. "I only use a makeup brush when I want to cover the entire face in setting powder."
Advertisement
When choosing a modern powder puff, you should keep in mind that they tend to look much different than the ones cherished by previous generations. Nowadays, they're much smaller and come in a range of shapes and sizes. They can be made from very different materials as well, and often have a suede-like texture.
How to use the powder puff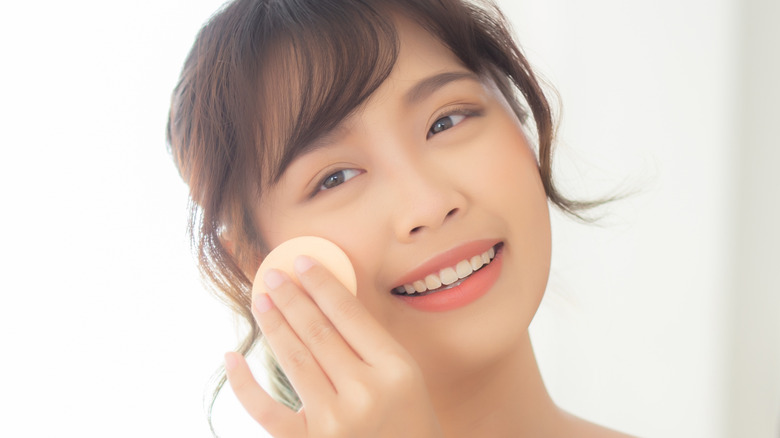 NT_Studio/Shutterstock
What makes the reemergence of the powder puff so exciting is that there's so much it can do — especially when it comes to setting powder. There are plenty of mistakes that you don't want to make with setting powder, which can make it a little intimidating. But using a powder puff eradicates a lot of those issues. If you're looking to try this out for yourself, the best place to start is by applying your base makeup as you normally would. Afterwards, you have an array of options regarding how to proceed. You can dip the powder puff in the setting powder and apply it all over your face for a smooth finish, or get really precise and apply it to the undereye, or wherever else you see fit.
Advertisement
The results are likely to be smooth, glowing, and long-lasting. From there, you might find yourself deciding to keep a powder puff ready to go in your purse. The tool can be used with pressed powders as well, which makes it perfect for retouching makeup during the day.