How To Pick & Use The Perfect Eyeshadow Transition Shade For Your Look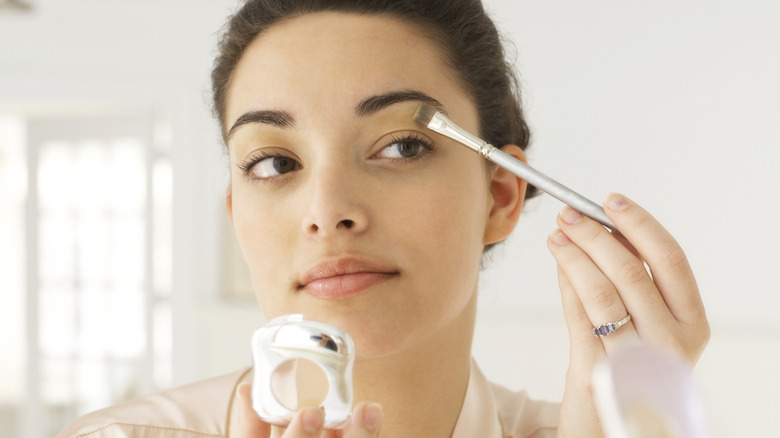 Christopher Robbins/Getty Images
Eyeshadow can be a pivotal point of any makeup look. Humanity has been using it for a long, long time — over 1,000 years, in fact. The array of colors, shimmers, and finishes available is dizzying, and that's not even getting into the different formulas. Liquid, cream, and powder eyeshadow are all on offer. This enormous variety means you can use eyeshadow to create a plethora of makeup looks. The most skilled makeup artists can even turn eyeshadow into eyeliner.
Advertisement
While these options can be exciting, they're also a little intimidating. Often, the most beautiful eyeshadow looks require at least three colors, multiple brushes, and the skill to seamlessly blend it all together. To make your eyeshadow look professional regardless of skill set, it's best to understand the importance of the transition shade. Adding a transition shade is the best way to upgrade your eyeshadow — and it's actually pretty simple.
What is a transition shade?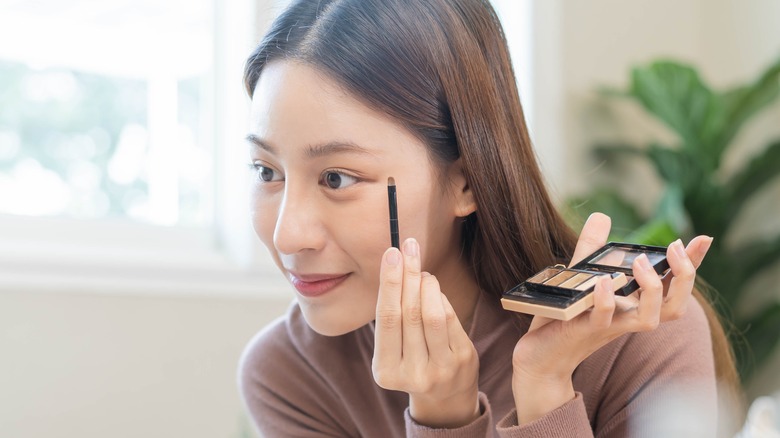 Kmpzzz/Shutterstock
When assessing eye makeup looks you want to try, you're likely to come across the term "transition shade". A transition shade is an eyeshadow used to blend your makeup into your skin. "Typically, you should select a shadow almost identical to your skin as your transition color; however, it depends on the look you are creating," Hannah Hatcher, a professional makeup artist and teacher, explained to Makeup.com. However, she clarified that the eyeshadow can be slightly darker, depending on how dramatic you want your look to be. You can also consider choosing your transition shade based on the dominant eyeshadow you'll be using.
Advertisement
Transition shades are usually matte eyeshadows. This is the most flattering and versatile option, and it works well with most eyeshadow looks. Using matte eyeshadow also mimics the natural skin tone well, creating a perfect blend and lessening your chances of making visible mistakes.
How to use a transition shade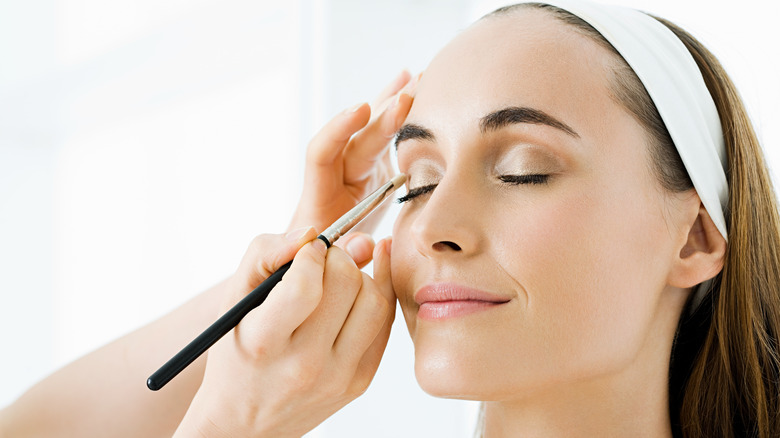 Image Source/Getty Images
Using a transition shade is simpler than you might think. Before applying any eyeshadow, it's best to apply a primer to the lids. Eyeshadow primer is perfect for evening out the skin and creating a smooth base. For those who don't have an eyeshadow primer, it can easily be replaced with concealer. From there, apply the transition shade at the crease of the eye, or above the crease if you have hooded eyes. After the transition shade is applied, you can add any shade to the lid to create the look you want.
Advertisement
While this is a simple trick, there are common mistakes people often make. Don't apply the transition shade all over the lid, as it will change the intensity of the eyeshadows put over it. Also, make sure not to apply the product too heavily. This can make your transition shade appear muddy and bring the whole look down.