The Trendy Spring 2023 Eye Makeup Looks You Need To Try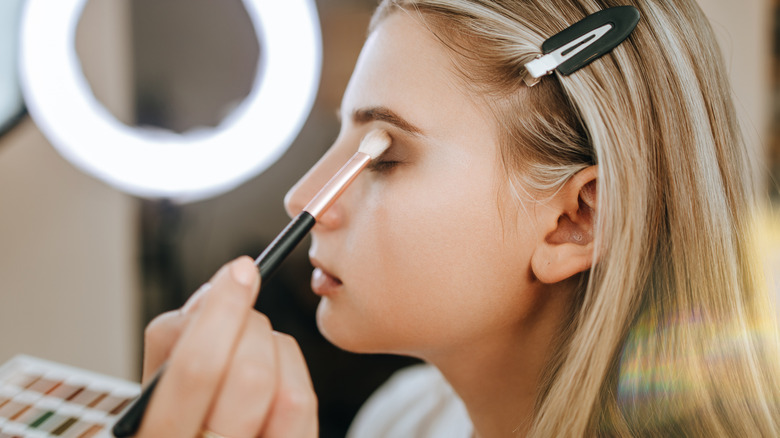 Duxx/Getty Images
One of the most exciting parts about a new season is the start of brand-new trends, whether in fashion, beauty, or lifestyle. This spring season is no different, as the blooming flowers bring new aesthetics and cores to look out for. And thanks to social media, red carpets, and the runways, the beauty world is prepping for another season of creative makeup looks. Undoubtedly, your eyes will be doing a lot of the work this season. 
The trending eye makeup looks of spring 2023 will have a little something for everyone, regardless of your beauty preferences and skill level. If you're beginning your makeup journey, there are easy looks you can easily create on your own. For the experienced makeup lover, many designs will have you studying the steps for some time. No matter how complex it is to create a look, this season's eye makeup styles are anything but basic, and they will elevate your looks and become the finishing touch for an overall spring ensemble.
Pops of color
No matter where you look, the need for color in spring has increased. Both in fashion and beauty, we have seen how color will play a significant role in embracing your inner creativity. Instead of reaching for the usual nude eyeshadow colors, many prefer to get their hands on vibrant hues. Colors like pink are favorites for your eyelids to match some of the more feminine trends surfacing in spring. The point of this trend is to be anything but subtle; match the rest of your makeup to your bold eyeshadow color for a chic, statement look.
Metallic eyeshadows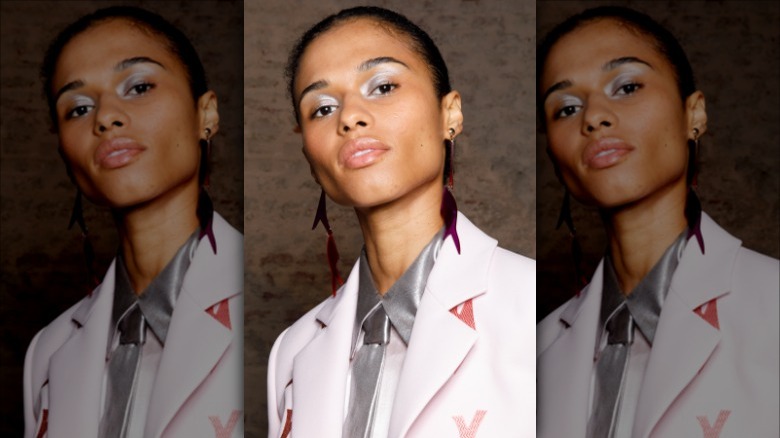 Rosdiana Ciaravolo/Getty Images
We've seen how metallic has also transcended fashion to infiltrate the beauty world. Silver, gold, and bronze metallics will be some of the most sought-after eyeshadow colors this season. A pinch of metallic shades will help create a rougher and darker makeup look. In many cases, metallics can also help to add a slight shimmer to your eyes. Pack on the metallics on your lids for the ultimate glam look that certainly shines bright.
Rhinestones and gems
Although "Euphoria" is currently off-air, its influence remains. Adding rhinestones and gems to your eye may seem too juvenile for some, but it's the perfect way to change up your ordinary makeup look. While rhinestones are in no way subtle, adding only a few can be an understated way of embracing the trend. Spice up your everyday makeup by adding a few rhinestones to the inner or outer corner of your eyes. You can also create a rhinestone-only eye look that will have you appear TV-ready.
Strong eyeliner looks
What do siren eyes, doe eyes, and cat eyes have in common? Not only are they all current eye trends, but they require a strong eyeliner game. Spring 2023 is when we embrace eyeliner and underliners as must-have beauty products. Not only is eyeliner important for the top eyelid, but the underliner is also part of this new trend. Underliner refers to adding a strong eyeliner to the waterline and lash lines. For a bold statement look, all you need to do is pack the eyeliner in a vibrant color that will look straight off the runway.
Glossy eye looks
Early in the year, we saw how more designers and brands were opting for a wet makeup look to complement the matching fashion trend. Adopting glossy eyes is the only way to translate this into the day-to-day. Glossy eyes are all about adding a balm or gel eyeshadow to your lids to make them appear shiny and wet. This simple eye look is ideal for those wanting to add some flair to their no-makeup-makeup look. Placing this glossy product on your eyes will level up your natural makeup.
White shadow and liner
White can be a tricky beauty product for some. While it can give you a strong contrast, it can also be hard to use. However, this spring, we are overcoming our fears and using white all over our eyes. From white eyeshadows to liners, there's no hiding that this color is making a comeback. A bit reminiscent of the Y2K beauty trends, white will complement your low-rise jeans and cami tank tops. Add white eyeliner to your water line for an eye look that will make your eyes pop.
Edgy glam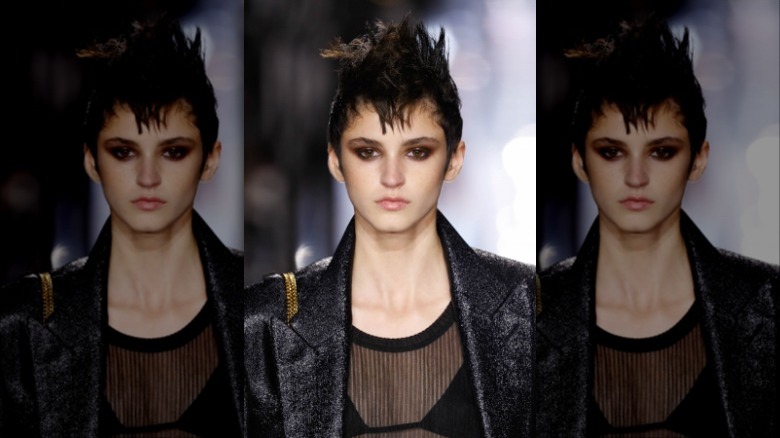 Jp Yim/Getty Images
While white is having its moment, so are the darker hues. Just like in fashion, everything edgy is coming back in beauty. Edgy makeup looks can be subjective depending on the interpretation. However, in beauty, this tends to include dark-colored eyeshadow, hints of dark metallic shine, and black eyeliners. Smoky eye looks are routine when creating an edgy glam look. To create a chic, edgy eye, simply mix brown shades to create a smoky look extending past the lid.
Y2K-inspired eyes
Although Y2K ruled for all of 2022, there's no getting rid of this era in the spring of 2023. Another beauty trend we are adapting from this era is all about adding some more shimmer to your eyes. Inner corner highlights are one of the most popular trends coming up for the summer, which looks to add more glimmer to your face. Even if you plan to use shimmery eyeshadows, adding that small hint of shine in the inner corner will help your eyes and makeup pop.