The Biggest Celeb Stylist Skin Prep Tip For Festival Season (So You Can Focus On Having Fun)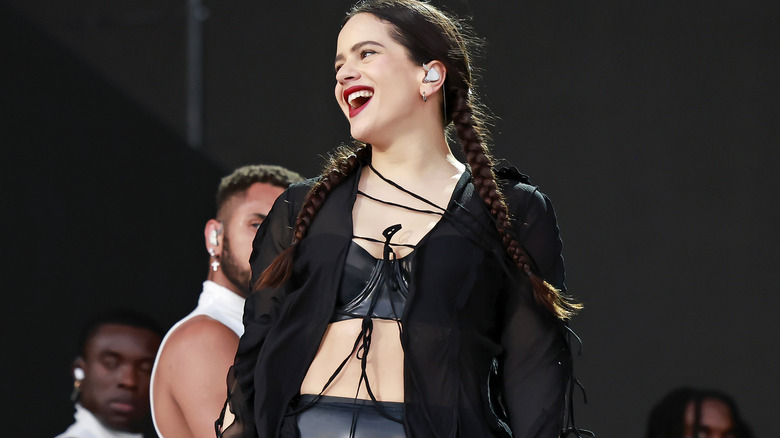 Emma Mcintyre/Getty Images
We may receive a commission on purchases made from links.
Festival season is in full swing, and with that comes all of the many pros and cons that make festivals so unique. While festivals are a fun place to get creative with your looks while listening to your favorite music, they can wreak havoc on your skin.
Let's face it, festivals can become a melting pot of everything that can make your skin irritated and break out. Whether it's in the desert or the forest, most festivals are held in the middle of nature. With these locations, it's only natural that your skin gets clogged with dirt and sweat. Coachella, one of the biggest music festivals, is known for the extreme weather, courtesy of the California desert. Being close to thousands of other fans also means you'll likely end the day with some sweat and other clogging particles. Put these factors together you'll end the festival season with irritated skin.
While breakouts are normal and part of the season, that doesn't mean they have to ruin your creative festival makeup looks. If the recent Coachella 2023 beauty trends are any indication, festival-goers are only going to get more innovative with their makeup. To keep up with the fun, you'll need the best skin that can handle all of your looks. For that reason, we've brought in celebrity stylists and sisters Chloe and Chenelle Delgadillo to exclusively give us their secrets for how to get their A-list clients through festival season without a hitch.
The secret to festival-ready skin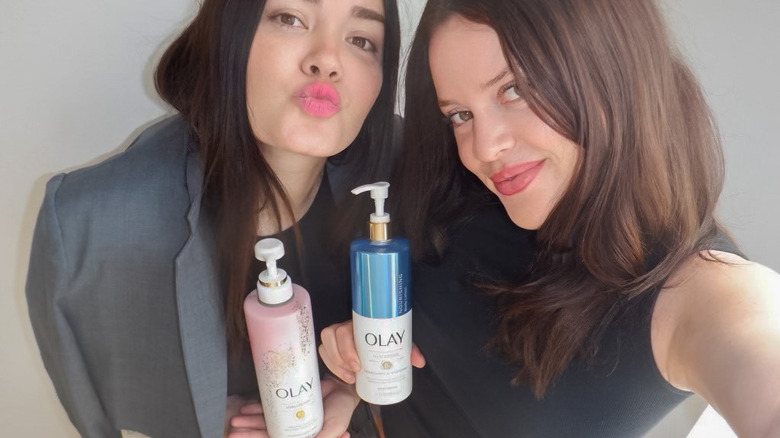 Chloe & Chenelle
Let's face it: Festivals are the best place to get dehydrated skin. Not only are you dealing with environmental factors like the sun and lack of humidity, but alcohol can also dehydrate your body — and few festival-goers drink enough water. These factors tend to have your body's skin dry and cracked after a few hours. Knowing the festival dehydration through clients like Rosalia and WILLOW, Chloe and Chenelle Delgadillo can attribute their clear skin to one thing. "Priming our skin with the moisture from the Olay Hyaluronic duo was a must," the sisters exclusively tell Glam.
"Hydration is key, and it's great to have a body wash that locks in moisture to keep our skin feeling nourished and hydrated all day," they explain, adding that they love to use Olay Hyaluronic Body Wash and Olay Hyaluronic Body Lotion. Nobody wants that at a festival when you're already hot and — if you're anything like us — tired. While many underestimate the importance of hydrated skin, you can't deny that if your favorite performers are taking steps to protect their skin for long and warm days, you should as well.
The connection between fashion and skin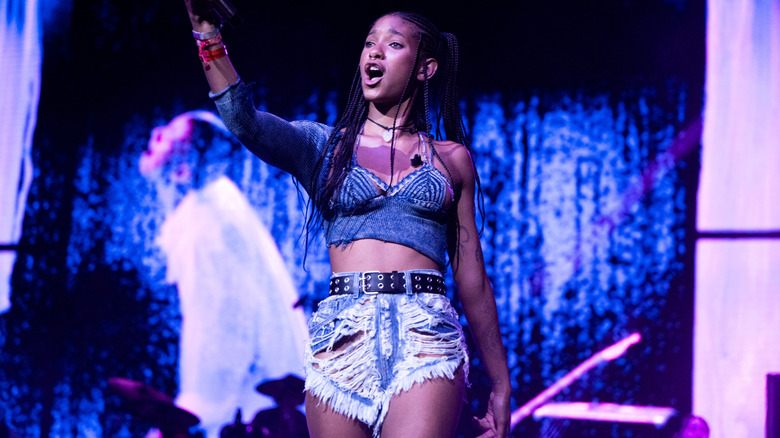 Scott Dudelson/Getty Images
Not only is healthy skin key for a shining beauty look, but it's also essential to show off your festival fashion. As is the case with makeup, you can't have optimal results without creating the best base first.
Making fashion and stars shine is what the Delgadillo sisters are here for, and dry skin won't get in their way. "... when styling ourselves or our clients for a big event, we stress the importance of giving the same amount of care and attention to your skin as you would your outfit choice," Chloe and Chenelle exclusively tell Glam. "Our biggest thing is comfortability, and feeling good in your skin is key in feeling good in your outfit." In other words, fashion can be essential in growing your confidence, and your skin is a big component of pulling it off.
"Healthy-looking, hydrated skin is one of the first things people notice and plays a big part in the overall look," the sisters emphasize. So, while it may not be your first thought when prepping for festival season, keeping your skin hydrated is something you can't afford to forget about.