Dermaplaning With Dry Shampoo Is The Viral Life Hack Your Skin Needs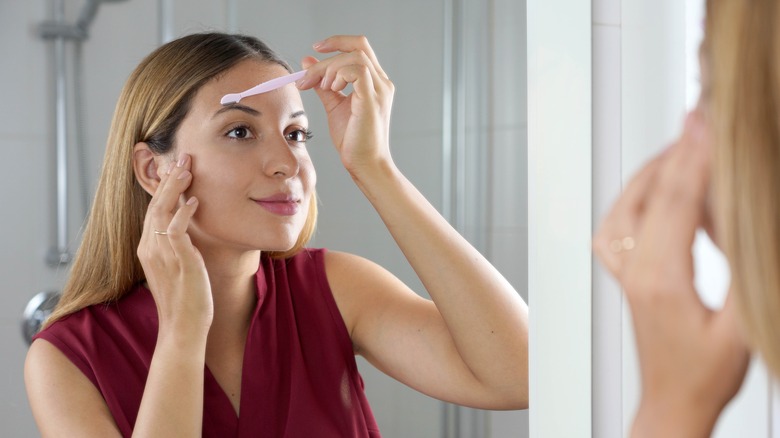 Zigres/Shutterstock
If you haven't heard of dermaplaning yet, your aesthetician can likely tell you all about it. This skincare technique has grown in popularity, thanks to social media, but it is more than just a passing trend. Dermaplaning is a non-invasive cosmetic treatment that eliminates dead skin cells from the surface of your face. As a bonus, it gets rid of peach fuzz, which causes your skin to be silky smooth afterward. The primary reason most people turn to dermaplaning, however, is for its exfoliation benefits. Up to two weeks of dead skin can be removed through this process, and you can see results for as long as three weeks.
Advertisement
Typically, people go to their aesthetician to have dermaplaning done professionally — which is recommended by experts. If you've seen those dermaplaning razors at the store, though, you might be tempted to do your exfoliating at home. Some added benefits that may come with dermaplaning include dulling the appearance of blemishes, evening out your skintone, and smoothing the texture of your skin. However, you may run into issues if you have sensitive skin, or conditions, such as cystic acne or rosacea.
Now, TikTok influencer @i.am.hailey1 is drawing attention for the use of an unlikely beauty product to limit skin irritation while dermaplaning at home: dry shampoo. Since trying it to limit breakouts, she hasn't turned back, and she's recommending it to all of her followers. Let's take a look at this surprising new trend. 
Advertisement
Why skincare gurus are going crazy for dry shampoo
TikTok content creator @i.am.hailey1 hopped on the social media platform to share her life hack for dermaplaning back in March 2023. Since then, it has garnered hundreds of thousands of likes from her followers. In the video, she explains that prior to trying dry shampoo, she had used everything from shaving cream to lotion — and it all resulted in her skin breaking out. She chose to use a tinted dry shampoo in her video and applied it liberally to her chin and cheeks. Then, the TikTok influencer grabbed her dermaplaning razor blade and began the exfoliation process. The end result was smooth, unblemished skin.
Advertisement
Some of @i.am.hailey1's TikTok followers who commented on the video questioned the use of dry shampoo. While it has become a favorite among those who prefer to limit how often they shampoo their hair, some have shied away from the product due to its chemicals. Research conducted by Valisure, an analytical laboratory, found that many dry shampoos contain a chemical called benzene (via Time). This chemical is known to cause certain types of blood cancer. On TikTok, @i.am.hailey1 stated that she's eventually going to look for a dry shampoo without harsh chemicals. For now, though, it's helping her dermaplane at home without breaking out. Furthermore, @i.am.hailey1 notes that this process isn't one she intends to do on a frequent basis.
Advertisement
What you should know about dermaplaning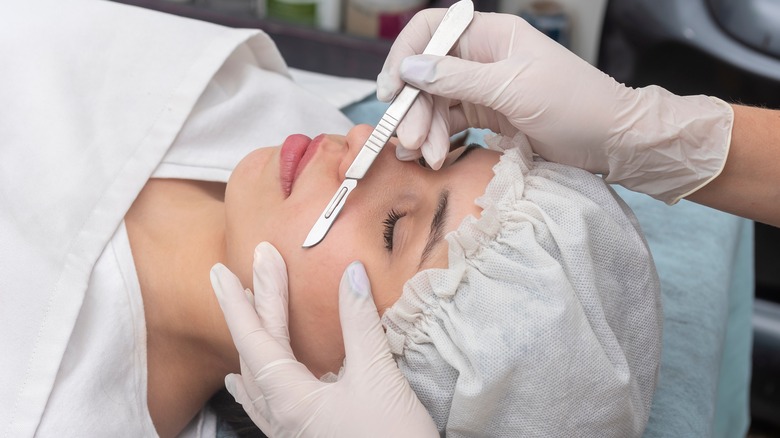 Alejandro piorun/Shutterstock
If you're thinking about reaching for a dermaplaning razor and trying the technique yourself, consider some of the risks involved — especially if you've never done it before. "Sharp blades and DIYs shouldn't go together," dermatologist Dr. Mona Gohara told Cosmopolitan while explaining the procedure, which is often done in a professional setting.
Advertisement
If you visit your aesthetician for a dermaplaning session, you may receive numbing cream, but the procedure itself is typically not painful. Using a razor, knife, or scalpel, the top layers of your skin are removed. Afterward, your face may be red or tender, but this usually doesn't last more than a few days. Dermaplaning can be beneficial if you want to minimize any acne scars, fine lines, peach fuzz, or skin that has been damaged by the sun. However, you'll want to talk to your doctor or a dermatologist before undergoing the procedure to ensure your skin is healthy enough for dermaplaning.
If you're prepared to dermaplane at home, be sure to wash your face beforehand to eliminate dirt and bacteria. While holding your skin taut, gently move the blade down your face at a 45-degree angle. After a series of short, small strokes, you'll have silky smooth skin and a clearer complexion. Don't forget to disinfect your dermaplane blade afterward, or safely discard of it if it's meant for single-use only.
Advertisement