Our Best Tips On How To Apply Eyeliner To Mature Eyes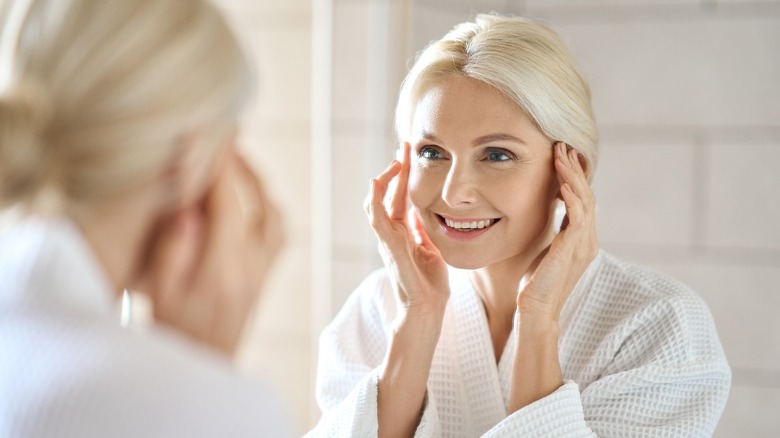 Ground Picture/Shutterstock
Applying eyeliner at any age is tricky enough and you may have finally mastered it over the years only to realize that you have to adjust your technique as you mature. Applying makeup can get increasingly frustrating as we age. We might find that our foundation creases more easily on mature skin and our lipstick creeps into the fine lines around our mouths. Eyeliner is also more difficult as crow's feet and hooded lids develop. Add in unsteady hands and you'll want to forego makeup completely.
Don't be so quick to throw out your liners, though. There are some tricks you can use to ensure your eye makeup goes on smoothly and evenly. All it takes is the right tools and some easy-to-follow methods. These days, there are a variety of eyeliners to choose from, such as pencils, powders, and gels, so you can try different options until you find your preference. Remember, it's okay if you make a mistake — that's what Q-tips are for!
Don't put eyeliner on bare lids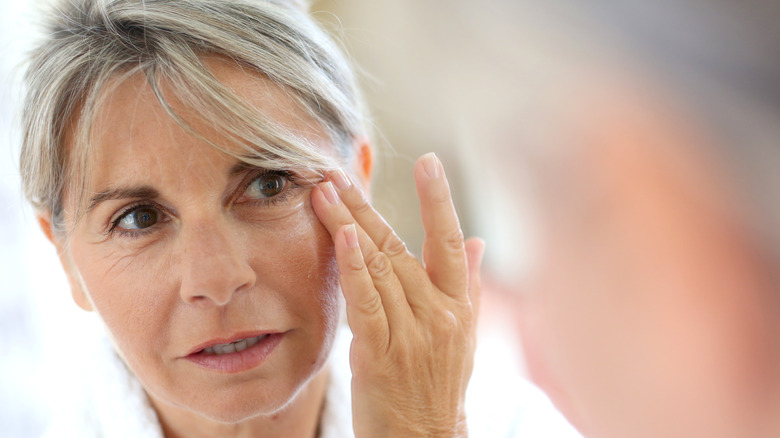 goodluz/Shutterstock
Before you apply your eyeliner, it's important to prep the area first. Invest in a good eye primer, preferably one that's silicone-based. Primers are designed to even out the texture of your skin by filling in small pores and fine lines. They also help your makeup last longer, as it has something to adhere to. Primers can help with your eyeliner application by creating a smooth canvas so you don't have to tug and pull the eyes, which can result in an uneven line.
If you don't have a primer, concealers work just as well. Apply a thin layer on your lids with a small, flat makeup brush, making sure to smooth out creases near the lash line. Add a dusting of powder to set the concealer and you have a primed canvas for your eyeliner. Putting liner on bare lids will guarantee smudging throughout the day. The oils on your face will cause the makeup to slip and slide off, leaving you with raccoon eyes. After priming your lids, applying eyeliner on mature eyes will be a snap.
The best types of eyeliners to use on mature eyes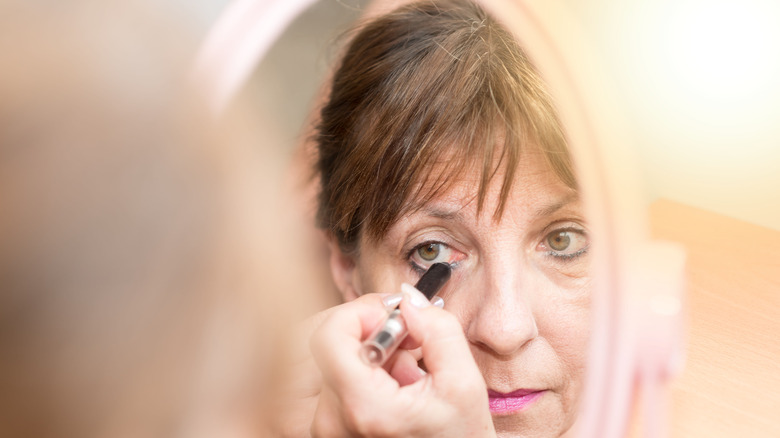 thodonal88/Shutterstock
Pencil eyeliners continue to be popular among all age groups and they're particularly great for mature eyes as they are super easy to apply. Be sure to choose a liner that glides on easily or it'll tug too much on your lids and skip. If you feel like the pencil is too hard, warm it up a bit by smudging the tip of your liner on a piece of tissue. A slightly blunt tip makes it easier to apply the liner. Gel liners also work great on mature eyes and many of the formulas are waterproof and smudgeproof. They are easy to apply because of their creamy texture, making blending a snap. A good angled brush is key to a steady application.
With both the pencil and gel liner, look slightly down and draw short, small strokes. Connect the lines by going over them with one long stroke. Once you're done with the application, look straight ahead in the mirror to make sure the lines are even while your eyes are open. If you see some skipping or unevenness, fill in the gaps with your liner. You may find that smudging the liner a bit will help cover up any mistakes and give your eyes a softer, youthful look.
How to apply eyeliner on hooded lids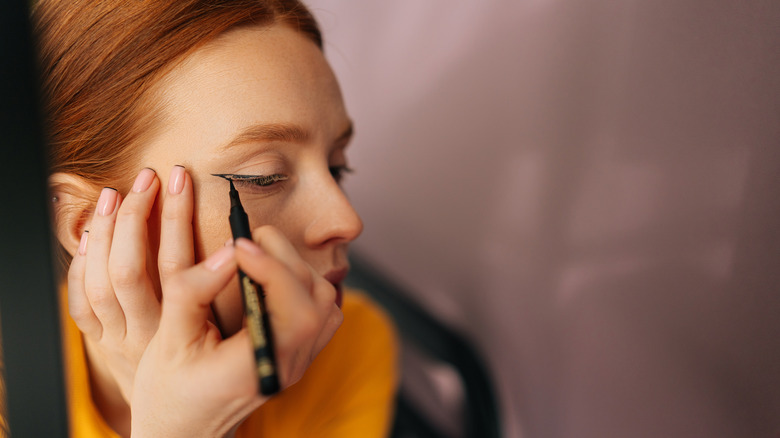 Dikushin/Getty Images
Hooded lids are tricky at any age and as we mature, the skin around our eyes tends to sag more, making eyeliner even more difficult to apply. With hooded eyes, you'll want to draw your liner very close to your lash line, as you won't have much lid space. Avoid a harsh wing, as it'll look distorted when you open your eyes. Instead, using a dark brown or black eyeshadow, draw a very slight uplifted wing with a stiff, angled brush and connect it to your lash line, going towards your inner corners. Smudge the wing with your brush to create a smoky effect and then clean up the bottom part with your concealer.
If you want a more natural look, you can skip the smokey eye and line your top waterline instead. You'll want a black waterproof pencil for this. To apply, look slightly downward and gently tug your eyelid upwards with your finger. Draw along the waterline with your pencil until it's filled in. After you're done, blink a couple of times to get rid of any residue, and wipe the surrounding area clean with a Q-tip. This will define your eyes without making them look obviously lined. For non-hooded eyes, a more upturned wing will do wonders to make them look lifted.
Create a lifting effect with an upturned wing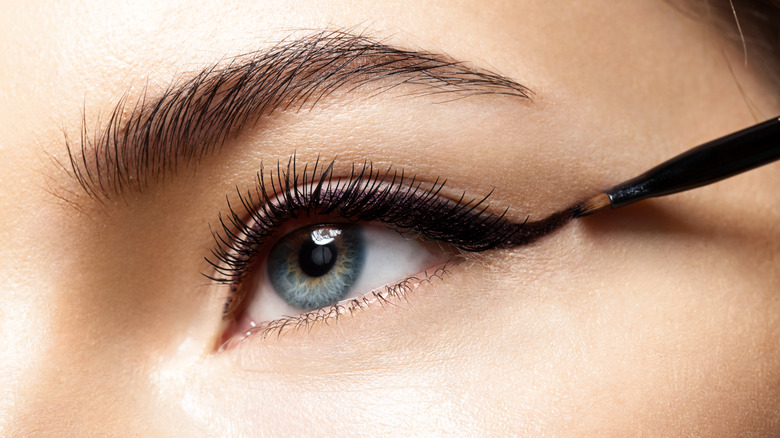 Deniskomarov/Getty Images
If you're blessed with a lot of eyelid real estate, you can play around with different makeup looks. For deep-set eyes, a thick liner really helps to draw them out, as well as an elongated wing. If your lids aren't hooded, the tail of your liner can be more exaggerated and angled upwards, which will make you appear more youthful and lifted.
A gel liner is best for creating a sharp wing on mature eyes, due to its forgivablity. Starting from the outer corners of your eyes, draw a line at an upward 45-degree angle. Starting from about three-quarters of your lid, draw a line connecting the wing and fill it in with your liner. Once you're happy with the result, go along your lash line with your angled brush. If you want to line your bottom lids, we suggest using a pencil or eyeshadow, but you don't want it to be as harsh as your top lid.
Skip heavy eyeliner on your lower lash line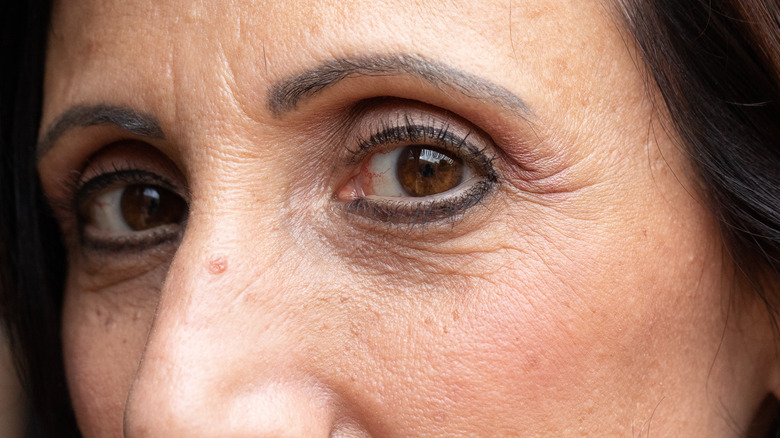 sruilk/Shutterstock
Heavy eyeliner can make your eyes look smaller and make your features look too harsh, especially on your lower lids. While a stronger liner on top can open up your eyes, going too dark or heavy on the bottom will pull them downward. If you're using a black liner on your top lids, opt for a lighter color, such as a dark brown or taupe instead on your lower lash line. Stay away from gel or liquid liners as well. Pencils and eyeshadows work best for creating a soft look. After you've applied your liner, go over it with a Q-tip or your makeup brush to smudge it out.
For smaller eyes, you'll want to avoid filling in your bottom waterline with a dark color. Instead, use a beige or cream pencil, which will do wonders for opening up your eyes. Using a light color on your waterline will also make the whites of your eyes appear brighter. Additionally, you can play around with different eyeliner colors to really make your eyes pop.
Use different shades to bring out your eye color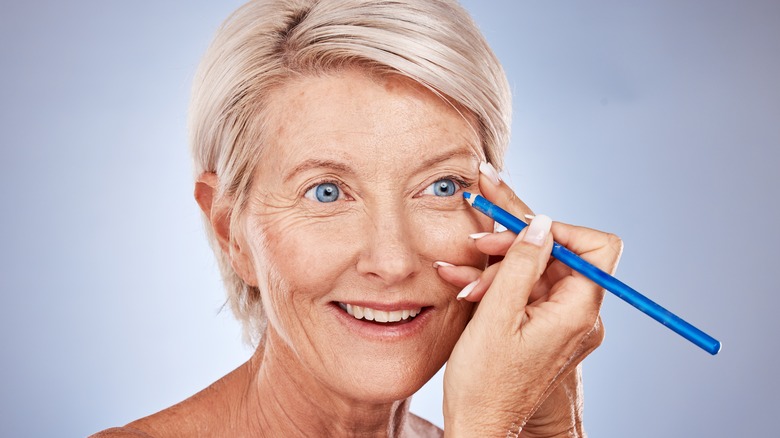 PeopleImages.com - Yuri A/Shutterstock
Fun eyeliner shades aren't just for Millenials and Gen-Zs — mature folk can rock dopamine makeup as well. Bright colors are instantly associated with youth but why not have fun at any age? Take advantage of different hues to bring out your eye color. Brown eyes are the most common and they do well with any shade, but if you really want to bring out their richness, go for a deep, brown or cobalt blue color. To make hazel eyes stand out, go for an olive or plum liner.
Blue eyes will appear brighter with gold and copper while using a navy blue will make them look dramatic and stormy. For green eyes, you'll want to use a mahogany or burgundy color, but stay away from anything too red or you'll look like you have a bad case of allergies. If the idea of using too much color on your eyes makes you balk, you can always line them subtly with eyeshadow. Feeling bold? Go as dramatic as you like! There are no rules when it comes to makeup, and that's true at any age.