The TikTok-Viral Hack That Creates A Custom Lip Gloss From Any Makeup Product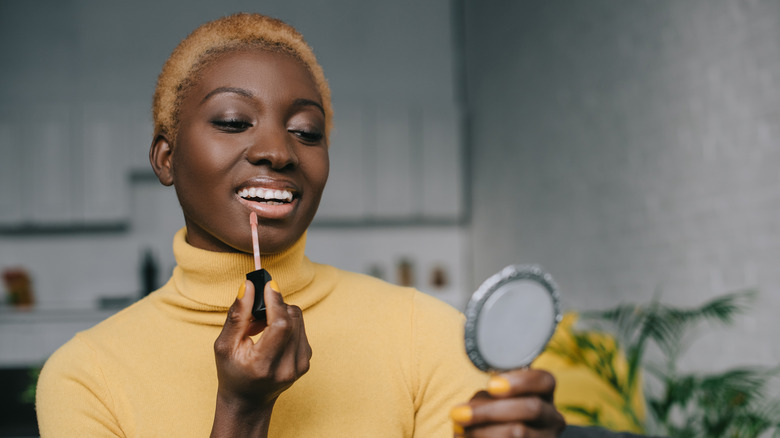 Lightfieldstudios/Getty Images
These days, if you want to keep up to date with makeup trends, TikTok is the social media platform to go to. Makeup gurus from all over the world post videos explaining how to draw the perfect winged liner using tape and achieve that glass-skin look with a foundation and serum mixture. Lipstick hacks are also popular must-sees. From learning how to apply popsicle lips to putting a Q-tip between your lips to get clean corners, there is a never-ending wealth of information from trendsetters.
One particular makeup hack making the TikTok rounds is so simple, yet so utterly brilliant. Makeup lovers have been creating their own custom lip colors using just two products found in everyone's cosmetic bag. Never again will you have to dig around your products to find that perfect shade; just grab a clear gloss and the eyeshadow color of your choice and get to mixing!
Turn your favorite eyeshadow into your new lip gloss
Have you ever looked at an eyeshadow color and thought it would make the perfect lip color? Or wore a particular shade on your eyes and wished you could match it perfectly on your lips? We have a super-easy solution for you and it only requires eyeshadow and clear lip gloss. Simply scrape off a bit of the shadow color of your choice and mix it with a clear gloss until the powders dissolve. Voila — you have a custom lip gloss.
You can control how deep you want the pigment to be with the amount of eyeshadow you mix in. If you seek a sheer gloss, just use a few sprinkles of powder. Alternatively, if you're going for a more opaque, dramatic look, add in a healthy pinch. You can mix the gloss on your hand or use a small stainless steel palette. For a travel-friendly option, grab a tube of clear lip gloss with a doe-foot applicator, swipe it onto the eyeshadow color, and insert it back into the tube. Give it a good swirl or shake and you have your own custom-created concoction. Eager to step it up a notch? Try this next trick for a pretty, glittery gloss.
Create your own glittery lip gloss
Who doesn't love a shimmer every now and then? While glittery lids have been reigning supreme on TikTok, you can show some love to your lips with your own mix of gloss, eyeshadow, and a dose of glitter. Using the aforementioned technique, add a few drops of lip gloss onto the back of your hand or a makeup palette and mix in a pinch of your choice of eyeshadow. This is where it gets a bit tricky: the eyeshadow color should be in the same shade range as your glitter. If you choose a bright pink shadow, your glitter color should be in the same tone so as not to clash.
After you've mixed your shadow and gloss, sprinkle some glitter into the mixture. Use a light hand until you've reached your desired sparkle. If you desire a subtle shimmer, you can use silvery glitter with fine particles. Apply the mixture with a lip brush or doe-foot applicator for precision. If anyone asks who made your lip gloss, you can honestly tell them it was custom-created just for you.