Love The Idea Of Double Dates? This New Dating App May Be Just What You're Looking For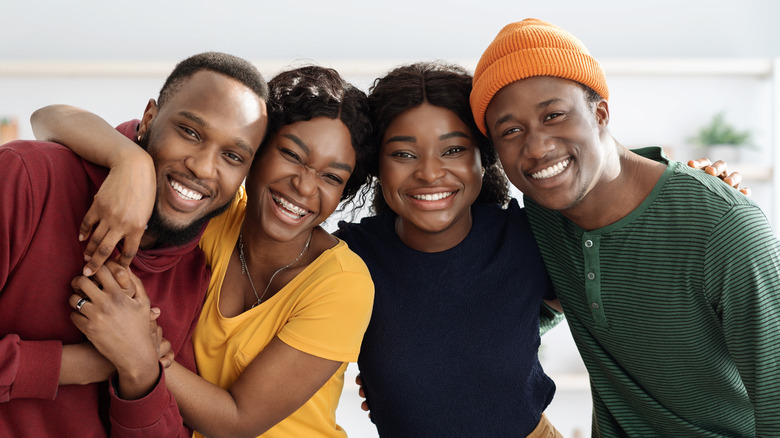 Prostock-studio/Shutterstock
If you're new to dating or have just been out of the game for a while, we won't lie to you. It can be extremely intimidating to go on a first date, whether you connected with this person on a dating app or you met them in real life. There are a few things you can do to take the edge off, from choosing a familiar place to preparing an excuse to leave in case it's awful. Some people also find that having a support person nearby can make it much easier to deal with dating anxiety.
Double dating is one of the best ways to sneak a support person onto your date (and much subtler than having your BFF secretly sitting at the next table watching you from behind the menu). It's also a great option if you have friends who are looking for love — or a hookup — themselves. Fourplay is one of the latest dating apps to enter the scene, its competitive edge being that it brings single friends together to set up double dates so you don't have to.
How Fourplay works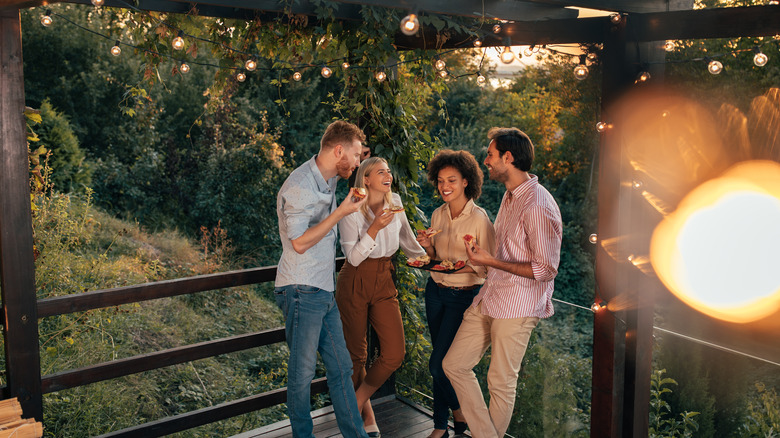 bbernard/Shutterstock
Fourplay describes itself as a "lower pressure and safer" dating app, highlighting fun as one of its major goals. It works similarly to other dating apps in that you'll create an account and start swiping to meet new people, however instead of matching with just one person, you'll find double dates by forming a team with a single friend. While you'll meet lots of singles near you to date or meet up with, this app works best if you know the person on your team beforehand. Those who have multiple single friends can also create more than one team. If you have single friends already and you're all fed up with modern dating, it might be right down your alley!
Your team profile is similar to a normal singular dating profile in that you can add photos and answer prompts, however you'll be a co-star with your single friend. You can then browse other teams of single friends who are interested in double-dating, and match with those who meet your preferences.
What to consider before double dating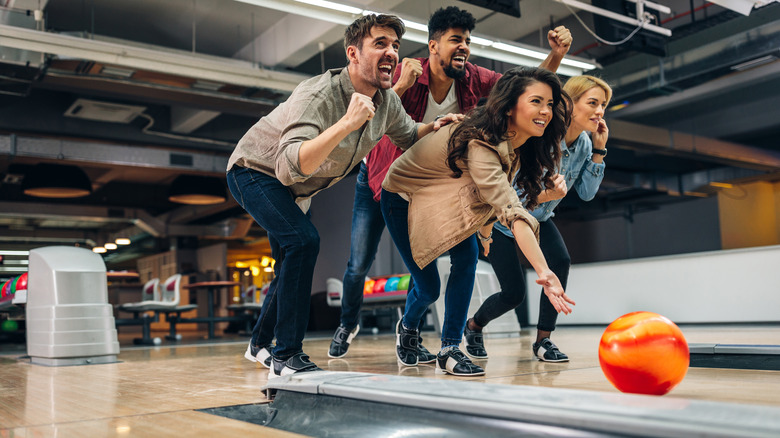 bbernard/Shutterstock
As Fourplay points out, there are many advantages when it comes to double dating. If the date ends up not being so great (which does sometimes happen when one uses dating apps), it's less likely to be a total waste of time because you're guaranteed some good company if your friend is there.
As mentioned, double dating is also less daunting with less potential for awkward silences, since you and your friend will be there to be wing-women for each other. There's the safety factor to think about as well; meeting someone new always carries some risk, but going on a date with your friend will save you from potentially ending up on your own with a dangerous person.
That said, there are a few downsides of double dating that are important to think about. When multiple people are are there, it may be harder to get to know someone if you do end up really liking them. There might also be the potential for conflict with you and your friend both liking the same person, and the other person feeling left out. It comes down to your relationship with your friend, how similar your romantic preferences are, and what you want to get out of the dates.
Ultimately, if you are looking for a fun night with low stakes, or you're feeling a little angsty about dating, co-starring on a Fourplay team could be the perfect way to connect with new people.