100 Years Of Fashion: Sunglasses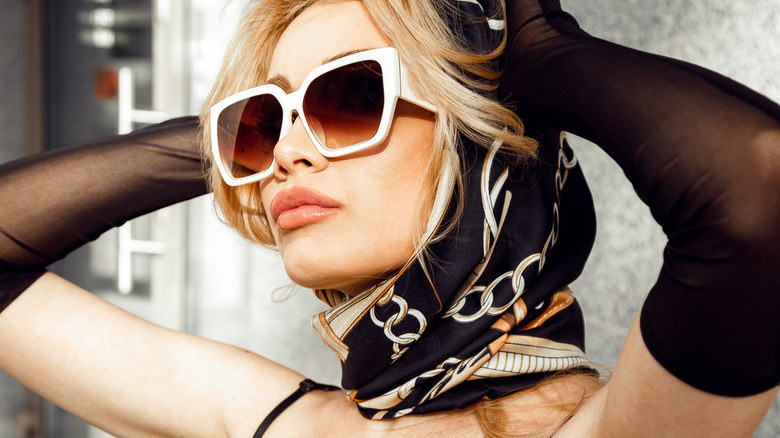 Tatsiana Volkava/Getty Images
Everyone has probably worn a pair of sunglasses at some point in their life. Whether a quick purchase or part of a luxury capsule collection, the ways modernity has affected this accessory is astounding. Part sun protection, part status symbol, the history of sunglasses is incredible, with sun protection traced back to ancient human cultures. Sunglasses were believed to have been used in China in the 1300s when judges wore colored quartz lenses to hide their expressions, while, in the north, sunglasses were used by Inuit people who used snow goggles to save themselves from the blinding reflection. One notable example of early sunglasses is the Goldoni Glasses named after the famous Italian playwright who popularized the style in the 18th century. These historical examples show that the origins of sunglasses were more practical than posh and that, over time, sunglasses became an integral part of the fashion lexicon.
Advertisement
As times change, trends do as well. While aesthetics have always played a factor, other forces, including popular culture, technology, and necessity, also contributed. Over the last 100 years, sunglasses have gone from being relatively obscure to a must-have accessory. While they have always served a functional purpose, the fashion focus of this accessory has been captivating. Let's take a look at how sunglasses have transformed over the past 100 years.
1920-1929: Sunnies for sunbathing beauties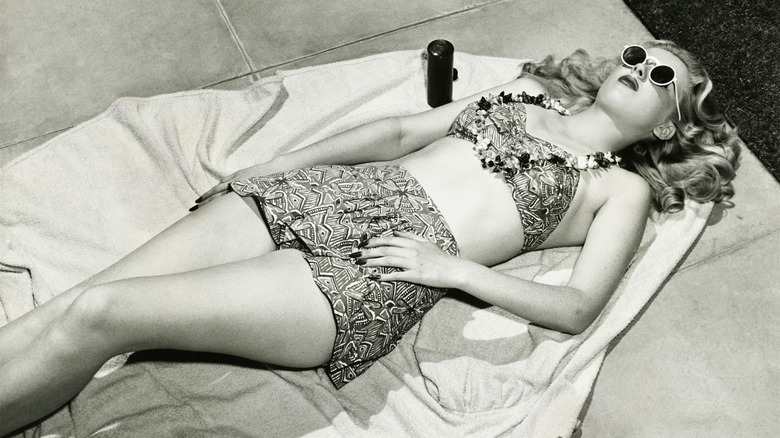 Everett Collection/Shutterstock
In the 1920s, sunglasses became less of a practical option and more of a fashion accessory. What had once appealed to people to simply protect their eyes from glare, wind, or dust, sunglass took on a whole persona during this decade. People said goodbye to driving goggles, which had been the much less chic predecessor to sunglasses and, instead, opted to sport sunglasses for travel and leisure. Americans who traveled to the French Riviera returned with a new sense of leisure and wanted to emulate the fashionable French, bringing with them the European avant-garde vibe.
Advertisement
During this decade, sunglasses were seen on the faces of men and women lounging poolside — a cutting-edge fashion statement. During what pop culture has coined the "Roaring Twenties," sunbathing, tanning, lounging, and sipping cool drinks poolside became posh, and sunglasses were the perfect accessory. Representing the glitz and glamour of the Gatsby-era, Hollywood elites, the uber-wealthy, and socialites sported sunglasses in oval shapes with wireframes and tinted lenses, helping to popularize the trend and cement sunglasses as a fashion staple for generations to come.
1930-1939: Celebrities caught off-duty
In the 1930s, sunglasses were not only a fashion statement; they had fully crossed over into the pop culture lexicon when Harper's Bazaar published a photo by Louise Dahl-Wolfe in 1938. The model in the photo is featured basking in the Puerto Rican sun: the epitome of a leisurely lifestyle. In his book "Paparazzi: And Our Obsession by Celebrity," Peter Howe explains that, during this decade, celebrities started using sunglasses to avoid the bright glare of paparazzi flashbulbs and to create an illusion of privacy.
Advertisement
Sunglasses as a fashion accessory continued to gain popularity throughout the decade, with Hollywood it-girls of the time such as Greta Garbo and Marlene Dietrich seen wearing sunglasses everywhere. Swedish actor Garbo was often seen wearing round, oversized sunglasses with thin frames and dark lenses. The German-American singer and actor Dietrich popularized the butterfly shape, and fashion-forward individuals were quick to jump on the trend. By the latter half of the decade, men had also embraced the sunglasses trend — the most popular pair being Ray-Ban aviators, which first gained notoriety amongst pilots and military men before going mainstream.
1940-1949: Coquette chic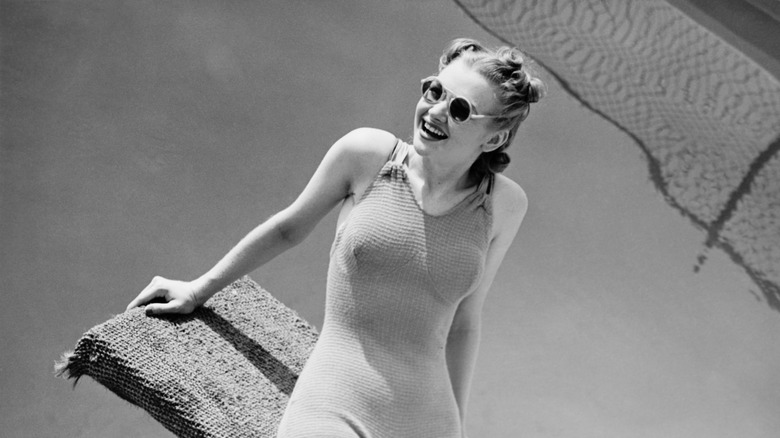 George Marks/Getty Images
In the 1940s, sunglasses continued to be a go-to accessory that gained popularity with the masses, though World War II forced a shift in the materials used. A pivot when materials became scarce allowed the accessory to both literally and figuratively take on a new shape. Some of the most popular styles seen in the '40s were classic round shades with metal frames, plastic tortoiseshell frames with dark lenses — an early take on the cat-eye look — and mysterious mirrored sunglasses.
Advertisement
Celebrities continued to push sunglasses trends forward, with Lauren Bacall popularizing the classic tortoise shell frames, a fashionable, yet practical, alternative to metal frames that were increasingly difficult to come by during war time. The shift in materials allowed sunglasses to become more experimental with more colorful and expressive designs that paired perfectly with the shorter bob hairstyles popular at the time. Browline sunglasses with a thick upper frame and a frameless bottom or plastic lower rim were popularized by leading Hollywood men such as James Dean.
1950-1959: Hollywood serves cat eye
In the 1950s, sunglasses had hit their stride, and the range of styles dominated the fashion landscape. Wayfarer sunglasses were a hit with men as a symbol of rebellious cool, and oversized glasses became popular, especially when frequently paired with other accessories such as large hats, scarves, and jewelry. Audrey Hepburn was a star whose sunglasses became part of her signature look. She was often photographed by paparazzi pairing her timeless outfits with oversized frames with dark lenses. The glamorous look became so popular that, even today, "Hepburn shades" are a way to add an air of glamour to any outfit.
Advertisement
Another icon of the era, Marilyn Monroe took sunglasses styles to another level. Her influence on fashion brought cat-eye sunglasses to the main stage. One of her most popular looks was pairing white cat-eye sunglasses with her signature red lip, flowing dresses, heels, and megawatt smile. The 1955 Hitchcock movie "To Catch a Thief" features Grace Kelly also wearing white-rimmed cat-eye sunglasses that quickly led to the craze. Thanks to the popularity of cat-eye glasses on the silver screen and the influences of these iconic Hollywood stars, sunglasses continued to remain popular, with reiterations of the cat-eye popping back into popularity every few decades.
1960-1969: Peace, love and funky frames
In the 1960s, sunglasses changed with the times, as the counterculture movement had a huge influence on fashion and accessories. The anti-establishment popularized simple wire-framed glasses, sometimes called tea-shade glasses, which were famously worn by legends including John Lennon and Elton John. These affordable glasses, which often had light-colored lenses — appealing to free-spirits of all backgrounds — became symbolic of the decade. Not only were men well-represented in this era, but women rocked them in equal measure, with the glasses transcending gender and race. Diana Ross,the iconic lead singer of The Supremes, is known for slaying in these sunglasses, inspiring celebrities to follow in her fashion footsteps for decades.
Advertisement
This decade had a runner-up style that was almost as influential as tea-shade glasses. It can't be understated the cultural impact that the "Jackie O" style – named after former First Lady Jackie Kennedy Onassis — had on the era, becoming the epitome of upper-crust glamour. Jackie O was rumored to have many pairs of her signature oversized sunglasses placed in a bowl by the door ready for her to grab as she would head out the door and was often photographed wearing designer shades from Nina Ricci, Traction, and François Pinton. The impact of these oversized shades was immense. As hairstyles and makeup styles changed over the decades, the oversized Jackie O style sunglasses remain evergreen.
Advertisement
1970-1979: Statement sunglasses
In the 1970s, sunglasses were widely understood to be in part fashion and, more importantly, part protection from ultraviolet light. In countries including the U.S. and Australia, standards were adopted to ensure that sunglasses guarded against light exposure that could cause cataracts and vision loss. Round or square frames were popular amongst A-listers, and aviators continued to reign supreme after being featured in the 1971 movie "Dirty Harry." By this decade, more and more celebrities were wearing sunglasses, and the popularity of the accessory skyrocketed when an advertising campaign from Foster Grant cemented sunglasses as part of Hollywood culture, making them even more desirable. 
Advertisement
Farah Fawcett had a major influence on the sunglasses style of the decade. An icon whose style and on-screen roles catapulted her to major celebrity status, her beautifully feathered hair and love of sunglasses gave her a unique look emulated by it-girls of the time. Her acting roles depicted strong female characters who were often seen wearing a pair of oversized aviators with thin metal frames or round-shaped metal frames that oozed casual cool.
1980-1989: Sunglasses as status symbol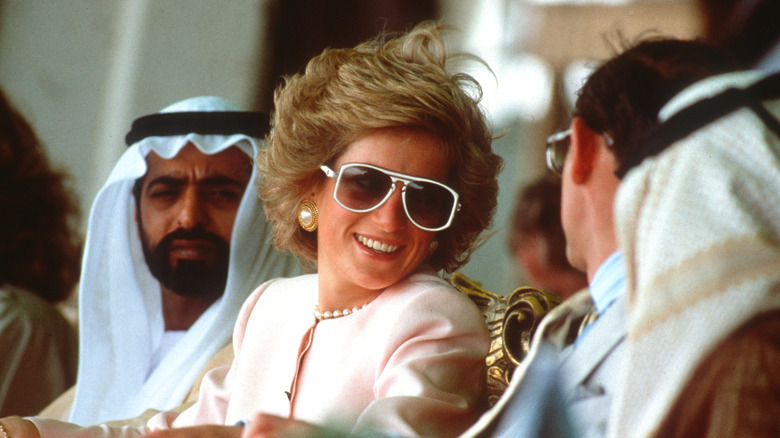 Anwar Hussein/Getty Images
In the 1980s, sunglasses exploded as a must-have status symbol due to the rise of increased luxury and mainstream brands adding the accessory to their portfolio. Fashion houses saw the value of having their own lines of sunglasses to further develop their brand power and expand their labels. Chanel introduced the chain-link style in 1983 when Karl Lagerfeld became creative director, Dior debuted its oversized style in 1985, and Giorgio Armani launched its first eyewear collection in 1988. Interestingly, the trend has continued to the present day, with Armani launching its first children's eyewear collection during summer 2022 with styles for 6- to 12-year-old fashionistas. 
Advertisement
The street style of this decade also saw the emergence of big brands such as Ray-Ban, Nike, and Oakley. These popular brands created sunglasses that were much splashier than those of previous years, with prominent logos, bright colors, and mirrored lenses. These sunglasses with fun and futuristic even when worn off the field and were prominently featured in music videos of the time. Favorite styles of sunglasses from decades past were worn by everyone from George Michael and Michael Jackson to Madonna. The black-framed, round glasses from Madonna's 1984 music video for "Borderline" were copied by her fans worldwide. An iconic look of this era widely captured by paparazzi was Princess Diana's white-rimmed aviators, which she wore during a royal tour of the Gulf. Her effortless style and statement sunglasses were paired with bold jewelry and modest fashion pieces.
Advertisement
1990-1999: Slim and statement sunglasses are en vogue
In the 1990s, sunglasses became a notorious feature among celebrities, as Biggie Smalls stated in his song "One More Chance," "I'm watching ya, Versace shades clocking ya." Not only did he rap about them, but in the music video for the song, he dons a pair of the Versace Medusa-emblem sunglasses, which have since become unofficially known as the "Biggie Versace sunglasses." The use of oversized sunglasses as a status symbol continued to dominate in hip-hop culture and remained a staple for runway models, but small rectangular frames and slim sporty wraparounds gained the most popularity during this decade. Celebrities including Gwen Stefani wore sporty wraparound shades in a cornucopia of fun colors.
Advertisement
Supermodel Cindy Crawford was often seen around Los Angeles wearing sporty wraparounds during her workout sessions. Bombshell actor Halle Berry also rocked the trend when seen out exercising and also in her movies. In her 1996 film "Executive Decision," she wears black wraparound sunglasses, giving this iconic look a place in '90s fashion history.
2000-2009: Y2K oversized style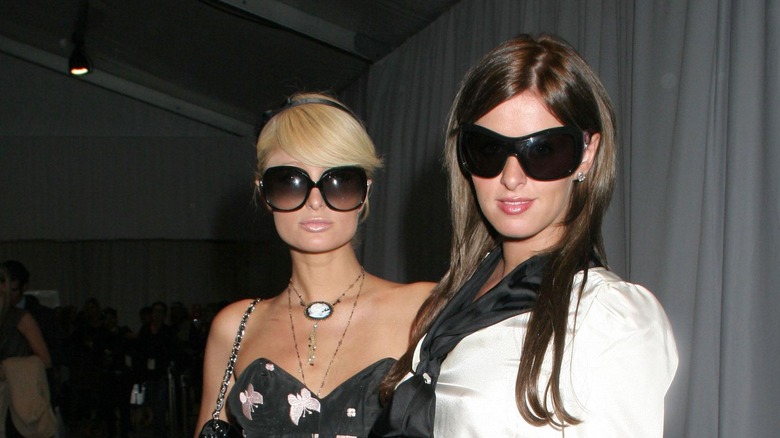 Everett Collection/Shutterstock
In the early 2000s, sunglasses became dominated by oversized styles, which can easily be styled. Eye-catching styles and bold statements were worn by celebrities and socialites alike. Britney Spears, J.Lo, and Victoria Beckham were infamous for entering a room — sunglasses first. Beckham herself was once quoted as saying, "Sunglasses and a great pair of heels can turn most outfits around," showing how integral sunglasses were to the Y2K style aesthetic. Brands like Miu Miu, Cartier, and Versace were popular during this decade, as sunglasses were an essential accessory — and still are.
Advertisement
The oversized sunglasses of the '00s were characterized by statement-making frames that hide a large portion of the wearer's face and, of course, some bling. These larger-than-life sunglasses were worn by the superstars they personified: Paris Hilton, Nicole Richie, and the Olsen twins wore oversized sunglasses that matched the aesthetic of the time. The Juicy Couture-wearing socialites who championed excess as a lifestyle embraced sunglasses in a range of shapes, sizes, and materials, often going head-first into a mountain of embellishments including gemstones, crystals, and rhinestones. This was the era of matching your sunglasses to your handbag, which meant more was more.
2010-2019: Minimalist frames for the win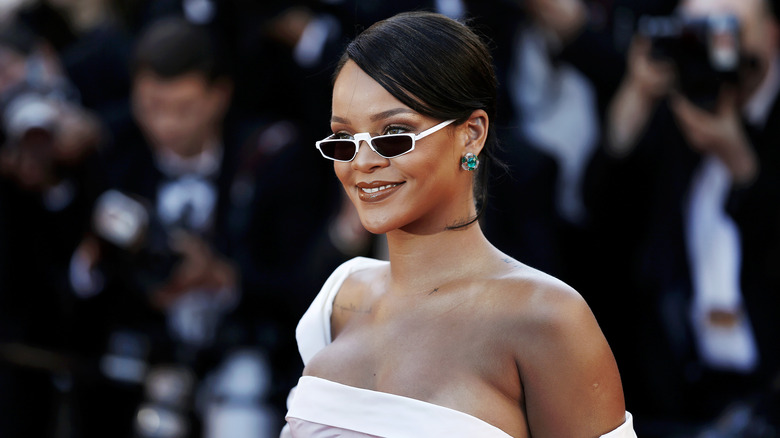 Andrea Raffin/Shutterstock
In the early 2010s, sunglasses turned a major corner yet again when a rise in eco-friendly fashion took a stronghold amongst those who wanted to engage in more sustainable buying practices. Due to the push from consumers, sunglasses brands adopted more conscious measures to show stakeholders their commitment to investing in sustainable materials. Using post-consumer materials and sustainable manufacturing techniques while reducing waste, companies were going green in a way that hadn't trickled down to sunglasses before. This trend reflected the eco-consciousness of the time, with brands such as Proof Eyewear and Warby Parker having sustainability at the forefront of their business models. Fortunately, many brands have remained dedicated to producing high-quality eyewear focused on the planet. 
Advertisement
Minimalist glasses were another big trend during this decade, with celebrities including Kanye West and Rihanna embracing the trend of simple, clean lines and muted colors. The shift to minimalist glasses was sudden, and even the most fashionable had to pivot to embrace this trend. Who can forget when Kanye told his then-wife Kim Kardashian in an episode of "Keeping Up With the Kardashians," "You cannot wear big glasses anymore. It's all about tiny little glasses"? Stars who had previously rocked oversized frames had seemingly traded them in for a sleeker look. Rihanna rocked the minimalist look on many occasions, including Paris Fashion Week in 2014. Minimalist-sized geometric-shaped glasses with sharp angles, exaggerated shapes, and futuristic vibes were popular on the street and on the runway.
Advertisement
2020-Present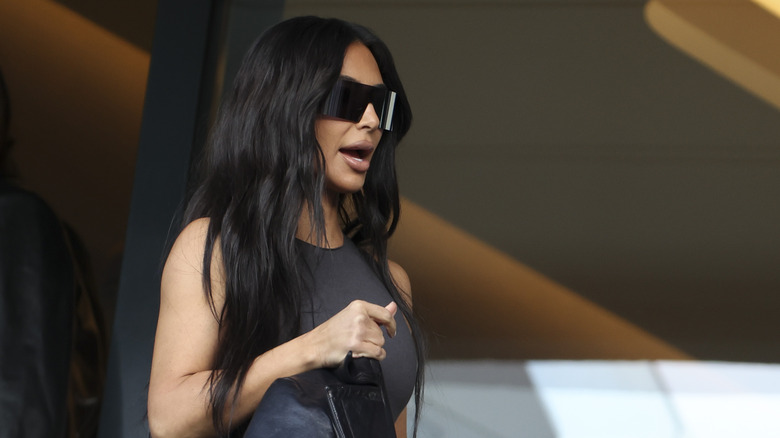 Jean Catuffe/Getty Images
These days, sunglasses are just as popular as ever, and the accessory continues to grow as a status symbol. While the accessory's affiliation with celebrities still remains, people from all walks of life wear sunglasses to protect their eyes and public image. Sunglasses are now more than ever a powerful symbol of personal style and self-expression. The fashion trend has evolved, reflecting the changing tastes and values of consumers, and will continue to do so, making sunglasses a must-have category for all seasons. Trends are cyclical, so investing in a pair of vintage shades is probably a great idea.
Advertisement
From high-end fashion houses such as Gucci, Prada, and Tom Ford to more affordable brands, sunglasses are a mass-consumed good worn in almost every country around the world. The post-pandemic sunglasses market has come back with a bang, with fashion being celebrated and people excited to live their best lives in full color. Looking forward, some style forecasters predict that the futuristic look will trend for summer and fall 2023, with the emergence of bold geometric shapes and futuristic designs serving fashion and innovation. Other popular trends circling back for a revival tour are '60s retro-funky sunglasses and '70s tinted lenses, along with the oversized sunglasses trend. Kim Kardashian has brought back her early '00s signature sunglasses over the last few years, sporting oversized mono-lens sunglasses and bug-eye shades around Calabasas, California, and Cabo, Mexico.
Advertisement