Is Safe Sun Tanning Even Possible? We Asked A Dermatologist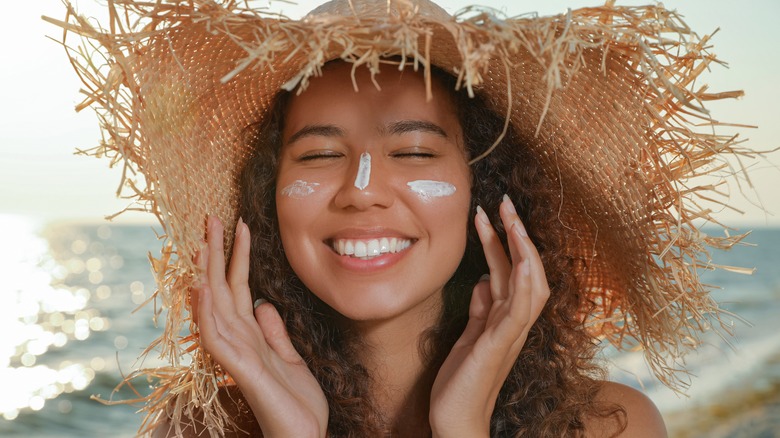 New Africa/Shutterstock
What is it about that golden, bronze complexion that so many people crave? Some women want to darken up for an upcoming wedding, a cruise, or a high school dance, so they buy some fake-tanning spray or cream. Others still opt for the tried and true method of lying under the sun or hitting the tanning bed, even though these present risks that the other options don't.
But what exactly is a sun tan anyway, aside from darker skin? Sure, you can get that beautiful, bronze color from being in the sun, but if you do, it means that your skin has been damaged. A sun tan equates to skin damage, as the U.S. Food & Drug Administration (FDA) explains.
So, is it possible to get a nice at-the-beach sun tan, safely, without the damage? In an exclusive chat, Glam asked Miami-based, board-certified dermatologist and published author Dr. Anna Chacon, M.D., for her expert opinion. Her answer? Sorry, sun lovers, but the answer is no, it's not possible to get a safe sun tan. Still, there are safer tanning alternatives that don't involve the sun.
Damaged skin cells from tanning can cause problems as you age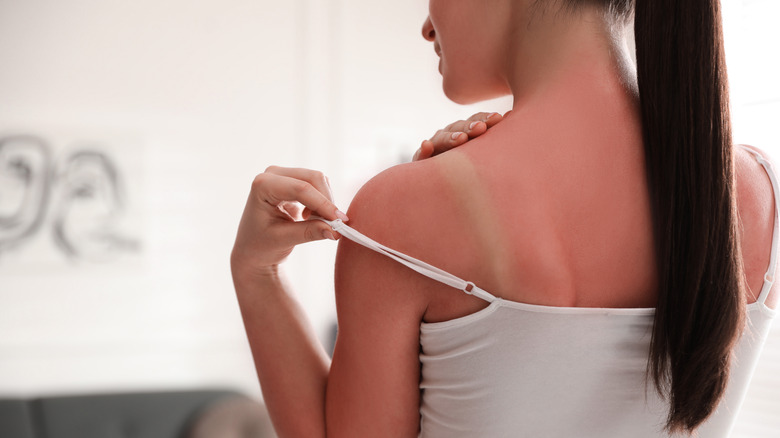 New Africa/Shutterstock
Dr. Anna Chacon, who's a dermatologist writer at MyPsoriasisTeam, exclusively shared her thoughts with Glam on sun tanning, including the short- and long-term effects. "There is no such thing as a safe or healthy tan, and tanning always indicates that your skin cells have been harmed," she said.
When skin is exposed to enough UVA radiation, it creates melanin — a natural skin pigment — as a defense barrier against the sun. According to the FDA, the production of melanin as a response to the sun is evidence of skin damage. This may not seem like a big deal if you're young, but what about the long-term effects? "Skin cell destruction not only raises your chance of getting skin cancer but also hastens the aging processes that cause wrinkles and drooping in the skin," Dr. Chacon added.
Although sun tanning will never be completely safe, you can make it safer by wearing sunscreen. Dr. Chacon recommends SPF 30 or higher. And if you usually enjoy napping at the beach, at your pool, or elsewhere under the sun, you may want to rethink that moving forward. She discourages falling asleep in the sun, as you might end up baking for longer than you anticipated. Plus, sunscreen and sunblock only provide protection for a couple of hours before needing to be reapplied.
Alternate, safer tanning options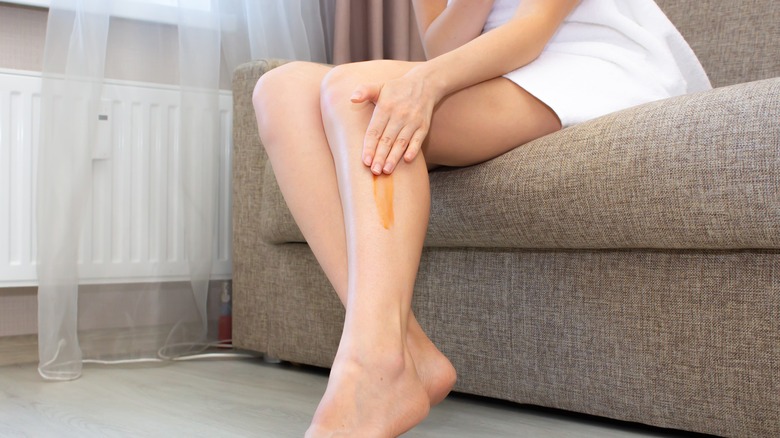 TatianaBor/Shutterstock
Getting tanned by the sun doesn't necessarily guarantee that you'll be a wrinkled prune one day, or that you'll die of skin cancer. It simply means you'll be at an increased risk of premature aging, developing lines and wrinkles, and getting cancer — if you don't protect your skin. But if you want to tan safely, you'll need to get out of the sun completely. Luckily, there are much safer options.
"Using a self-tanning product or getting a spray tan are the only safe ways to achieve a tan," Dr. Anna Chacon said in her exclusive chat with Glam. "The majority of self-tanning creams and sprays are secure and FDA-approved. These cosmetics merely coat the skin's surface layer rather than penetrating it to injure it as UV rays do." Just be sure to read the instructions carefully on the label to ensure you prepare the skin correctly and that you leave it on for the recommended amount of time.