The DIY Way To Make Your Own Pink Setting Powder With Products You Already Have
DIY makeup hacks are popping up everywhere and are seen as an easy, do-it-from-home option for those looking to experiment or try new products on a budget. You can do anything from making your own tinted moisturizer to ensuring you master the perfect highlighter application. And since incorporating pinkish hues into base makeup is trending all over social media, you may find yourself rushing to the store to get your hands on pink setting powder. But don't worry; there's a hack for that, too.
That's right — if you dig deep enough, you may even find a technique that helps to revolutionize your makeup game. We'll look at how to make your own DIY pink setting powder, with products you likely already have sitting right in your makeup bag. This is the perfect hack to add a subtle hint of color for a natural look.
So, what's this hack all about? This crafty TikTok trick that's creating buzz on the platform involves your setting powder and blush. Thankfully, it's incredibly easy to make. Let's take a look at how you can make this nifty makeup concoction.
Combine translucent powder with your powder blush
To create this breathtaking mix, you will need some translucent setting powder and your favorite powder blush. Naturally, any color of blush will work, so the world is your oyster when it comes to selecting the perfect shade.
Now, for the hack itself. Take your translucent powder and add a little onto whatever clean object you decide to use to mix it, whether that be a small bowl or a piece of paper, for example. Next, scrape a little of your favorite powder blush into the mix. You can start with a little and build it up as desired for a stronger pop of color. However, if you want a subtle look, using a small amount is better.
Mix the two together so they're blended nicely — and voilà! Now you should have your new and improved pink setting powder ready. If you're not a fan of regular blush but want a subtle, natural dash of color on your face, this hack may be perfect for you. 
How to apply your DIY pink setting powder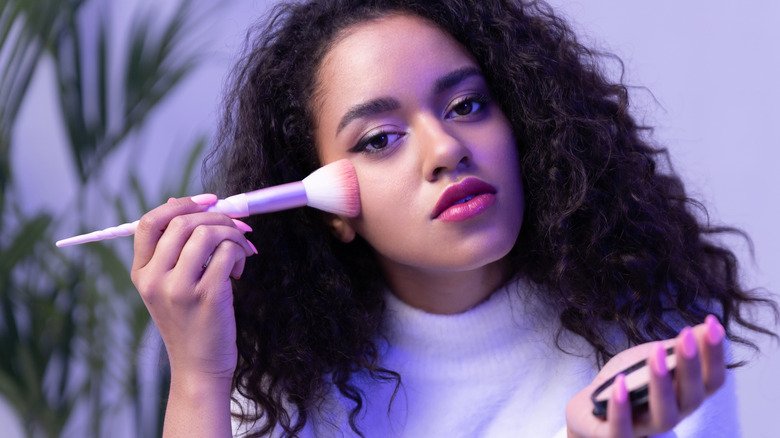 popcorner/Shutterstock
Now that you have your DIY pink setting powder primed and ready to go, it's time to shift gears to applying the product. Just like making the setting powder, applying it is relatively easy, and you should be able to easily master it with practice.
To apply your setting powder, you'll want to apply it in the same way as your regular face powders, being mindful of the pinkish hue so as not to overdo it. Co-Founder of Cult Beauty, Alexia Inge, recommends "[using] a synthetic blush brush and [starting] off light on the apples of your cheek, and move up to your cheekbone ensuring you blend as you apply" (via Grazia). Of course, as the formula contains setting powder, it's best to apply it last on top of your foundation to finish off the look.
However, if you decide you want more pigment or color on your cheeks, you can always try adding a dash of your own blush or mixing more into your setting powder. It's also best to store it in a sealed container to keep it in good condition.