The JW Anderson Frog Shoes Are The Logical Endpoint Of The Ugly Footwear Trend
The 2020 peak of the COVID-19 pandemic and its resulting period of social isolation and quarantine brought about many changes to the way most Americans live their lives. As COVID hospitalizations decline and the leader of the World Health Organization (WHO) prepares to announce an official end to the pandemic, according to WebMD, some of those changes have continued to evolve long past the stage of necessity. One of them has come in the form of footwear.
Advertisement
Since 2020, we have seen a major outpouring of love toward shoe and boot trends that would never before have been seen outside a utilitarian setting. Why put your feet through the pain of wearing high heels all day just to work from home, right? Thanks to leftover comfy, quirky quarantine vibes, we've seen limited edition Crocs collabs blowing up, backwards shoes trending, and now, rubber frog shoes soaring to unprecedented heights. The good news is we have our fingers crossed that the amphibian-inspired footwear will bring an end to the unpleasantness.
JW Anderson frog shoes
The same brand that brought you the infamous pigeon clutch last year is at it again. This time, JW Anderson has teamed up with whimsical rainboot maker Wellipets to create a bug-eyed rubber frog shoe that comes in classic frog green, blue, or yellow. Since debuting at Fashion Week in Milan in January, the frog shoe has become a coveted item across the landscape of social media. Even the $510 price tag doesn't seem to be dissuading its fans from vowing to get their hands on a pair.
Advertisement
Like all Wellipets products, the frog shoe is sustainably made from beginning to end in Italy. The brand prides itself on its master craftsmen, who are involved in every aspect of the planning and production of each pair of boots and shoes. They are also committed to reducing, reusing, recycling, and creating their products  with high-quality and localized Italian materials. 
The end of ugly footwear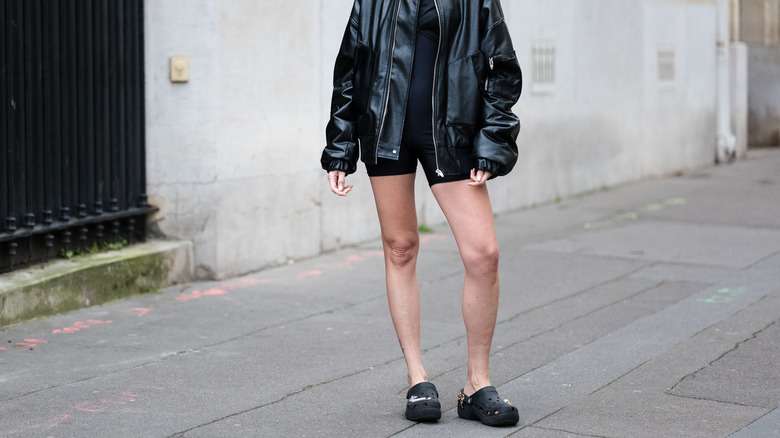 Edward Berthelot/Getty Images
When an individual is engaging in therapy or self-care with the objective of discontinuing a problematic behavior, they often encounter a phenomenon known as an extinction burst. An extinction burst occurs when an unwanted behavior is about to cease. Before it finally stops, there is a short period during which the behavior will actually intensify, per Evoke Therapy Programs. If the person remains strong in their resolve, they will overcome the behavior just on the other side of the burst.
Advertisement
Now that post-pandemic life has reached a comfortable state of new normal for many, it has to be time to start moving back to more traditional footwear trends. Surely, this frog shaped culmination of the ugly footwear trend must be the fashion equivalent of an extinction burst, right? On the other side we'll see classier, more sophisticated summer shoe and sandal looks begin to emerge. That's what we'll be over here telling ourselves, at least.