Is TikTok's BB Cream Hack Legit?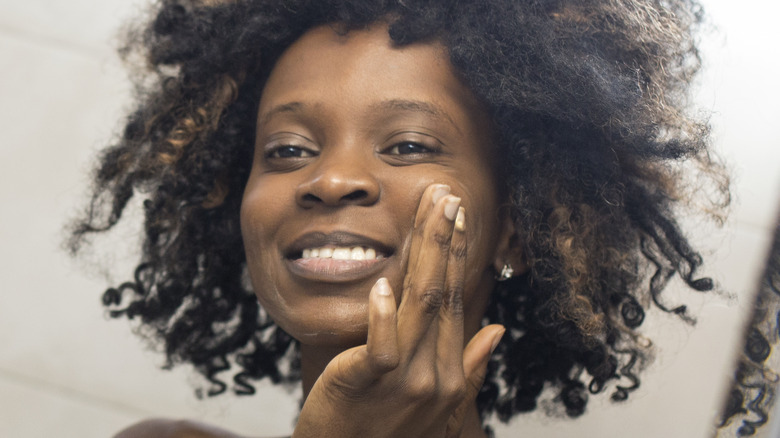 Goodlifestudio/Getty Images
We may receive a commission on purchases made from links.
An underrated and overlooked item for far too long, BB cream is the makeup product missing from your routine. Many days, we would love to let our skin breathe without any coverage, but blemishes and other imperfections make us want to put something on our skin to smooth it out, and just a moisturizer or serum doesn't feel like enough to do the trick. On the other hand, many foundations can be too heavy. That's where BB cream comes in — applying BB cream provides a natural look and can make your skin look more even and clear, preventing your insecurities from appearing too noticeable.
Advertisement
"The main benefit of BB Cream is that it offers a sheer source of hydration ... BB Cream is a great lightweight option that avoids that more cakey, drying look you sometimes see from full coverage foundation," Sir John, a celebrity makeup artist, told Byrdie. Now that BB is getting more attention — as it should — TikTokers are trying to make their own BB creams at home rather than buying them at the store.
TikTokers are concocting BB creams that work for them
Considering that TikTok — or more like BeautyTok — has a makeup and skincare hack for what seems like everything in 2023, are you even surprised that TikTok users are mixing products to create BB creams at home? Creators are using different ingredients to make their unique BB creams; each TikTok user mixes what works for their skin and routine. For example, TikToker @charrhyatt posted a video sharing her BB cream recipe, including foundation, primer, SPF, moisturizer, and liquid highlighter. 
Advertisement
The TikToker stirred it all together in a jar as if she were making a stew, and the results were a light-looking skin cream. The cream looked very similar to what comes out of a bottle of store-bought BB cream. Someone commented, "I find mixing cream and foundation too patchy," but charrhyatt noted that shouldn't happen if the foundation and cream share the same base.
Moreover, TikToker @skincarebysnega posted a video with a different approach to creating an at-home BB cream. Calling it a "DIY cushion bb cream," the TikToker squirted some pumps of what looked like a skin serum or moisturizer into an opened foundation compact, then closed and shook the compact and ended up with a creamy blend that looked light and smooth on the skin. Impressed viewers commented, "very cool idea" and "Very light." So, should you try these ideas, too?
Advertisement
The results seem promising, but do what you're comfortable with
Many TikTokers seem very happy with their at-home custom-made BB cream concoctions, and there are various combinations to try until you find what works for you. For example, @cosmehunt posted a video making BB cream featuring a mixture of sunscreen, foundation, and moisturizer for a smooth and creamy result. While someone commented, "You shouldn't mix sunscreen with other products," other users wrote, "It's amazing," and "I love it thanks." 
Advertisement
So, if you want to try making your own BB cream inspired by these videos, go ahead and try it with the ingredients you're comfortable using, whether that includes only foundation and serum or more. However, some people may prefer to stick with traditional BB creams that they can purchase at stores to avoid disappointment if they don't like how their concoctions turn out. Plus, buying a bottle of BB cream shouldn't be much more expensive than the ingredients you'll need to make your own.
If you'd prefer to purchase an already-made BB cream created by professionals who know what they're doing, consider the Maybelline Dream Fresh BB Cream 8-In-1 Skin Perfector, available at Ulta for less than $10. The light, helpful product has four out of five stars with an 80% recommendation rate and over 2,500 reviews at the time of writing. Whether you try to make a BB cream yourself or purchase a trusted option like this, BB cream is worth exploring.
Advertisement