The Traditional Lip-Color Trend That's Become Outdated In 2023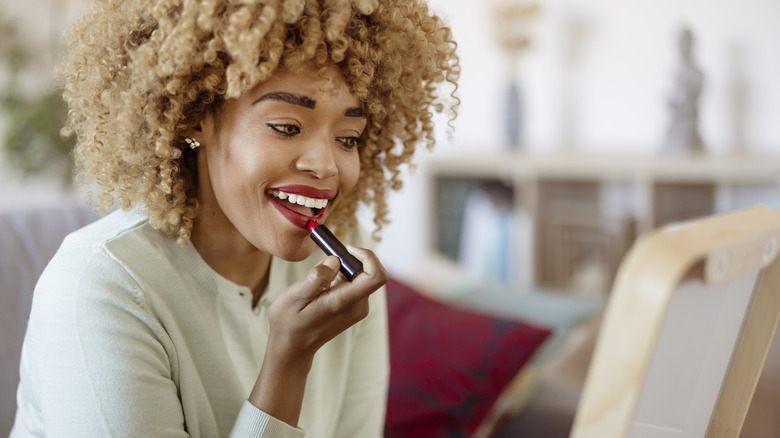 Pixelseffect/Getty Images
These days, makeup trends change faster than you can say, "Lipstick!" But don't worry, we have you covered when it comes to staying updated with the latest in the world of makeup. At the moment, when speaking specifically of lip trends, it seems that the age-old preference for a bullet lipstick seems to be undergoing a change.
Advertisement
Makeup artist and executive director of Violet Grey's Violet Lab Sarah Brown shared this trend with Who What Wear. "Where lips are concerned, everything else is sort of having a moment," she said. "Instead of a traditional bullet, it may be a tinted lip balm. I think that people are wearing lip products differently."
According to Brown, bullet lipsticks are being replaced by products that condition the lips and give effortless results. "I'm interested in every other way to express yourself with your lips. It can be conditioning tinted oils, balms, and moisturizing liquid mattes that aren't lip gloss," she explained.
Bullet lipsticks vs. lip balms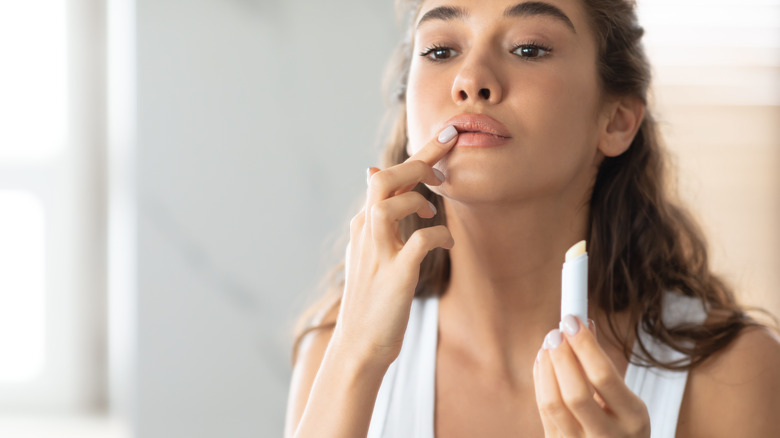 Prostock-studio/Shutterstock
A traditional bullet lipstick has been the lip product of choice for women for a long time because of the swipe of color it gives in an instant. In fact, through its varying formulas and shades, lipstick is seen as way to express oneself and let one's personality shine through makeup.
Advertisement
It is believed that the first lipsticks were used in ancient Mesopotamia, per With Simplicity. They were made with harsh ingredients like crushed gemstones such as garnets or the shells of insects. Fortunately, with time, more nourishing ingredients began to be used in the production of lipsticks, including oils and natural pigments.
Lip balms, on the other hand, were always just a step in skincare routines and were not necessarily viewed as a replacement for lipsticks. Usually made of a wax-cream mixture that provides hydration and repairs chapped lips, lip balms are essential items even for those who do not wear makeup. It can be argued therefore, that lip balms have always been more popular than bullet lipsticks, as they serve a different need. Now, people are beginning to replace the function of lipstick with the more practical lip balm.
Advertisement
Whether you call it a response to the era when transfer-proof matte lipsticks ruled the roost, or a return to simpler preferences after the pandemic, moisturizing lip options like balms, oils and glosses are definitely taking over their color-saturated counterparts.
Some more trending lip options
Lip oils are another versatile option that is becoming increasingly popular today. A lip oil is similar to a balm, though it has a slick texture, and gives a light wash of color similar to a traditional bullet lipstick. One gets the hydration they need with an easy application, and it can still mimic the look of a lipstick. When the weather is excessively dry, lip tints or lip oils with some color are the best options to choose. Lip glosses can also perform this role, but some women prefer not to use them if their formulas are sticky or too shiny. On the other hand, "Matte lipsticks really kill the skin on your lips because of the high alcohol content in them," makeup artist Namrata Soni tells Lifestyle Asia. 
Advertisement
With natural matte makeup looks catching the attention of every makeup lover this year, it is clear why this lip trend is popular these days. If, however, you are not quite ready to give up your colorful lipsticks just yet, you can play around with the trend in a way that suits you. You can dab a hint of color on your lips with the lipstick and apply a lip balm or lip oil on top for a more natural look.