Nail Brightener Can Make Your Trendy Barely-There Manicure Shine Even More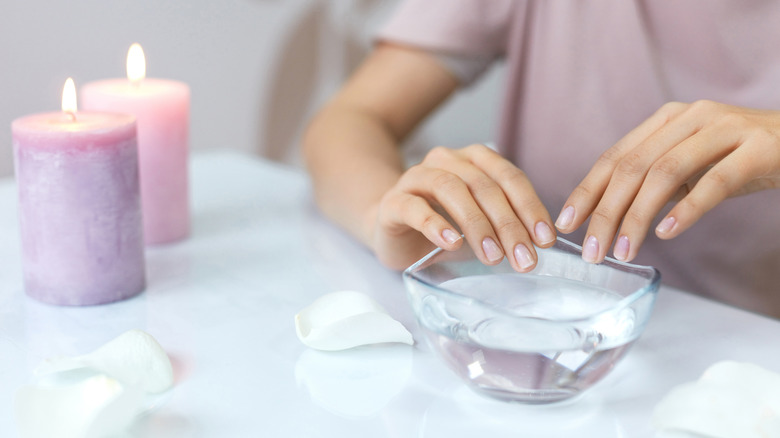 Puhhha/Getty Images
When you're in a low-key, relaxed mood, you may be drawn to a barely-there manicure. Also great for professional attire, clear or nude barely-there nail polish manicures are perfect for keeping things simple without having to worry about a bright pink or metallic blue nail polish having obvious chips around the edges. Barely-there manicures are easy to care for, look classy, and can boost your mood along with your confidence. For an even greater boost, nail brightener may be the secret you've been missing out on to make your barely-there manicure shine!
According to Into the Gloss, there are dozens, if not hundreds, of options for a barely-there manicure that is trendy yet classy from your thumb to your pinky. Your manicure of choice could be a cool coffee hue, an off-white or opaque coat, or something with a solid light pink shade. Whatever your choice of polish, adding a nail brightener into your manicure routine can help your nails shine more than you probably ever knew they could. Here's what you should know about how nail brightener works, why it's the secret tool you've been lacking, and how to use it for the perfect shine added to your minimalistic manicure. 
How nail brightener enhances your manicure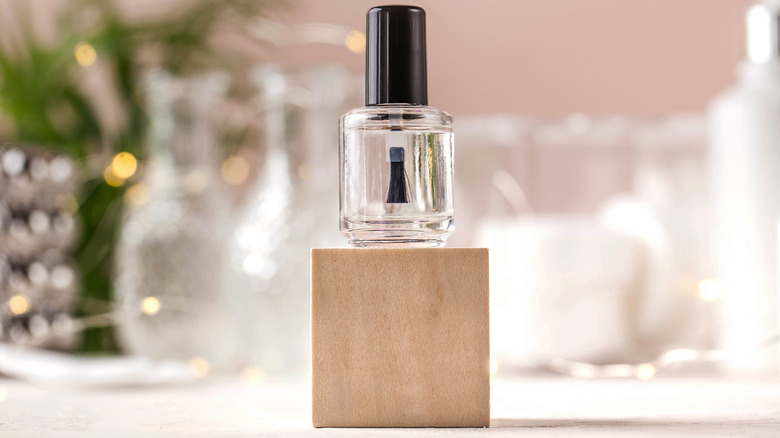 Victoria Popova/Getty Images
If you want to give your barely-there manicure an extra shine, using a glimmer of nail brightener can literally make your nails brighter. But how exactly does nail brightener work? Having begun as a treatment for nail conditions such as fungal infections, overly dry or cracked nails, and yellow discoloration, nail brighteners are similar to nail whiteners but with some added benefits, reports Yahoo! Finance. 
You may be surprised to learn that the damage from getting regular manicures at your local salon can outweigh the pleasurable aspects of having newly minted and freshly polished nails. You might not have even known that your regular go-to manicure can damage nails. But the poking and prodding of the nail beds, cuticles, and sensitive skin around your nails, in combination with constant absorption of the pigmentation elements in colorful nail polish, can lead to nails becoming dull and even discolored. Add in the effects of daily life on your fingernails and you've got the perfect recipe for damage that may have gone unbeknownst to you until now. Don't panic, though! This is where nail brightener comes in to save the day.
Applied similarly to a clear nail polish top coat, a nail brightener can add a shimmering shine to your nails while also reversing the appearance of dullness and discoloration. As the name suggests, they can brighten the appearance of your nails and restore their natural sheen by counteracting dullness from wear and tear. 
There are additional benefits of using nail brightener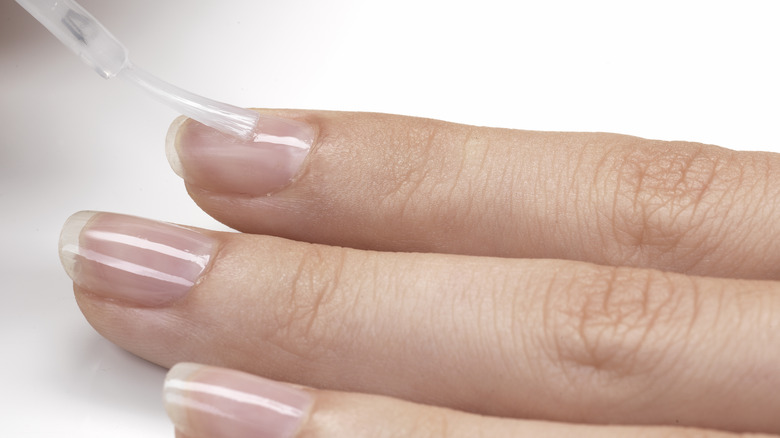 Riccardo Bianchi2/Getty Images
When applied on top of your bare nails or on top of a barely-there manicure hue of nude, opaque, or clear polish, nail brightener can brighten the appearance of your nails, but there are also some additional benefits that are worthwhile to the longevity of your nail health. As you search for a nail brightener, look for options that include ultraviolet (UV) protection so that your nails and the skin beneath and around them can be protected from the sun. This is especially relevant as the small areas of nail beds can be susceptible to skin cancers just as much as any other part of your body, says the American Academy of Dermatology Association. Best of all, you don't need a UV lamp to set nail brightener, as you do with other manicures.
Opting for nail brightener can also help you avoid succumbing to fungal and bacterial infections, simply because you're not having your nails done in a salon where there's a risk of contact with tools that aren't properly cleaned. Healthy skin, nails, and UV radiation-free manicures are certainly in style. Take this as your sign to prioritize your nail health with a nail brightener!