15 Ways To Style An Effortlessly Chic Silk Scarf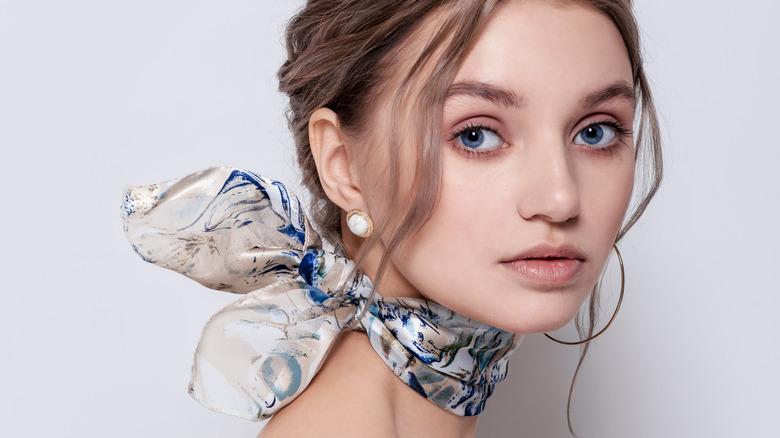 Ta-nya/Getty Images
The spring and fall months are a favorite time of year for many, but there's another reason fashionistas love this time of year — scarves. When the weather is blustery and the wind whips our hair, we want to wear something we can easily put on and take off. Silk scarves are just the right accessory to keep on hand because they never go out of style. Breathable and lightweight, a high-quality scarf made of silk will elevate any outfit and keep you cool throughout the hotter parts of the day or give you an added layer of warmth if a stiff breeze picks up.
Advertisement
Most of us are aware that a scarf is generally worn around one's neck, more or less tied in a knot. But a silk scarf can be styled in many more ways than the traditional way and can be a versatile accessory in your closet. It's no wonder the silk scarf has been a classic staple of women's wardrobes for many decades — it's a basic for your spring capsule wardrobe. Your outfit can go from a meager 6 to a talk-of-the-town 10 simply by adding a silk scarf. Scarves come in all kinds of colors and patterns and can fit anyone's style, so don't be afraid to pick one or more scarves that go well with your wardrobe and elevate your fashionista status.
Wear it around your neck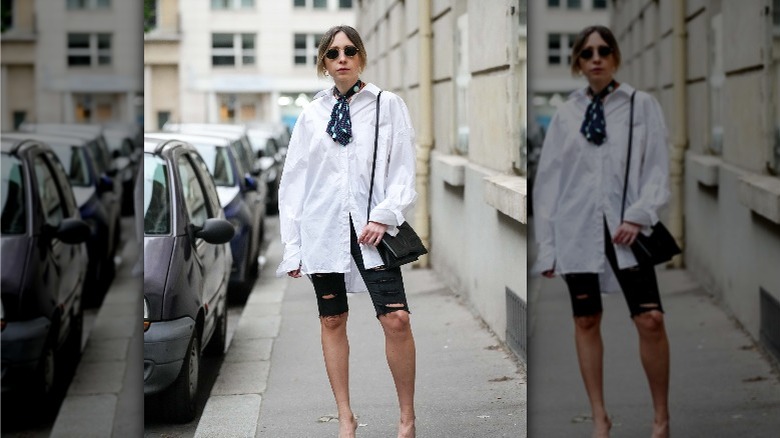 Edward Berthelot/Getty Images
The classic way to wear a silk scarf is tied around your neck in a simple knot. It's quick and can be matched with almost any outfit. The outfit pictured above of ripped capri jeans and a simple white button-up is ultra-casual. The polka-dot silk scarf adds a pop of interest that draws your eye up to the wearer's face.
Advertisement
Of course, there are multiple ways of tying the scarf to further elevate your outfit. And there's no need to limit the scarf to a casual outfit — try one with a summer dress.
Use it as a bracelet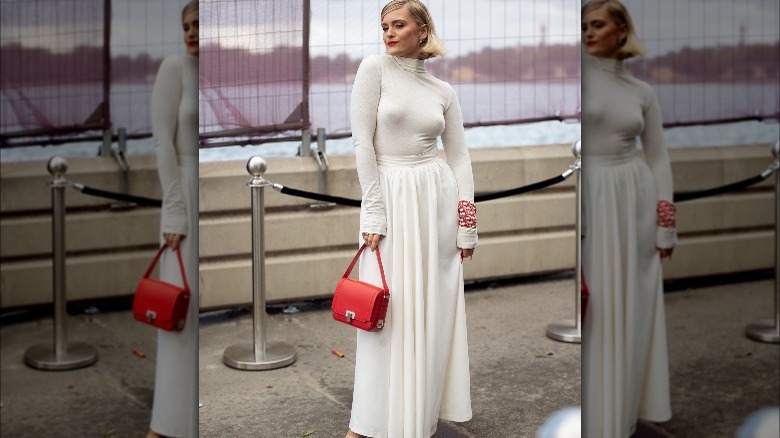 bez_bretelky/Shutterstock
Accentuate a monochromatic look with a silk scarf of a different color, but tie it around your wrist instead. The silk scarf can be worn as jewelry, complementing virtually any outfit. Although our example in this photo is quite elegant, darker-colored scarves can also add to a jeans outfit.
Advertisement
Shorter or longer silk scarves can be used for tying around your wrist or changing up the kinds of knots you use to achieve a different look. Use looser knots to create a more feminine look and tighter, more complicated knots for business or street outfits.
Wear it as a headscarf
Wearing a headscarf is not as old-fashioned as you might think — a stylish silk scarf can elevate your spring or fall outfit with just the right touch of whimsy and flair. It exudes old-world glamour as well as old-money style. You can leave your scarf longer or fold it over more times to shorten the overhanging corner.
Advertisement
Silk scarves as headbands are traditionally worn with casual outfits, unlike most other ways you can wear a silk scarf on this list. 
Wear it as a headband
Okay, so you could technically just wear a silk headband, but if you've got a scarf handy, there's no need to go and buy a silk headband. Simply fold your scarf as thin or as wide as you want and wrap it around your head, tying it either at the top or bottom. You can wear one scarf in so many ways with so many outfits!
Advertisement
If you're feeling creative, take a plain headband and wrap your silk scarf around it to turn it into a more fashionable accessory.
Use it as a tube top
Think you have nothing in your closet to wear? Transforming your silk scarf into a tube top takes it from sidelined accessory to front-and-center fashion. You can fold your scarf as wide (or thin!) as you want it to be for your top and to ensure it's not see-through. Then secure the ends with safety pins in the back or sides to hide the ends. You could also highlight the spots you secure your scarf together by using smaller brooches, creating a button effect on the front or back of your top.
Advertisement
Let it double as a belt
Want to be fashionable but not stand out? Adding a silk scarf to your beltline can be an understated way of incorporating an elegant piece into an otherwise casual outfit.
Simply fold the scarf to the desired width and wrap it around your waist, tying it off in a knot or a simple bow. You can also loop the scarf through the belt buckles and tie your outfit together in the middle, so you can wear contrasting tops and bottoms and use a silk scarf to connect individual pieces.
Advertisement
Wear it as a purse
Here's a new way to put your scarf to work that you may not have thought of: use it as a purse. If you've got yourself an extra large silk scarf, the kind you would usually drape around your shoulders, you could also fashion it into a quick, but totally fashionable, purse by simply tying the corners together, or you can go the permanent route and use something else for the handles in which to tie the silk scarf.
Advertisement
Don around your neck with a necklace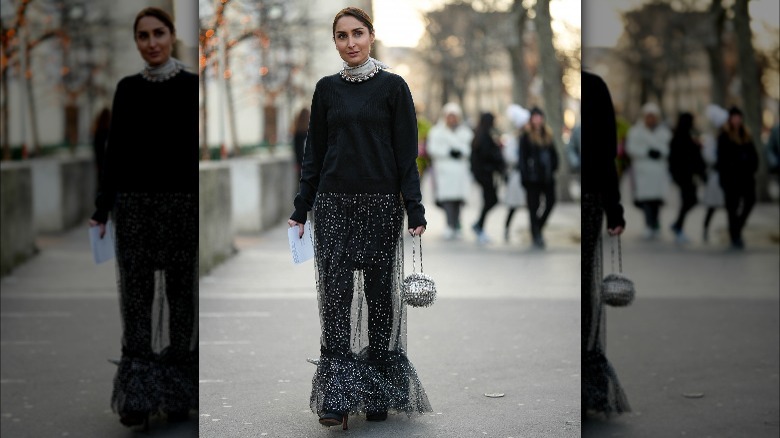 Edward Berthelot/Getty Images
Okay, before you chew us out for listing the same thing twice, hear us out. While wearing a silk scarf around your neck tied in a knot is one thing, it's a totally different fashion statement to wear it in conjunction with a necklace or even wrapped around a necklace. Yes, that's right: You can wear your scarf AND your necklace. Just find yourself a chunky necklace that coordinates with your outfit, and wrap your silk scarf around it loosely, tying the ends together at the back where the necklace clasps.
Advertisement
Add it to a ponytail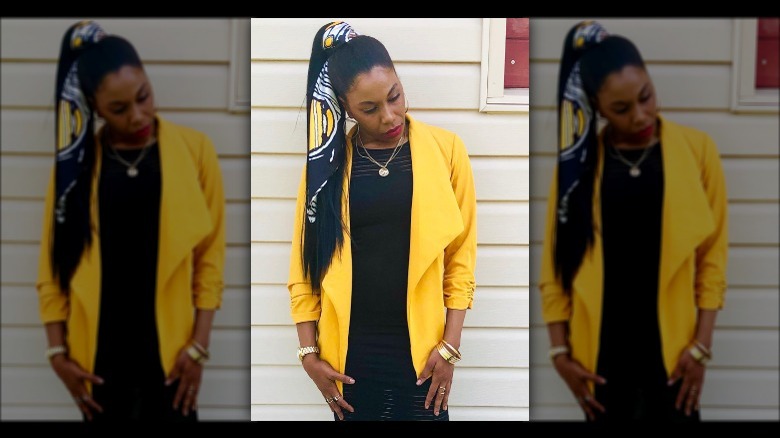 Instagram
An easy and effortless way to wear your silk scarf, besides just as a scarf, of course, is to add it to your ponytail. Slick back your hair, tie it up into a high pony, and use a hair tie to hold it. Then quickly wrap a silk scarf around the hair tie.
Advertisement
Go for a long and thin scarf to achieve a soft, feminine look for your overall outfit or a thicker scarf to get a bold look that ties your entire outfit together and directs the viewer's eye to the top.
Wear it as a mask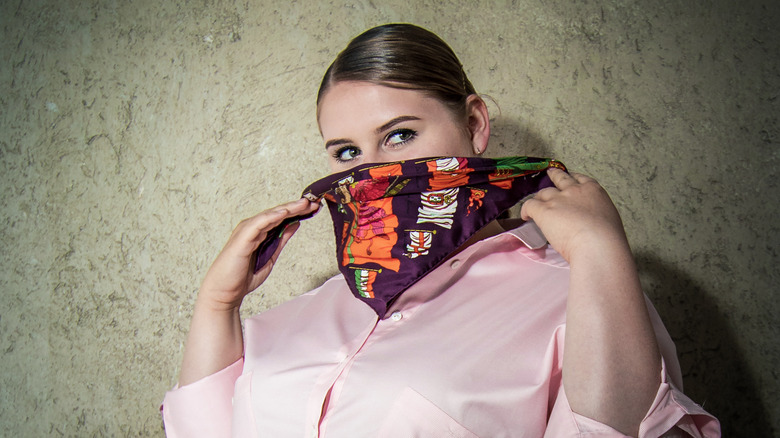 bez_bretelky/Shutterstock
Okay, so masks might not be as prevalent as they were two years ago, or even a year ago, but in some situations and environments, they can still be quite useful — sometimes even necessary. So, what's a fashionista to do when a mask will clash with her outfit? Well, you could go around and search for the perfect mask, but you could also just use that silk scarf you already own that would coordinate perfectly.
Advertisement
Don it as a bandana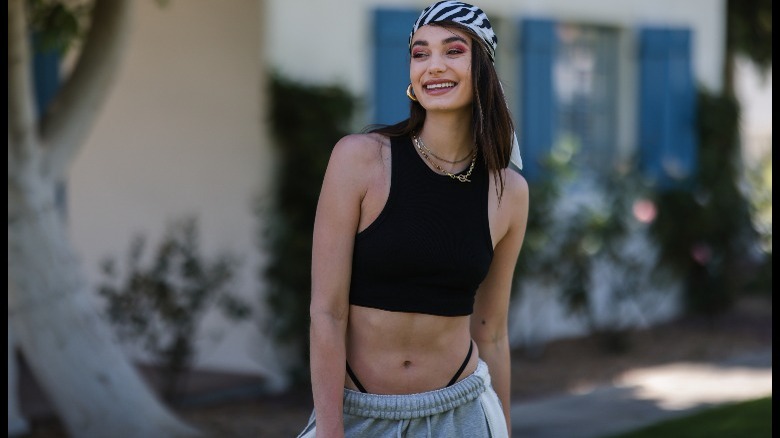 Jeremy Moeller/Getty Images
Bandanas have come a long way since their inception and have gone through a few fashion metamorphoses, the latest turning into a fashion statement for the more sporty of us. This particular outfit example is a super sporty and casual look that shows the addition of a silk bandana to add a little fun to the outfit. Think of it this way — if you've got some unworn silk scarves, but your style choices are more "Step Up" than "Legally Blonde," you've got the option to wear them as bandanas.
Advertisement
Incorporate it into a braid
Does your style lean more to the feminine but with a touch of casual and mom-life thrown in? Consider wearing your silk scarves by braiding them into your daily braids, keeping your hair back and out of your way but also looking fashionable — one example of a simple hairstyle that only requires a silk scarf. Upgrade a basic jeans-and-tee outfit with a colorful scarf that you might not have the opportunity to wear otherwise. Take it as a sign from the universe to dig those silk scarves out of your closet that have been crying for attention.
Advertisement
Keep it around your ankle
If you've already done the wrist tie with your silk scarf, consider trying something new. Tying a silk scarf around your ankle can be a bolder fashion statement and one that will put you one step ahead of your fashionable friends (pun very much intended!). Just a few pointers for your ankle accessory: Go with a small or short scarf to alleviate a tripping hazard and one with bright colors so your ankle scarf doesn't blend into the rest of your outfit.
Advertisement
Accessorize your purse with it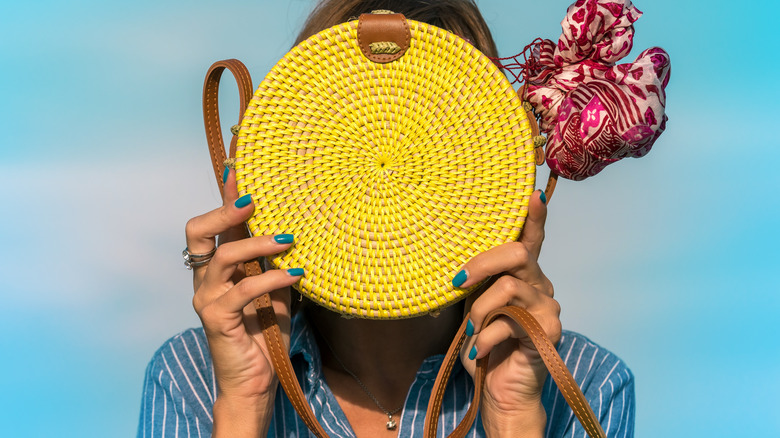 Artem Beliaikin/Shutterstock
If you're not an "accessory" person, the solution to your debacle could be adding your silk scarf to your purse. As most, or at least many, of us carry a purse at one time or another, tying a silk scarf to the handle or shoulder strap is one way to add extra pops of color to your outfit. The outfit pictured above makes use of all three primary colors by combining a blue dress with a yellow purse and, finally, a red scarf to tie it all together.
Advertisement
Wear it to keep warm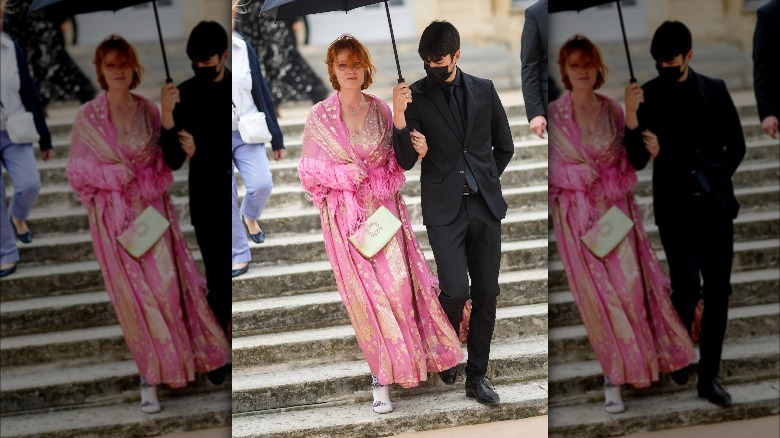 Edward Berthelot/Getty Images
We know we're perilously close to "shawl" territory here, but wrapping a scarf around your shoulders and wearing it as a jacket can be two completely different things. For instance, a shawl does not usually have the ends tied together and is usually wrapped closer to the body than a silk jacket would be. To create a jacket out of a silk scarf, drape the scarf over your shoulders and tie the ends together behind your back to create loose sleeves for your jacket so your silk scarf won't slip off your shoulders.
Advertisement