Wet Look Moments Are Everywhere (& We're Sensing A Trend)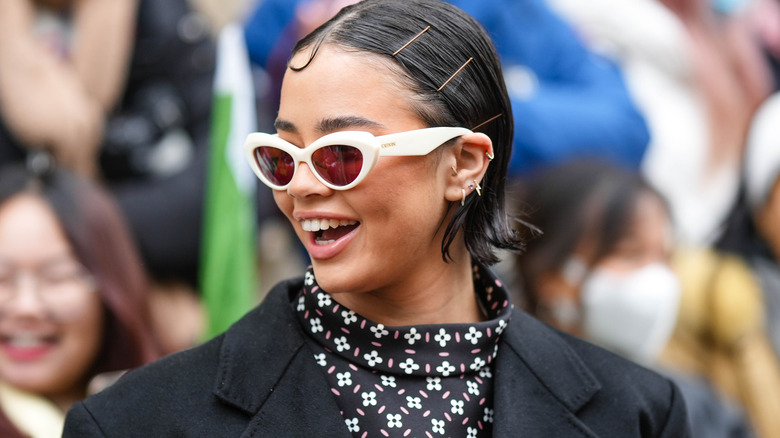 Edward Berthelot/Getty Images
Water is trending — and no, we don't mean whatever's going on over on WaterTok. Watery, wet looks are having a moment in the world of fashion and beauty. For starters, the wet-hair look first peaked last year when it hit several major runways at fashion week and was sported on the heads of celebrities like Hailey Bieber and Julia Fox.
Advertisement
Another water-adjacent trend is the mermaidcore aesthetic. The first signs of this emerging trend go back to 2021 when fashion shopping app Lyst reported that more users were searching for mermaid and ocean-inspired clothes and accessories. Soon after, under-the-sea shells and scallops became stylish, even among landlocked fashionistas. Most recently, mermaidcore made way for the shipwreck chic trend – think draped fabrics, netting, and glossy makeup.
Even with the fast-moving trend cycle, wet, watery looks don't seem to be going anywhere any time soon. Here's how the wet look trend is continuing to shape up in 2023.
Wet look hair is here to stay
Nothing epitomizes the wet look trend quite like the wet-hair look. And even if it might not be breaking news now, it's still just as relevant as it was in previous seasons. Case in point: Jennifer Garner. Celebrity hairstylist Adir Abergel gave a behind-the-scenes look at the actor's hair for the April premiere of her new series, "The Last Thing He Told Me," on Instagram. The style is sleek and slicked back, using mousse to give it a wet-and-wavy texture.
Advertisement
In February, Beyonce also sported a wet-hair look when she appeared at the Grammys with luscious water waves, courtesy of hairstylist Neal Farinah. To complement her mane, the singer donned a mermaid-esque metallic dress with a ruffled tail-like train.
In Vogue's round-up of 2023's trending hairstyles, hairstylist to the stars George Northwood noted that glossy, greasy hair was still on the rise. "Ultra glossy, impossibly shiny, wet-look hair is a 2023 trend that is set to be everywhere," Northwood explained. "On the catwalk, Chanel and Saint Laurent showed us how to wear this style at any length, whether it be center-parted, with a deep side part, down or textured." The style's versatility may be one reason why it continues to stick around.
Advertisement
Water droplet fashion is making a splash
If you've already checked the wet-hair look off your list and are ready to try something new, the latest incarnation of wet look styles might be right for you: water-inspired accessories and embellishments. Sofia Richie's glamorous wedding look included this up-and-coming trend, specifically on her veil. According to Vogue, Richie's custom-made Chanel veil was finished with resin water droplets for a unique and luxurious touch.
Advertisement
Similar adornments are popping up in other places too. Drippy rhinestones, à la fashion influencer Aimee Song at this year's Revolve Festival, are another way to hop on the water-inspired trend, albeit in a distinctly Y2K way.
Water fashion is also having a moment on TikTok, in what user Izzi, a creator who regularly posts style-related content, calls the "dry wet look." In one viral video, she shows off a "dry wet" dress embellished with dewdrop beads. In another popular clip, Izzi gushes over a clear necklace made to look like water droplets. The TikToker isn't the only one into this trend — the comments section is filled with users asking where they can get a similar style. We have a feeling you're about to see a lot more watery, wet fashion and beauty looks really soon.
Advertisement