How Using Two Different Brow Pencil Shades Can Benefit Your Look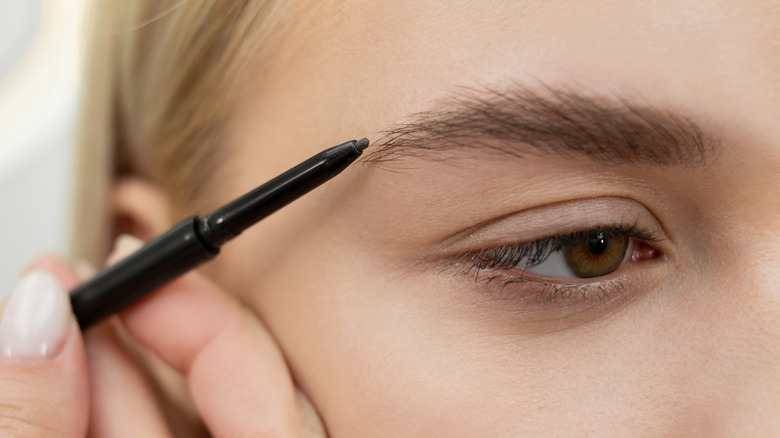 Artem Zakharov/Getty Images
Eyebrows do wonders for helping to shape the face, explaining why makeup geared toward the brows specifically is widely popular nowadays. In 2021, brow gel sales skyrocketed to a staggering total of $264.9 million, according to Allied Market Research, and that's just brow gel alone!
With so many of us on the prowl to discover new hacks that'll take our brow game to the next level, we tend to cast our gaze toward makeup artists and celebrities for the latest trends and best tips. Examples of popular brow hacks include using self-tanner as an eyebrow tint and brow mapping. Not to mention, some rely on microblading or microshading for more of a permanent solution.
However, there is one unexpected brow hack that can help you achieve a more natural look. Have you ever thought about using two different brow pencil shades? Let us explain as we break down how you can pull off the technique in no time.
Using two brow pencil shades creates a natural look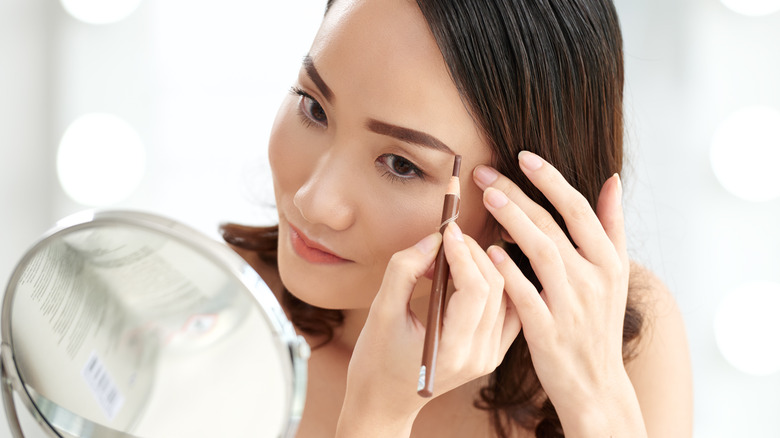 Dragon Images/Shutterstock
If you've never considered using two brow pencil shades before, doing so may seem a little strange at first, but it creates a subtle look that you can easily pair with any makeup style. Sharing her tips with The Zoe Report, Anastasia Soare, CEO of Anastasia Beverly Hills, explains how to execute the look. "Use a darker color for the highest part of the eyebrows and one shade lighter for the inner part," she said. "You want it to be lighter because if it's too dark, it will look heavy around the eye." 
Don't have two shades on hand? Soare suggests using the same pencil but applying "very little pressure so it goes on lighter." Know that practice makes perfect. You can also try using a brow gel to mimic this hack, still choosing both a darker and lighter shade, according to StyleCaster. The end result should appear similar, though it is possible you may not get as much precision as you would from a pencil.
How to apply brow pencil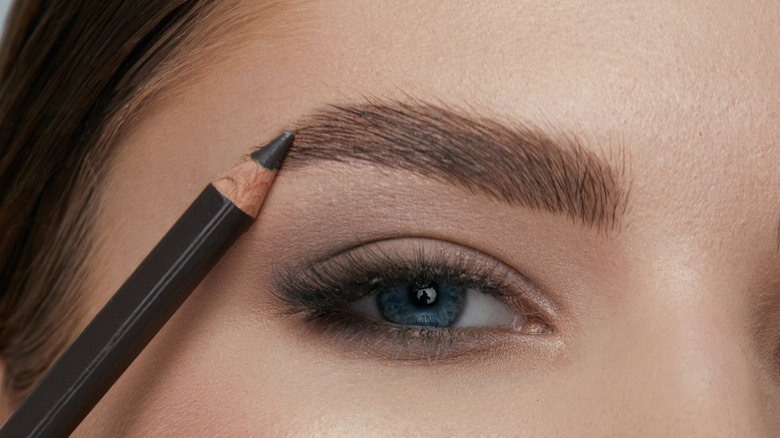 puhhha/Shutterstock
Before trying out this hack, make sure that you are using a good-quality brow pencil. Also, don't press down too hard when applying the product, as you will want your brows to appear defined yet soft. Patience is key; you may not get the results you want on the first try and that's okay, so keep at it!
In addition, you can combine this technique with a few other interesting ones. For example, you could try using two shades of lipstick to create a unique look, or you can work in another makeup hack like microhighlighting, which is essentially just adding a highlighter to various areas of your face for an instant lifting effect.
When it comes to brow pencils, celebrity eyebrow specialist Joey Healy recommends using "small pencil strokes in sparse areas, and use your spoolie to brush to blend out harsh lines and create an even appearance," according to Makeup. The idea is to create natural-looking lines resembling your real brows. Once you're done, say hello to perfect brows!