Everything You Need To Know About Microblading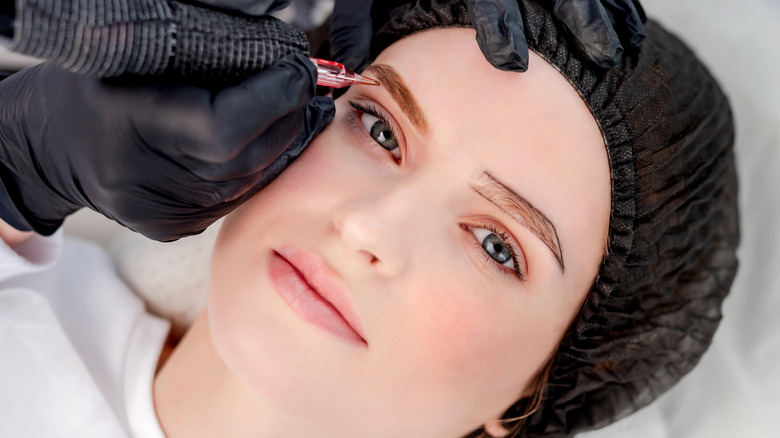 Tatyana Vyc/Shutterstock
Remember the '90s when pencil-thin eyebrows were really in? Some of us are still recovering from the trauma of overplucking our brows. Now, the trend is fuller, thicker eyebrows, and we have Cara Delevingne to thank for that. In fact, they may also make you more desirable. A study conducted at Oakland University in Michigan revealed that women with thicker brows were considered more attractive by men (via The Sun U.K.). Dr. Lisa Welling, the senior author of the study, added that it could mean that fuller brows mean you pay attention to "more grooming." There are many benefits of properly groomed brows as they can make your eyes look bigger with a little arch and can totally frame your face.
Advertisement
While some people are born with full eyebrows, others depend on eyebrow products to give the illusion of thicker brows. Shaping and filling in your brows is an art form in its own way, and some people are amazing at it, while others can struggle a bit. Thankfully, if you don't want to spend time every morning doing your brows, you can try microblading. According to Medical News Today, microblading is incredibly popular and is when you literally use semi-permanent ink to draw tiny, natural-looking hair-like structures to make them look fuller. Microblading can save you all the time you would spend on your brows. They always look perfectly done, but before you consider getting it, there are some things you need to know.
Advertisement
What is microblading?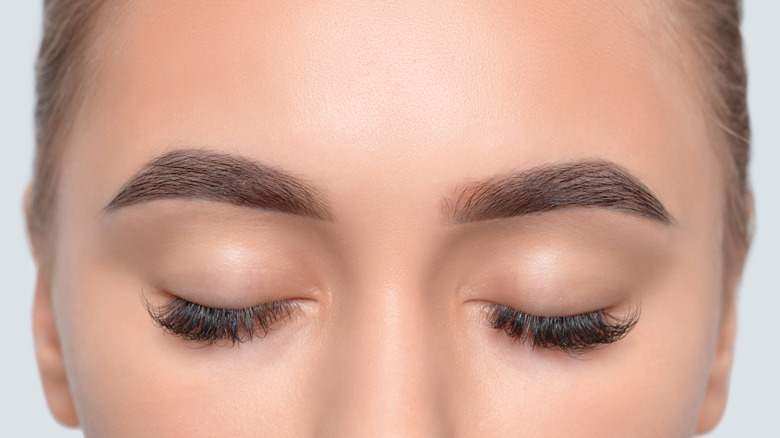 dimid_86/Shutterstock
You will undoubtedly notice a difference between day and night when your eyebrows are microbladed, but it's vital to consider certain factors before going under the needle. In fact, microblading expert Suman Jalaf of SumanBrows Beauty Atelier told Elle, "Microblading is a type of eyebrow architecture. It is all about creating the best shape for each face — a totally bespoke approach for each client." It differs from tattooing your eyebrows because the ink stays on the skin's surface rather than going deep into it.
Advertisement
Cosmetic tattooing like permanent eyeliner and lip bushing are having a moment in the beauty world as they save you tons of time getting ready in the AM as you wake up looking perfect, and microblading is the most popular of them all. The eyebrow artist uses a fine needle to add pigments in the form of "natural looking eyebrow hairs" under the top layer of your skin to give the illusion of thicker brows per Allure. Brow artist and licensed esthetician Dana Pellegrino told the outlet, "The microblade tool has very fine needles. You would use this tool along with implanting the ink to create each hair stroke." Microblading is not the same as ombré brow shading or brow lamination, however.
Who should get microblading?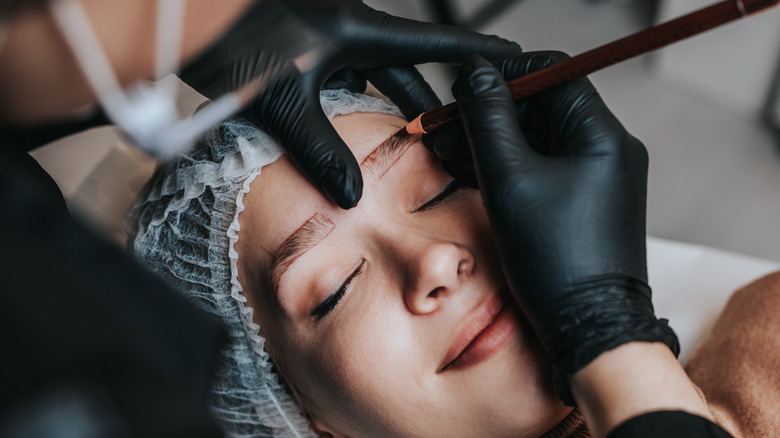 hedgehog94/Shutterstock
Microblading is a great way to get beautiful brows where the ink mimics natural and realistic-looking hairs, so it'll look like you were born with them. It's not just for those who don't have full brows, either. In fact, those with thicker brows can try it to shape and accentuate their natural brow shape. According to Cosmopolitan, you need to consider your skin type more than your brows before getting it done. Those with very sensitive or oily skin, are prone to acne and breakouts, or those with keratosis pilaris should probably avoid it.
Advertisement
 Using needles and ink on your skin will inevitably cause some inflammation, which might not be the best idea for those with reactive skin. "I try to warn patients against microblading if they have sensitive skin, or if they're prone to allergies with other types of topicals," dermatologist Tracy Evans, M.D., told Cosmopolitan, warning that they might get potential "itchy, scaly, cracked rash." Those who are pregnant or breastfeeding should also avoid this procedure.
Ultimately, if having perfect eyebrows is essential to you and you spend time filling them in every morning, you might be the right candidate to invest in this procedure. Furthermore, Los Angeles-based board-certified dermatologist Ava Shamban told Allure, "I think it is an ideal treatment for restoration of the eyebrows," recommending getting them done at your dermatologist's office as they can address any complications immediately.
Advertisement
What to do before your microblading appointment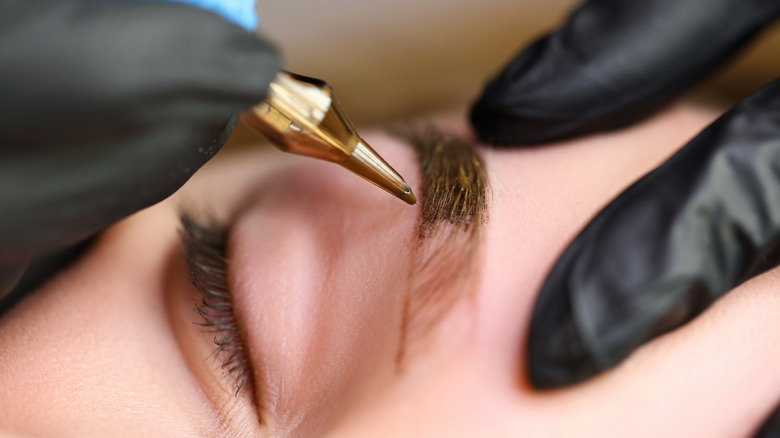 megaflopp/Shutterstock
Microblading can give you the illusion of having naturally luscious eyebrows. But you have to first prepare for the procedure and take proper precautions to ensure the best results and minimize risks. Since microblading is a form of cosmetic tattooing, your skin may bleed or be ultra-sensitive during and after the procedure. For this reason, it's best if you limit alcohol and caffeine intake and stop blood thinning medication for at least 24 hours before your appointment. You should also avoid getting your eyebrows waxed or threaded and limit the use of retinol and chemical peels for at least a few days before getting your eyebrows microbladed.
Advertisement
Since your esthetician has to cleanse the eyebrow area and outline your eyebrows to achieve your desired shape before microblading, it can also help to avoid makeup in case it causes extra irritation. It's also crucial to verify that your esthetician has the proper licensing and knowledge to microblade your eyebrows as there is a risk of infection if not done properly.
What to expect from your microblading appointment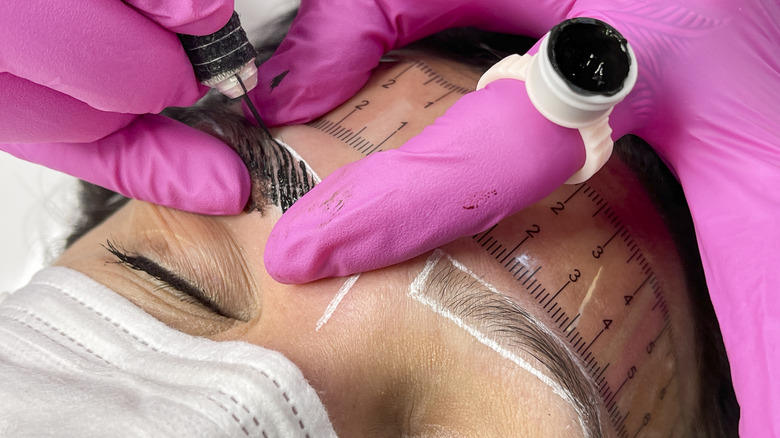 Renata Angerami/Getty Images
So you've decided that microblading is a good fit for you. But before you go, let's find out what you can expect during your procedure from start to finish. Like most beauty procedures, your appointment will likely start off with consent forms and paperwork to understand your health history. Following this, you can expect your technician to map out the perfect eyebrows, which includes measuring and outlining your eyebrows with a waterproof pencil after consulting with you on the best shape, width, and length for your face. However, you should ensure that your technician isn't relying solely on a stencil and spends time actually mapping out your eyebrows, advises brow expert Marry Torres in an interview with the Greatist.
Advertisement
After your brow mapping is complete to your satisfaction, the esthetician will apply a numbing cream which may take a few minutes to kick in. Once you're comfortable, they will slowly start going in with the microblading tool to microblade your eyebrows to your liking. If this is your first session, the procedure should take no more than three hours. Once the procedure is complete, your esthetician will wipe off the excess pigment and hand you a mirror to see if any touch-ups need to be made. They will then go over the aftercare instructions and let you know if a follow-up appointment is necessary.
Is microblading painful?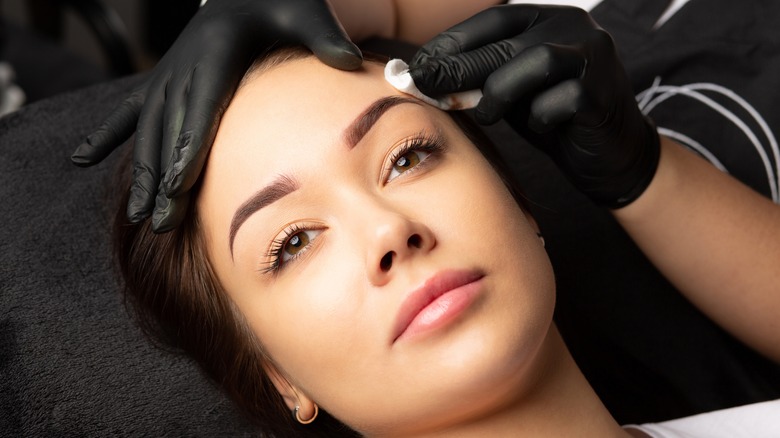 Viktoriya Pavliuk/Shutterstock
Truthfully, your pain tolerance has a lot to do with whether you find this procedure painful or not. Regardless, it's important to keep in mind that though this is a beauty procedure, you are getting your eyebrows tattooed. So, if you've ever gotten a tattoo, you may have a better idea of the pain level to expect. Essentially, the procedure consists of depositing pigment into your eyebrows by making hundreds of tiny cuts or breaks in the skin. A numbing cream is typically applied before starting the procedure, which may help minimize some of the pain.
Advertisement
Healthline describes the type of pain from this procedure as a constant scratching sensation. More often than not, you may just experience slight pressure more than actual pain from the procedure due to the numbing cream. It's also fairly common for the area being microbladed to bleed a little and feel slightly bruised for about 24 hours, after which it should return to normal. The best way to tell if you can handle the pain is to see if you can tolerate waxing or threading your eyebrows. The pain level experienced during microblading should be just one small step above that. However, if you're still concerned about the pain, it's best to talk to your esthetician beforehand to see if the procedure is a good fit for you and how they can make you feel more comfortable and minimize the pain.
Advertisement
Microblading aftercare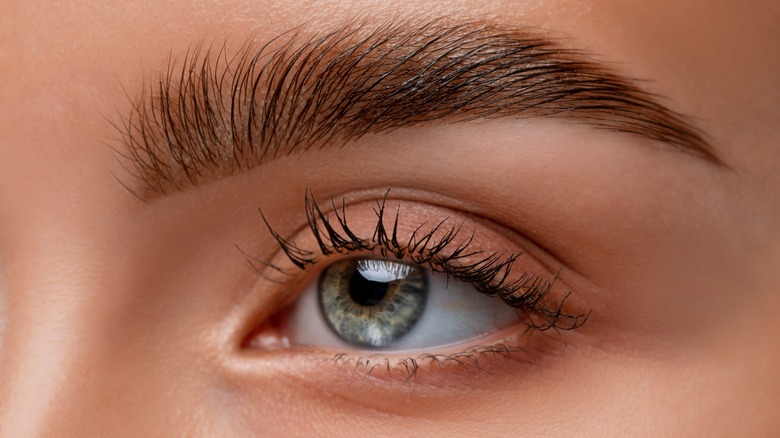 dimid_86/Shutterstock
If it's your first time getting microbladed, your microblading artist should go over the aftercare instructions with you and address any questions or concerns that you may have. Since the area near your eyebrow will be slightly tender and sensitive, it's important to thoroughly wash your hands with antibacterial soap before touching your eyebrows. You can expect to follow your aftercare routine for around seven to 14 days, after which your eyebrows should be healed.
Advertisement
Your aftercare routine should consist of gently washing your eyebrows with water and a cotton pad or swab around two or three times per day and following up with a thin layer of medicated ointment or cream, depending on what's advised by your esthetician. For a faster healing process, it's also advisable to avoid washing your hair excessively, exfoliating or harshly rubbing your skin, wearing makeup near the area, exposing yourself to direct sunlight, tanning, and picking at any scabs on your eyebrow (per Healthline). Following this long list of aftercare tips will allow your eyebrows to recover quickly and return to normal so that you can enjoy the best possible results.
Potential risks of microblading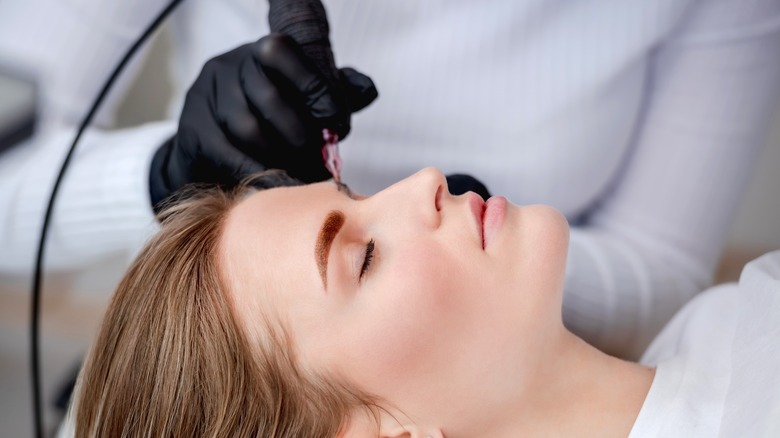 Tatyana Vyc/Shutterstock
Unfortunately, any cosmetic procedure comes with its own set of risks or side effects. So, although microblading is considered a safe procedure if done by a certified cosmetologist, it does involve injecting a cosmetic dye into your skin with a needle. This means that side effects have a shot at creeping up. According to WebMd, if any equipment is contaminated, an infection like HIV, hepatitis, or herpes can occur. It is also possible to have an allergic reaction to microblading. If you notice increased swelling or redness, then you should definitely consult a doctor for further treatment.
Advertisement
Though it is rare, there is a chance that small bumps like a keloid could form as a reaction to microblading your eyebrows. In addition, it's important to disclose that you have your eyebrows microbladed in case you're getting an MRI as it could interfere with the results. In order to minimize risks, it's best to follow instructions before and after your procedure as closely as possible. If you have health concerns like having sensitive skin or hyperpigmentation; have had Botox done; suffer from a history of autoimmune diseases; or are pregnant or nursing, it's best to consult with your doctor before getting microbladed (per MyMed.com).
The cost of microblading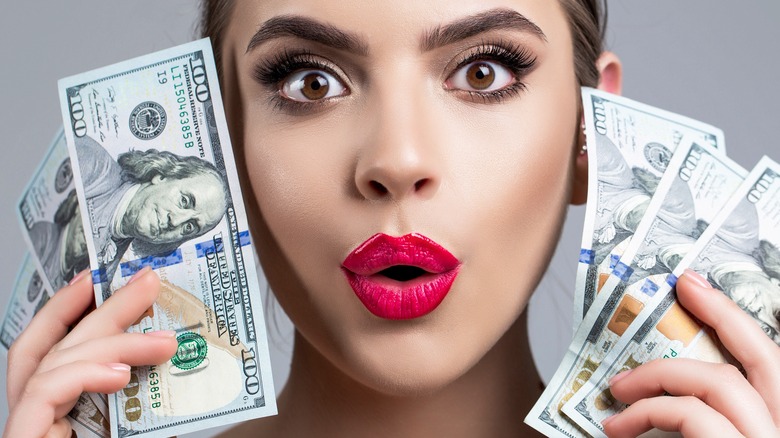 Body Stock/Shutterstock
The price of perfect, natural-looking brows isn't cheap. Allure estimates the cost of microblading to be anywhere between $600 to $1,000. Meanwhile, Cosmopolitan offers a more comprehensive range between $500 to $2,000, but, as always, it can all depend on the experience and popularity of the artist, as well as your location. You'll have to do your research to find a good place within your budget.
Advertisement
According to PMUHub, the average cost of initial microblading appointments in the U.S. is $597. However, the outlet notes that it can range anywhere between $250 and $2,000 depending on many factors, including where your professional got trained. Generally, the touch-up is about $100 cheaper than the initial appointment, so you can rest a little easier knowing that the high cost for the initial appointment won't remain as high for subsequent visits.
Ultimately, microblading is fairly safe, and even though it can be expensive, it's a great solution for fuller brows for those who can afford it. With so many beauty scams around, it's simply good to know that microblading is legitimate.
How long do results from microblading last?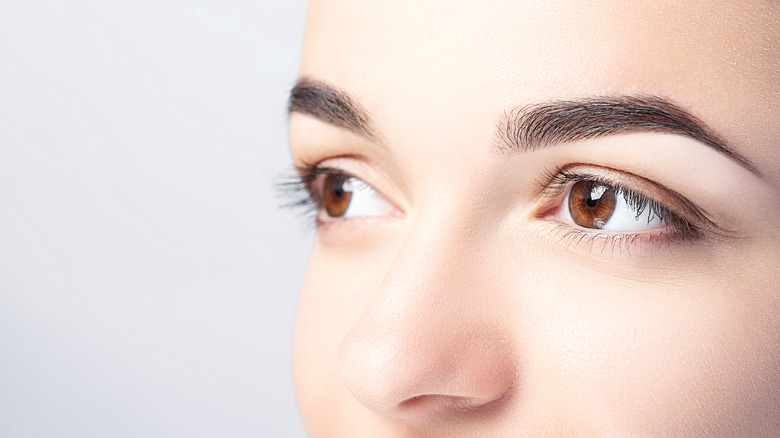 Studio_May/Shutterstock
If you're splurging to get your eyebrows microbladed, then you're probably looking for long-lasting results. Typically, a microblading procedure lasts anywhere between 18 to 30 months. However, it is recommended that you get yearly touch-ups to keep your eyebrows looking perfect. "If for some reason, the client does not want a yearly touch-up, the microblading will fade and become undetectable," says Melissa Byrne, owner and founder of ARCHES Salon in an interview with Parade.
Advertisement
Since microblading is typically semi-permanent, it's pretty common for it to fade over time. However, your lifestyle and overall health do play roles in how long the pigment lasts for you. For instance, oily skin can cause problems with microbladed eyebrows. This is because excess sebum production or even too much sweat can interfere with the healing process and also cause the pigment to fade faster. It's also important to avoid makeup or skincare products near the eyebrows during the healing process as this can interfere with the end results. How you take care of your eyebrows after the procedure, in addition to the skill of your technician, has a lot to do with how long your microbladed eyebrows will last.
Advertisement
Can microblading prevent eyebrow growth?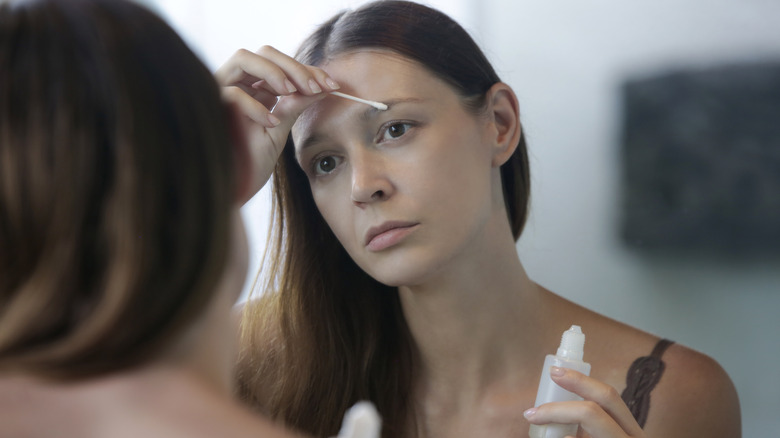 triocean/Shutterstock
If you're getting your eyebrows microbladed, then you're probably looking to have luscious and full eyebrows without doing any damage to your natural brows. It's a common myth that microblading can shunt hair growth and cause you to have sparse eyebrows. This means that you can rest assured that no hair will fall out or get thinner due to the procedure.
Advertisement
However, it is crucial that you go to a licensed expert during the procedure as damage can occur if the procedure is done incorrectly. While microblading shouldn't normally disrupt your hair growth, if too much scarring occurs, where the blade goes too deep into the skin and causes infections or damage due to improper technique, then there's a chance that your hair follicles can be impacted. Yet, when performed properly by a trusted esthetician, then microblading should have no impact on your eyebrow growth. If you're still worried about it impacting your natural brows, then consult with your esthetician on safe ways to boost or stimulate hair growth, like utilizing hair growth serums or oils after you get your eyebrows microbladed.
Advertisement
Microblading vs microshading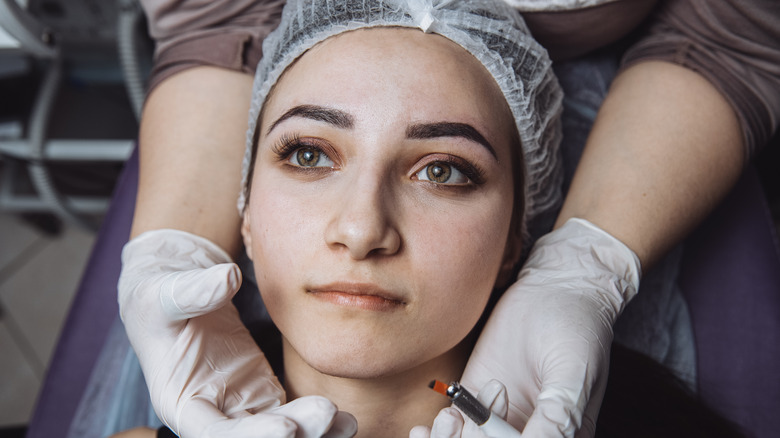 Burdun Iliya/Shutterstock
You may have heard of the sister of microblading: microshading, which can give you the full brow effect. But what exactly is the difference between these two services? For starters, microshading utilizes pins or dots of pigmentation rather than a bladed needle to apply pigment to your skin. Microshading — not to be confused with microfeathering or nanoblading — produces a more powdered brow effect that looks similar to a bold thick brow that you would get after utilizing makeup to fill in your eyebrows. If you have very thin eyebrows and need a big change, then microshading may be a good fit for you. However, those looking for a more natural effect should opt for microblading as it has a much softer finish and utilizes strokes that complement or highlight your natural eyebrows.
Advertisement
It's also important to keep in mind that microshading tends to be more suited to oiler skin types and can last as long as two years. Similar to microblading, a touch-up is required after this time to keep up your desired effect. According to StyleSeat, the average cost of an initial microshading appointment is $362 in the U.S., though this cost can fall to upwards of $1,000 in bigger cities (per Harmony Med Spa). Ultimately, it comes down to the eyebrow effect that you desire when choosing between microblading and microshading.
Can you undo microblading?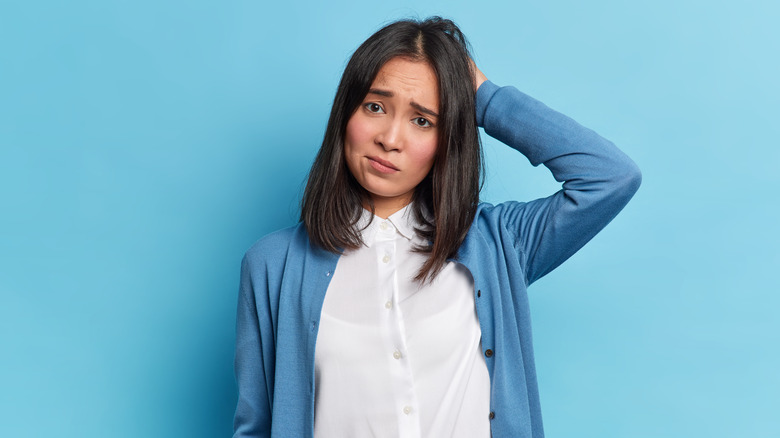 Cast Of Thousands/Shutterstock
So, you've finally decided to get your eyebrows microbladed. But what happens if you are unhappy with the results? The good news is that, since the treatment is only semi-permanent, it can be reversed. If you're unsatisfied with the current results of your procedure, there are a few different methods to fix the damage. First, try to see if a simple touch-up or correction could solve the issue. This is especially encouraged if your brow has faded to a different color. "A color correction is a fairly easy fix where an orange-based color neutralizes that unwanted tone pretty much instantly," says tattoo artist Shaughnessy Otsuji in an interview with RealSelf.
Advertisement
However, if you want to completely reverse your procedure, then you can also opt for laser tattoo removal since your eyebrows are technically tattooed during microblading. Though this may be a bit painful, it will completely reverse the procedure. Just be prepared for a few sessions as it can take time to get the ink off layer by layer while keeping your skin intact. 
Saline removal is also a natural alternative to laser removal. This process involves injecting saline into your eyebrows to reverse the microblading procedure. However, it should be administered by a licensed cosmetic professional. You can also wait for the service to fade on its own by not getting any touch-ups, though this process can take up to two years.
Advertisement