Everything You Need To Know About Microblading
Tatyana Vyc/Shutterstock
Remember the '90s when pencil-thin eyebrows were really in style? Some of us are still recovering from the trauma of overplucking our brows. Now, the trend is fuller, thicker eyebrows, and we have Cara Delevingne to thank for that. Apparently, they also make you more desirable. A study conducted at Oakland University in Michigan revealed that women with thicker brows were considered more attractive by men (via The Sun U.K.). Dr. Lisa Welling, the senior author of the study, added that it could mean that fuller brows mean you pay attention to "more grooming." There are many benefits of properly groomed brows as they can make your eyes look bigger with a little arch and can totally frame your face.
While some people are born with full eyebrows, others depend on eyebrow products to give the illusion of thicker brows. Shaping and filling in your brows is an art form in its own way, and some people are amazing at it, while others can struggle a bit. Thankfully, if you don't want to spend time every morning doing your brows, you can try microblading. 
According to Allure, microblading is "probably the most popular permanent makeup treatment" where you literally use semi-permanent ink to draw tiny, natural-looking hair-like structures to make them look fuller. Microblading can save you all the time you would spend on your brows. They always look perfectly done, but before you consider getting it, here's what you need to know.
Consider these facts before microblading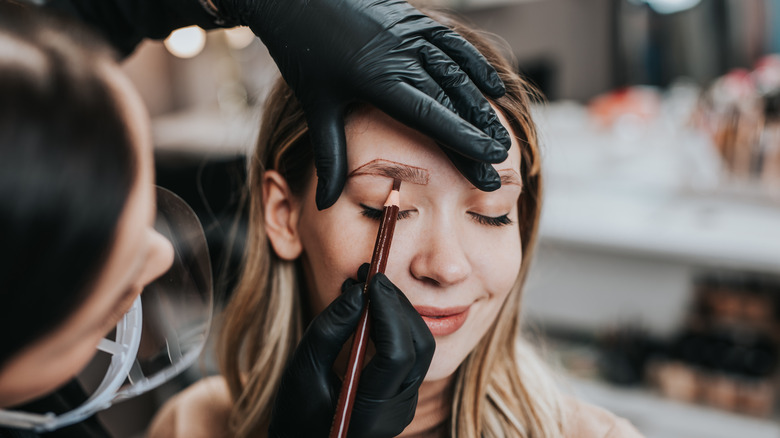 hedgehog94/Shutterstock
You will undoubtedly notice a difference between day and night when your eyebrows are microbladed, but it's vital to consider certain factors before going under the needle. For instance, microblading expert Suman Jalaf of SumanBrows Beauty Atelier told Elle, "Microblading is a type of eyebrow architecture. It is all about creating the best shape for each face — a totally bespoke approach for each client." It is different from tattooing your eyebrows because the ink stays on the skin's surface rather than going deep into the skin. Microblading can be done on all skin types and tones and traditionally lasts between one to three years. Cosmetic tattoo specialist Piret Aava recommends going back for a touch-up four weeks after your initial appointment to check if you like it once it has had time to heal, per Cosmopolitan. Then, you can wait up to a year for another appointment.
The price of perfect natural-looking brows isn't cheap. According to PMUHub, the average cost of initial microblading in the U.S. is $597. It can range anywhere between $250 and $2,000 depending on your location, the experience and popularity of the artist, and where they got trained. Generally, the touch-up is about $100 cheaper than the initial appointment. Since you use a needle in the procedure, there are always risks involved with the possibility of getting an infection if you do not follow proper aftercare. Read the reviews online, ask around, and only go to a certified microblading artist.