The Lyst Index's Hottest Fashion Item Of The Year Signals A Shift In Spending Habits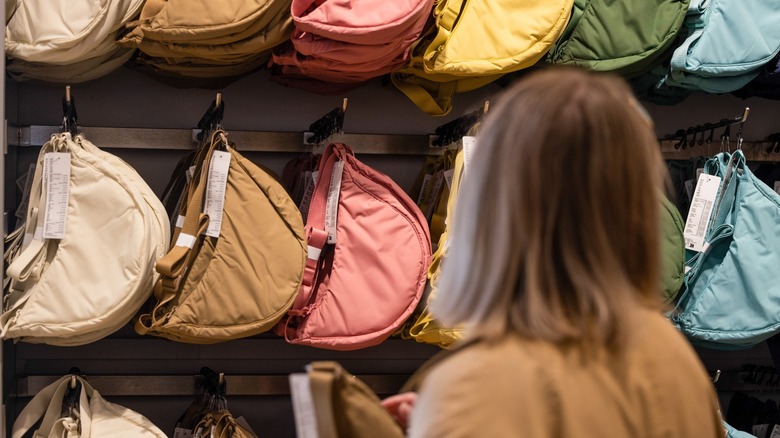 Bloomberg/Getty
The Lyst Index has come out for the first quarter of 2023, and the results are causing a buzz. The highly regarded list uses data from sales, social media, and consumer reviews to rank the most popular products in the fashion world. Instead of the typical designer brands and luxury goods that make the top of the list, the beginning of 2023 has shown that at the top of the Lyst Index is a Uniqlo purse that currently retails at $20.
Advertisement
Yes, you heard that right: the biggest item in the fashion world, across both social media trends and sales data, is none other than the Uniqlo Round Mini Shoulder Bag, an incredibly standard purse made from a sturdy polyester material.
The power of a decent everyday purse is undeniable, but it's a big change in the fashion world for a low-priced, relatively basic product to outpace major designer brands. This upset could signal exciting changes in consumer habits through the rest of the year, with shoppers pivoting away from the promotion of luxury excess in favor of practical, crowdsourced product recommendations.
The Uniqlo bag trend
Anyone who spends time on the fashion side of TikTok already knows that the Uniqlo Round Mini Shoulder Bag has become one of the purse trends you'll be carrying with you all summer long. Videos tagged "Uniqlo bag" have received a total of 2.2 billion views, and it seems like virtually every style influencer is recommending the compact purse as a wardrobe staple, propelling the handbag to a bestselling item.
Advertisement
So, why does such a plain bag gain so much popularity? If you look at the TikTok content related to the Uniqlo purse, you'll see that most users are discussing the practical features of the bag, particularly the large storage capacity. The Uniqlo Round Mini Shoulder Bag also receives high praise for its versatile strap options, durable material, and easy folding for packing into a suitcase.
In short, consumers are drawn to this item as a convenient travel bag and reliable going-out purse — a financially accessible investment that's one of the essentials you need to build a capsule wardrobe. And if the appeal of a quality basic item at an affordable price can outperform flashier name brands (the purse ranked above Adidas sneakers and an Alaïa handbag), this could mark a significant disruption to consumer behavior in the fashion industry.
Advertisement
What it says about consumer habits
The obvious reason for the Uniqlo bag's success is the cost: getting an affordable, long-lasting purse makes sense for consumers coping with inflation and a potential recession. However, the meteoric rise of a $20 purse becoming the hottest fashion product so far this year suggests a bigger change afoot than a slowing economy or a newfound love of polyester shoulder bags.
Advertisement
The latest Lyst Index report speaks to a redistribution of power in consumer habits. Name recognition is still appealing, but what's even more exciting for the contemporary consumer is to join an influencer in the discovery of a quality, stylish product. The numbers back this up: research shared in Harvard Business Review found that companies who promoted products with social media influencers had a greater return on investment than those who used traditional advertising.
Today's stylish shopper is more likely to make purchase decisions based on social media than a regular ad campaign, thus condensing the trend cycle into a blink of an eye. All it takes is one viral TikTok that reaches the right audience — say, a young adult looking for an inexpensive purse — for a seemingly random product to become a must-have accessory. Fashion retailers better stay light on their feet in the coming year, because all signs point to consumer spending habits that are informed, intentional, and above all, quick.
Advertisement