Pressed Vs. Loose Powder: Which Is Better For Your Makeup Look?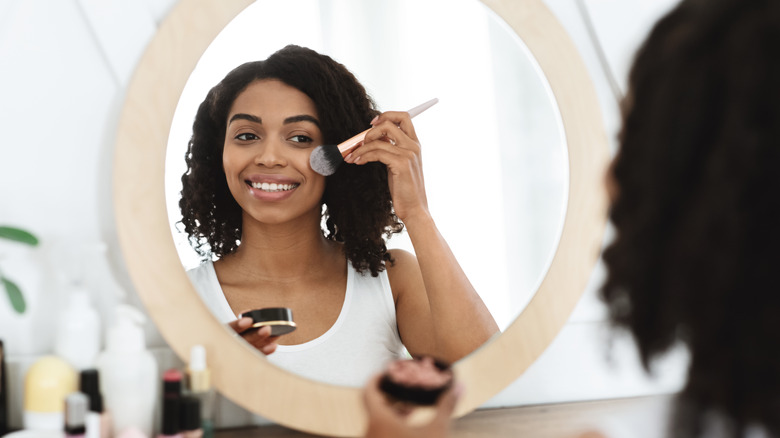 Prostock-studio/Shutterstock
Powder has long been a makeup staple for good reason: It mattifies the face, which is especially great for those with oily or combination skin, and helps your foundation to last longer with fewer touch-ups needed throughout the day.
Face powders first appeared in Roman times during the second century AD, and get this: They were made from chalk and vinegar! The goal was to lighten the face coinciding with the beauty standards of the time, of course. After the 1920s, though, face powders became available in various colors to match more skin tones. Still, it was uncommon to see the plethora of shades we're used to having today. At the time, makeup brands offered at most six shades.
Naturally, as face powders evolved so did their forms: pressed and loose. While they can be used interchangeably, there are key differences as well. Take your makeup to the next level by understanding how loose and pressed powders differ from each other.
What is pressed powder, and what is it used for?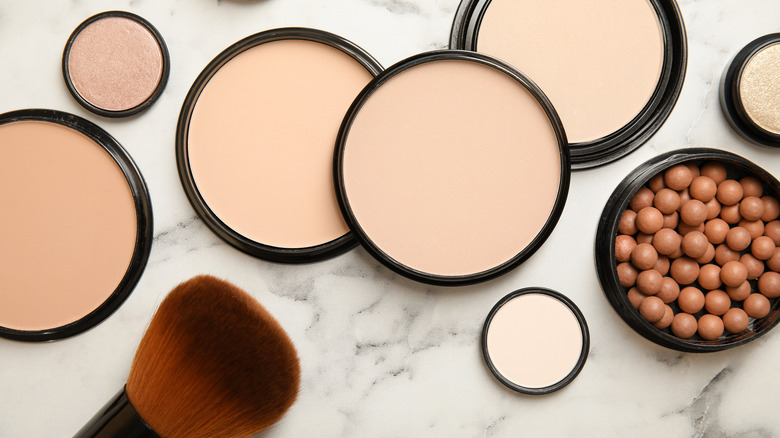 New Africa/Shutterstock
Ideal for when you want to keep your makeup in place all summer and touch it up on the go, pressed powder comes in a solid compact that should match your foundation perfectly. It is best applied with a soft powder brush to get a natural blended look. The goal of the pressed powder is to set your liquid foundation and concealer in order to add longevity to the products. Because it is meant to match the foundation, it can also be worn as a base for your makeup, or you can layer it over the foundation for extra coverage.
While any skin type can wear pressed powder, it is particularly useful for dry skin since it can help add moisture to the skin when combined with oil-based formulas. Make sure to use a light hand when applying, so it is easier to control the coverage.
What is loose setting powder best for?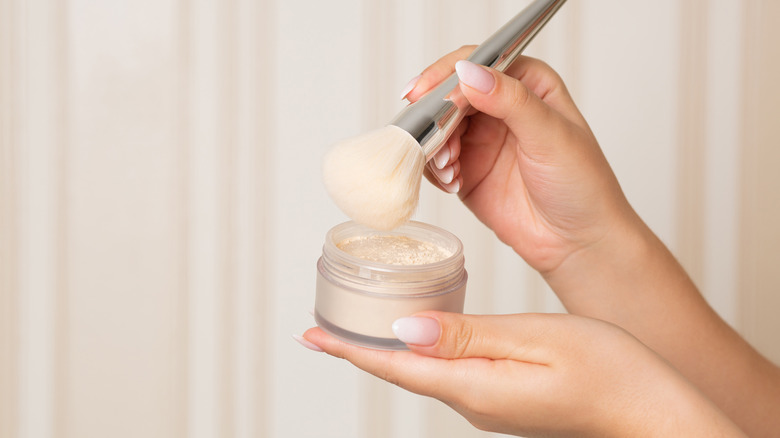 Viktoriya Pavliuk/Shutterstock
When it comes to loose powder, Helen Keegan, the head of education at Dermablend, explained to Makeup.com that its texture provides added benefits due to being more finely milled. Due to the loose texture, the wearer can get away with not needing an exact color match compared to pressed powder.
Because the loose setting powder is formulated without any oils, it is ideal for those with oily or combination skin. "It will set foundation, concealer, and cream color products with ease and will work over the course of the day to absorb oil as it appears, keeping you looking flawless for longer," Keegan says.
Not only is setting powder great for more glamorous looks, but it also allows you to do the makeup technique known as baking. Not familiar with the baking technique? The process itself calls for applying a generous amount of loose powder with a sponge to your under-eyes (after you've already applied your corrector and concealer). Afterward, leave it on for a few minutes to "bake" and therefore help avoid any creases. If you don't plan on baking, your best bet is to apply the loose powder with a kabuki brush.