Florence Pugh's Scarface-Inspired Bob Couldn't Be Easier To Replicate For Sleek, Retro Vibes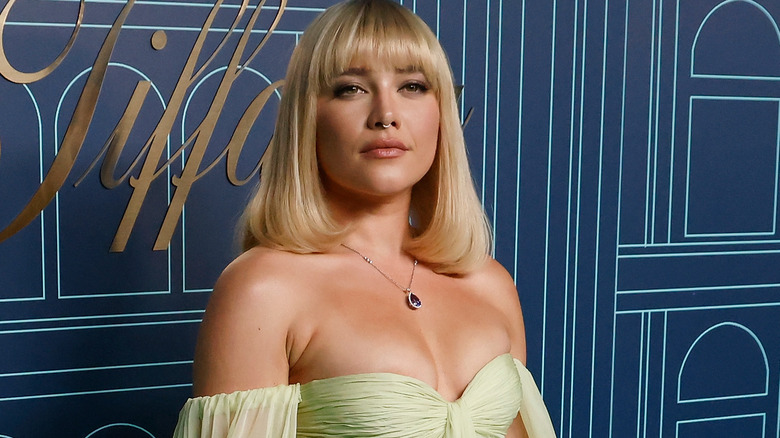 Taylor Hill/Getty Images
The iconic Al Capone-based mafia movie "Scarface" is beloved by many different communities for just as many different reasons. Its impact on American pop culture has spanned decades and inspired generations of subsequent filmmakers. An aspect of "Scarface" that isn't discussed or appreciated quite as often is its effects on beauty and fashion trends. Michelle Pfeiffer, in her portrayal of fictional mistress Elvira Hancock, put the curled-under long bob (aka lob) with blunt bangs on the map.
Advertisement
Recently, British actor and all-around it-girl Florence Pugh revived the Elvira Hancock look by sporting a fringed blond lob of her own at the reopening of Tiffany & Co.'s flagship store in New York City. The starlet nailed the raw yet contained sex appeal of the character while putting her own spin on the look with a lighter, icier shade of blond. In case you're as obsessed as we are, we've outlined exactly how you can replicate this retro cut and style. 
How to get the cut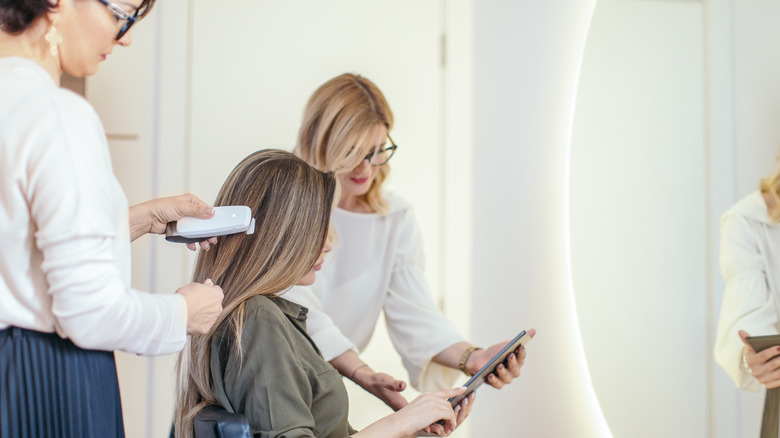 Miljko/Getty Images
First things first: We do not recommend cutting your own hair. If your goal is to recreate the Elvira lob and you don't want to risk completely ruining your locks, the first step is scheduling an appointment with a trusted and licensed hairstylist. While you wait for your appointment, make sure to save a photo of Florence Pugh's rendition of the cut (or one of its original iteration on Michelle Pfeiffer in "Scarface," if you prefer) to your phone or other mobile device.
Advertisement
When you arrive at your appointment, ask your stylist for a lob haircut with blunt bangs and then show them the photo you brought for reference. If you would like to deviate from the original look in any way, be sure to speak up before your stylist starts cutting! If you're also looking to replicate the blond color of Pugh's lob, discuss your goals with your stylist before committing. Depending on your hair's current color, going light blond could require multiple bleachings and a high risk of damage.
How to style your lob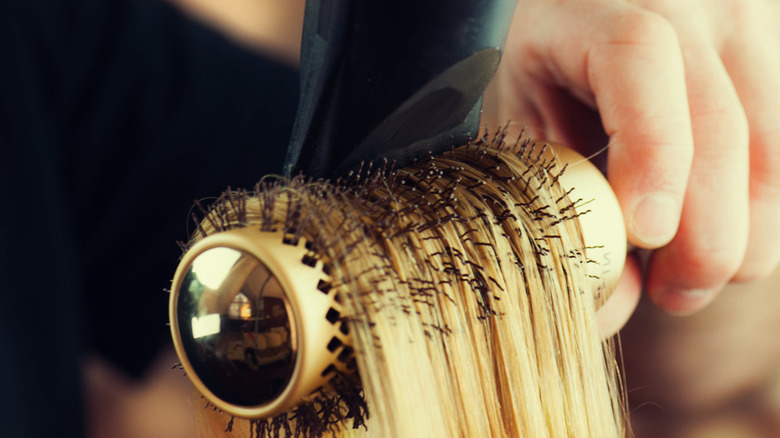 alekso94/Shutterstock
Styling a "Scarface"-style lob is really quite easy. All you'll need is a hairdryer with a concentrator nozzle, a round brush, a heat protectant product, and a finishing spray. If you happen to have a Dyson Airwrap or Shark FlexStyle, the process can be even further simplified. Start with clean, damp, conditioned hair. Apply your heat protectant spray or cream, focusing on the ends. With your hairdryer set to medium heat to prevent damage, rough dry your hair until it reaches the point of being about 80% dry for straight hair or 50% dry for curlier textures.
Advertisement
Once your hair is mostly dried, it's time to start using the round brush to curl the ends under. Hold your brush horizontally, apply it to the bottom of a section of your hair, and then slowly spin it away from your face, curling the hair in. Meanwhile, apply concentrated heat with your hairdryer until the section is dry. Repeat on each remaining section of hair. For your bangs, use the same technique, but spin the round brush inward toward your forehead. When all your hair is dry, simply coat it in finishing spray for a light hold. Voilà!