Never Let Short Hair Stop You From Creating The Best TikTok-Inspired Messy Bun Of Your Life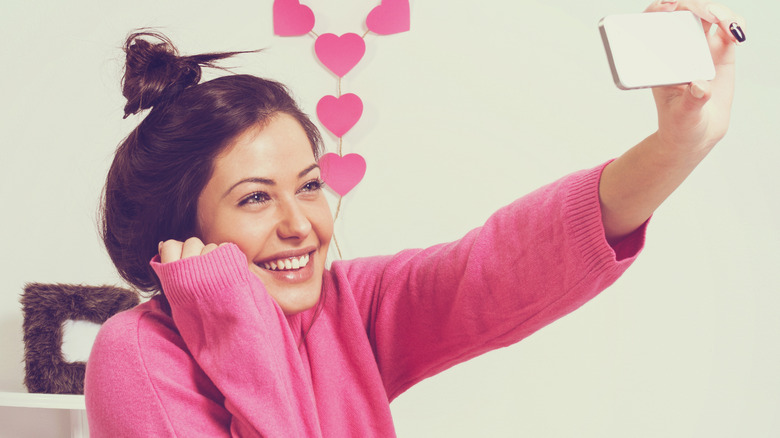 BigLike Images/Shutterstock
This short hair season has been bringing some fabulous looks, from the contour bob to the new bedhead bob trend. A short hairstyle keeps your hair off your neck and offers a sexy way to quickly style your hair during those busy, fun-filled summer months. But as cute and carefree as a summery cropped hairstyle is, it can leave everyone pining after another beloved warm weather hair aesthetic: the messy bun.
Advertisement
Messy buns are quintessential summer hairdos. It's what you wear on a hot day to have casual '90s Pamela Anderson vibes, or how you look put together for a midsummer formal event without sweating. Once you get the big chop and have your flirty bob, that formerly oh-so-easy messy bun now feels like an unattainable dream.
However, while a messy updo might take a little more finesse, you can still sweep up your short hair into a romantic, tousled bun with face-framing tendrils. All you'll need is a hair tie, bobby pins, and a little patience.
How to do a messy bun with short hair
There are a few ways to put short hair into an updo, with some involving more steps than others. You can see an example of the easiest way to put short hair into a bun via a TikTok clip by Alyssa RayeLee.
Advertisement
In the video, RayeLee starts by pulling all of her hair back into a small ponytail and securing it with a hair tie. For best results, the ponytail should sit just below the crown of your head, although if your hair is a little longer you can try to make a ponytail that sits higher, depending on your preference. Don't worry if your hair is too short to get it all into a ponytail — if there are some pieces hanging out at the base of the neck, they can be addressed in the next step.
Once the hair tie is secured, take strands of hair and pin them to the base of the ponytail. This will form the shape of a messy bun. Take small bits of hair at a time, playing around with the pins until you get the messy bun shape that you like. You can take any extra pieces that didn't make it into the ponytail and pin those into place, as well. Although the process is more involved than quickling wrapping your hair up, your finished style will still have the tousled effect you know and love, all while keeping your hair off your neck.
Advertisement
More short hair updo tips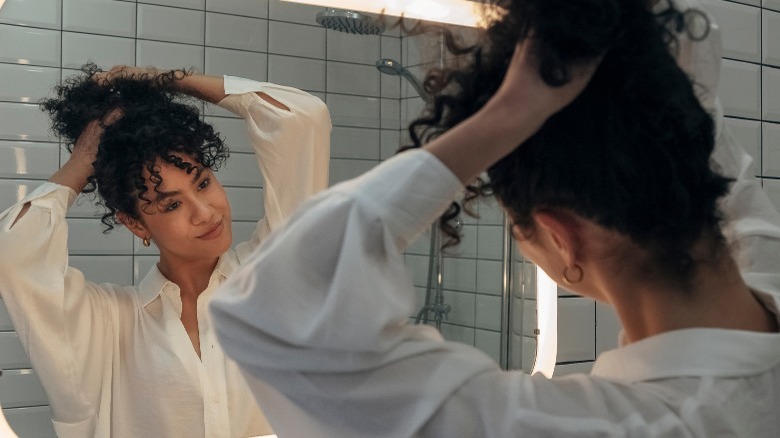 Daniel Hoz/Shutterstock
When styling short hair into an updo, the task at hand is less about pulling up a big swath of hair, as you do with long hair and more about arranging small sections of hair to create the visual effect of an updo. For this reason, shape and texture should be your primary concerns when making a messy bun with short hair (via Stylecraze).
Advertisement
In terms of shape, you need to decide where on your head you'd like the bun to be and how voluminous and messy you prefer it. If you like a more compact bun shape, you'll want to place your ponytail somewhere that all the length of your hair can reach and pin your strands in a tighter formation. On the other hand, to get a big, puffy, and messy bun with short hair, you may want to make a cluster of two to three small ponytails and only pin the longest strands, leaving the rest to stick out.
Folks with curly or wavy hair are all set in the messy bun department, as your natural texture is quite well-suited to the style. For straight hair, you'll need to create more texture to get a messy bun effect. You can use heat styling and curl the ends of your hair, or, for a lower maintenance approach, use a texturizing salt spray to create loose, beachy waves. Don't forget to leave a few wavy pieces around your face for a casual, natural look.
Advertisement