The Best Makeup Moments In Movie History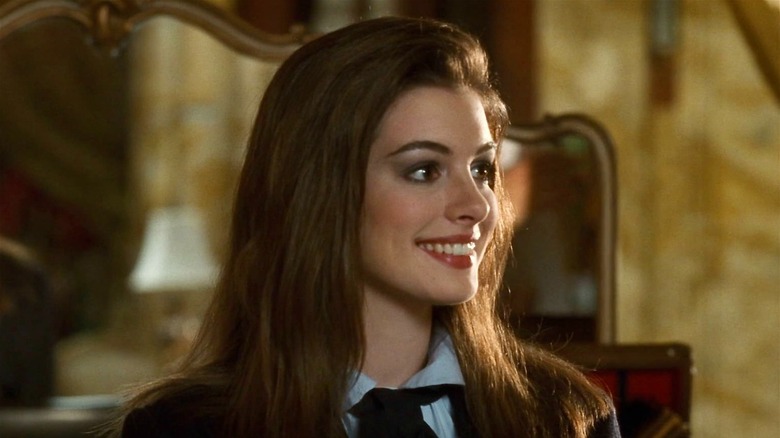 Buena Vista Pictures Distribution
We love a good movie just as much as the next person, but as fashion and beauty lovers, we're not watching films quite the same as everyone else. While others were trying to solve the case in "Glass Onion: A Knives Out Mystery," we were more concerned with seeing what Kate Hudson was wearing. The only case you could count on us to solve is the murder trial from "Legally Blonde." While we appreciate a stellar plot, we're just as obsessed with the aesthetic elements.
We especially love a good makeup moment. Animated or live-action, there's something incredibly gripping about watching a character transform through makeup, and there are plenty of films with stellar beauty scenes that we're totally obsessed with. Whether the character is undergoing a makeover or simply experimenting with tricks and products, we can't rewind these scenes enough. These are the best makeup moments in movie history.
Claire applying lipstick with her breasts in 'The Breakfast Club'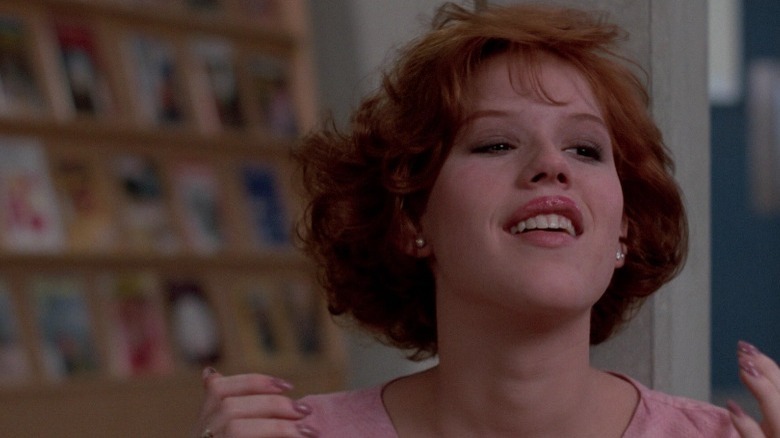 Universal Pictures
"The Breakfast Club" is rife with quotable lines and memorable moments. For beauty lovers everywhere, what sticks out more than John Bender's epic fist pump or the inimitable dance scene is Claire Standish's lipstick trick. After ensuring the rest of her detention mates won't give her hell for what she's about to do, Claire carefully rolls out her lipstick, sticks it in between her breasts, and bows her head, only coming up to show everyone the finished product — a perfect pout. It might be movie magic, but plenty of curious makeup lovers have given the technique a go.
Peg concealing Edward's scars in 'Edward Scissorhands'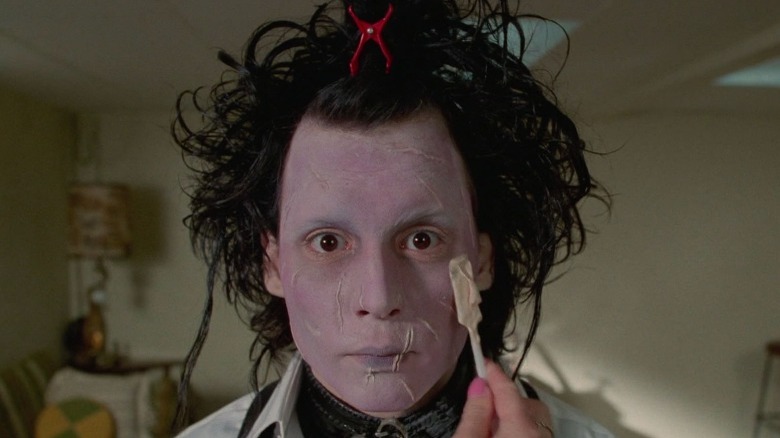 20th Century Fox
After finding Edward Scissorhands abandoned in an old mansion, Peg discovers something else that doesn't sit right with her: Edward's complexion. Finding both his shade and his scars a bit unsettling, Peg, the Avon representative, takes matters into her own hands and delivers us an amazing movie makeup moment by trying to conceal what she sees as Edward's blemishes while he somehow remains unaffected. Though the results are a goopy mess worthy of a phone call to an Avon executive, Peg does give us essential makeup advice: "Blending is the secret."
Ursula applying lipstick in 'The Little Mermaid'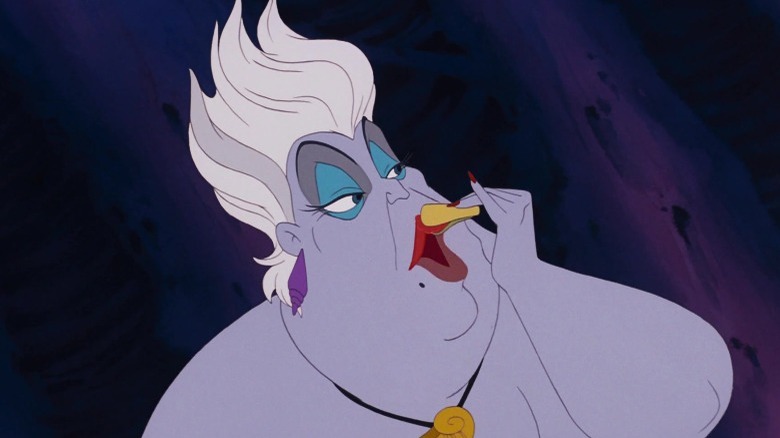 Walt Disney Studios Motion Pictures
Every villain has at least one skill that's worth emulating, and for Ursula, it's her lipstick application. In a matter of seconds, the famed sea witch takes her lips from dull to glamorous, proving that red lipstick is always a good idea. It's one of those movie moments we haven't forgotten since the first time we watched the film. Plus, it's the perfect finishing touch to her makeup look. Along with the turquoise cut crease, carefully drawn eyebrows, and exaggerated beauty mark, the lips make for the perfect marriage of quintessential '80s and Old Hollywood glamour. Ursula is a veritable glamour icon.
Mulan wiping her makeup in 'Mulan'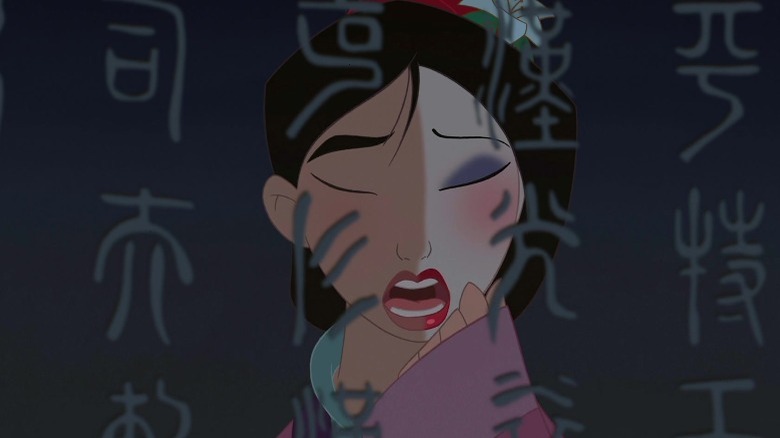 Buena Vista Pictures Distribution
Mulan's family preparing her to meet the matchmaker is as fun a watch as any scene in the movie. There's something incredibly enjoyable about watching animated makeup being applied. A perfect wing liner put on with one smooth flick of the wrist? Heaven to watch. But what's far more satisfying is watching Mulan remove her makeup just moments later. While it's empowering to see Mulan choose to be herself no matter the cost, seeing her remove her full glam with two careful swipes across her face is even more enthralling. Unrealistic? Sure. But satisfying, nonetheless.
The Zeta sisters giving themselves makeovers in 'The House Bunny'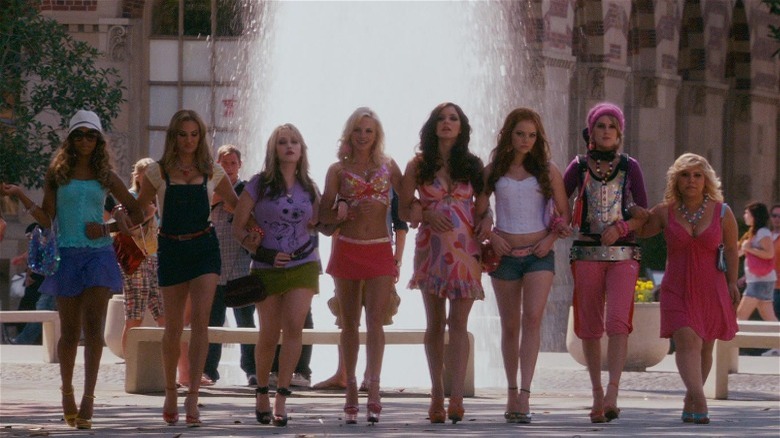 Sony Pictures Releasing
If a professional model wanted to give us a makeover, we'd definitely be intrigued. Who can blame the girls of Zeta Alpha Zeta for letting their new self-appointed housemother teach them her best tips and tricks for a photo-shoot-ready face? It's a fleeting moment, but watching Shelley instruct the girls on how to highlight their eyes, or "the nipples of the face," as she likes to call them, is unforgettable. Though we're partial to the more individualized looks the ladies wear later in the movie, we love their Shelley-inspired glam.
Dionne and Cher transforming Tai in 'Clueless'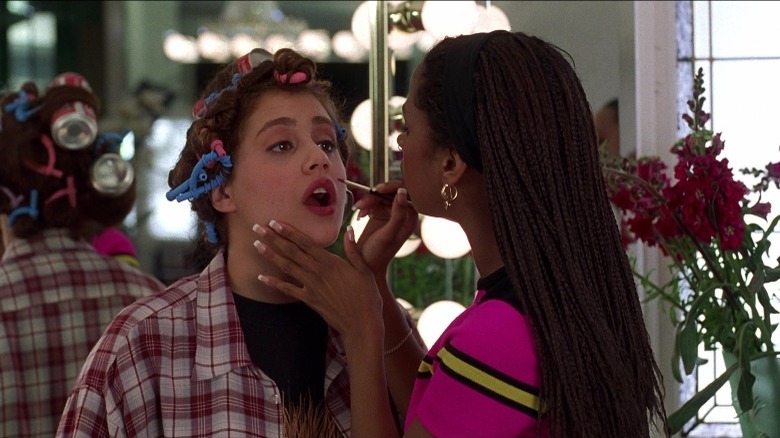 Paramount Pictures
Cher Horowitz is a one-of-a-kind character. And while some, namely her step-brother Josh, might not see giving a makeover to a friend as the noblest of ways to help someone out, if it aids in someone gaining confidence, we think a makeover is damn near selfless. And ethics aside, this is one iconic makeover. From the pop-can hair roller to the rotating closet, the details are immaculate, and the setting is cinematic history. And who can't relate to having to blink like crazy their first time wearing eyeliner?
Laney becoming all that in 'She's All That'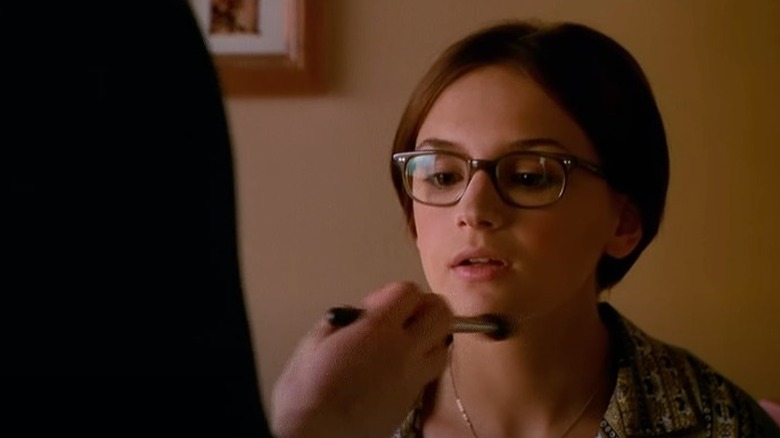 Miramax Films
We can all agree that taking off your glasses doesn't magically make you more beautiful (and here's a humble reminder that glasses are a necessity for most who wear them, not an accessory), but that doesn't make us love the makeup moment in "She's All That" any less. The ridiculous trope aside, Laney's makeover is wholesome and sweet, and more than anything, it proves that a confidence boost can do just as much to transform your look as freshly plucked eyebrows or a swipe of blush.
The opening scene in 'The Devil Wears Prada'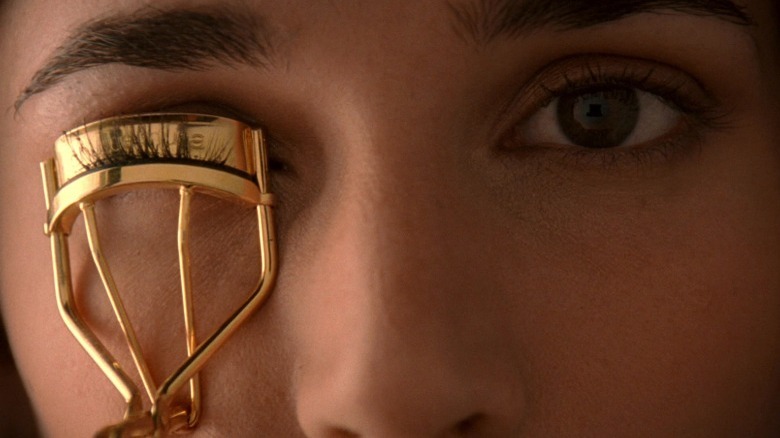 20th Century Fox
We could yammer on about all the iconic fashion moments in "The Devil Wears Prada" for hours, but we don't give the beauty moments the credit they deserve, and it's time that changes. The movie opens with a scene that perfectly encapsulates what it's like for any woman to get ready in the morning. Whether you're glamorous like Miranda Priestly or opt for a natural look like Andy Sachs — the juxtaposition between Andy applying chapstick and the women she's about to work with applying lipstick is high makeup cinema.
Mia turning into royalty in 'The Princess Diaries'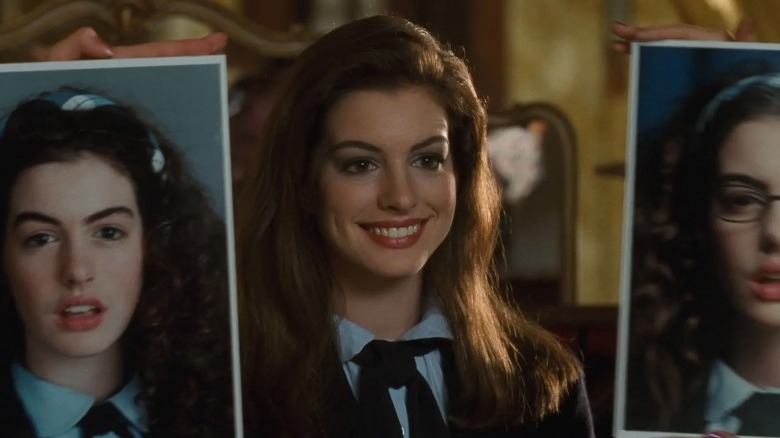 Buena Vista Pictures Distribution
No one should ever be forced into straightening their gorgeous curls, nor should they be shamed for the unruliness of their eyebrows, but we'll forgive a multitude of sins when it comes to "The Princess Diaries." Though Paolo breaking Mia's glasses as payback for breaking his hairbrush is certainly not justifiable, watching him direct his lackeys where to pluck her eyebrows and telling everyone that putting cucumbers on our eyes is useless is absolutely hysterical. And the moment when Mia's photos are moved to reveal the results? Chef's kiss.
Toula experimenting with her look in 'My Big Fat Greek Wedding'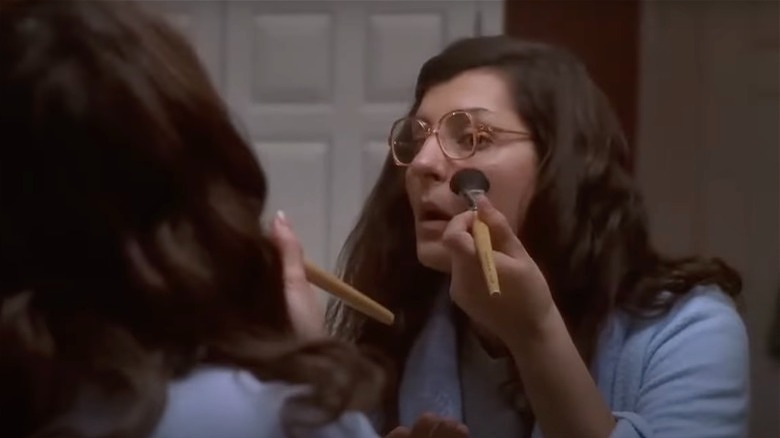 IFC Films
Makeover scenes can be described in many ways, but they're often not thought of as endearing. The makeover scene in "My Big Fat Greek Wedding" challenges that notion, though. Instead of letting someone else apply her makeup and fix her hair, Toula takes matters into her own hands and does what we should all do with makeup — she wears what makes her feel beautiful. And it's not much! She adds some subtle blush to her routine — but it's what allows her to feel comfortable and confident, two adjectives we should embody when wearing makeup.
Jessica Rabbit applying lipstick in 'Who Framed Roger Rabbit'
Buena Vista Pictures Distribution
Few non-Disney animated characters have remained in the zeitgeist the way Jessica Rabbit has. Every year, at least one celebrity resurrects the costume, and she's become a bona fide sex symbol. But beauty lovers adore the character for her stunning makeup, particularly the scene when she applies her lipstick while speaking with Eddie Valiant. After doing her best to make Mr. Valiant aware of the trials women face in the world simply by being women, Jessica Rabbit literally blows a kiss. If we could blow literal kisses before leaving a room, we'd be doing it all the time.
Tess teaching Ali how to apply makeup in 'Burlesque'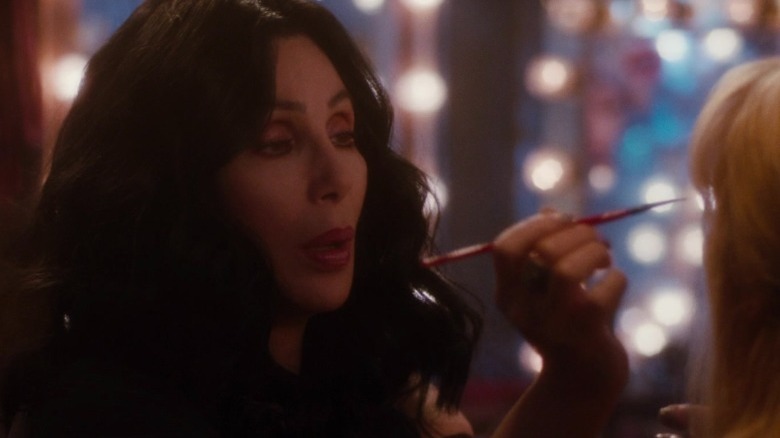 Sony Pictures
Tess teaching Ali how to apply makeup in "Burlesque" is one of the most heartwarming makeup moments in movie history. "When you are putting on your makeup, it's like you're an artist. But instead of painting on a canvas, you're painting your face," Tess tells her newest dancer. Ali goes on to reveal that she never had makeup lessons from her mother, and Tess responds by giving her the most perfect red lip anyone's ever had. It shows how sacred the art can be and reminds us of the first time we felt beautiful in makeup.
Charlotte fixing her makeup in 'The Princess and the Frog'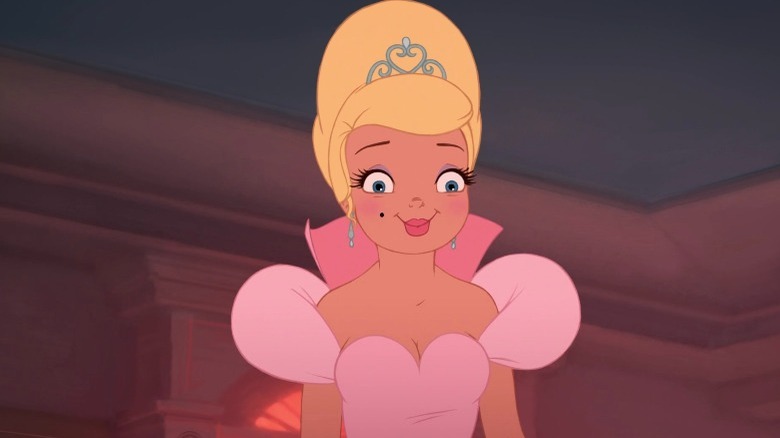 Walt Disney Studios Motion Pictures
Charlotte is the resident romantic in "The Princess and the Frog," and the quintessential southern belle delivers us an unforgettable makeup moment when she wipes the mascara from her face, powders her nose, and adds her beauty mark, all without a mirror, before descending the steps to dance with a prince. While most of us would need a compact for our touch-ups, the scene is a good reminder that sometimes we just need to wipe our mascara tears and move on because we never know what goodness is waiting for us downstairs.