Kate Middleton's Makeup Mistake At King Charles' Coronation Could Only Be Saved By Her Headband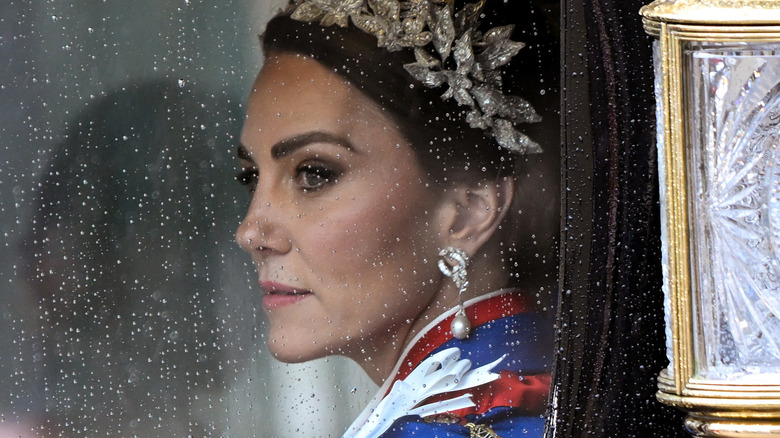 Wpa Pool/Getty Images
It's no secret that Kate Middleton, the Princess of Wales, is one of the most sought-after members of the British royal family when it comes to fashion, style, and poise. The wife of Prince William, Kate is known to rarely have a bad hair day, let alone wear ill-fitting clothing or improperly applied makeup. Today, though, coronation attendees and viewers alike learned that the princess is just like the rest of us and can make the all-too-common mistake of not blending enough. While this is an unusual occurrence for her, it's made worse when considering that she wore it to her father-in-law's coronation.
Advertisement
Though it was long speculated that the senior members of the royal family would opt for the grandeur of tiaras, the king instead requested that the Princess of Wales and her daughter, Princess Charlotte, wear custom floral headpieces. Kate and Charlotte made their appearance in complimentary headpieces, with Kate's headpiece having additional layers than the piece worn by her 8-year-old daughter, and in many ways, the headpiece's elegance was her saving grace when it came to her overall look. Though she wore a gown and floral headpiece designed by fashion house Alexander McQueen, Kate's makeup offered over-exaggerated contouring, a common sin for everyday people but one that made the royal appear deflated or upset. 
Advertisement
Shimmering jewels outshine harsh contouring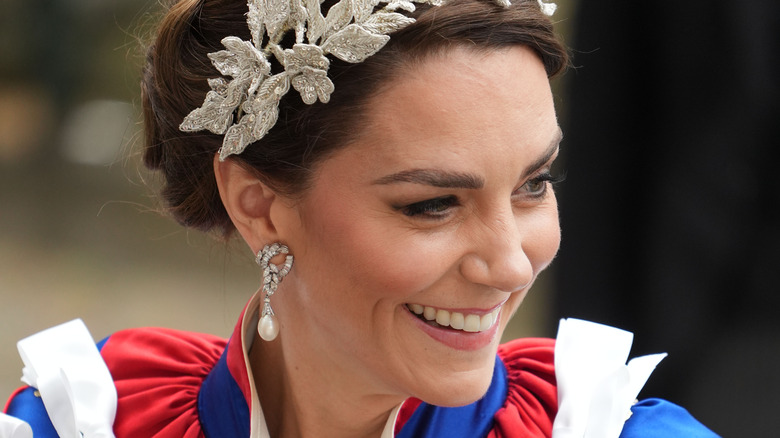 Wpa Pool/Getty Images
The Princess of Wales walked into Westminster Abbey alongside her husband, Prince William, and two youngest children, Princess Charlotte and Prince Louis of Wales. Upon her arrival, Kate's contour appeared quite harsh and could have used some additional blending. Against the backdrop of a white gown and the bold colors in her robes — royal blue and red — her makeup was perhaps more noticeable than it would have been in an outfit of softer shades. Across her upper cheekbones, the princess adorned a contour blend of vibrant, rosy blush and darker highlighter that could have used a tad more blending to even out the tones instead of leaving Kate with a clear distinction between the hues. Kate's light pink lip makeup matched her apparel well, but that subtle look is largely overdriven by the harsher contouring. Fortunately, the glimmering shine of her floral headpiece and matching pearl drop earrings drew viewers' eyes to the jewels instead of the contour. 
Advertisement
Of course, there are some factors that warrant giving Kate some slack. All parents know that getting children ready and still having enough time to put yourself together can be a struggle, not to mention the rainy weather accompanying the coronation that could easily bring about humidity and moisture, putting even the most well-set glam look at risk. Despite the makeup faux pas, Kate maintained her composure and presented herself with confidence, grace, and humility. 
Dark eye makeup marked a departure for the princess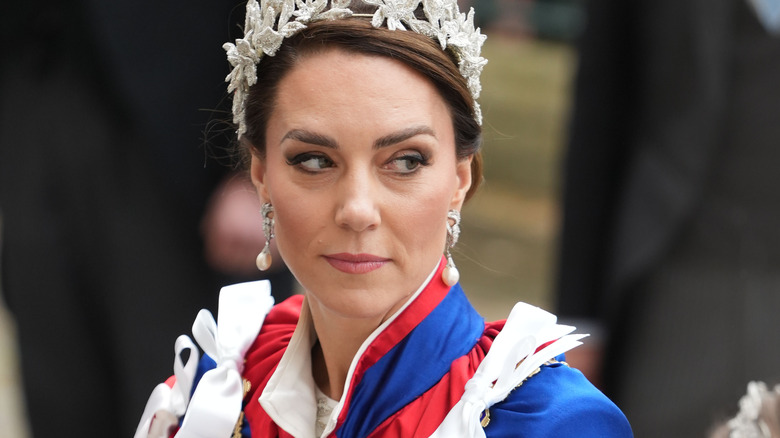 Wpa Pool/Getty Images
Kate Middleton's makeup evolution over the years has always radiated increasing elegance, but her makeup at King Charles' coronation marked a departure for her. She seems to have brought back an older makeup routine of heavier and darker eye makeup. When she was dating her now-husband, Kate had a tendency to opt for thicker eyeliner on both her upper and lower eyelids. While the darker color choices she seemed to gravitate toward for her eye makeup, including darker blue eyeshadow, were relatively complimentary to her dark brunette locks at the time, Kate has since adopted a dewy and more subtle makeup look along with blond highlights in her hair. 
Advertisement
However, upon her arrival at Westminster Abbey for the coronation, her eye makeup was decidedly much darker in hue than it has been in recent years, and she appeared to be donning a heavy coat of black eyeshadow, which increased in thickness as it moved upward, going from nude to very dark for an awkward use of negative space. While black eye makeup can be chic, Kate's makeup didn't quite match the day's regal mood.
Her harsh contouring was accentuated by her blush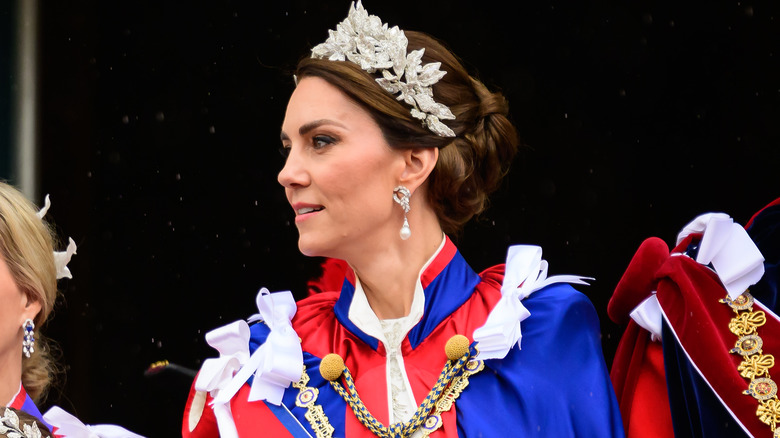 Leon Neal/Getty Images
Perhaps more aligned with the glee of the coronation, Kate Middleton wore a rosy shade of blush above her dark contouring. Though her light pink lip was a good match for the bright red in her robes, the dark pink hue in her blush wasn't quite as complimentary against the red of her attire. On the contrary, the red in her ceremonial robes overly accentuated the darker shades of pink within her blush and made her cheeks look redder, ultimately making the harsh contour lines more pronounced. The contrast with the blush also gave the contour the illusion of being identical in hue to her dark brunette locks, with the contouring lines seeming to blend into her hairline just above her ears. 
Advertisement
In recent years, Kate has been seen on official engagements wearing a dewier blend of light pink blush, and if she's had any additional contouring applied, it has never been too noticeable before, which makes her very daring contour at the coronation particularly unusual. Still, the princess' jewels were perfectly caught in the light of Westminster Abbey and the overcast skies outside during the post-coronation carriage ride she took with her husband and children. Without her accessories, her makeup may have been perceived as having just as stark of a contrast as the colors in her ceremonial robes.