Unexpected Coronation Star Penny Mordaunt Rocked One Of Summer 2023's Top Color Trends (Seriously, It's A Must-Try)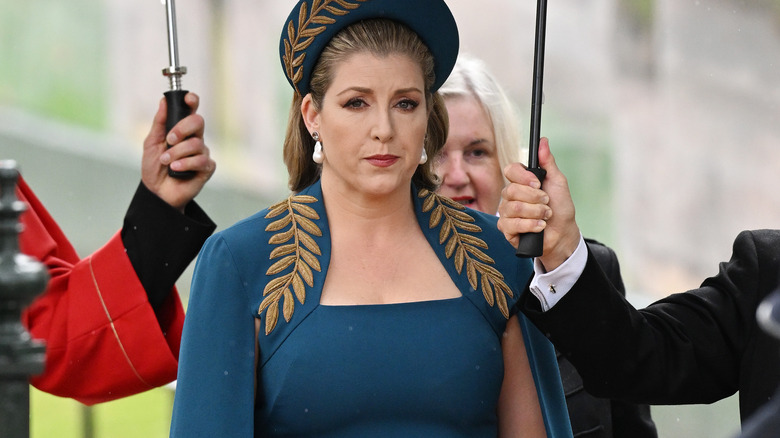 Jeff Spicer/Getty Images
Even though King Charles III and Queen Camilla were those being honored during the historic occasion of crowning a new British monarch for the first time in over seven decades, Penny Mordaunt stole the show during her appearance in the official ceremony. As a member of parliament, she is formally styled The Rt Hon Penny Mordaunt and serves as Portsmouth North MP in addition to her roles as Lord President of the Council and Leader of the House of Commons.
Due to her latter role, she took on duties during the coronation and made history herself as she became the first woman ever to carry and then present to the new monarch the Jewelled Sword of Offering. The gold and jewel-encrusted sword Mordaunt carried during the coronation dates back to the 17th century, marking the sentiment of her task of presenting the sword to King Charles even more notable. However, being the first woman to carry the sword wasn't the only reason Mordaunt garnered attention during the coronation.
Penny Mordaunt took part in the coronation in a meticulously tailored cobalt blue dress, which has resulted in praise for her poise and fashion sensibility, particularly given the growing affection for the color as summer 2023 nears. Mordaunt's apparel choice for the service veers from tradition, but that doesn't seem to have deterred positive praise for being one of the best dressed at the affair. 
Cobalt blue is regal, bold and confident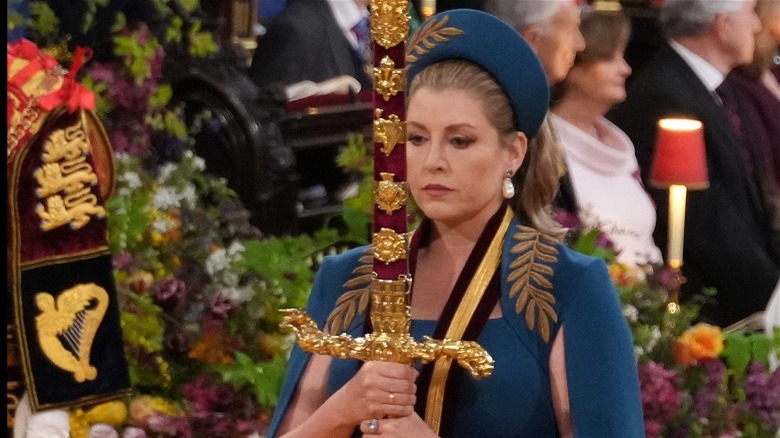 Wpa Pool/Getty Images
At the coronation, Penny Mordaunt wore a cobalt blue cape dress with an accentuated waist and symmetrical fascinator of the same hue, with gold embroidery on the cape and the headpiece. Cobalt blue is one of the trendiest colors this season and is a shade that enhances the eye-catching glamor of a color known for being regal. In particular, cobalt blue is associated with positive energy, altruistic intentions, support, ingenuity, and enlightenment. As Mordaunt performed her role during the ceremony, her confidence matched the color's nature and boosted her stardom. Like many things involved in the coronation, it's probable that intentional thought was put into the color of everything, not to mention Mordaunt's innovative twist on the attire for her historic role. 
The same color was worn by Catherine, The Princess of Wales, at a reception on the coronation's eve. The outfit worn by the princess, known colloquially as Kate Middleton, was adorned with gold buttons on the sleeves, striking a comparison with the gold details on Mordaunt's coronation attire. Carole Middleton, Kate's mother, also arrived at the coronation in cobalt blue by appearing in a dress and headband, both of solid cobalt coloring. Clearly, the bold blue hue is living up to its hype for summer 2023 and has a timeless look on its own that is guaranteed to take any piece crafted in the shade found within your closet into future eras, possibly even as you make history yourself.