The Easy Fashion Hack That Will Keep Your Sleeves Pushed Up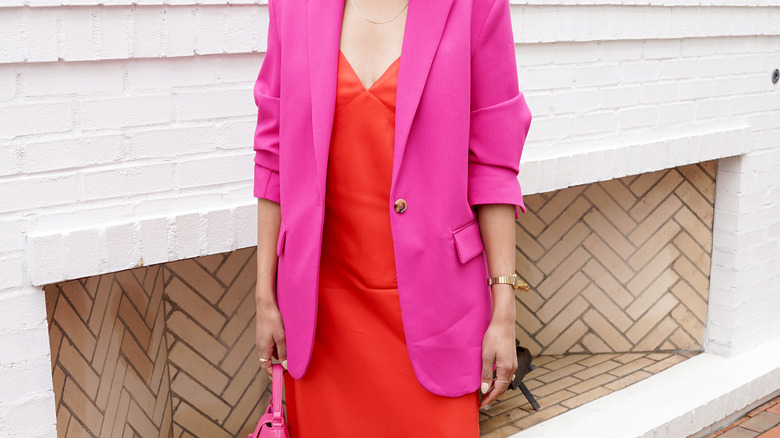 Leigh Vogel/Getty Images
We may receive a commission on purchases made from links.
Long sleeves can be challenging. You finally found the perfect, chic blazer, but the sleeves are just a little too long for you. You push them up, and they keep falling back down when you don't want them to. Rather than feeling your best, you're frustrated by your sleeves — not fun. 
The rolled-up sleeves look works great for blazers and jackets with loose-fitting sleeves, especially when the weather is a little warm yet not cold enough to fully commit to long sleeves. And you can show off a new watch or some forearm tattoos. 
But it can certainly be annoying when those sleeves just won't stay where you need them to be. Sure, you could roll them up at the cuffs, but with some clothing, this can feel bulky and uncomfortable. You could get them altered, but this can be expensive. There's a quick and easy solution out there for you. We're back with another TikTok clothing hack, and this one will keep your sleeves rolled up with little effort.
The hair tie hack
It turns out hair ties can be used for more than just your hair, and lots of TikTok users have been proving this to be true with this tip. First, find a flexible hair tie that isn't too tight around your forearm. A lot of people use the thicker, seamless hair bands found on Amazon or in the beauty aisle. Flat ribbon hair ties from Amazon can work as well.
With your long-sleeved garment on, place the hair tie over the sleeve, on your forearm just below your elbow. Next, with your free hand, fold and scrunch the sleeve over the band so the fabric overlaps and hides the elastic. Do this until you reach the desired sleeve length, and that's all there is to it! No one will know there's a hair tie hiding in your sleeve. In case the hair tie does show a little bit as you move around, it's best to find one that's a close color match to the garment, so it doesn't stick out too much.
Friendly for all sizes
A lot of the fashion and beauty hacks we see end up leaving some people out. The best thing about this hack is that it's accessible to everyone, no matter what size you are.
While there are sleeve garters out there that are made to keep your sleeves in place, they don't always fit everyone. For people with larger arms, they can be too tight and painful. Hair ties and elastics, however, are stretchy and come in various sizes and thicknesses to accommodate anyone. TikTok user @dressing_dawn creates plus-size style videos, and she shared how this hack works for her as someone with larger arms. She uses extra large hair ties, like Revlon's Extra Long Hair Elastics, which you can find at most retailers. 
Who would have thought that something as simple as a hair tie can make all the difference when it comes to getting those sleeves to stay put?