Outdated Clothing Mistakes That Make You Look Older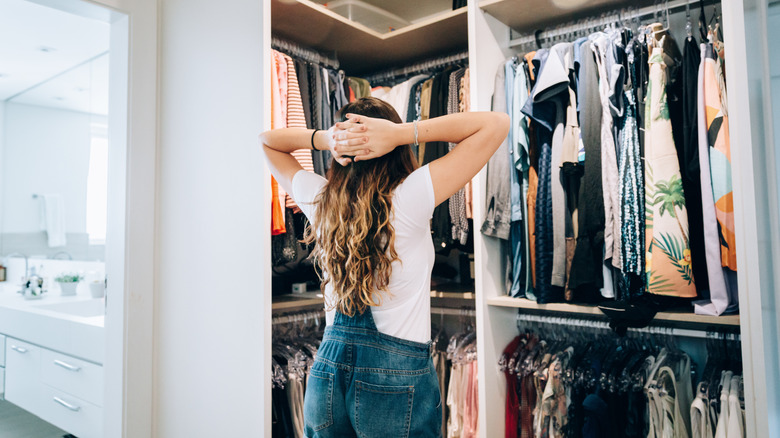 Cokada/Getty Images
How are you feeling about the clothes presently hanging in your closet and folded up in your drawers? If you're not instantly hyped about the things you own, it might be time for a revamp. Having a positive outlook on your fashion sense, personal sense of style, and available clothing items can impact the way you feel about yourself. It can also change the trajectory of your daily plans.
The clothes you choose to wear make a huge difference in the way the world perceives you, too. It would be a mistake to be caught wearing outdated clothing that silently convinces others that you're decades older than you actually are. There's no shame in keeping up with trends and making sure you're dressing your age wherever you go. There's also no shame in dressing a bit "younger" than you are if you're willing to put in the effort and take the right steps. 
The key is maintaining a high level of confidence when you dress to give off the vibe that you know exactly what you're doing. Curating the perfect closet filled with pieces you can be proud of isn't always something that happens overnight. The first step to take is removing all the outdated clothes that no longer serve you or bring you any fashionable benefits. These are the pieces you should ditch immediately because they're aging you. 
Wearing pantyhose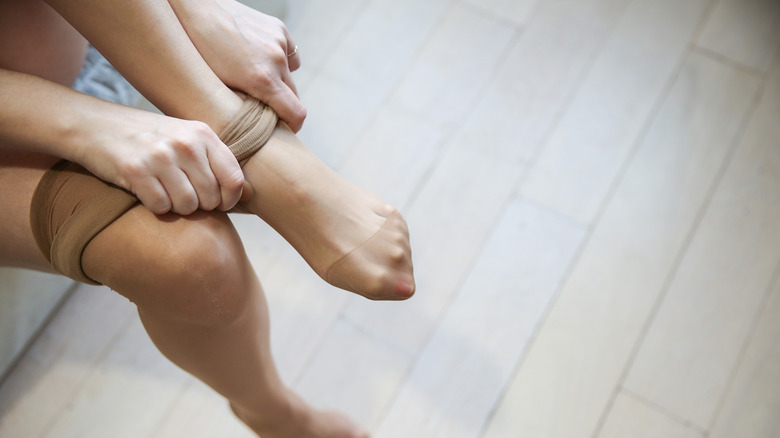 Petr Smagin/Shutterstock
Pantyhose used to be a staple in the closets of women everywhere. Fast forward to 2023, and pantyhose are now a relic. When you think of pantyhose, one of the first things that comes to mind is probably the generation of older women who still love wearing them. They were helpful for plenty of reasons back in the day, but there are other options to consider now.
Pantyhose have long been thought of as great for hiding unshaved legs, varicose veins, and other flaws you're not super comfortable with. They've been used as an easy hack to keep yourself — especially your legs — looking flawless. Unfortunately, they still instantly age you when you're spotted wearing them. If there are things you're feeling insecure about with your legs, opt for a simple self-tanner spray to get that even, smooth look. 
When you admire the loveliest celebs hitting red carpets in divine gowns, it's easy to see that none of them are wearing pantyhose these days. They're fully aware of the benefits self-tanner can bring, as well as other airbrush makeup products that come in handy. If you absolutely insist on continuing to wear pantyhose, choose patterned designs or dark black options instead of pantyhose that try to mock the natural color of your skin. These small details instantly make pantyhose feel more modern, and therefore, more youthful.
All black without a single pop of color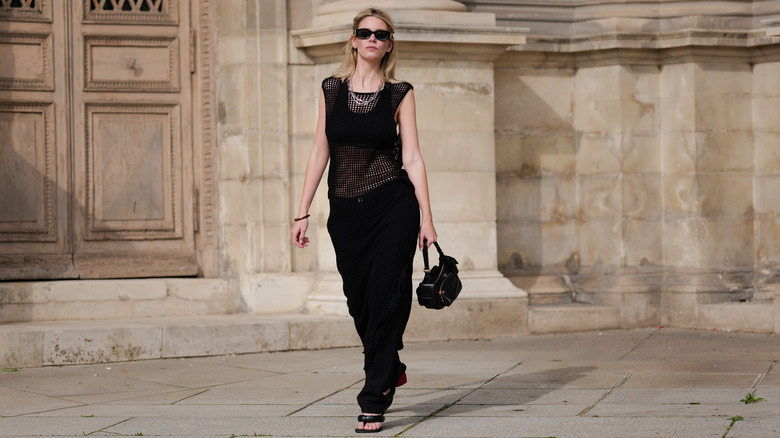 Edward Berthelot/Getty Images
You've probably been told time and time again that wearing all black is one of the most chic and fashionable things to do. In reality, wearing all black without a single pop of color is very outdated. If you're going to wear all black, make sure you've got a bright-colored handbag, pair of heels, or other accessory that brings some vibrancy to the table. Your choices of accessories are abundant and unlimited.
Some people insist on wearing all black because it's the most slimming color to choose from. That's true, but it doesn't mean you shouldn't add a pop of color. Solid black dresses are mysterious and sleek. Black slacks with low-cut black tops are sultry and seductive. Black leggings with black tank tops are casual and elegant at the same time. All-black outfits can be incredibly powerful on a confident person.
Still, neglecting color pops will have you looking older than necessary while reminding people of how it looks to attend a funeral. The colorful accessory you add won't automatically pull attention away from your outfit as a whole; it will simply add to your overall allure. Spice up your go-to black outfit with a pair of hot red earrings or a shimmery pink belt. This is your chance to get creative and have some fun.
Visible underwear lines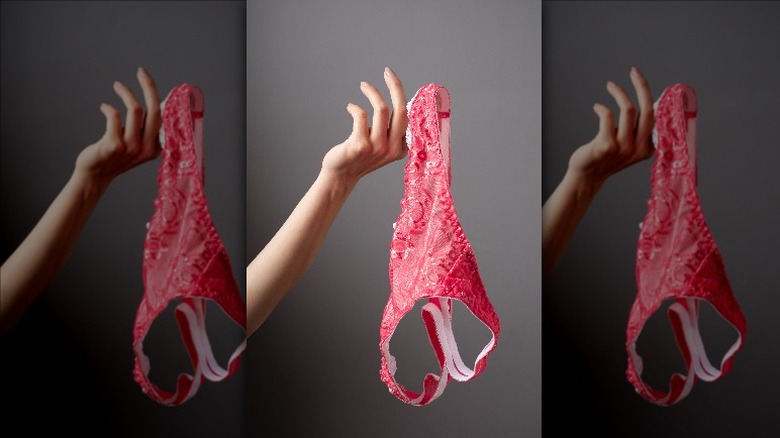 Roman Mykhalchuk/Getty Images
Visible underwear lines are as tacky as it gets, no matter what age you are. The reason this makes you look outdated is that the older crowd is known for disregarding details that are considered "minor." Visible underwear lines are far from minor, though, and can totally ruin an entire outfit. To avoid aging yourself and looking tacky in one fell swoop, make sure your underwear lines aren't visible.
One of the ways you can do this is by wearing thongs, g-strings, and other underwear styles that don't have any lines. Thongs and g-strings are similar in the sense that they both follow the crease of your bottom without extra fabric spread across your actual butt cheeks. Another benefit of wearing these underwear styles is that they'll often make you feel sexier and more confident.
Another way you can avoid visible underwear lines would be by purchasing seamless panties specifically designed to stay hidden. Seamless panties don't have thick edges sewn together in a way that lifts against your bottom. Seamless panties lay flat underneath whatever pants, skirts, or dresses you choose to wear. A benefit of choosing seamless panties is that they feel just as comfortable as regular panties, and they provide the same amount of coverage.
Comfy shoes that happen to be hideous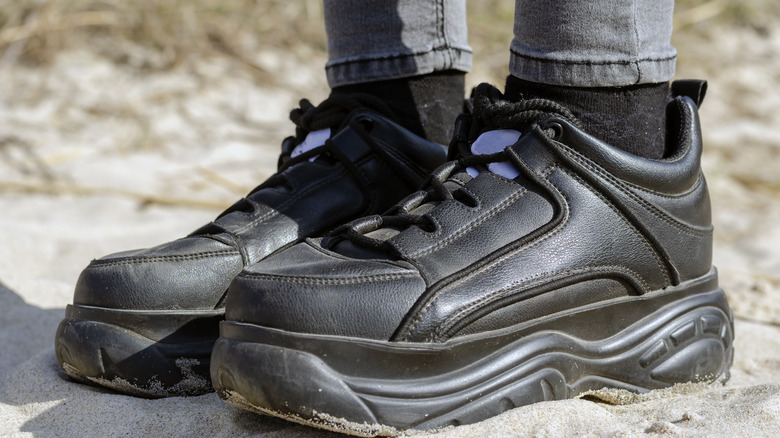 Mikhail Dmitriev /Getty Images
It doesn't necessarily matter how comfortable your favorite pair of shoes is if they happen to be absolutely hideous. Sometimes, it's better to rock shoes that are a little less snug for the sake of your overall appearance. This doesn't mean you have to abandon comfy shoes forever, but avoid wearing them on special occasions when it genuinely matters that you look your best.
Some of the comfiest shoes ever are Crocs, but that doesn't mean they look good. According to Civic Science, 46% of voters revealed they found all Crocs brand shoes to be ugly. Even though almost half of the voters don't approve of their appearance, consumers continue buying and wearing Crocs because of how good they feel. Keep this in mind when deciding which shoes to wear before leaving the house.
Crocs aren't the only shoes that have a reputation for being pleasant to wear without being pleasant to look at. There are plenty of heels, flats, and sneakers that fall into the same category. Be vigilant when it comes to your shoe choices for this reason. After all, you wouldn't want to be in a situation where everything about your outfit looks amazing aside from what you've got on your feet.
Going overboard with pastels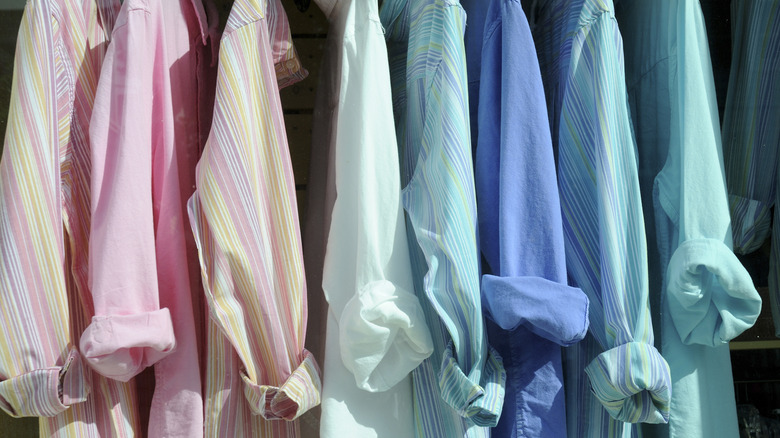 Kenwiedemann/Getty Images
Pastel colors are incredibly beautiful, and no one is discounting that. They're especially wonderful to wear during the spring season for celebrating holidays like Easter when you find ways to rock pastels. Unfortunately, they can also make you look super outdated, old-school, and old-fashioned. As pretty as pastels usually are, they will instantly age you and have you reminding people of their grandmothers.
When you think of pastel colors, light shades of pink, blue, teal, and purple probably come to mind. There's nothing inherently wrong with these colors, but they can start negatively impacting you if you wear them too frequently or all at once. In other words, it's totally fine to pull out your favorite pastel top every once in a while beyond the spring season. 
It's also alright to wear a pastel cardigan if the tank top you're wearing underneath isn't another pastel color. Layering pastels on top of other pastels is exactly what a grandmother would do. If that's not the vibe you're going for, avoid this mistake like the plague. Set yourself up to pull off pastel pieces by pairing them with jeans, neutral colors, and brighter colors.
Larger floral print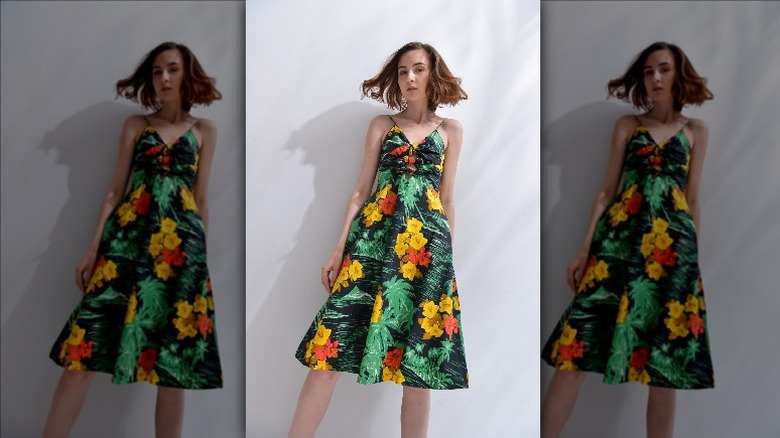 bloom/Shutterstock
Large floral print has always been hit or miss in the world of fashion. As of now, large floral print is completely outdated if you're trying to maintain a youthful appearance. There's no harm in wearing a top or dress covered in flowers, but make sure the floral print is small and intricate instead of spread apart. For some reason, smaller more intricate flowers don't cause so much of an outdated stir.
Floral print is widely recognized for giving any outfit the pop of feminine energy that it needs. Still, the size of the flowers all over you will make a difference by impacting the way others perceive you. Instead of reminding your friends and family of a little old grandmother headed to a church service or bake sale, opt for modern femininity. 
Avoiding floral print altogether is another option if you want to totally play it safe. You won't be aging yourself by going for animal print designs in 2023. As of now, animal print is on trend, with leopard print being one of the most popular and coveted options. Checkered print, gingham print, and marble print are some of the other alternatives to shop for instead of large florals.
Wide horizontal stripes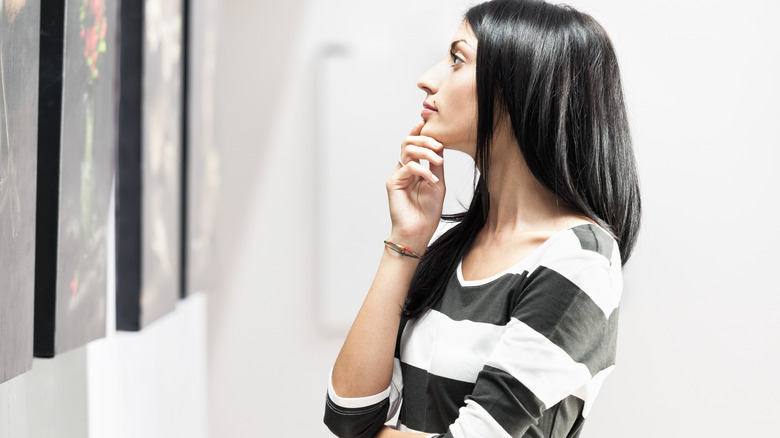 Georgeclerk/Getty Images
There are one too many ways to go wrong with wide horizontal stripes. It's best to completely eliminate them from your closet as soon as possible. As cute as a dress with horizontal stripes might look before you've tried it on, this design instantly widens the appearance of your body and makes you look older than you are. Although being wider doesn't automatically equate to being older, plenty of people associate these two things subconsciously without even trying.
Interestingly enough, wide horizontal stripes have a tendency to look super trendy and beautiful on mannequins and hangers that don't represent any realistic human forms. For this reason, tons of people make the mistake of purchasing wide horizontal striped clothing online before they have a chance to actually try it on in front of a mirror. Putting something on in front of a mirror reveals the truth fairly quickly, though.
If stripes are still your thing, go for vertical stripes instead of horizontal ones. The best thing about vertical stripes is that they elongate your body by lengthening the appearance of your torso, midsection, and legs. Lines that are vertical will visually stretch you out in the eyes of anyone looking your way. You'll end up looking taller and more elegant without having to make any physical changes.
Ill-fitting bras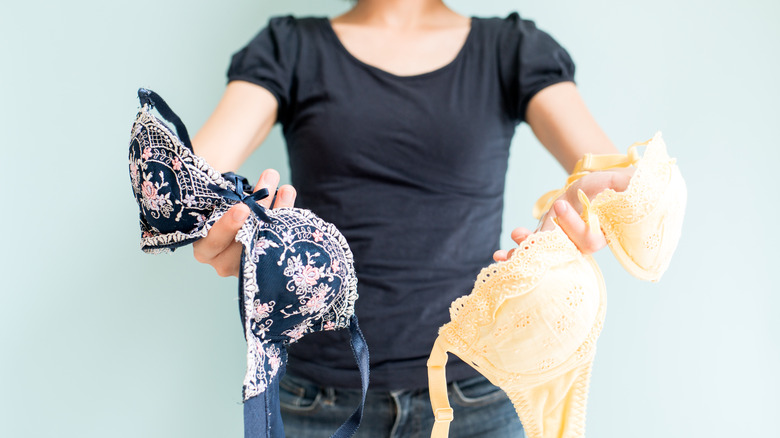 Ah86/Getty Images
It's high time to go shopping for brand-new bras that fit you flawlessly if you haven't replaced your bra selection in a while. Odds are, your bras are ill-fitting if they haven't been updated in several months. Breasts are constantly fluctuating in size due to hormones, weight gain, weight loss, and other naturally occurring changes. It's vital that your bras are fitting you properly if you don't want to age yourself.
With each passing day, your body is liable to go through changes. Getting older isn't a problem, but refusing to acknowledge the changes your body endures as you age truly is. In the case of weight loss, ill-fitting bras won't provide the right amount of support to your chest since the material will feel too loose and baggy. In the case of weight gain, ill-fitting bras will dig into your skin, making you feel uncomfortable and suffocated.
The easiest way to handle this situation is to head over to your local intimates store or lingerie boutique and ask for a free bra fitting. If you don't want to bother anyone for help with this matter, simply try on various bras in sizes you believe are right for you until you land on the one that's most comfortable.
Too many baggy pieces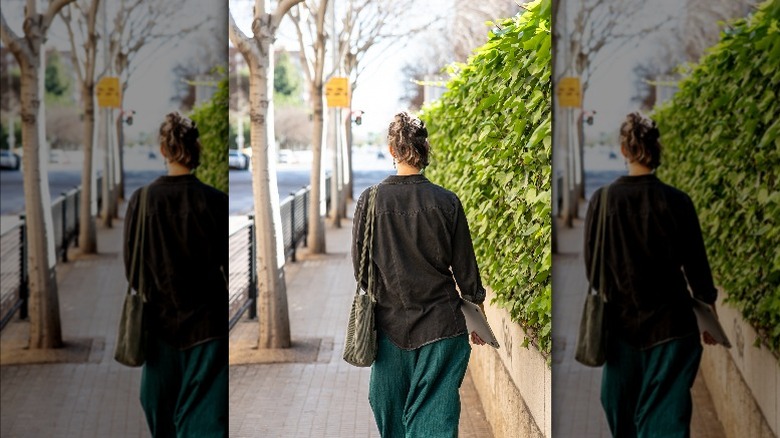 Wirestock Creators/Shutterstock
Baggy pieces of clothing might be your safety net if you're keen on hiding your physique as much as possible. Still, wearing too many baggy pieces at one time will age you beyond belief. It's alright to opt for a baggy cardigan or loose-fitting top, but make sure the other pieces of clothing you're wearing are more form-fitting. When you layer too many pieces of baggy clothes, it makes it look like you have something to hide.
Instead, embrace yourself, your body, and your current physique. Confidence is key when it comes to any style changes you choose to make, including this one. When wearing a baggy cardigan, the top you're wearing underneath shouldn't be equally as loose. Consider tucking your top into a pair of high-waisted jeans underneath to create the right level of contrast. 
When wearing a loose-fitting top, open your mind to the possibility of wearing a tighter pair of pants or leggings with it. If your reason for wearing tons of baggy clothing is that you're hoping to stay warm in cold weather, you don't have to inconvenience yourself in any way. But if weather isn't a factor and you're free to wear whatever clothes you'd like without getting too cold, this is something important to take into account.
Frameless glasses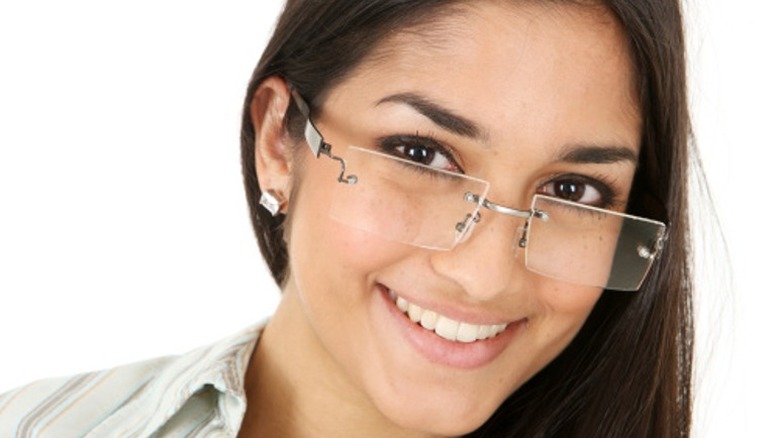 Hidesy/Getty Images
If you look at glasses trends from the last century, you'll see that frameless glasses are out of style in 2023, and they've been out of style for a while. When you picture them in your mind, you probably envision a little old lady wearing them while sewing yarn on her porch. Frameless glasses have been around for decades, and although they served their purpose in the past, there's no reason to continue shopping for them today. Instead, choose glasses with trendy frames that add a stylish flair.
Glasses with frames are easy to find, which means your options are endless. The size you choose is a matter of personal preference. In terms of color, you'll find glasses frames available in black, white, tan, brown, and most other neutral colors. You'll also find them in gold, silver, and most other shimmery colors. Lastly, you'll definitely find glasses frames available in different colors of the rainbow.
Glasses without frames are a lot more delicate to deal with since they don't have much protection. This means you have to be extra careful when taking them off or putting them on. You also have to be wary every time you set them down. Give yourself a chance to relax a little by choosing glasses that have frames to protect the lenses. The frames don't have to be overly thick, but they should certainly be there, to begin with. 
Capri pants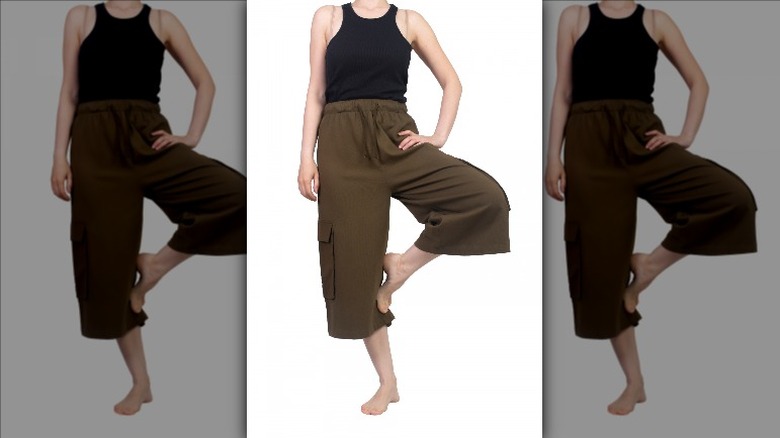 Ukki Studio/Shutterstock
No matter how adorable you might think your favorite pair of capri pants are, they're aging you more than you realize. Capri pants struggle in the halfway zone between being full-length pants and shorts. Since they can't figure out what they are, they don't deserve to be worn at all! It might sound dramatic, but capri pants make women who are in their 20s and 30s look like they're already generations older than they are. 
The craziest thing about capri pants is that they don't get better based on how tightly or loosely they fit your body. Capri pants that are billowy and baggy simply aren't visually appealing. Capri pants that press against you tightly look equally tacky in their own awkward way. Most shoes that you pair with capris end up looking odd, even if the shoes look super cute when worn with other bottoms.
Back in the day, wearing capris made sense if you were having a cute little picnic at your local park. Now, they don't even make sense in that situation. If the weather is chilly enough, wear full-length pants that reach your ankles. If the weather is warm enough, wear shorts that pair well with the rest of your outfit. Even when capri pants are worn with super cute tops, cardigans, shoes, and other accessories, they still make you look old.