The Light Makeup Hack That Covers Your Skin & Keeps It Looking Natural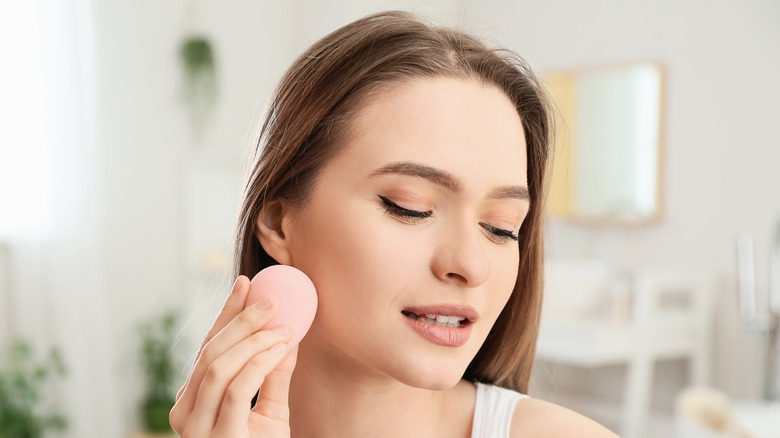 Pixel-Shot/Shutterstock
There are countless ways to transform your makeup more now than ever. While some people prefer to go all out, others opt for a more subtle approach so their natural skin still shines through. The online space is packed with countless hacks for natural makeup, but finding one that suits your personal preference takes a little time. It could be as simple as wanting your skin to look amazing with minimal foundation, especially on those days when you're moving a mile a minute!
Despite having so many genius beauty hacks at our fingertips these days, it is never a bad idea to turn to professionals for learning the tricks of the trade. If you are looking to go the more natural route, you are in the right place. For this hack, you will need your favorite foundation or concealer, which you will only have to use sparingly. As a result, you should be able to achieve a flawless yet natural finish. With any success, the people around you may not even realize you're wearing makeup.
Don't apply foundation all over your face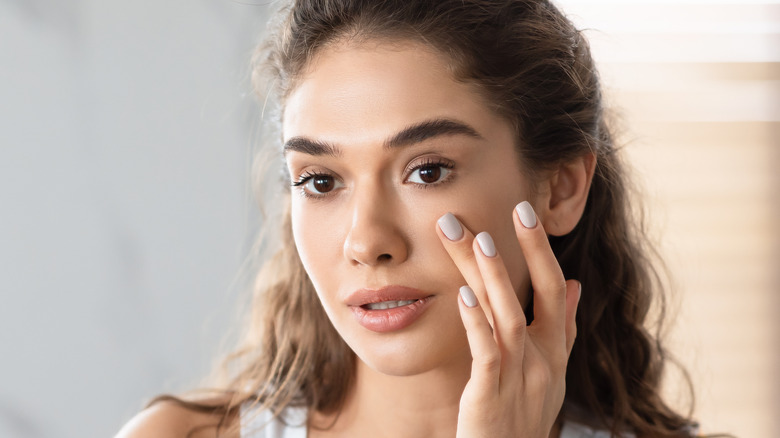 Prostock-studio/Getty Images
When you apply foundation to certain areas of your face instead of all over, it makes the blending process easier, and appears as though it's your real skin. "Begin in the center of your face and work out, allowing the natural shades at the sides of your face to remain uncovered," celebrity makeup artist Gucci Westman explained to Net-A-Porter. In other words, you will want to skip the perimeter of your face when applying the foundation. Afterward, blend it out until you have a seamless finish. 
Of course, the more you practice, the more attuned you'll become to the technique. Once you have it down pat, consider only applying it to areas where you have blemishes specifically. However, it's not just the way you apply your foundation that is important here — prepping your skin correctly will make it easier for you to achieve that oh-so-natural look. After applying a thin layer of primer (always moisturize your skin first), give it a couple minutes to soak in. Now, let's move on to another hack for natural-looking makeup.
Using concealer can also create a natural finish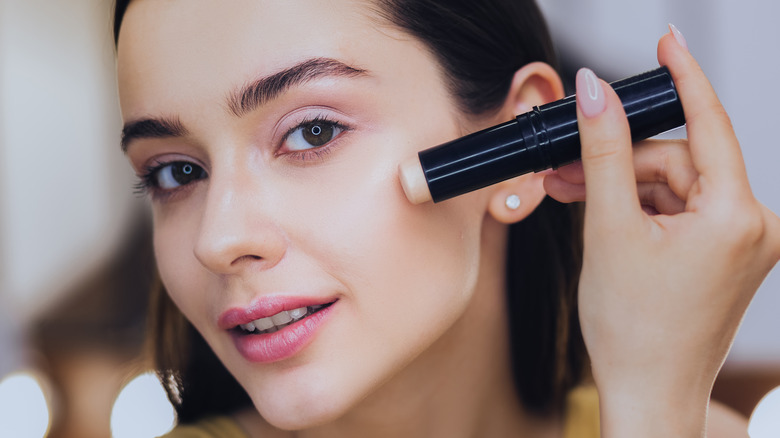 Dmytro Zinkevych/Shutterstock
In addition to foundation, concealer is great for creating a natural-looking finish on your skin. Traditionally, concealer is used under your eyes and to cover up blemishes like a pesky zit, but you can also use it to touch up your skin to achieve a flawless look. As with your foundation, you should ensure your skin is primed and ready to go before dabbing on the concealer.
While foundation tends to call for a bit more product, you can afford to be more sparing with your concealer. Take your concealer and apply it to any areas you feel need coverage, like over any blemishes or patchy areas. You can blend it out using your fingers or a small brush — both work well. However, when it comes to choosing a concealer, opt for one with a liquid formula. They "give a more natural-looking finish, whereas creams are a bit heavier," said celebrity makeup artist Arti Nayar in an interview with Vogue India.
Not only should you be able to pull off a very natural look, but this hack is also perfect for anyone who isn't a big fan of the "full-beat face."