TikTok Has People DIYing Bronzing Drops. Is It Legit?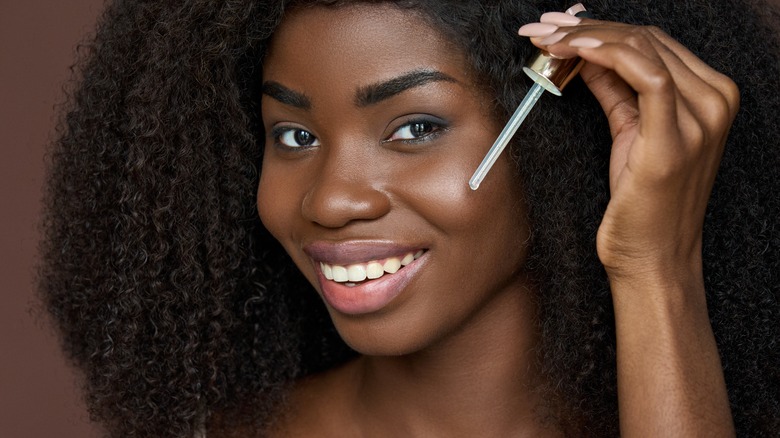 Ground Picture/Shutterstock
Once a product goes viral on TikTok, it practically flies off the shelves. That's what happened with the Drunk Elephant D-Bronzi Anti-Pollution Sunshine Drops. All you have to do is apply them straight to your face as a bronzer or mix it into your favorite moisturizer for that natural sun-kissed look without actually needing to spend time at the pool or beach.
However, not everyone wants to shell out $38, so a less expensive dupe for this high-end product went viral as a result. It's called nanobronze from Indeed Laboratories, and its sister product, nanoblur, was used on the set of the HBO show "Euphoria," causing everyone to run and try it out for themselves. Now that both products have sold out, TikTok creators have found a way to DIY their own bronzing drops. They demonstrate how easy it is by mixing their favorite self-tanner with plain tap water in their old skincare containers that have been thoroughly cleaned, of course. And naturally, every creator has found their own recipe with some versions containing skincare products as well.
Making bronzing drops at home is a win-win since it won't break the budget while still giving you the pop of color and warmth you desire. Plus, you control the amount of color in the formula.
How to mix your own bronzing drops
How you mix your own bronzing drops is up to what you prefer. The most basic formula starts with 1 part tap water and 3 parts self-tanner. Although, you can add more or less self-tanner depending on your complexion. You'll need a liquid self-tanner for this, so you can either carefully open the bottle or pump the foam into the cap and mix it until it's liquified. Pour the ingredients into an old skincare bottle you've cleaned, and then it's ready to apply to your face for a subtle glow.
To upgrade the formula, add skincare ingredients containing glycerin so the mixture can thicken. TikToker Johnny Thorpe uses hyaluronic acid for this. You can estimate how much you use or measure with the pipet in your old skincare bottle. Squeeze 5 pipettes of self-tanner with 2 of water and 3 of hyaluronic acid. Although, don't make too much at one time because these dew drops will only last a couple of days without adding a preservative.  You'll notice that this DIY leaves a bronze tint over your skin for a few days. If you want to get the same look and be able to wipe it off with your makeup, TikToker Serena Lakkiss recommends combining a small amount of your usual bronzer with your moisturizer.
The best way to apply bronzing drops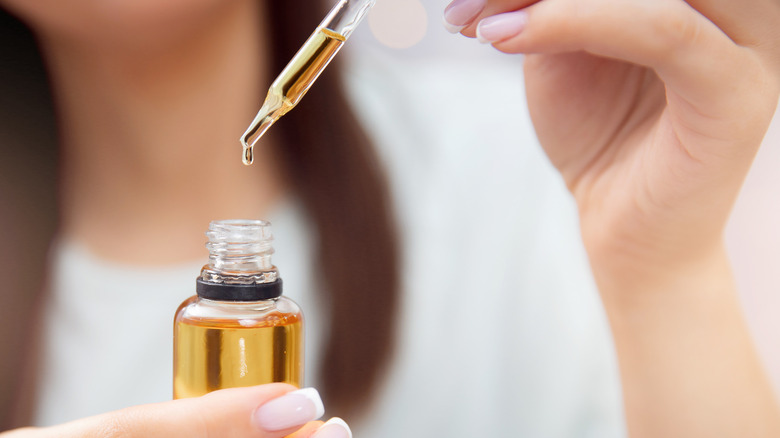 Parilov/Shutterstock
Doing your skincare routine before applying makeup can make a big difference in your final look. Always start by washing your face with a gentle cleanser, then apply any serums and other treatments before locking it in with a moisturizer. Then it's time to use your DIY bronzing drops! Even though many TikTokers demonstrate them pouring the product right onto their face, you want to avoid applying it like that. It will leave streaks on your forehead and cheeks that are hard to blend out.
You should squeeze a few drops onto a makeup palette or other surface and then onto your face with a makeup tool. A brush or sponge works best. Using the back of your hand and fingertips isn't a good idea because the tanner can stain them. When applying the bronzing drops, blend the product into your hairline and down your neck. Then, you can begin your usual makeup routine or skip your base for a more natural look.