Taylor Swift's Eras Tour Makeup Doesn't Budge, Rain Or Shine - Here Are The Products She Uses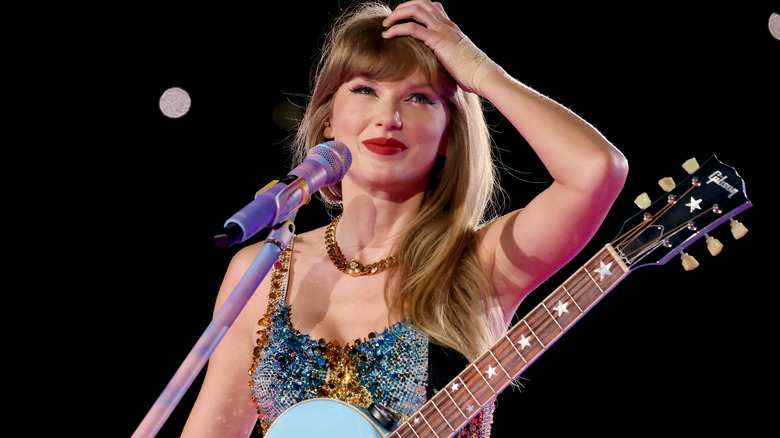 John Shearer/tas23/Getty Images
Taylor Swift's Eras Tour undoubtedly ranks as one of the biggest happenings in the music world this year, from the nearly-barbaric battles to secure tickets to the thousands of posts documenting attendees' glittery and handmade outfits honoring their favorite era of Swift's music. Of course, the concerts themselves haven't disappointed, either, and the world-famous singer-songwriter has consistently provided fans with three-hour shows full of costume changes, inventive choreography, and no shortage of sparkle.
Advertisement
These intense concerts, however, have left many wondering how Swift's makeup manages to remain on her face throughout a performance, much less still look impeccable after several hours of sweating — or even a torrential downpour in an open-air stadium. Thankfully, it seems we finally have an answer. In a recent TikTok, user @phoenixlift_13 shared a message from Deux Moi, an anonymous source that publishes secrets about anything and everything pop culture. The secret to rain, sweat, and wear-proof makeup, it seems, lies in a full regime of Pat McGrath products.
What products does Taylor Swift use?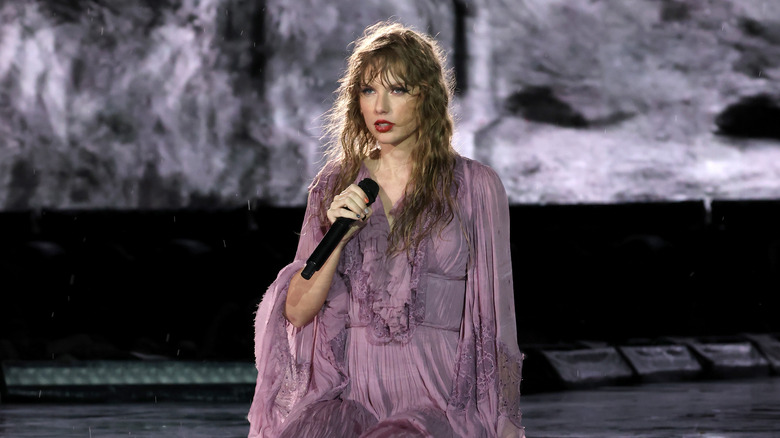 John Shearer/tas23/Getty Images
In the TikTok video, Deux Moi reports, from an anonymous source, that Taylor Swift's full makeup look on tour is thanks to several products from Pat McGrath Labs, including its LiquiLUST Legendary Matte Lipstick in Elson 4, Perma Precision Liquid Eyeliner in Xtreme Black, and Skin Fetish: Sublime Perfection System that includes a primer, foundation, and setting powder. This, of course, is all rumored as Deux Moi never guarantees that the information they receive will be totally accurate. But it makes sense; this brand is a well-loved choice for celebrities and makeup artists alike.
Advertisement
Unfortunately, however, a full routine of Pat McGrath makeup doesn't come cheap. This brand is definitely on the higher end in terms of cost, with products ranging from about $30 for a lip gloss to more than $120 for an eyeshadow palette, but, with staying power like that, the extra investment might just be worth it.
How to create the look yourself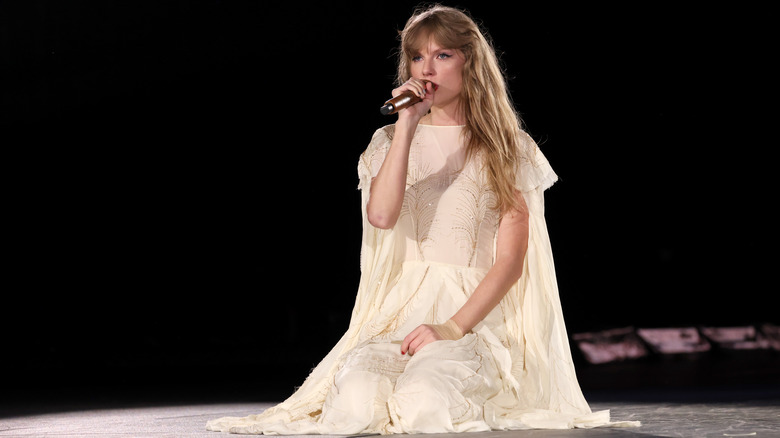 John Shearer/tas23/Getty Images
Throughout the course of Swift's show, she goes through a whole collection of outfit changes to cater to each era of her career, so her makeup was kept fairly simple as to allow the rest of her looks to shine. Thankfully, that means it's pretty easy to recreate at home, too, even if you only have the budget for products from the drugstore. The two standout features of her look are a sharp cat eye with black liquid liner and her trademark red lipstick. So, if you have a version of those products and your typical base makeup on hand, you should be good to go for an everyday interpretation of her look.
Advertisement
For a full beat that's still long-lasting on a budget, consider sticking with a waterproof liquid liner formula, a matte liquid lipstick, and a matte foundation. Layer everything over a primer that complements your foundation and finish off with an enduring setting spray, and you'll be ready to dance the night away.