Hailey Whitters' Trendy ACM Awards Look Is A Lavender Dream, But Her Makeup Let Us Down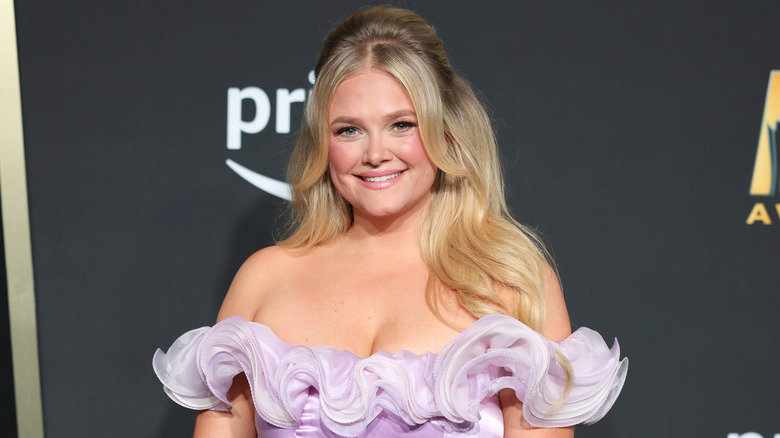 Theo Wargo/Getty Images
As the stars strutted the black carpet at the 58th Academy of Country Music Awards, one look offered a particularly fresh take: Hailey Whitters' ruffled digital lavender gown. The gorgeous dress featured a ruffled Bardot neckline, a ribbon belt at the waist, and three layers of vintage ruffles around the bottom. The trendy spring color was most concentrated at the waist and then faded out like a gentle breeze to a lighter shade at both the upper and lower ruffles.
Advertisement
Whitters paired the darling dress with a sheer pair of matching lavender gloves, white heels, and a retro pouf half ponytail with center-parted bangs. If you told us the whole look was transported to the awards show straight from a '70s prom, we'd believe it — and we mean that in the best way possible. The vintage-inspired gown, hair, and accessories were close to being the most perfect outfit of the night. Unfortunately, the starlet's makeup just didn't quite live up to the rest of the look.
Makeup miss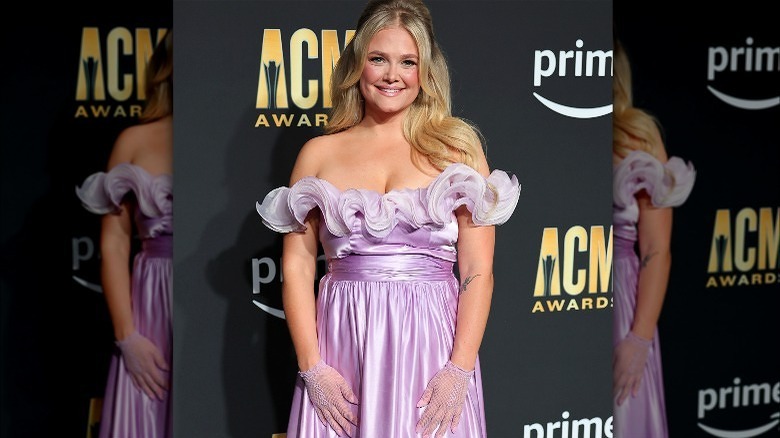 Theo Wargo/Getty Images
Unfortunately, Hailey Whitters' absolutely beautiful lavender retro dream of a gown and perfectly-coordinated accessories weren't accompanied by an equally impactful makeup look. While the cool lavender hue of the dress basically begs to be tied into Whitters' makeup in the form of a purple smoky eye, a lovely lavender lip, or a lilac-inspired blush, we saw no such effort. Heck, we would have even settled for a lavender-tinted highlight!
Advertisement
Instead, the New Female Artist of the Year winner stuck with a safe, barely-there natural makeup look. Her coral cheeks looked slightly sun-kissed, and her neutral lids may have given a hint of a subtle lash. Her nearly-perfect lips showcased a basic peachy nude gloss. No lavender. No purple. No lilac. Not even a hint of mauve or violet. Sadly, an excellent opportunity to spread purple joy to the masses was wasted on this otherwise fabulous look.